Activision: Collapse Imminent - buybacks are not a free lunch
With the recent correction in Apple (NASDAQ:AAPL), more investors are starting to realize that share buybacks are not enough to prop up a plateauing company. Throughout the NASDAQ 100, we are seeing that buybacks are simply not resulting in positive outcomes for investors or the company itself.
These programs are the result of interest rates that have been too low for too long and are being used by companies like Activision Blizzard (NASDAQ:ATVI) to hide stagnating performance. It will not work forever.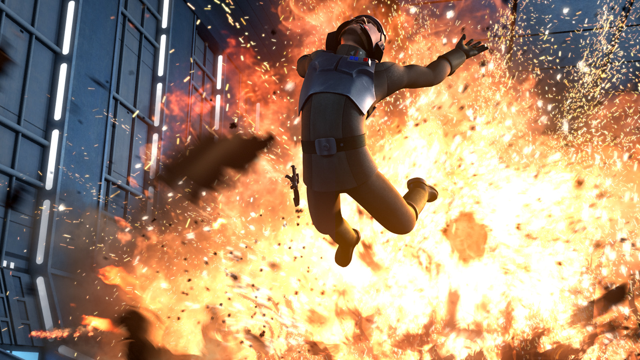 The volume of stock buybacks is soaring, but the actual value generated by this activity is declining rapidly. The ROI of share buybacks has declined for 7 consecutive quarters until Q4'15, and I think it will decline further.
This is because companies are buying their shares at high prices to prop up the price, instead of re-buying stock because it is undervalued. As in the case with Apple, the stock often falls despite the buybacks - resulting in a negative ROI for the company.
Reversal of Fortunes: Buybacks losing their luster 2014-2015: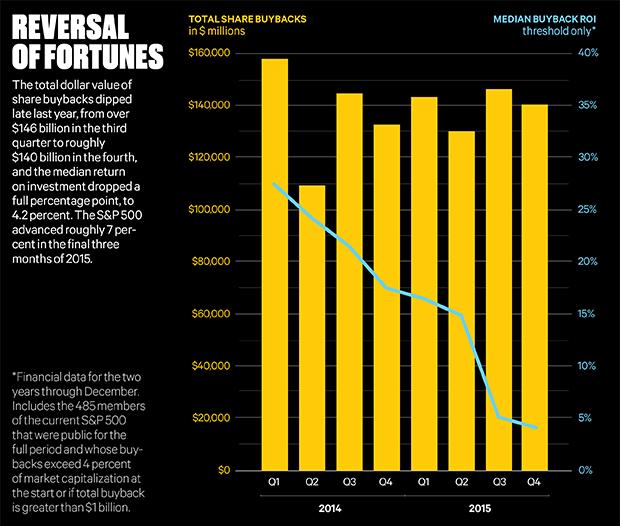 Before we get into the problem with ATVI, I want take a moment to look at AAPL. Apple began serious buyback activity in 2013, and now has a negative ROI on its buybacks because the stock price fell soon after. Also note - the company is doubling down on its buyback spree.
AAPL, Buybacks vs. Stock Price: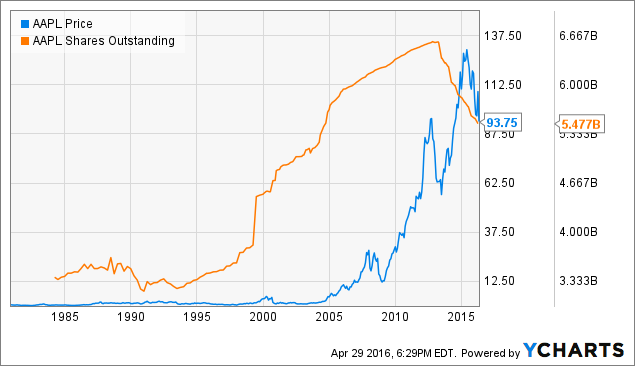 Activision Blizzard: One of The Worst Offenders
When it comes to using stock buybacks to create an illusion of growth, ATVI is the worst offender. Over the long term, this company has been one the best performers in the NASDAQ 100 (NASDAQ:QQQ), and its meteoric growth has been almost exclusively due to share buybacks.
I believe the company's revenue plateaued in 2011, and will remain stagnant for the foreseeable future.
Revenue 1995-2015: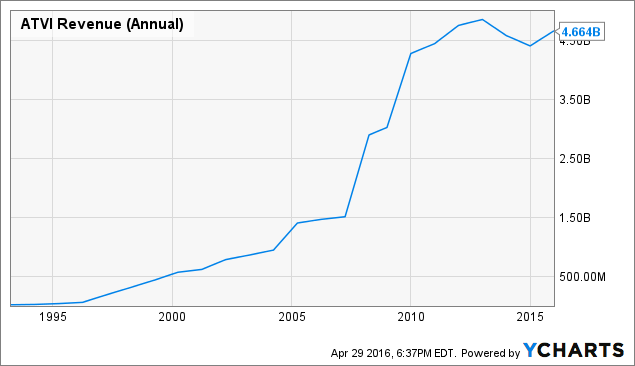 Activision posts minimal R&D increases (too busy buying back shares?), and its big brands are quickly declining with no clear replacement. The company's net income growth is doing no better than revenue.
Net Income 1995-2015: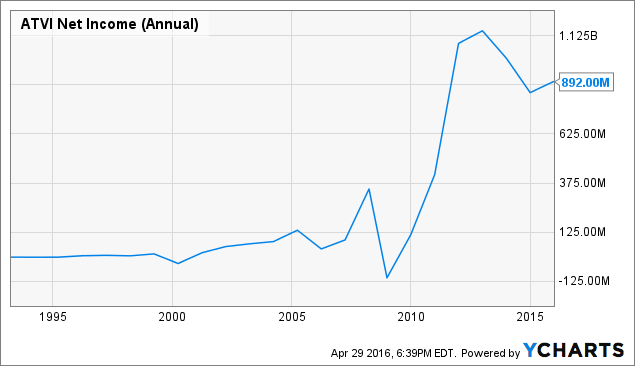 However, despite the clear stagnation, stock prices have seen a meteoric rise of over 70% in the same years the company's actual growth flat-lined.
This is because while net income and revenue were flat, the company has been able to increase EPS by lowering the number of shares outstanding - using debt to "create value" for shareholders.
ATVI, shares outstanding and price 1995-2015: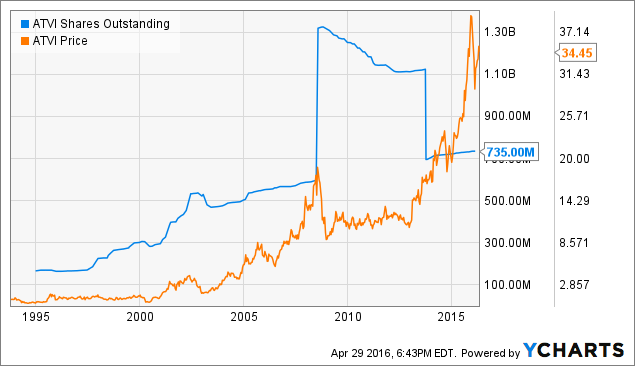 As you can see, with ATVI the amount of shares outstanding is the deciding factor on the price, not revenue, not profits and not the future of its declining brands.
The meteoric growth of this stock from 2013 to the present is solely due to share buybacks. Hilariously, this was the same time the company's revenue and net income started to decline. Retail investors who thought they were investing in a growing and dynamic gaming company have been completely hoodwinked!
The story gets worse. As ATVI expands its share buyback programs, it expands its liabilities to finance the purchases. While this is fine so long as interest rates are near zero, as soon as rates rise this is a recipe for disaster for the company.
ATVI, price and liabilities 1995-2015: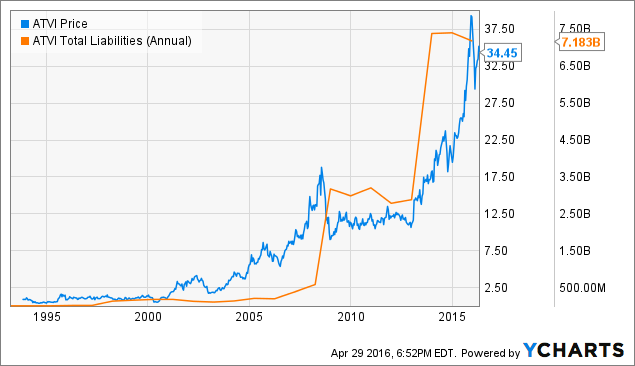 As you can see, the share price has a large correlation to the total liabilities of the company. In fact, price correlates to total liabilities more than with assets, revenue or net income.
In 2007, the company issued both debt and new stock to drive growth. In terms of revenue and profitability, the company actually did really well during the Great Recession. I think the crash in the stock during 2009 was actually due to the massive increase in shares outstanding and the reduction in EPS instead of macroeconomic factors.
Shares outstanding and liabilities increased together when the company was growing...
Now debt is used to fund share buybacks, 1995-2015: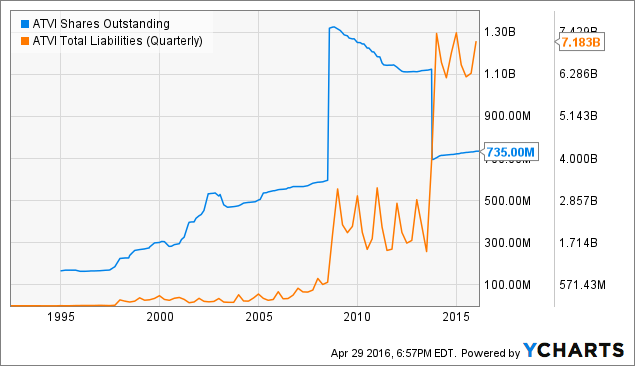 Conclusion
If your only purpose in owning a stock is the expectation that the company will continue to buy back its shares, you have a winner with ATVI. However, the ROI of these programs is decreasing across the board, leaving companies with a growing mountain of debt that will have to be paid eventually.
Activision Blizzard is not a growing company, and I think this stock is a clear short. Earnings come out 5/5/2016; remember the lessons from Apple, share buybacks will not stop gravity. I think the inevitable correction in this stock will also have serious implications for the NDX ETFs.
Follow GoldBug for more coverage of gaming stocks, as well as my usual coverage of gold and precious metals. When i'm not investing, i'm playing video games - click on the circle icon next to my name to join the team.
I look forward to your comments and suggestions.
Thanks!
Disclosure: I/we have no positions in any stocks mentioned, and no plans to initiate any positions within the next 72 hours.
I wrote this article myself, and it expresses my own opinions. I am not receiving compensation for it (other than from Seeking Alpha). I have no business relationship with any company whose stock is mentioned in this article.