Starbucks (NASDAQ:SBUX) released earnings earlier this month on Thursday the 21st after markets closed. After reporting in-line EPS of $.39 and a revenue miss of $40M, we saw share prices drop nearly 4.5% in after hours trading. While even the post-ER drop in price reflects a rich valuation, I believe investors should buy the sell-off.
Into earnings, we saw SBUX trading at high multiples that are comparable to a strong tech company like Google (NASDAQ:GOOG). A major reason for this is SBUX sports solid Y/Y growth which does not look to slow in the foreseeable future. While comps slowed from 8% in 1Q16 to 6% in 2Q16, CAP still has lots of room to grow. Last year, SBUX reported 19% non-GAAP growth and tailwinds in tea and iced-tea.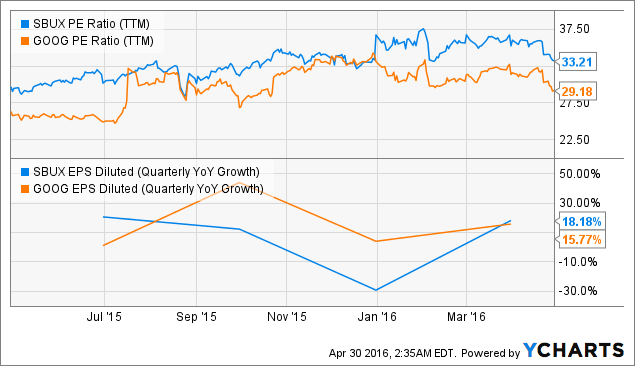 SBUX PE Ratio (NYSE:TTM)) data by YCharts
In addition, tea demand grew 17% Y/Y while ice-tea grew 29% Y/Y. From the March 23 financial release:
Building on the success of the Teavana brand in Starbucks channels in the U.S. and Canada, Johnson unveiled the company's plans to extend the Teavana brand into Starbucks retail stores across EMEA and China/Asia Pacific by the end of the fiscal year.
This is great news for SBUX in CAP, especially as tea is consumed on a daily basis by most people in China. This year, SBUX plans on opening 900 stores in China, two-thirds of which will be licensed. This strong unit growth will likely be coupled with healthy comps backed by tea tailwinds. China currently has a middle class population of ~600M people, nearly twice that of the entire United States, and this provides SBUX a large target market. From the 2Q16 transcript, CEO Howard Schultz voiced his confidence on capturing this market. I feel that SBUX's ability to drive positive comps, coupled with 1,000 new store openings in CAP every year, will drive revenue and brand recognition throughout Asia. This is certainly somewhat baked into the valuation, but not entirely.
After reading SBUX's forward looking statements, I believe it has become even more apparent that new products imply multiples could expand. SBUX plans to have a licensed partnership with Percassi in Europe, and this could be good for reigniting slowed comps. While I don't feel that there is much growth in EMEA for SBUX, I also don't see SBUX posting negative comps there. This estimated demand increase, cited in a Wall Street Journal article, means that SBUX could still comp positive in EMEA for the next several years.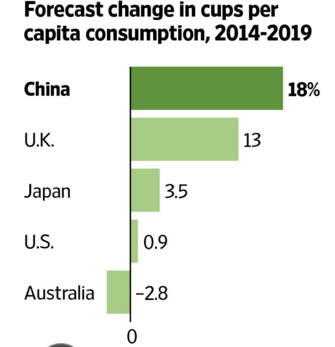 A more near-term catalyst for the stock is the new Starbucks reward card.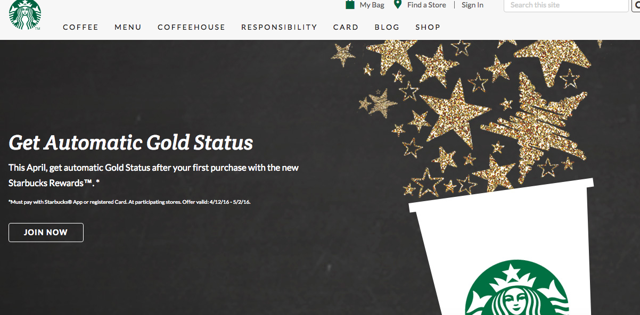 This card earns two stars for every dollar spent at Starbucks and will only increase traffic in the future. SBUX ultimately strives to release its Chase Rewards card that will earn consumers SBUX stars on all of their purchases.
I believe SBUX will see solid growth and positive comps in America and CAP, backed by loyalty rewards and tea respectively. While SBUX is still making moves in EMEA, I model for relatively flat growth, with very few company stores opening. I believe the majority of stores opening in Europe will be licensed, and this is a margin expanding move for SBUX. SBUX's partnership with Percassi and agreements with other known European companies will help put their products on retail shelves and drive revenue.
Looking even further into the future, SBUX plans to make a few strong moves.
The first being the launch of Starbucks Ready to Drink Cold Brew Coffee in the U.S. through the North American Coffee Partnership with PepsiCo.
The second is the launch of Espresso capsules that are compatible with Nespresso machines that will be made available in Europe. The third is that SBUX will spend $8 billion on K-cups and make a new beverage line for the Keurig cup.
I believe investors have a good long-term investment here, as SBUX has proven itself time after time to have solid growth and a good product. The rich valuation is justified, and might even have room to expand.
Looking back on the most recent quarter, I do feel that SBUX has done an excellent job at branding themselves as more than a coffee stop. They now offer wine, beer, and more food than before. This includes delivery in some areas such as NYC. Overall, the long-term investment scenario is quite attractive, and I think investors should buy this sell-off.
Disclosure: I/we have no positions in any stocks mentioned, and no plans to initiate any positions within the next 72 hours.
I wrote this article myself, and it expresses my own opinions. I am not receiving compensation for it (other than from Seeking Alpha). I have no business relationship with any company whose stock is mentioned in this article.