Starbucks (NASDAQ:SBUX) announced its 25th consecutive quarter of global comparable store sales growth this month (Q2 2016 earnings call on April 22), with a 7% comps increase in the U.S. and 6% growth internationally.
Things have been good for the company since the slowdown they experienced during the 2008-2010 period, and the company says its on course to have 25,000 stores by the end of fiscal 2016.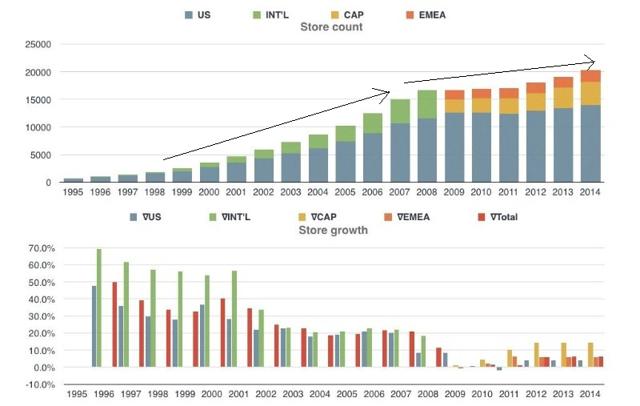 There are several initiatives their CEO announced during the quarterly earnings call which I believe have the potential to keep the company moving forward. Though valuation seems to be a bit stretched at 35 times earnings, the business prospects seems to be as good as ever.
What's even more exciting is their announcement of Starbucks single-serve capsules for Espresso machines. In this article, I'll cover why I think this is an extremely prudent move against the backdrop of store growth maturity in the United States. I will also talk about why China will feature heavily in future growth.
All quotes and data have been taken from the SBUX Earnings Call for 2Q 2016.
Nestle Nespresso
Nespresso, a Nestle-owned company, sells coffee machines and single serve capsules. The company is estimated to have over 25 million espresso-based brewers in homes around the world, and they have an established brand name as well.
Starbucks, which has been working for some time now to create capsules that are compatible with the Nespresso machines, says that it will be launching its own capsules targeting the current Nespresso user base.
This is a big deal for the company because Nespresso's largest markets in Europe have long been attracted to the concept of single-serve. Starbucks estimates that nearly 40% of all coffee consumed in some European countries comes from this segment. More relevant, though, is the fact that nearly half of all Starbucks' regular customers already have a Nespresso machine at home.
If they can get European "home brewers" hooked on to their flavors over what Nestle's brand of capsules, it could help the entire segment beat a path to Starbucks' outlets there. Not only that: if the gambit with the capsules is able to build up enough momentum, it might even mean Starbucks making its own coffee machines and capturing market share from Nespresso.
As promising as that announcement was, there's an even bigger story in the making. China.
The People's Republic of Coffee
"Starbucks has committed to China, and we now have over 2,000 stores in 100 cities in China and are adding over 10 new stores every week. Our business in China remains very strong, and I personally have no doubt that the Chinese government's commitment to true economic reform is genuine and that its plan to double 2010 per capita income by 2021, resulting in a middle-class in China approaching 600 million people, almost twice the size of the entire current U.S. population, is achievable."
That statement might seem sycophantic to some, but to me that's Starbucks building an intangible asset of goodwill in the People's Republic. The end result is a new market nearly double the size of what the Unites States currently offers, and that's the target Starbucks is going after.
Now, I don't live in the United States, but I do know that a single trip to a coffee house costs at least$3.25 - give or take. If you consider even 10% of the Chinese middle class (60 million by 2021) visiting a Starbucks just once a week, you're looking at more than $10 billion in revenues every year from this market. Even if you factor in localized pricing, you're looking at several billion dollars straight to the top line.
This is not a figure you can ignore as a business opportunity, obviously, and Starbucks isn't going to be making that mistake.
As I pointed out in an earlier article called Starbucks: Roasting Through To The Next Decade, I showed how store growth was slowing down in North America - and how China was the perfect complementary market to offset that deceleration.
"We are building our business in China through the lens and with the learnings of the success of our business in the U.S. We're building trust in the Starbucks brand and deep authentic connections between our customers and our partners."
So, it's clear that the company has already charted out its strategy for China, and it's not likely that they'll make the same mistake of excessive store growth that they did at home before the recession hit them - another point my earlier article covered.
On the one hand, there's strong store growth in China, and on the other, there is the Tingyi partnership that will give them access to more than a million points of sale for Frappuccino. But in that mix is also their upcoming flagship store at the entrance of Shanghai Disneyland - a unit that Starbucks is confident will be their highest earning store literally overnight when it opens on June 16 of this year.
Now take that mix and add what they're doing on the digital front in China with gifting options, loyalty programs, mobile strategy and so on, and you have the perfect blend for success in China - and a viable model that can be replicated across Asia-Pacific countries.
Investor-speak: New Markets and Opportunities
It's clear that Starbucks is doing everything it can do offset the slowing growth of its footprint in more mature markets. Of note is the 8% sales growth achieved in channel development, which carries business lines other than their core coffeehouse concept.
They're also growing in markets outside of their current presence in an aggressive way. Although from a revenue perspective, these markets are far less profitable than the United States, their pursuit of other channel opportunities will help bolster bottom line income by exploiting opportunities like the one with Nespresso. New and upcoming markets include Luxembourg, which opened in Q2, South Africa, where they opened this April, and Andorra and Slovakia, which are also slated for the current quarter. In the EMEA region, they have further strengthened their footprint with 47 new stores.
These ambitious growth plans may help stabilize their revenue growth over the coming quarters, but from an investment perspective, because of the still-high valuation, it will provide ample opportunities to invest right after earnings misses, should they happen.
As I mentioned, 35 times earnings is pricey even for a high-value stock like SBUX, but such earnings shocks are what long-term investors should be looking for as signals to add to their positions.
If you would like to follow me and read my analyses of top companies across several industries, please click here and then click the "Follow" button on the next page. See you soon!
Disclosure: I/we have no positions in any stocks mentioned, and no plans to initiate any positions within the next 72 hours.
I wrote this article myself, and it expresses my own opinions. I am not receiving compensation for it (other than from Seeking Alpha). I have no business relationship with any company whose stock is mentioned in this article.