Coming hot off a 10% EPS beat in Q1, dividend investors should think seriously about buying shares of PepsiCo (NYSE:PEP). With a 2.7% yield and strong tailwinds from productivity improvements and R&D spending on new product innovation this is a great stock for you dividend portfolio.
PEP share price vs. dividend yield
PEP delivered Q1 EPS of $0.89 vs. street consensus of $0.81. Management reiterated 2016 guidance of $4.66 in EPS and 4.0% organic growth. Other key highlights include: 3.5% organic revenue growth, 7% organic revenue growth in emerging markets, core margins up 165 basis points.
Management confirmed the business is well-positioned for strength in 2016. 2016 guidance is likely conservative at EPS of $4.82 in 2016 and $5.18 in 2017.
Organic growth is forecasted to be up 4.1% in 2016 and 3.9% in2017.
Pepsi Q1 info-graphic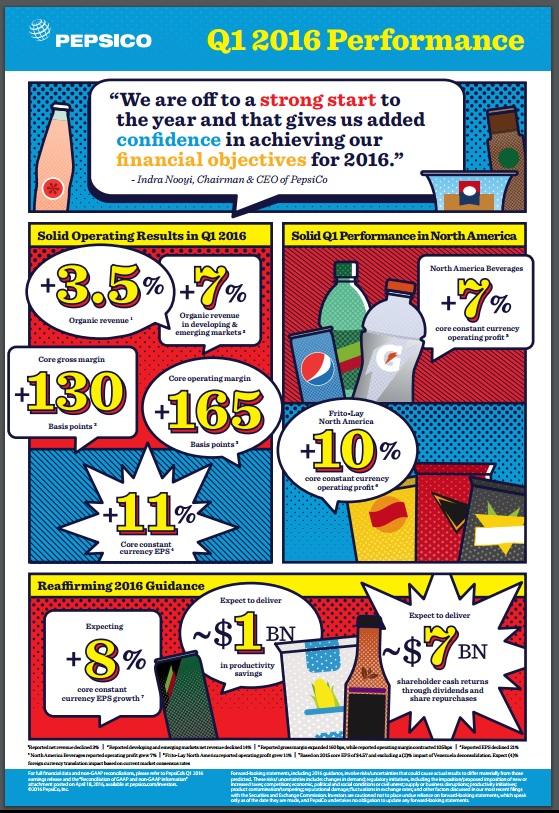 Source: Pepsi IR.
Dividend history
Pepsi has grown it's dividend significantly over the past five years from less than $0.50 to $0.7025 currently. This increase of over 40% equates to a 7% compound annual growth rate.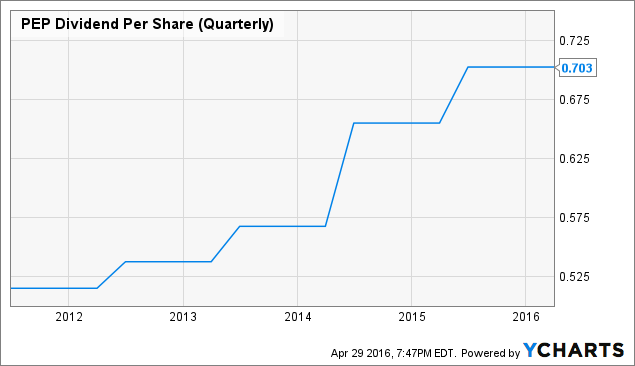 PEP Dividend Per Share (Quarterly) data by YCharts
At the same time the cash payout ratio has actually gone down over the same period. It peaked at 67% in 2012 and currently sits at 54% on a trailing twelve months basis.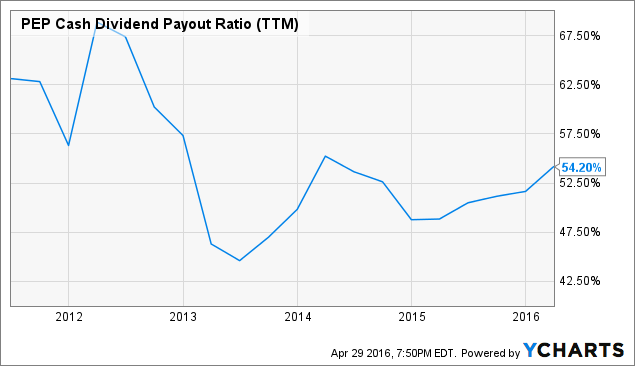 PEP Cash Dividend Payout Ratio (NYSE:TTM) data by YCharts
The combination of an increasing quarterly dividend and a declining cash payout ratio over the past 5 years is an excellent buying signal for dividend investors.
Looking forward, there are a few key questions to answer in order determine if this trend will continue.
#1 - Can Frito-Lay North America sustain its historical growth and profitability momentum?
The short answer I believe is, yes. Frito-Lay has a huge degree of pricing power due to it's massive market share (approximpatly 60%!) and I expect at least 3-4% organic growth in that segment.
#2 - Will growth and profitability for the North American Beverage division continue?
In my financial analysis I believe a 2% organic growth for the North American Beverage segment can be achieved by a combination of continued pricing increases and consistent volume growth (top line growth).
In terms of the bottom line, I see even more growth potential given the productivity related improvements that were made over the past five years, which will soon start to have a positive impact on results.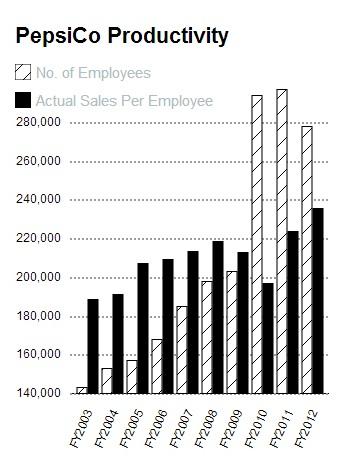 (Source: bloomberg)
#3 - Will R&D spending continue?
PEP's research and development (R&D) expense increased by 8% to $718 million in 2014. What's impressive is that Pepsi's new products made up 9.0% of its revenue in that year. PEP is placing more emphasis on healthier options, which requires innovation. PEP's nutritional products represented 20% of 2014 net revenue.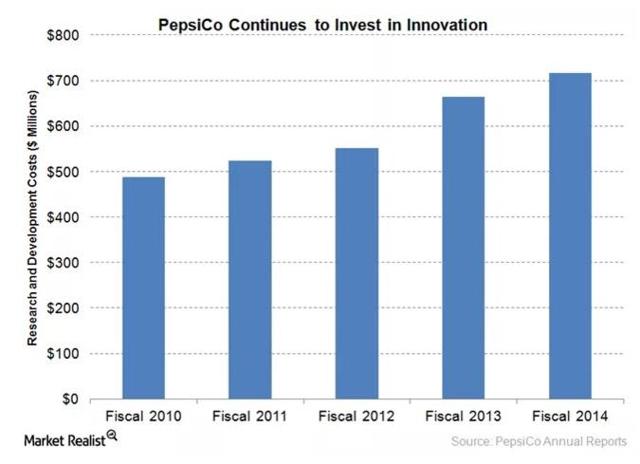 (Source: market realist)
Conclusion
I believe that expectations for continued growth are understood and mostly priced in, but, as outlined above, I do not think the market appreciates the potential for the North American Beverage unit, the benefits of productivity increases, and sales growth due to product innovation from R&D that will drive healthier options.
If you layer on top of this solid outlook the fact that the dividend per share has increased over 40% in the past five years while the cash payout ratio has gone down, I am very bullish on this stock for my dividend portfolio.
Disclosure: I/we have no positions in any stocks mentioned, but may initiate a long position in PEP over the next 72 hours.
I wrote this article myself, and it expresses my own opinions. I am not receiving compensation for it (other than from Seeking Alpha). I have no business relationship with any company whose stock is mentioned in this article.