Since Boeing (NYSE:BA) still has been undecided on bringing a MoM aircraft on the market and Airbus (OTCPK:EADSF) has brought the Airbus A321neo LR, looking at how airlines are currently replacing the Boeing 757 and Boeing 767s is interesting.
Delta Air Lines (NYSE:DAL) initially ordered the Boeing 737-900ER to replace some of the Boeing 767s and Boeing 757-200s, but recently also welcomed the Airbus A321ceo to the fleet. Although I do not view either of them as the real MoM aircraft as they lack some range, it is still interesting to see how these aircraft will be utilized in Delta's fleet.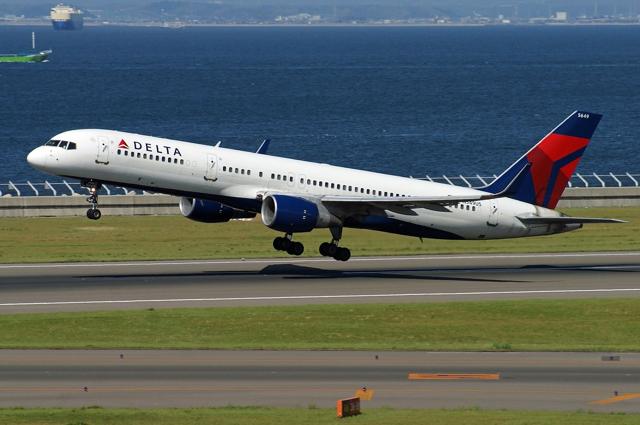 Boeing 737-900ER
Delta Air Lines has ordered a total of 120 aircraft to replace the Boeing 757-200 on domestic routes and the Boeing 767-300. The first batch of 100 aircraft was ordered in Augustus 2011, followed by a smaller batch of 20 aircraft in December 2015. Out of these 120 aircraft, 56 already have been delivered. This means that 64 units (more than half of the total order) still has to be delivered.
Airbus A321ceo
Delta recently took delivery of its first Airbus A321ceo and now has a total of 79 A321ceo aircraft that still need to be delivered out of a total of 82 aircraft. In 2013 Delta ordered 30 A321s, followed by another 15 in 2014 and the latest order for 37 aircraft was placed in 2016.
Replacement
Over the last few years Delta has placed several big orders in an effort to not only grow but also rejuvenate the fleet. Most of the aging wide body aircraft will be replaced by Airbus aircraft, while the MD-88 found its replacement partly in the Airbus A321 and Bombardiers C Series (read the full report here). The Boeing 757-200 (domestic) and Boeing 767-300 will be replaced by the Boeing 737-900ER and the Airbus A321. However, some Boeing 757-200s are being reconfigured to seat a total of 199 passengers.
Table 1: Aircraft that will be retired and replacements on order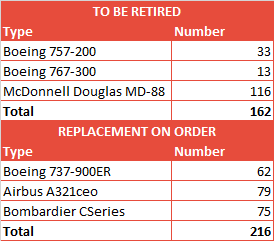 Table 1 shows that Delta ordered about 33% more airframes than need to be replaced, this could be a signal that the replacement might not be a one-for-one replacement. At least for the Boeing 767-300 it is likely that the airframe will be replaced by multiple airframes. It is likely that some of the Airbus A321s on order at some point will replace the reconfigured Boeing 757-200s.
In that case no additional orders for the Boeing 737-900ERs are required. This of course does not bode well for Boeing, but what might be even worse for Boeing is that Delta is reconfiguring the 757s with 199 seats which is only 7 seats more than the Airbus A321ceo. The Boeing 737-900ERs are equipped with 180 seats. Although airlines ultimately select configurations for their aircraft, this is yet another sign that Boeing lacks an answer to Airbus' stretched narrow body product and Delta seems to be moving towards narrow bodies with higher seat counts.
Conclusion
With the A321ceo entering the Delta fleet, the Boeing 737-900ER is no longer the only type to replace the aging Boeing 757-200 and Boeing 767-300 Upgauging of the Boeing 757-200s shows a preference for narrow bodies with higher seat counts, Boeing lacks a suitable product for this particular spot on the market.
The order for the Airbus A321 and the upgauging of existing Boeing 757-200s, in my view imply a smaller role for Boeing in Delta's narrow body fleet rejuvenation.
If you would like to receive updates for my upcoming articles, please click the "Follow" text at the top of this page next to my profile.
Disclosure: I am/we are long BA, DAL.
I wrote this article myself, and it expresses my own opinions. I am not receiving compensation for it (other than from Seeking Alpha). I have no business relationship with any company whose stock is mentioned in this article.
Editor's Note: This article discusses one or more securities that do not trade on a major U.S. exchange. Please be aware of the risks associated with these stocks.