Prices
Prior year - NYMEX light sweet crude oil front month futures settlement prices

Source: Chart Quandl, raw data from CME
Prior week price table - NYMEX light sweet crude oil front month futures settlement prices

Source: Table Author, Data from Quandl and CME
Price drivers last week
Crude oil prices settled at $45.93 on Friday, April 29, up $2.19 or 5.0% on the week.
Prices started the week by falling Monday as market intelligence provider Genscape reported that crude oil inventories at Cushing had risen by 1.5 million barrels and Barclay's Bank published a bearish report on crude oil. Prices were up Tuesday as the American Petroleum Institute (NYSEMKT:API) reported that US crude oil inventories unexpectedly drew 1.1 million barrels. On Wednesday the Energy Information Administration (NYSEMKT:EIA) contradicted the API's report of a crude oil draw and reported a build of 2.2 million barrels, temporarily sending prices lower before they recovered and ended higher, the rise being attributed to a weaker dollar and technicals. Thursday's gains were again attributed to a weaker dollar and technicals. On Friday a Reuters survey indicated that OPEC oil output rose in April up from 32.47 million b/d in March to 32.64 million b/d in April, the markets were down only slightly on the day.
Crude Oil Futures Curve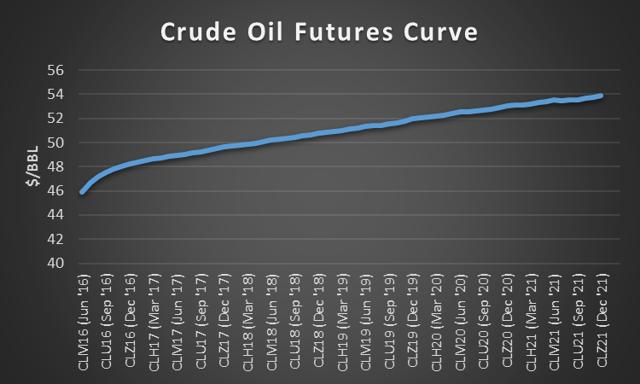 Source: Chart Author, Data from Quandl and CME
The crude oil futures curve remains in contango. The December 2021 contract settled at $53.88. This is $7.96 (down from $8.73 last week) above the front month, June 2016 which settled at $45.92
Weekly Petroleum Status Report - Key figures and charts from the report released 27 April 2016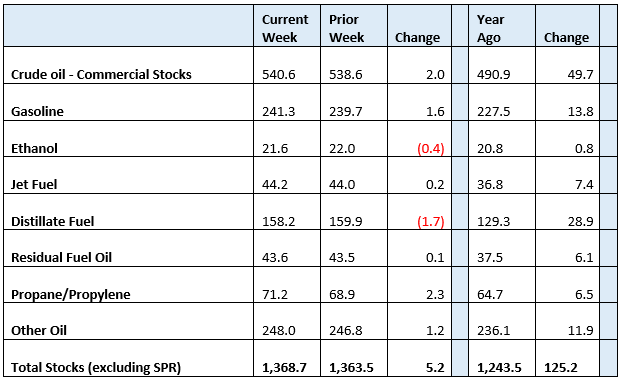 All figures millions of barrels
Source: Table Author, Data from EIA Weekly Petroleum Status Report
Total US petroleum stocks were up 5.2 million barrels on the week, with a build in crude oil, gasoline, jet fuel, residual fuel, propane and other oil, partially offset by draws in ethanol and distillate.
There were no big surprises in the statistics although the 2.0 million barrel build in crude oil contradicted the 1.1 million barrel draw in crude oil that the American Petroleum Institute reported on Tuesday and the EIA's report caused the market to temporarily trade down when the data was released on Wednesday.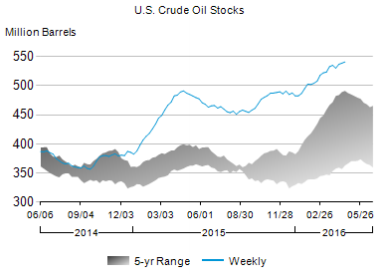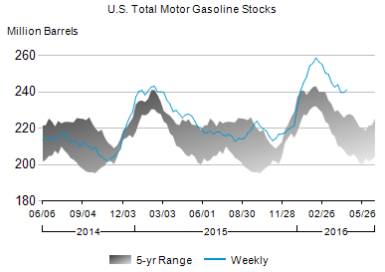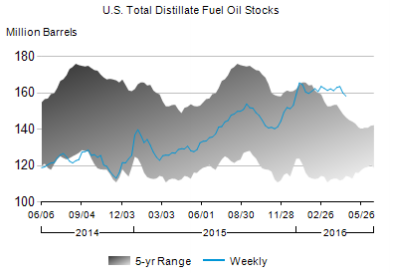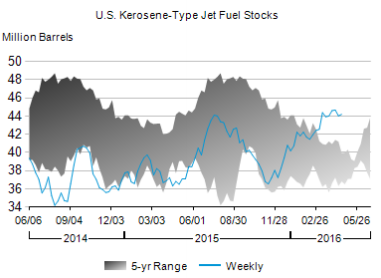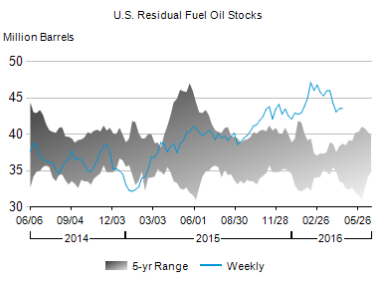 Source: EIA Weekly Petroleum Status Report
As the charts above show, crude oil, gasoline, jet fuel and residual fuel had small inventory builds last week, while distillate had a draw from inventory. Crude oil and the main refined petroleum product inventories all remain far above their 5 year range.
Baker Hughes Rig Report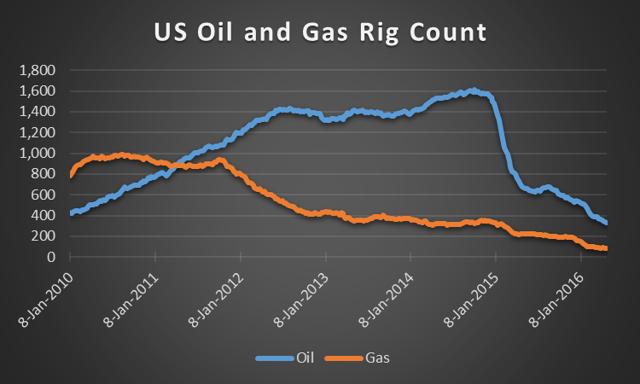 Source: Chart and table Author, Data from Baker Hughes website
Low oil prices continue to cause drilling rig counts to fall in the US, Canada and internationally. With fewer active drilling rigs the US oil production is in decline, helping to move the oil markets back towards a supply and demand balance. The EIA projects that oil rig counts will start to increase in mid-2016 but not enough to stop the decline in the Lower 48 states production.
OECD and worldwide inventories, supply and demand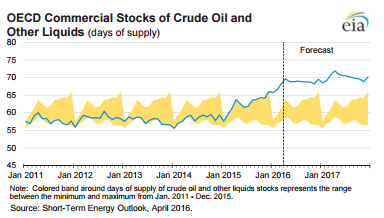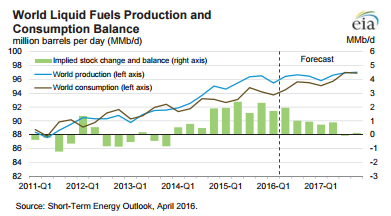 Charts from the EIA's Short Term Energy Outlook for April 2016 show the main reason for crude oil prices falling starting in mid-2014, the reason that crude oil prices will be pressured to the downside in the near term and the reason prices will recover longer term. Crude oil production ramped up sharply in 2014 and 2015, causing large builds in worldwide stocks. The forecast is for worldwide production to level off with demand catching up to production in mid-2017.
Oil related news from the last week
IMF's Regional Economic Outlook Update for the Middle East and Central Asia released - The report released on 25 April, reported that countries in the region need to reduce their dependence on oil and accelerate reforms to manage the new reality of low oil prices. The IMF said that the fall in oil prices lead to $390 billion of lost export revenue in 2015 causing large fiscal deficits for oil exporters in the region.
Saudi Arabia's Vision 2030 revealed-Deputy Crown Prince Mohammed bin Salman unveiled a plan seeking to cut the economy's reliance on oil exports by diversifying the economy, raising non-oil revenues and cutting spending.
Libya National Oil Company outlined plans to restore oil output- Libyan national oil company chief Mustafa Sanalla outlined plans to restore oil output that is less than a quarter of the 1.6 million barrels per day (b/d) that Libya pumped before Muammar Gaddafi fell in 2011.
The Energy Information Administration Iraq Country Analysis updated- Iraq, OPEC's second-largest crude oil producer, increased production from 2.6 million b/d in 2011 to almost 4.1 million b/d in 2015. Despite the recent increase the analysis indicated that the Iraqi government has lowered its future oil production targets and slashed investment plans.
Details on the EIA's US Crude Oil Production Forecast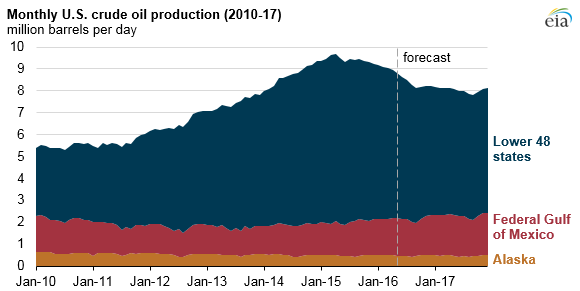 Source: EIA Report 20 April 2016
The EIA issued an article on 20 April providing detail on its US crude oil production forecast through 2017. The EIA forecasts total US crude oil production to fall from 9.43 million b/d in 2015 to 8.59 million b/d in 2016 and 8.04 million b/d in 2017. Production from the lower 48 states is expected to decline from 7.41 million b/d in 2015 to 6.46 million b/d in 2016 and 5.76 million b/d in 2017. The federal Gulf of Mexico production is projected to increase from 1.54 million b/d in 2015 to 1.66 million b/d in 2016 and 1.82 million b/d in 2017. Alaska's oil production is projected to decrease from 0.48 million b/d in 2015 to 0.47 b/d in 2016 and 0.46 million b/d in 2017.
The EIA stated that the sharp decline in oil prices since the fourth quarter of 2014 had a significant effect on drilling in the United States leading to the production declines. The EIA is projecting the number of operating rigs in the Lower 48 states to continue to decrease through mid-2016 before slowly increasing thereafter.
Conclusion - What to Expect
Crude oil prices have made a nice run from their low of $26.05 per barrel on 11 February 2016 to their current price of $45.92, an increase of 76%. Most of the news was negative this week, but the market was able to disregard this and push higher.
The market lows in February may have been overdone and the bounce back to the $35-$45 per barrel range is likely more sustainable. However, worldwide crude oil production is forecast to continue well above demand with the market not forecast to balance until mid-2017 and at that point, worldwide crude oil inventories will be extremely high. If prices reach $50 before the market gets back in balance, we could start to see US shale producer activity increase, which would likely put a ceiling on prices until the market gets back in balance mid-2017.
Addendum
Sectors and stocks impacted
The United States Oil Fund (NYSEARCA:USO), iPath S&P GSCI Crude Oil TR ETN (NYSEARCA:OIL)
Major oil companies - Exxon Mobile (NYSE:XOM), Chevron Corp. (NYSE:CVX), ConocoPhillips (NYSE:COP), Royal Dutch Shell (RDS-A), Total (NYSE:TOT), BP (NYSE:BP)
Oil service companies - Schlumberger (NYSE:SLB), Halliburton (NYSE:HAL), Baker Hughes (NYSE:BHI), Fluor (NYSE:FLR), Weatherford International (NYSE:WFT)
US shale oil producers - Marathon Oil Corporation (NYSE:MRO), Continental Resources (NYSE:CLR), Southwestern Energy Company (NYSE:SWN), EOG Resources Inc. (NYSE:EOG)
A look back at previous crude oil price forecasts
Longer term crude oil price analyses links are provided below. These analyses have been consistently bearish.
Oil Prices - What Happened, What To Expect, And Why- 11 February 2015
Crude Oil Prices - Don't Bet On A Quick Rebound- 30 September 2015
Crude Oil Buyers Beware- 16 February 2016
Crude Oil - Don't Buy The Hype- 14 April 2016
Disclosure: I/we have no positions in any stocks mentioned, and no plans to initiate any positions within the next 72 hours.
I wrote this article myself, and it expresses my own opinions. I am not receiving compensation for it (other than from Seeking Alpha). I have no business relationship with any company whose stock is mentioned in this article.