The tremendous rally of Vale S.A.'s (NYSE: VALE) stock, adding almost 27% in the last four weeks itself, has left the investors spellbound. While restocking of steel and inadequate supply from Australia sent iron ore prices in a tizzy, some more than welcoming numbers of 1Q16 has further added to investor confidence. However, there are a lot of macroeconomic and demographic factors with which the fate of this company is closely tied. According to the 4Q15 numbers, Vale derives almost 65% of its revenues from ferrous materials, majorly in the form of iron ore fines. Another stark reality is its overdependence on China. Out of the total revenues of nearly $6 billion in the said quarter, 36% comes from China alone. Now let us try to break down the analysis on two fronts:
The Chinese Scene
Well, there are a couple of things to note here: Firstly, Chinese mills still produce a whopping 51% of the total steel output of the world. All talks with the government to regulate production and cut down subsidies have proved futile. Though, at an emergency meeting called at Brussels, China recognized its overcapacity problem yet no absolute agreement was achieved.
Secondly, not long ago in February this year, the National Development and Reform Commission of China planned to offer 400 billion Yuan (almost $61 billion) to local governments and authorities for special building projects spanning from highways and railways to pipelines. Whatever capacity curtailment was on the cards (a vague commitment of 150,000 tons over 5 years) seems to be pretty much offset by this investment plan of the Chinese government. Though, this would keep the momentum in steel prices going, but only in the short run. It won't be long before the EU will follow suit and, like the US (which currently imposes 266%), impose high anti-dumping penalties on Chinese cold-rolled steel. This will eventually fade the demand story of steel and consequently iron ore.
Can the rally in the iron ore price continue?
The answer to this question is inclined towards a no. Iron ore has made a strong comeback from the December's low of $38.30. The adamancy of the Chinese government to rack up steel production and inadequate supply from Australia played a key role in this. A report from Credit Suisse is of the opinion that the Chinese economy saw tremendous amount of destocking of steel in the last 15 years and the recuperation process will last four quarters.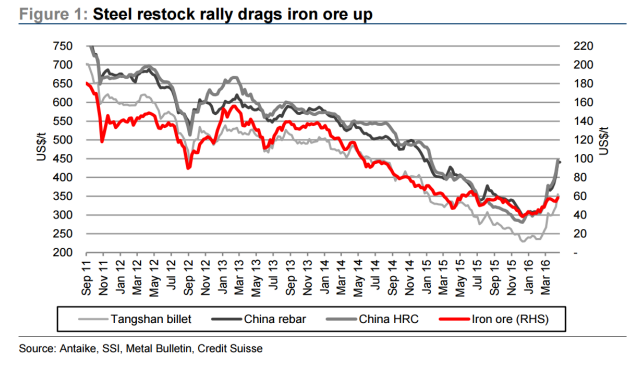 Source: The Sunday Morning Herald, Report by Credit Suisse
Once this process is complete, iron ore prices are expected to be back at $40 per ton. Other analysts at Citi and Macquarie also predict iron ore prices to settle at around $40-45 in the latter half of this year which can drag down the stock price of Vale.
The recent numbers and numbers to consider
The 1Q16 numbers for Vale were nothing short of being exemplary. However, there were a lot of details which leaves one wondering. For instance, the freight cost for the company was down by $2.08 per ton on account of a slump in bunker oil prices and higher exposure in the spot rate market. But any improvement in these rates in the future is difficult to expect and will be highly contingent on the contracts it negotiates (bunker oil prices also see a rebound). Another notable metric is the cash position and upcoming debt maturities of Vale which almost overshadows its operating performance to a great extent: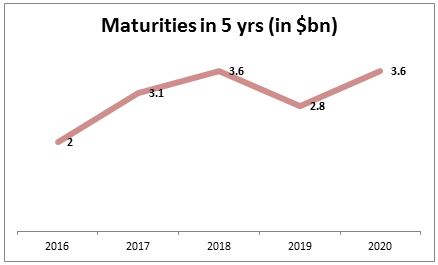 Source: Chart by author
Despite the company being fully committed to deleveraging its balance sheet, its debt is still heading north with the company adding almost another $2 billion this quarter. With the current cash position (1Q16) at $3.8 billion, the company may well have to resort to more aggressive asset sales to meet its overarching debt obligations.
However, there are two factors that are keeping this ship buoyant. First, Vale has kept pushing its EBITDA upwards on account of lower costs. While SG&A expenses saw a decrease of 26% quarter on quarter, pre-operating and stoppage expenses decreased 27% quarter on quarter, resulting in operating margins of c.20% (11.7% in 1Q15). Second, the S11D mine and plant, which are nearing completion (currently at 85%), are slated to reduce cash costs by roughly 20% to $10 per ton. But a major share of that 20% was dependent on the fact that the Brazilian Real continues to be weak against USD; however, Real has been appreciating since March.
Source: XE Currency Charts
The Bottom Line
While the completion of the S11D mine could add a lot to the bottom line of Vale, it still requires an estimated capital expenditure of around $2 billion each in the coming two years. This brings us back to the cash-debt-asset sale cycle of the company. Bind this with the decreasing and stabilizing prices of iron ore and the rally for the stock would seem to fade. Under such circumstances, it would be advisable to ride the high wave till it lasts and let go of this stock at the first dip.
Disclosure: I/we have no positions in any stocks mentioned, and no plans to initiate any positions within the next 72 hours.
I wrote this article myself, and it expresses my own opinions. I am not receiving compensation for it (other than from Seeking Alpha). I have no business relationship with any company whose stock is mentioned in this article.