I use the Dugan Scoring System to determine the "top" companies which meet the filtering criteria. Those criteria are:
Being in the top Dugan-scoring half of the non-RIET and non-MLP companies on David Fish's "All CCC" list.
Minimum yield of 2.5%.
Minimum 7 years on the CCC list.
Minimum $3B market cap.
Maximum relative Graham number of 100.
Maximum payout ratio of 80.
Minimum most-recent dividend increase of 5%.
Minimum estimated EPS growth next year of 5%.
Minimum estimated EPS growth for the next 5 years of 5%/year
While filters 2 through 9 are individual preferences, the most important filter is number 1 because it assures I am filtering only very high quality companies.
The Dugan Stock Scoring System is a tool to identify those CCC companies which are, overall, the highest quality and which should (because of that better quality) produce better investing results than otherwise would be attained by simply filtering for desired characteristics. In this context, quality means companies which have strong current conditions and excellent future prospects.
Strong current conditions are exemplified by: great value as measured by low relative Graham number, low payout ratio, low debt/equity ratio and high most recent dividend increase %.
Excellent future prospects are exemplified by: high EPS growth forecasts for this year, next year and 5 years out, and excellent dividend growth histories.
Simply put, the Dugan Stock Scoring System is a disciplined, systematic process that evaluates each CCC stock on the basis of a wide variety of investment criteria from four broad categories: Risk, Value, Past Performance and Future Performance Expectations.
No stocks, like no people, are perfect. Even high-quality and high-scoring stocks have weaknesses. So, a Dugan Score is a balanced, holistic picture of a stock, which includes both its strengths and weaknesses. The following is a summary of the metrics used in the Dugan Stock Scoring System, along with each metric's relative weighting in the overall formula. The weightings are my assessment of each metric's relative importance in calculating the company's overall quality.

Using the Dugan Scoring System and the above filters yields the following 11 companies as the highest scoring May 2016 CCC companies:

Let's take a closer look at one of the top companies, Target (NYSE: TGT), using FASTGraphs and the information in the CCC list above.
In the CCC picture above, TGT scored well in Dugan Score at 82, but below the average 88 for the top half of May's CCC. TGT has nice yield and size at 2.82% and $48B respectively. Its low payout ratio of 42% and attractive valuation with a relative Graham number of 58%, coupled with expected EPS growth of 9%/year for next year mark TGT as a company with a solid current condition and attractive future potential. Not shown in the charts is the negative overhang of being in the brick and mortar retail space. Let's not forget that future predictions are based on analysts' expectations. Capping off the explanation for why TGT scored well is the great DGR history, being in the double digits for all 4 periods shown. That's truly impressive, but can't hide the fact that it did slip into single digit territory on its most recent increase, albeit at a still very respectable 7.7%
Let's now double check the impressive past, present and future with a few FASTGraphs below: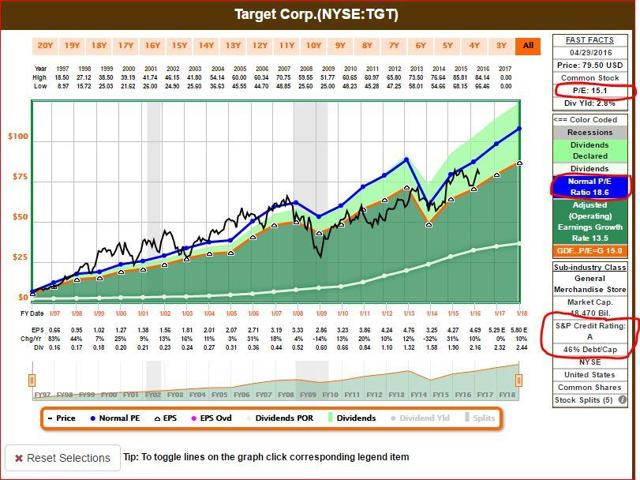 Note, above in red circle, a P/E ratio of 15.1 versus a long term historical normal of 18.6, suggesting a possible undervaluation. A long term earnings growth rate of 13.5%, a low debt to capitalization ratio of 46% and an investment grade credit rating of single A show its current condition to be solid. But what about the future. Look below at the next FASTGraphs picture.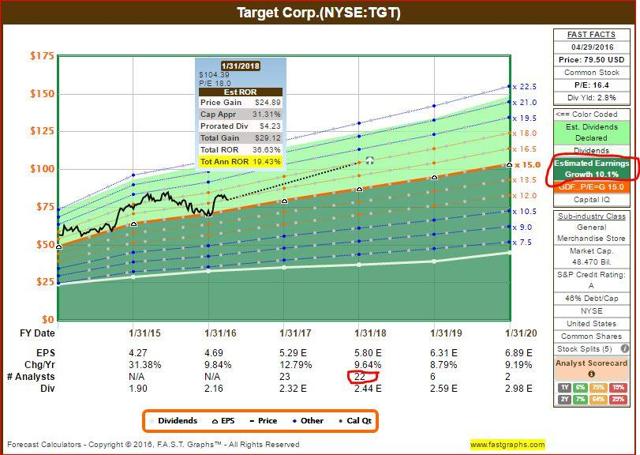 Follow the dotted line from its current position to year-end 2018. If TGT gets back to its normal P/E ratio of 18+, it would provide an impressive 19.43%/year rate of return through y/e 2018. Look inside the small red circle. There are 22 analysts making projections through y/e 2018. That number falls to 6 and 2 for the succeeding 2 years. That's why I stopped the forecast at 2018. In the bigger red circle, those analysts are forecasting EPS growth of an impressive 10.1%. Given the headwinds of competing in the retail might causes some worries. My sense is that Sears and KMart will fold in the 3 to 5 year future time frame and TGT and Wal-Mart will benefit significantly from that event by picking up Sears and KMart's market share. But, thorough due diligence about the company and industry is certainly warranted.
I hope you enjoyed this journey. Comments are encouraged. Happy investing.
Disclaimer: The opinions in this document are for informational and educational purposes only and should not be construed as a recommendation to buy or sell the stocks mentioned or to solicit transactions or clients. Past performance of the companies discussed may not continue and the companies may not achieve the earnings growth as predicted. The information in this document is believed to be accurate, but under no circumstances should a person act upon the information contained within. We do not recommend that anyone act upon any investment information without first consulting an investment advisor as to the suitability of such investments for his specific situation. (Borrowed from Chuck Carnevale.)
Disclosure: I am/we are long TGT, PRU, QCOM, RAI.
I wrote this article myself, and it expresses my own opinions. I am not receiving compensation for it (other than from Seeking Alpha). I have no business relationship with any company whose stock is mentioned in this article.