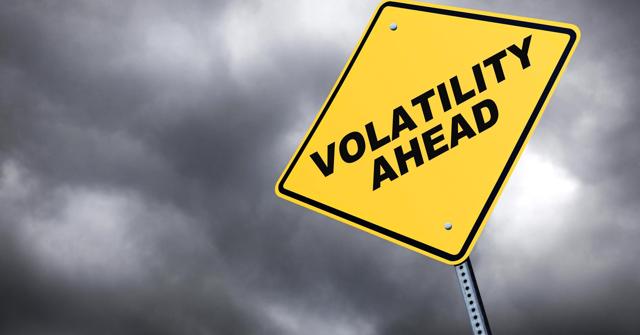 (Source: cnbc)
"Sell in May and Go Away" works for stocks in general: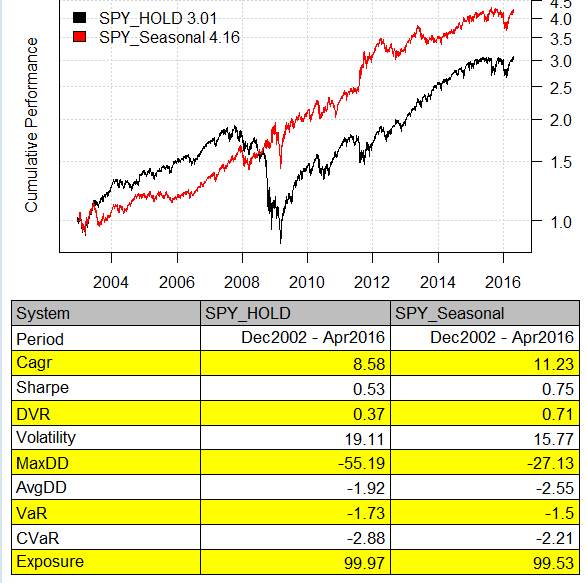 But investing should be fun as well as profitable. Holding bonds for half the year is boring and not very profitable. Instead, we should look to alternative investments to hold during this time.
Taking the "sell in May" aspect over to other investments, I wondered whether volatility had a seasonal market cycle like the general market. Perhaps ETNs such as the iPath S&P 500 VIX Short-Term Futures ETN (NYSEARCA:VXX) and the VelocityShares Daily 2x VIX Short-Term ETN (NASDAQ:TVIX) have similar "sell in X month" trading strategies. Intuition does not answer this, as "sell in May" for stocks is more about underperformance than intra-year bear markets.
While we know that holding volatility notes is profitable during market corrections or crashes, we do not know whether they consistently perform in certain underperforming months of the year. I investigated the seasonality of TVIX (instead of VXX because of the larger sample size of years); here are the results: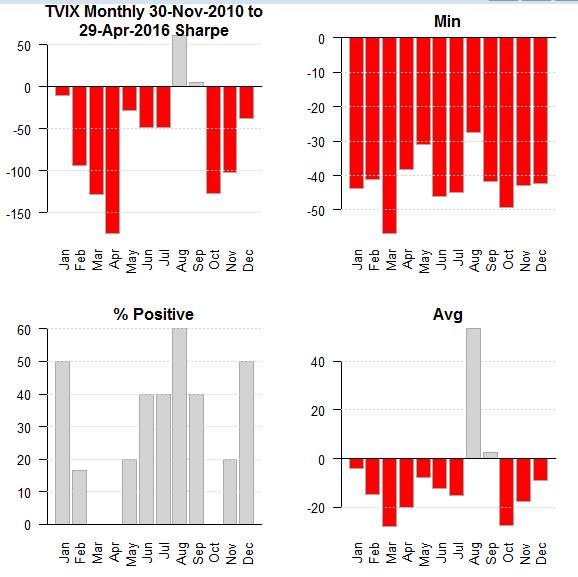 Clearly, volatility notes are awful holdings for most of the year, but they outperform in August and also do well in September. This gives an idea for a yearly investment strategy that can merge with the "sell in May" mindset. As I mentioned in this article, different sectors outperform the SPDR S&P 500 ETF (NYSEARCA:SPY) in certain seasons, allowing for a seasonal portfolio.
What happens if we extend this portfolio to include volatility holdings?
The strategy follows:
February: Sell whatever you have and buy the Energy Select Sector SPDR ETF (NYSEARCA:XLE)
May: Sell XLE and buy bonds, such as the iShares 20+ Year Treasury Bond ETF (NYSEARCA:TLT)
August: Sell bonds and buy TVIX
September: Sell TVIX and buy the Technology Select Sector SPDR ETF (NYSEARCA:XLK)
The results of this portfolio follow: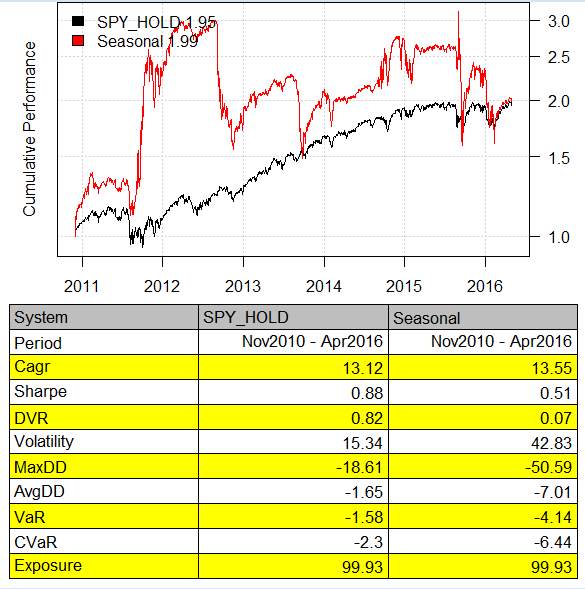 Performance is neck-and-neck with holding the SPY. What's notable are those huge spikes you see. Those spikes - both down and up - are entirely due to TVIX exposure. Clearly, outperformance potential is present, but the timing of the TVIX exit points must be drilled down to days or weeks instead of months.
Much like a pump-and-dump penny stock, the reliable price spike in August seen in TVIX needs a take profit strategy and stop loss attached to it. Otherwise, we will see large drawdowns that bring us back to SPY levels. Nevertheless, the conclusion remains: August is a great month to gain exposure to volatility, provided you watch it closely.
The above portfolio is superior to the SPY if closely watched in August. Add the appropriate stop losses and take profits to your TVIX August holding, and you're on your way to beating the market. But perhaps the best strategy here is to run everything with stock but buy options on the VXX instead.
Options on the VXX can help you limit your losses while exposing yourself to unlimited gains. A ratio backspread would work well here:
Sell ATM VXX Call for the closest month
Buy 2 OTM (roughly $4 above) VXX Calls two months out
Here's an example for the closest month:

We open this position, exposing ourselves to unlimited gains but limited risk. Because we are positive on delta, the value of this strategy will increase when VXX increases. But if the VXX falls, we have limited downside.
The main downside is if the VXX moves upward but not far enough, falling between $17 and $21. Such a movement is unlikely with the VXX, as it either spikes quickly or falls slowly; slow upward trends are rare. Thus, this strategy is nearly risk-free and can lend itself to the "sell in May" portfolio for the month of August.
Learn more about options: damonverial.com
Learn More about Earnings
My Exploiting Earnings premium subscription is now live, here on Seeking Alpha. In this newsletter, we will be employing both fundamental and pattern analyses to predict price movements of specific companies after specific earnings. I will also be offering specific strategies for playing those earnings reports.
In the most recent newsletter, we are predicting how Fitbit (NYSE:FIT) will react after its upcoming earnings report.
Request an Article
Because my articles occasionally get 500+ comments, if you have a request for an analysis on a specific stock, ETF, or commodity, please use @damon in the comments section below to leave your request.
Disclosure: I/we have no positions in any stocks mentioned, and no plans to initiate any positions within the next 72 hours.
I wrote this article myself, and it expresses my own opinions. I am not receiving compensation for it (other than from Seeking Alpha). I have no business relationship with any company whose stock is mentioned in this article.