Who knows what price evils lurk in the minds of big-$ portfolio managers?
You got it. And the derivatives markets provide a useful insight into their minds. Minds running enough money muscle to move markets.
The insights are inferred daily on a whole host of stocks and ETFs, expressed in terms of where today's price is in the range of each issue's coming prices. Coming prices worth spending real money protecting against, should they happen. Both higher and lower prices.
Here is today's distribution of over 2500 equities; cheap stocks with lots of upside and limited downside on the left, and fully priced issues with limited upsides and more downsides than up (anything above 50) on the right.
Figure 1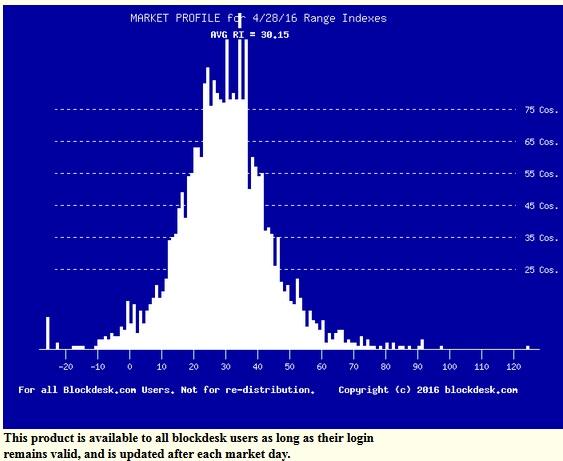 (used with permission)
This doesn't look like a catastrophe waiting to happen. Here are prior profiles at more extreme points: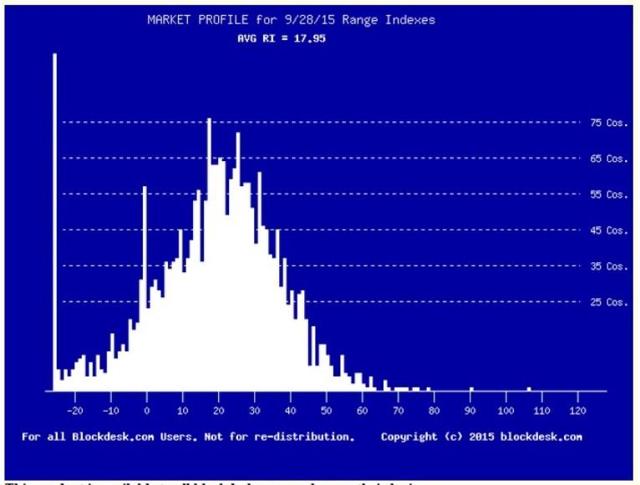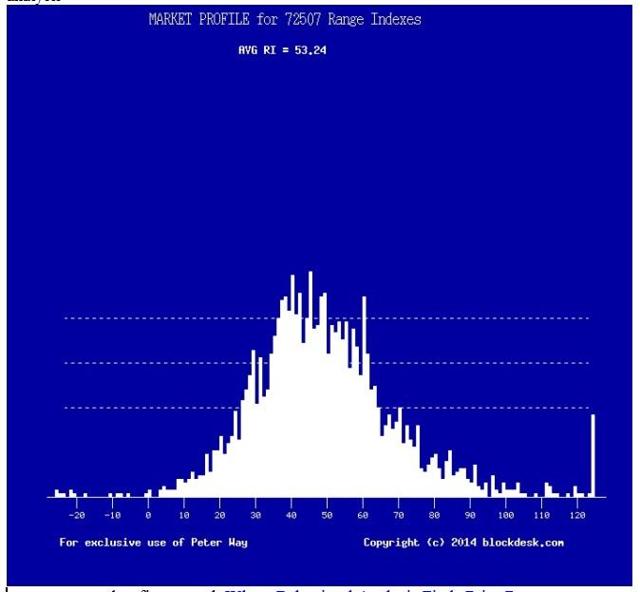 Today's average Range Index (RI) (the metric of upside to downside proportions in forecast price ranges) at ~30 is midway between these extremes of 17 and 53. So something worse than Trump being nominated as the Republican candidate for President in the November US elections probably has to occur to drive the market into a below-20 RI stance.
Lots of things could happen. But smaller market moves seem more likely. And gross measures like this overall sentiment Market Profile are not likely to pick them up.
Instead, let's look at a market index containing only the kind of names most likely to be involved continuously in block trading activity. Like the Dow-Jones 30 stock index of global giant established companies.
And to make the examination even sharper, we can use the ProShares UltraPro DOW30 ETF (NYSEARCA:UDOW). It provides in one look a 3x sensitivity of price change potentials to a massive part of the equity market, from stocks recognized as market leaders. Figure 3 shows how the arbitrage markets reflect MM expectations of what portfolio managers at major investment organizations may do in coming weeks and months.
Figure 3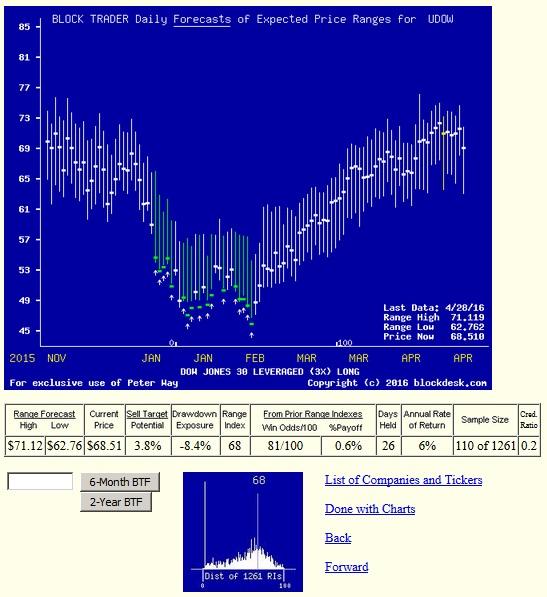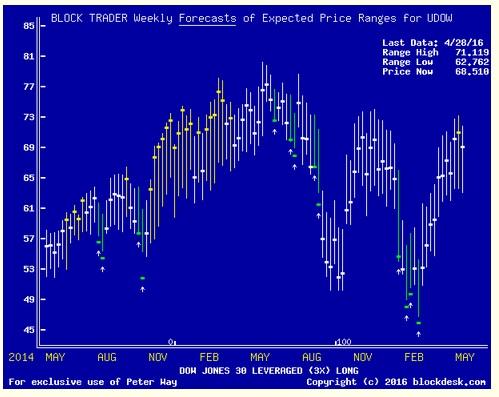 (used with permission)
The vertical lines in these pictures span the range of UDOW prices worth being protected from, as demonstrated by at-risk investors spending real money in hedges to that end. The heavy dot in each line marks the market quote at the time of the forecast, and splits the range into upside and downside prospects. The weekly forecasts are simply once-a-week excerpts of daily forecasts to allow a two-year perspective, in addition to the 6 months daily detail.
It should be apparent that those RI proportions have implications for coming prices. We measure what subsequently resulted in actual market prices with a standard, hindsight-proof portfolio management discipline, TERMD. The acronym stands for Time-Efficient Risk Management Discipline.
In it a buy position established - at a cost of the closing market price the day after the subject stock's forecast is made - is closed out at the first instance of a subsequent closing price equal to or greater than the top of the forecast's price range. If that hasn't happened in 3 months (63 market days) then the position is closed out regardless of gain or loss. All closeouts make the liquidated capital available immediately for an alternative commitment.
Figure 4 is a scatterplot relating each forecast available in UDOW's market history (since early 2010) with the profit or loss outcome of TERMD.
Figure 4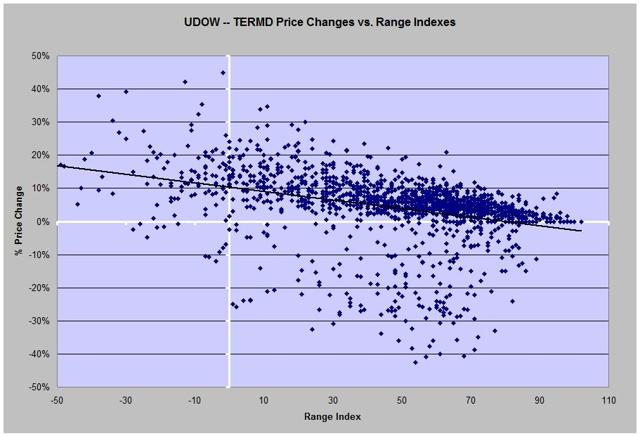 source: blockdesk.com
Hmm. With a RI now of 68, it doesn't look all that good for a UDOW buy today. Let's look at an easier to grasp picture of both the average size of Payoffs and Odds of having a profitable experience.
Figure 5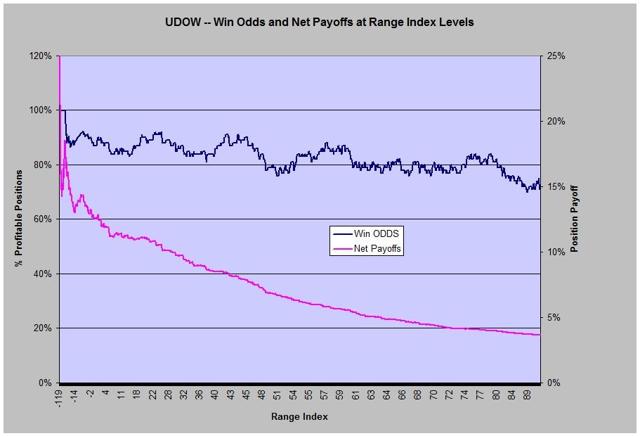 source: blockdesk.com
As might be expected, the market pros have a pretty good idea of what is possible for UDOW prices in the near future. TERMD as a 3-month holding period time restraint offers profitable buy opportunities at least 80% of the time. Only after Range Indexes get really high, up into the 80-90 area, do the odds fall much below 80/100. But the higher the RI, the lower the payout resulting.
As indicated in Figure 3's row of data, a 68 Range Index is likely to produce a gain of under 4%, even though the odds of getting it are good.
Figure 4 shows that the prior experiences at that level of RIs range from a high of +10% to an ugly low of -40%. Triple leverage can cut both ways. It's a lot more fun when the UDOW RI forecast is down under 20.
Conclusion
Maybe this is a time to get ready for some minor market discomfort, even some attractive buying opportunities. Things in the portfolio that are vulnerable in those conditions might be better in cash, ready to be better deployed.
But who knows? You won't have much trouble at this stage finding buyers for your castoffs.
Anybody knows how to reach "the Shadow?"
Disclosure: I/we have no positions in any stocks mentioned, and no plans to initiate any positions within the next 72 hours.
I wrote this article myself, and it expresses my own opinions. I am not receiving compensation for it (other than from Seeking Alpha). I have no business relationship with any company whose stock is mentioned in this article.