Investors in uranium mines have been patiently waiting for uranium prices to improve following the end of an era of oversupply arising from decommissioning of nuclear weapons. They are still waiting with prices languishing about $26 a pound.
By virtue of its long-term contracts, Cameco (NYSE:CCJ) enjoys somewhat better prices, selling over 28 million pounds in 2015 at an average price over $57 Canadian ($46 U.S.).

Source: Cameco
That does not mean Cameco is basking in the sun. The company reported a weak first quarter of 2016 and the stock tanked in response.
That creates a unique buying opportunity for longer term investors in my view. It is useful to look at the macroeconomic picture in assessing Cameco as an investment.
First, there is little doubt that the developing world will create increased demand for power.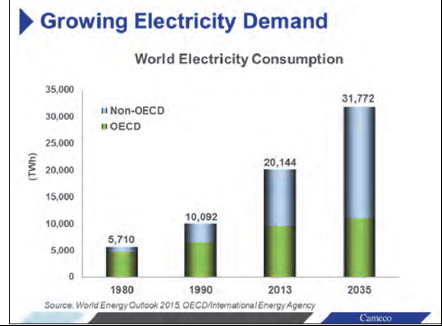 Source: Cameco
In parallel, the installed base of nuclear reactors is expected to grow.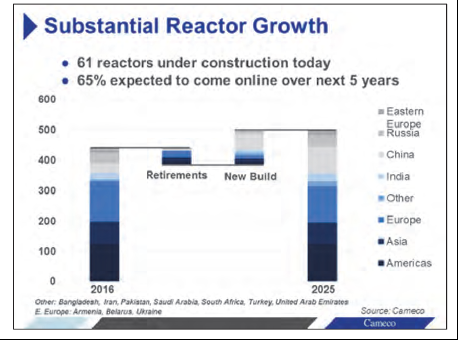 Source: Cameco
More importantly, uranium supply and demand are forecast to not only come back into balance but also see a supply shortage developing over the next decade.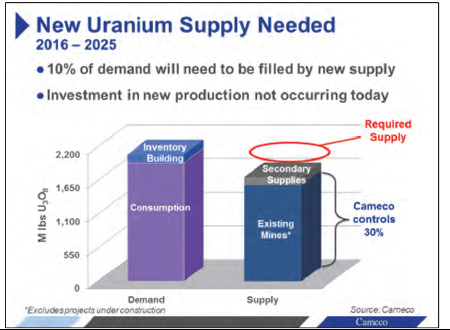 Source: Cameco
This is an old story. Analysts have been forecasting higher uranium prices for years now and the market will not cooperate with prices remaining low. The nuclear industry is among the slowest moving in existence and attempts to time the market are fraught with risk. Anyone wishing to make money in this space needs to have a long-term perspective.
But Cameco today has become a very inexpensive stock. The company has over 1 billion pounds of uranium reserves of which 410 million are in the proven and probable category.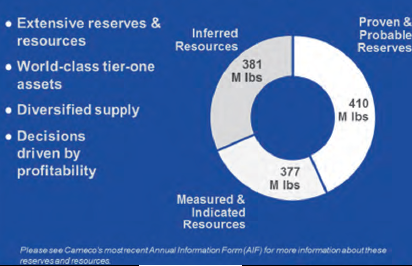 Source: Cameco
Cameco's cash cost of production is about $20 (Cdn) per pound, making the company cash positive even at today's prices for uranium with operating cash flow somewhere around $300 to $400 million for the past three years.
With a market capitalization of $5 billion and some $1 billion in debt, Cameco has an enterprise value of just over $6 billion. Trading at somewhere between 15 to 20 times cash flow, Cameco's stock does not look cheap. But, if you think about uranium prices of $100 or more per pound, the stock looks like a steal.
Uranium is interesting in that (1) reactors must have it, and (2) it is a relatively minor cost in the running of a reactor. Large increases in the price of uranium have little impact on the total cost of nuclear-produced electricity.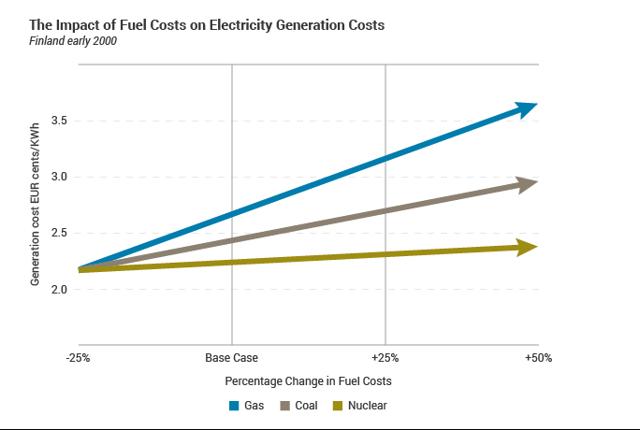 Source: World Nuclear Association
Stated another way, a $100 increase in the price of nuclear fuel adds less than 1 cent per kwH to the cost of electricity.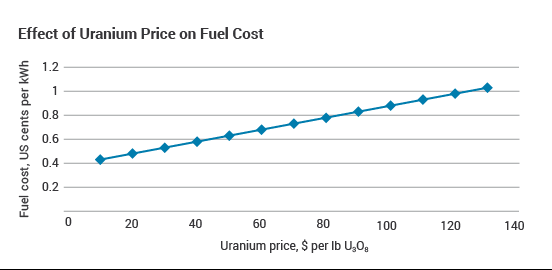 Source: World Nuclear Association
It should be no surprise that uranium prices can skyrocket in times of shortage as they did in the mid-1970s and in 2005.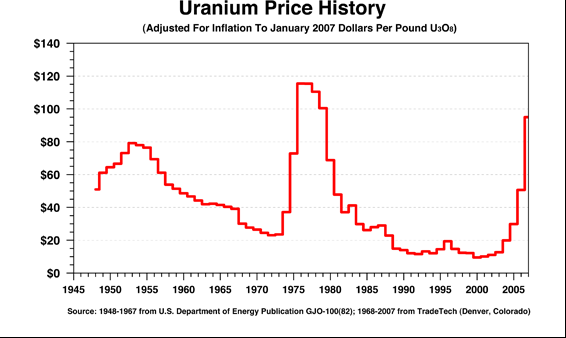 Source: Moneyweek.com
That makes Cameco the equivalent of a call option on uranium prices as I see it, and at the current price of $12 to $13, a decent speculation for the next 10 years.
I am bullish on CCJ for longer term investment.
Disclosure: I/we have no positions in any stocks mentioned, but may initiate a long position in CCJ over the next 72 hours.
I wrote this article myself, and it expresses my own opinions. I am not receiving compensation for it (other than from Seeking Alpha). I have no business relationship with any company whose stock is mentioned in this article.