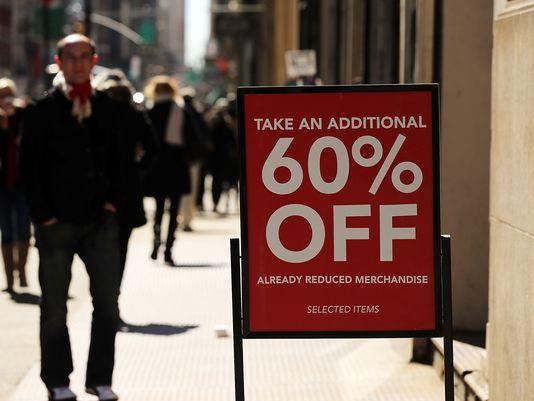 "Sell in May and go away. However, no one ever said it was at the beginning of the month."
-John Pearson
While the stock market might still have room to run, the fundamental data seems to be telling us to avoid certain sectors. One such sector is retail, especially discretionary retail. The numbers on the surface, such as record high amounts of credit card usage, might look good - but the overall fundamental data shows the US to be heading for a retail decline.
The first issue relates to credit card use and debt in general. Debt is increasing to where most Americans are living paycheck-to-paycheck, paying off debt instead of saving, and this is in addition to the first 114 days of an American's salary being siphoned into tax payments. Auto loans in particular are damaging the average American's ability to spend his paycheck - auto loans are now at decade highs: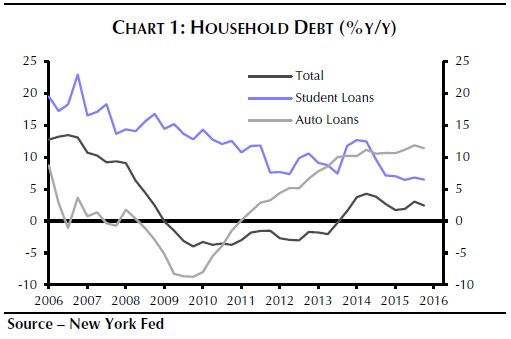 And this is all in the context of falling wages. In fact, real household income (inflation adjusted) has not grown at all in the past 15 years: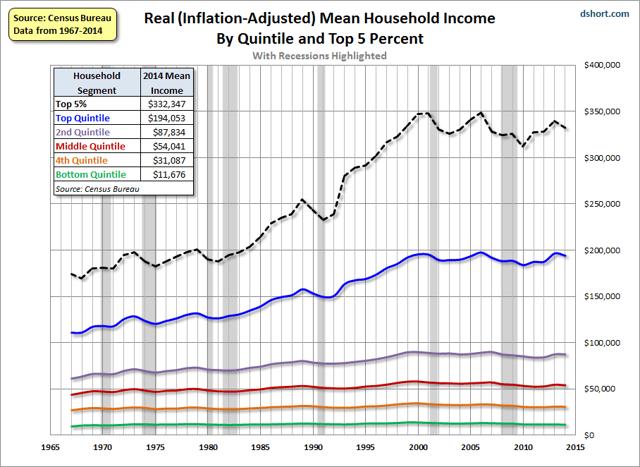 Instead of buying more - the sign of a healthy economy - consumers are buying smarter. They are taking advantages of tax-free purchases through Amazon (NASDAQ:AMZN), which only taxes half of the US on purchases. They are using Wal-Mart (NYSE:WMT) as their grocery stores to save money.
The general retail sector will either innovate, finding ways to subsidize the losses, or die. Earnings season has already shown us the problems with the traditional retail sector, while showing us what innovators can do. As I predicted in Exposing Earnings, Amazon reported a large earnings surprise, sending the stock shooting upward, past all of its peers that were falling during Q1 earnings reports: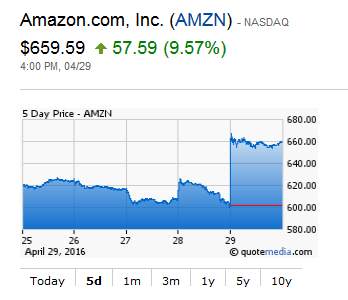 I put my money where my mouth was and came out with a nice gain on a small trade:

But the temporary bump in AMZN is a sign of things to come. Spenders are increasingly looking for ways to save money. While estimates pointed to a growth in retail sales in March, spenders in fact kept their wallets closed.
This is perhaps most evident in the statistics on auto spending, which some pundits are touting as "mixed" by cherry-picking certain stocks. When you look at overall spending, however, you see a clear downward trend in auto sales (ex-gasoline) - the inclusion of auto sales growth drops the statistic to below that of ex-gasoline, ex-auto for the first time in recent history: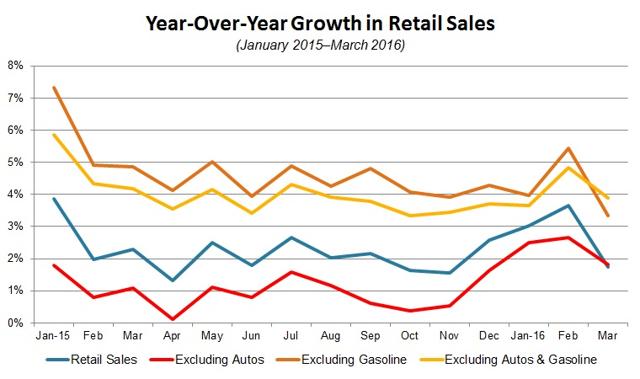 Combining these facts with the possibility of a market crash and the seasonality of the stock market (i.e., "sell in May"), we are bearish on consumer discretionary stocks. Unfortunately, Amazon is typically included in consumer discretionary ETFs despite the fact that many Amazon customers are looking to save money, whether via increased competition (thereby lowering prices) or by avoiding taxes. Mistakes such as this, much like the ignorance that Wal-Mart is primarily a grocery store - lead to opportunities for investors.
My idea is to run a pair trade on the discretionary retail sector. In light of the economic news and the fact that this is usually when this sector begins to fall, we have timing on our side. Look at the Consumer Discretionary Select Sector SPDR ETF (NYSEARCA:XLY):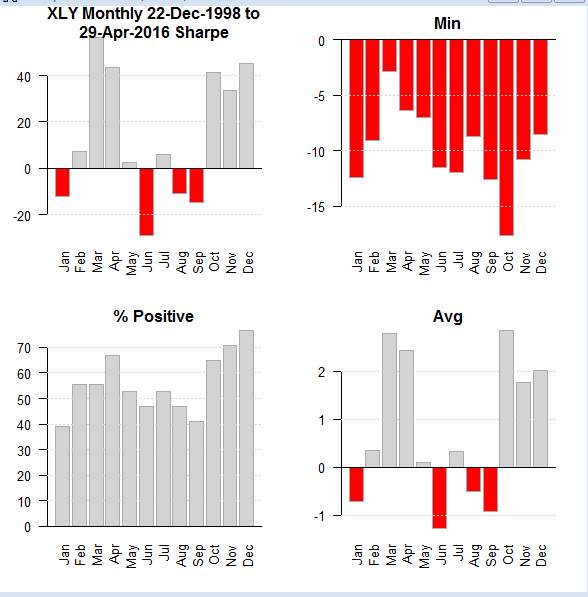 From May to October, we have a significant dropoff in performance. However, this is not true of Amazon, which underperforms only in February. With 10% of XLY being dedicated to Amazon, we have an interesting pair trade:
Long AMZN
Short XLY
This puts you long 90% on AMZN and short all the main consumer discretionary stocks. As a pair trade, you are hedged on the "retail" market risk. However, XLY pays a dividend, meaning that when we short it, we must pay that dividend to the lender.
Thus, I would take things one step further, removing that dividend risk and limiting the downside on this leg of this trade:

This strategy allows us to mimic shorting 100 shares of XLY without the infinite risk associated with shorting stock. The bought 87 call protects us if we are proved wrong. The entire position only costs $44 with somewhere around $400 worth of margin (ask your broker).
Yet we can expect roughly $100 worth of gain for every $1 move downward in XLY. Volatility increases, which typically come in tandem with XLY falling, will further boost this position's value, by roughly $10 for each 1% increase in implied volatility. This option strategy, mixed with a long position on Amazon (preferably also via a synthetic position as above) will allow you to profit from the changing retail market and struggling middle class.
Learn more about options: damonverial.com
Learn More About Earnings
My Exploiting Earnings premium subscription is now live, here on Seeking Alpha. In this newsletter, we will be employing both fundamental and pattern analyses to predict price movements of specific companies after specific earnings. I will also be offering specific strategies for playing those earnings reports.
We have accurately predicted EPS surprises 100% of the time (6/6).
In the most recent newsletter, we are predicting how Fitbit (NYSE:FIT) will react after its upcoming earnings report.
Request an Article
Because my articles occasionally get 500+ comments, if you have a request for an analysis on a specific stock, ETF, or commodity, please use @damon in the comments section below to leave your request.
Disclosure: I/we have no positions in any stocks mentioned, and no plans to initiate any positions within the next 72 hours.
I wrote this article myself, and it expresses my own opinions. I am not receiving compensation for it (other than from Seeking Alpha). I have no business relationship with any company whose stock is mentioned in this article.