Microsoft Corp. (NASDAQ:MSFT) is a unique company that has conquered this world with its products, along with competitors like: IBM (NYSE:IBM), Apple (NASDAQ:AAPL), Alphabet (NASDAQ:GOOG) (NASDAQ:GOOGL), Wal-Mart (NYSE:WMT), and Amazon (NASDAQ:AMZN). During more than thirty years, the company has been a global leader in providing software and hardware. Its most successful products - Windows OS and MS Office - have become an integral part of our daily activities.
Diagram 1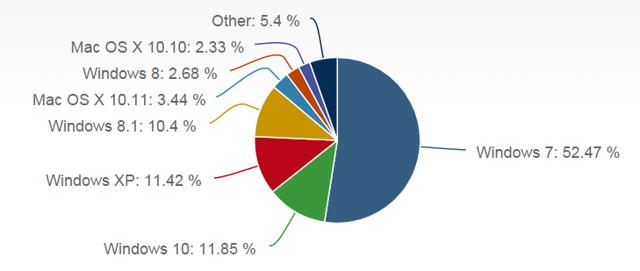 (Source: Netmarketshare.com)
However, today Microsoft is facing raging rivalry. The relatively "blue ocean" of 1990s has become a "red ocean" in the twenty-first century after Apple and Alphabet's Google declared a war against the Windows OS's monopoly and have made their best effort in the production of smartphones and tablets.
The ongoing technological progress kept pushing Microsoft onwards to the edge. The company was late in the manufacturing of smartphones and tablets. Apple, Samsung (OTC:SSNLF), and Xiaomi are the leaders in this market now. Microsoft was also late in switching to online sales.
Nevertheless, things change. In 2013, Steve Balmer, the company's former CEO, decided to reshuffle the business. The results of this initiative were the following:
Four new divisions (OS, Devices and other technical support, Apps and services, and Cloud technologies);
The retirement of Kurt DelBene;
In 2014, Microsoft acquired Nokia and manufactured the first series of Microsoft Lumia; and
Microsoft also acquired Mojang, the company that had created Minecraft, the world's most famous sandbox game.
Taking it all into account, there is a need to provide certain conclusions. Hence, I would like to give you four reasons why the company is not worth its current market price.
Four Reasons Why You Should Sell Microsoft
The benefits highlighted before may also serve as double-edged swords.
First of all, take a look at revenues and other financial metrics. Look at Diagram 2. As you can see, sales in the US have decreased by 1%, or by ~$500M. I think that this decline is a red flag. Now look at Diagram 3 that shows key financial metrics for Microsoft (including LTM). What can you conclude from it?
The LTM revenues have fallen by ~6%. The first six-month revenue was 11% lower than over the same period a year ago. The company's top line is in a downtrend now. Gross margins have been falling along with the operating margin during the last eight years. During 2014-2015, the gross margin has fallen by more than 4%, while the operating margin has fallen by almost 1.5 times!
Diagram 2

(Source: Microsoft Annual Report)
Diagram 3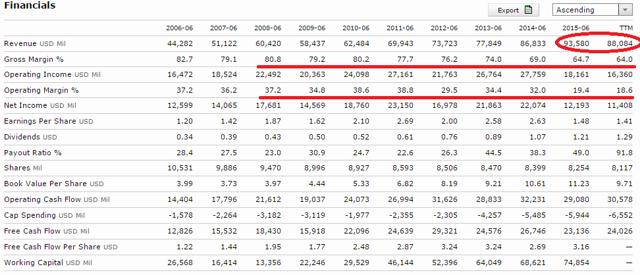 (Source: Morningstar.com)
Secondly, other metrics related to the company's performance also leave much to be desired. Look at Diagram 4. The net profit margin has been falling for the last five years, its asset turnover - for eight years, while ROA and ROE have also been in the state of decline for five years. Moreover, the decline in ROE is explained by an increasing leverage and the decrease of the interest coverage ratio. This implies the company would have been in a worse shape, if it had not raised debt.
Diagram 4

(Source: Morningstar.com)
Thirdly, you may ask, "What has been the main reason for raising debt, if the total turnover has not improved after that?" I will answer, "Dividends and buybacks, acquisitions, that have not shown anything profitable, and bonuses for the management". I will also show you Diagram 5 and tell that spending cash now may be a good strategy in two cases:
You need to hide money until somebody else finds out they are illegal (recall the January-April 2010 Goldman Sachs' scandal with employee bonuses in excess of $22B);
The company does not know what to do with it. I am afraid this is the likeliest scenario today.
Diagram 5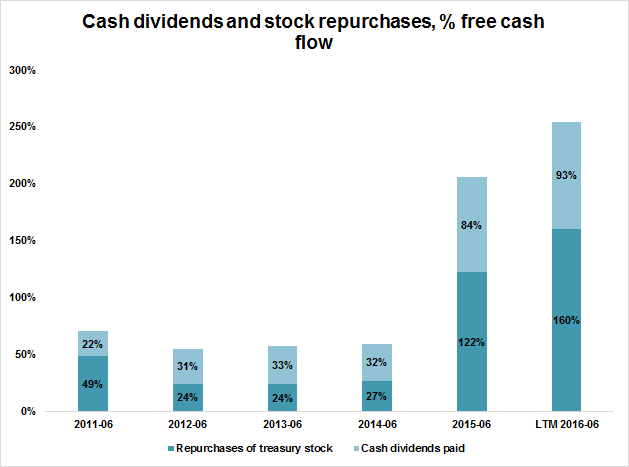 (Source: Morningstar.com, estimates by author)
The fourth and the most important reason is the company's current valuation taking into account the above information. I will show you why this is a problem with the DCF and comparative analyses.
DCF analysis
I made a few projections for the next seven years in my DCF model. You can see them in Diagrams 6 and 7. In Diagram 8, you can see how different metrics of Microsoft Corp. will change during the forecast period.
My model shows that after subtracting the market value of debt, adding back cash and investments and the discounted value of net working capital, the market value of equity is about $325.3B. Consequently, the fair value per share is about $40.10. It is about 20% lower than the current price level ($49.90 per share).
Diagram 6

(Source: data - Morningstar.com, model by author)
Diagram 7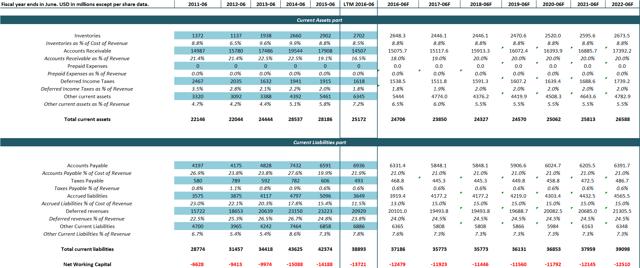 (Source: data - Morningstar.com, model by author)
Diagram 8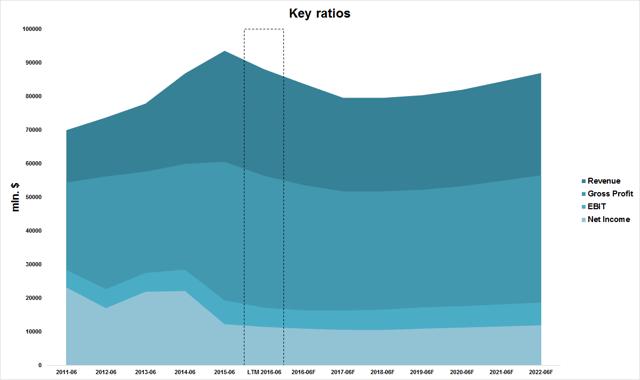 (Source: data - Morningstar.com, estimates by author)
Sensitivity Analysis
My DCF analysis is based on a number of assumptions which create a certain expectation of the share price. However, we need to see the entire picture and derive a range of possible prices. A few assumptions about WACC and the terminal EV/EBITDA multiple give a plausible price range of $37.90-$44.60 per share. It means that the stock price may decrease by 14%-27%.
Diagram 9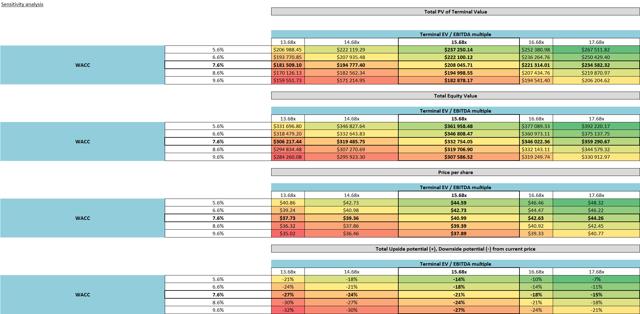 (Source: data - Morningstar.com, model by author)
Comparative Analysis
My comparative analysis is based on three key ratios: P/E, P/S, and P/BV (see Diagram 10). The multiples mostly show that the stock is significantly overvalued. The current EV/EBITDA is 15.2x, which is much higher than Apple's, IBM's, or Oracle's (NYSE:ORCL) (6.7x, 8.2x, and 9.5x, respectively) and in line with Google's (17.1x). Hence, the company seems to be overvalued on most accounts.
Diagram 10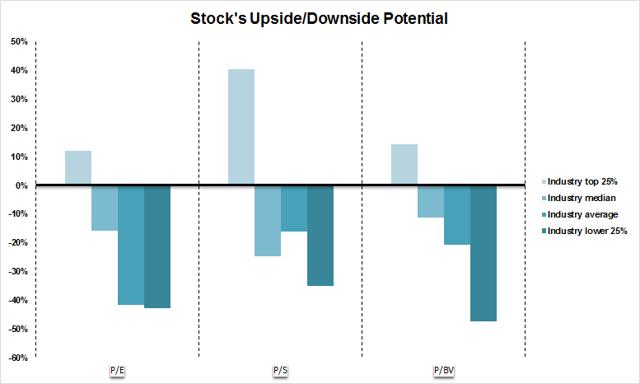 (Source: data - Morningstar.com, infographics by author)
Recommendation
The arguments for buying Microsoft Corp.'s shares are weaker than the arguments for selling or doing nothing with the stock. Moreover, both the DCF and comparative analyses show the company is significantly overvalued relative to peers. Hence, I issue a SELL recommendation on this stock and set a target price range at $38-$45 per share for the next twelve months, which is 10%-24% lower than the current market price.
Disclosure: I/we have no positions in any stocks mentioned, but may initiate a short position in MSFT over the next 72 hours.
I wrote this article myself, and it expresses my own opinions. I am not receiving compensation for it (other than from Seeking Alpha). I have no business relationship with any company whose stock is mentioned in this article.