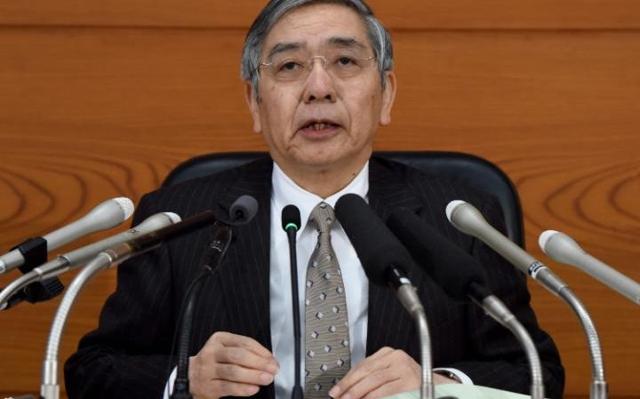 The surprising decision by the Bank of Japan to not reduce rates or increase easing had a profound effect on the Japanese financial markets this week, leaving what we believe to be a great opportunity for investors to profit in the short term. As many readers will be aware, the Japanese yen (NYSEARCA:FXY) soared against the U.S. dollar (NYSEARCA:UUP), and in doing so, strangled Japanese exports and any fleeting hopes of hitting the Bank of Japan's increasingly unlikely inflation targets.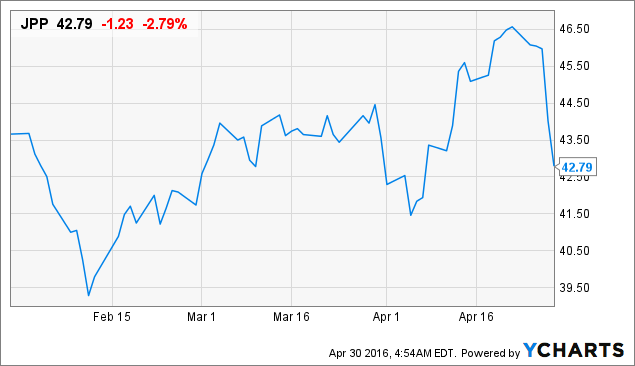 As you can see above, this didn't go down well with the Japanese stock market, which witnessed a sell-off driving the Russell/Nomura Prime Index (NYSEARCA:JPP) down to $42.79 from above $46.50 just days earlier. We believe this almost 8 percent drop has opened up an opportunity to go long with the JPP ETF, and expect it to bounce back strongly over the next month or two.
The Bank of Japan may have resisted taking action this week, but how much longer it can maintain this stance is questionable. Every part of its economy is struggling critically at present, and nothing short of a miracle will stop the country from spending significant time subjected to deflation. Since Governor Kuroda initiated the negative rates in January, he has been hauled in front of the Japanese Parliament no less than 32 times to explain himself. Something tells us the 33rd time may not far away.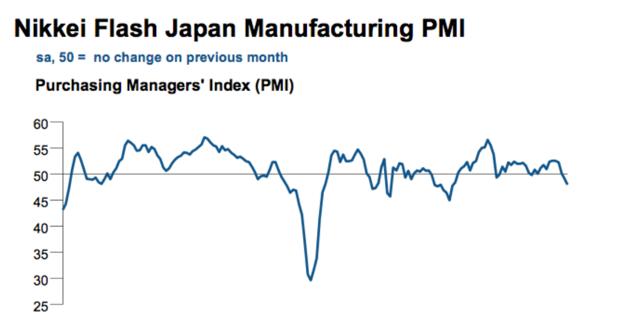 Sourced from Markit.com
Recent data released by Markit, unsurprisingly, shows that the Nikkei Flash Japan Manufacturing PMI contracted sharply in April, dropping to its lowest level since January 2013. The same can be said for exports during the last quarter also. It is worth considering that there is a chance the recent earthquakes in Japan would have hit its manufacturing and exports. But regardless of this, we feel it is still reasonable to say that the economy is more than struggling.
Whilst the Bank of Japan may have been waiting for the United States to make its move on rates, that doesn't look likely to happen now, until September at the earliest. We don't believe it will be prepared to wait until then, as the country could fall deeper into recession during this time if something isn't done with the strong Japanese yen. Kuroda may just have to risk his reputation further by taking the plunge.
We believe the Bank of Japan will start its next quantitative and qualitative easing program next month when they meet, as well as potentially cut rates further into negative territory. The Japanese markets rallied because of the expectation of the central bank delivering this stimulus last week, so we feel it is safe to presume that it will rally again when it comes.
Those brave enough could short the Japanese yen, whilst going long the JPP ETF. Ordinarily, this would be a popular pair trade; however, right now, with the yen looking unstoppable, we would imagine few would be willing to take up this trade. For the record, we are short the yen; however, it is only a small part of our portfolio, and we are doing it with a long-term view. This view has been stretching out longer and longer due to the less-than-hawkish Federal Reserve, but we are incredibly confident that the yen will come down by the end of the year.
Right now, our favourite trade is going long with the Russell/Nomura Prime Index, aka the JPP ETF - we see it bouncing back to the $46.50 mark potentially as soon as next month, if further easing from the Bank of Japan starts looking like a reality. This would equate to an 8.6 percent gain, making it a great short-term trade that is hard to turn down. Alternatively, investors could look at the iShares MSCI Japan ETF (NYSEARCA:EWJ), which we believe will yield similar results.
As always, we'll continue to keep you updated with our moves as and when they happen. Best of luck with your trades!
Disclosure: I am/we are long JPP.
I wrote this article myself, and it expresses my own opinions. I am not receiving compensation for it (other than from Seeking Alpha). I have no business relationship with any company whose stock is mentioned in this article.
Additional disclosure: Short JPY vs USD via futures contracts