Over the years, payments have become increasingly card-based, with credit, debit and pre-loaded cards replacing checks and cash for many purchases. Now electronic payments are gaining market share at a rapid pace compared to cash and checks. The 2013 Nilson Report indicates that electronic payments comprised 8.7% of total paid expenditures in 2007.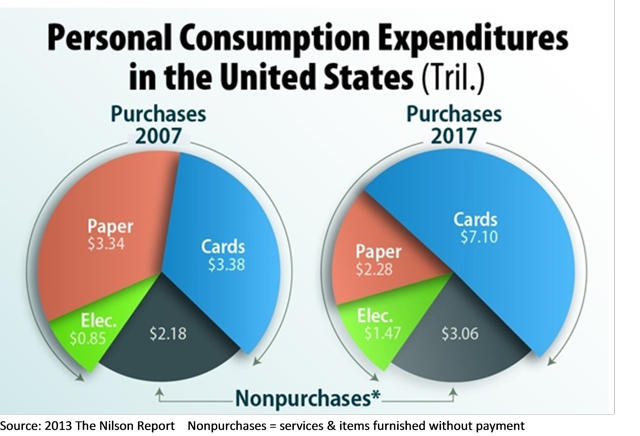 Shift to Electronic Commerce
According to McKinsey, "The U.S. merchant payments landscape is undergoing a period of rapid, technology-driven change... Consumers use the new tools to move dynamically between computer, mobile device and in-store experiences while shopping."
McKinsey forecasts that total electronic payments volume will grow by about 7% per annum over the next five years, driven primarily by continued expansion of digital commerce and rising electronic payments acceptance at small merchants.
Until recently, POS (point of sale) electronic transactions have been constrained by older POS infrastructure that could not accept electronic payments. However, this is changing as retailers upgrade technology. As a result, transactions continue to shift to online and mobile, driven by expanding access to the internet - an estimated 438 million mobile devices in the U.S. accessed the internet in 2013, and this metric is expected to reach more than 690 million devices in 2018 - and the increasing adoption of electronic payments over the last two decades since PayPal launched.
Worldwide e-commerce spending as a percentage of total retail expenditures is projected to reach 9% in 2018, up from 6% in 2013, according to the eMarketer Report. This trend is forecast to continue, reflecting rising consumption among younger, internet savvy users. eMarketer estimates that e-commerce will grow at double-digit rates domestically for the next couple of years. According to electronic and POS payment solutions provider Ayden, mobile accounted for 28.7% of total online payments in 2Q15, up from 27.2% in 1Q15.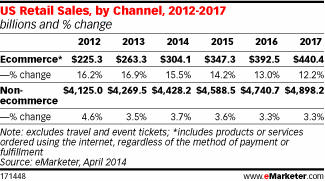 These trends, combined with growing consumer preference to use cards or digital payments over cash, have had a dramatic impact on the use of cash and checks as payment mechanisms.
"The total number of checks written in the U.S. has declined for many years as a result of alternative payment methods, including credit cards, debit cards, direct deposit, wire transfers and internet-based bill paying services, as well as automated teller machines, which make cash a more readily available alternative," according to Deluxe Corp. (NYSE:DLX), a leading check manufacturer.
A December 2013 Federal Reserve study noted that in 2012, debit card, credit card and ACH payments all exceeded the roughly 21.0 billion checks that were written, with checks accounting for about 17% of all non-cash payment transactions. By comparison, only two years earlier in 2010, checks accounted for about 25% of all non-cash payment transactions, according to the Federal Reserve, which estimates that the number of checks written contracted by roughly 8.8% per annum from 2009 to 2012.
The number of debit card payments increased at a faster clip than any other payment format from 2009 to 2012, according to Deluxe. Intuitively, we find this logical, as consumers view debit card payments as nearly equivalent to cash and have also displayed a growing preference to use alternative forms of payment rather than cash.
Electronic payments are now also expected to displace cash for many transactions. Partially, this reflects the rise of mobile payment options that enable many small businesses to complete transactions they could not accept before because they were not equipped to take credit card payments. Mobile contactless payments are also generally faster and more convenient for many types of transactions than credit, as they enable consumers to pay for purchases by passing their phone near a point of sale terminal. Growing mobile penetration, illustrated below, is expected to further fuel increased spending via mobile devices.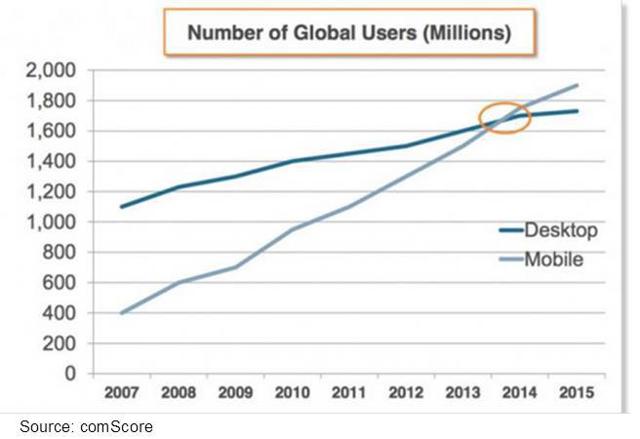 In some developing nations where credit card and bank account penetration are low, the use of mobile phone payments presents one viable option. Recent data indicates that mobile payment is growing globally at approximately 50% each year, although developed nations have lagged developing ones.
This is disruptive technology that consumers - and investors - cannot afford to ignore. In Why Digital Money Hasn't Killed Cash, The New Yorker magazine discusses the expansion of "digital money" and concludes that even in a cashless economy, cash will thrive, "And then there is cash. The electronic pirouettes of digital money make mere cash look all the more grubby and earthbound. Apple (NASDAQ:AAPL) and Samsung (OTC:SSNLF) tell you that you don't need to carry it. ABC, CBS and the Wall Street Journal tell you that it is covered in germs and - literally - will make you ill. As if to revive a failing product, the Treasury is swooping in with a sensational rebranding, finally clearing the genocidal Andrew Jackson off the front of the twenty and replacing him with the irreproachable Harriet Tubman."
Although the U.S. is behind other markets in electronic payment adoption, it is expected to catch up. Widespread adoption of mobile payments has lagged in the U.S., according to First Data (NYSE:FDC), "primarily due to the greater complexity of its financial and communications ecosystems," including a "diverse array of handset manufacturers, mobile network operators, financial institutions, and payment networks," which have had difficulty reaching agreement on m-commerce standards and economics along the value chain. The mobile percentage of total e-commerce transactions in the U.S. is slightly lower than the worldwide average, at 29% compared to 34% globally. Over time, we would expect the U.S. to narrow this gap, particularly as small businesses upgrade POS technology.
Small businesses are often denied service by traditional credit card providers and offering a mobile payment option fills a void. An estimated approximately 20 million domestic vendors do not accept card payments today, according to Square (NYSE:SQ). According to a Hospitality Technology study, 38% of restaurant businesses surveyed plan to develop or deploy a mobile POS solution.
Credit Cards Still King… But Digital Cash Expected to Grow
As noted, a factor constraining the growth of mobile payments has been the lack of appropriate infrastructure, both on the merchant and consumer end. Penetration of POS digital card readers is still at early stages in the U.S., which lags other nations in installing this POS technology. Relative to the rest of the world, "the evolution of the U.S. retail payment infrastructure has been comparatively slow," according to MasterCard (NYSE:MA).
We expect U.S. infrastructure to catch up, reflecting the convenience mobile POS payment technology offers both customers and merchants. Consumers can pay for purchases by passing their phone near a point of sale terminal, as noted, using NFC (near-field communication) technology, which allows two devices placed within close proximity to exchange data, as long as both devices are equipped with an NFC chip.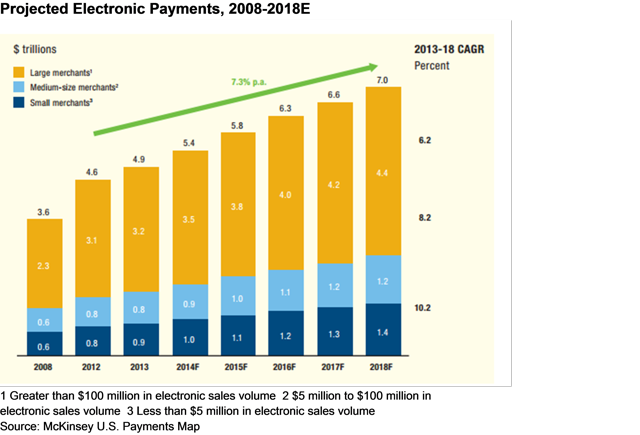 Expansion of High Profile Apple Pay
In fact, McKinsey forecasts significant growth in electronic payments, as illustrated in the chart above. Growing mobile penetration and increased consumer reliance on mobile shopping apps that provide price comparisons or product reviews are also expected to fuel mobile device spending. Moreover, Apple Pay and other digital wallets, which are expanding their footprints and marketing their services, is also likely to drive usage by broadening access to digital payment options and boosting consumer awareness.
There are roughly 1.3 billion active credit and debit accounts globally compared to about 5.3 billion active mobile phone accounts. Recent data indicates that mobile payment is growing globally at approximately 50% each year.
The transition to EMV (Europay-MasterCard-Visa (NYSE:V)) technology is another likely catalyst for growth. EMV is a global standard for credit cards equipped with computer chips. This technology is different from the traditional metallic strip on older credit cards. Moreover, as of October 1, 2015, if a retailer does not have an EMV-compliant terminal, it could be liable for any transactions found to be fraudulent, according to First Data. The SPA (Smart Payment Association) notes that 2,060 million payment chip cards were shipped globally in 2015, up 34% versus 2014, fueled partially by EMV upgrades in the US. "Demand for contactless payment cards continued to surge in geographies where the technology already has a foothold. In 2015, 56% of all smart card shipments globally (excluding the Americas) featured contactless technology - a 24% growth as compared to the year before," according to the SPA.
Investor Exposure to These Trends
There are ways, we believe, for investors to gain exposure to these trends. For example, there is PayPal (NASDAQ:PYPL), which was launched in 1998 as a digital wallet, acquired by eBay (NASDAQ:EBAY) and then spun off last year. Other digital payment brands are also gaining recognition, according to Market Strategies International, including Amazon (NASDAQ:AMZN) Payments, Apple Pay, Android Pay, Samsung Pay and Alphabet's (NASDAQ:GOOG) (NASDAQ:GOOGL) Google Wallet, to name a few. Google Wallet launched in October 2011 as a mobile commerce and payment application for Android phones, with partners including First Data, Citi (NYSE:C) and MasterCard. In terms of pure-plays, Square is a leading mobile credit card processor for small businesses that completed its IPO last year. First Data also came public in the largest U.S. IPO of 2015.
Square
Founded in 2009, Square is a leading mobile credit card processor for small businesses aiming to leverage the expected expansion of the electronic payment sector. The company charges a roughly 2.75% per transaction fee, which is generally better for vendors than other payment options. The fee has been fairly stable over time, according to the company, and Square's adjusted revenue (non-Starbucks (NASDAQ:SBUX) revenue minus transaction costs) has held stable at roughly 1.0%-1.2% of GPV (gross payment volume).
The company has also launched additional SaaS cloud based products and services, we believe. According to its prospectus, Square has "extended [its] product and service offerings to include financial services and marketing services, all to help sellers start, run, and grow their businesses."

The company introduced Square Capital in May 2014 and Square Cash in November 2013. Square Capital extends cash advances to customers on the payment platform and has already extended more than $300 million of cash advances over 50,000+ transactions. That equates to an average of about $6k per transaction and reflects the company's focus on the small mom and pops. Square Cash allows users to make debit card-based digital payments via email or a mobile app. Customers have spent $1+ billion through Square Cash since its inception. Square Customer Engagement offers marketing support for businesses on its platform.
The company needs to balance new product launches with its goal to reach sustainably positive EBITDA so that growth investing does not constrain operating margins and cash flow, in our view. We also believe the company needs to be strategic about the new services it launches. Offering payroll services, for instance, is competitive (see our note Paycom Vs. Paylocity), although probably less so in the small mom and pop niche. Separately, Square CEO Jack Dorsey is also the CEO of Twitter (NYSE:TWTR), and there has been some discussion in trade publications questioning whether one person can steer two such companies well. Perhaps that remains to be seen.
First Data Corporation
First Data was founded in 1989 and generated $11.5 billion in revenue in 2015. Headquartered in Atlanta, the company provides electronic commerce solutions for merchants, financial institutions, and card issuers globally. According to First Data, it "sits at the center of global electronic commerce," offering clients "the most complete array of integrated solutions in the industry, covering their needs across next-generation commerce technologies, merchant acquiring, issuing, and network solutions." FDC serves clients in 118 countries, reaching approximately 6 million business locations and over 4,000 financial institutions through possibly "the industry's largest distribution network." The company is "the largest merchant acquirer, issuer processor, and independent network services provider in the world, enabling businesses to accept electronic payments, helping financial institutions issue credit, debit and prepaid cards, and routing secure transactions between them." In 2015, FDC processed 79 billion transactions globally and 28% of the world's eCommerce volume. The company acquired $1.7 trillion of 2015 domestic payment volume, accounting for almost 10% of 2015 U.S. GDP.
PayPal
PayPal is "a leading technology platform company that enables digital and mobile payments on behalf of consumers and merchants worldwide." At year-end 2015, the company provided payment solutions for roughly 179 million active customer accounts in more than 200 markets, "while providing customers a choice of how they would like to pay or get paid." The company generated $9.2 billion in revenue in 2015. During 2015, PayPal's TPV (Total Payment Volume) was approximately $282 billion, which equated to a 20% year-over-year increase. The company processed approximately 4.9 billion payment transactions in 2015, which equated to 27.5 payment transactions per active customer account and represented 24% year-over-year growth.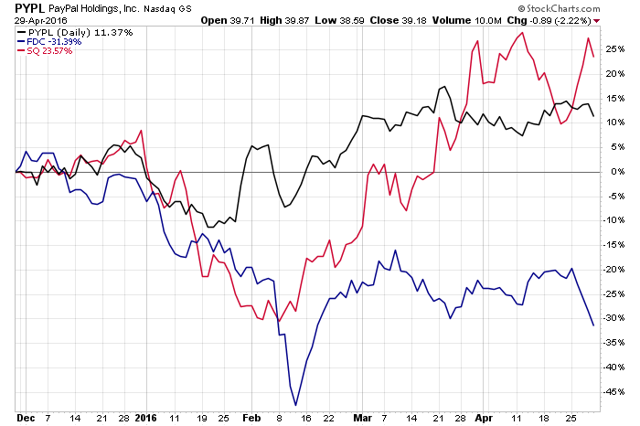 Many of the stocks discussed in this article provide some exposure to the anticipated growth of electronic payments. McKinsey's forecast that electronic payments volume will grow by about 7% per annum over the next five years implies robust opportunities for the group, we believe. PayPal, Square and First Data offer greater direct participation to this disruptive technology than other, more diversified players, in our view.
Given our outlook about the ongoing expansion of electronic payments, we would keep these three on our watch list. We would also use the volatility in the shares - as illustrated in the chart above - for an attractive investment entry point in one or more of these sector plays.
Disclosure: I/we have no positions in any stocks mentioned, and no plans to initiate any positions within the next 72 hours.
I wrote this article myself, and it expresses my own opinions. I am not receiving compensation for it (other than from Seeking Alpha). I have no business relationship with any company whose stock is mentioned in this article.