Background
Government Properties Income Trust (NYSE:GOV) is a real estate investment trust that owns properties leased primarily to U.S. government entities and currently operates through two business segments:
Ownership of properties that are primarily leased to government tenants
Equity method investment in the RMR managed Select Income REIT (NYSE:SIR)*
*SIR primarily owns single tenant net leased properties.
At the time of this article, GOV's stock price was $18.92 - above its 52-week low of $12.33 with a negative current P/E, a forward P/E of 8.16, a market capitalization of $1.35 billion and a dividend yield of 9.1%.
This analysis is based on information from GOV public SEC filings, earnings calls and investor presentations from the period 1Q14 through 1Q16.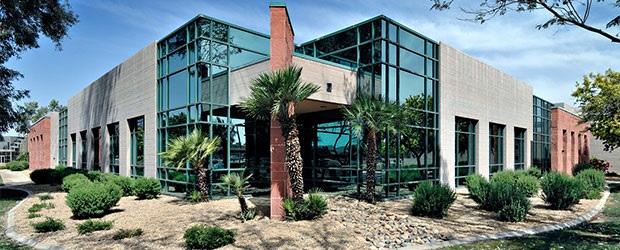 Substantial Improvement in GAAP Income and FFO from Prior Quarters
GOV returned substantial net income and FFO improvement from prior quarters. This improvement was driven predominately by strong returns from the SIR equity investment and additional revenue from one property acquired during the quarter. This is evidenced in the two tables below.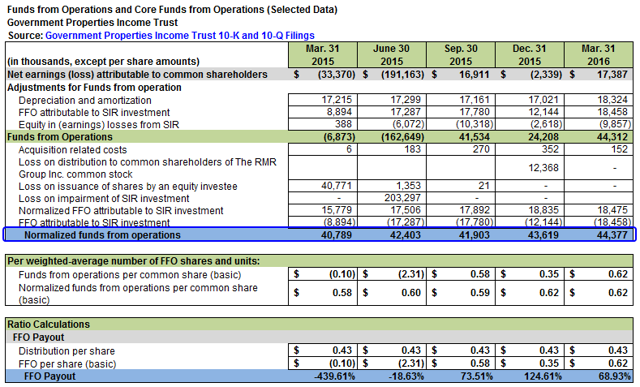 The FFO payout as a percentage of FFO was also a conservative 69%.
Management Guidance Raises Concern
Management comments about future earnings in the quarterly call and 10Q raise concerns about revenue sustainability going forward:
The number of government tenants at risk of vacating or downsizing increased from 0.9% in 4Q15 to 3.43% in 1Q16. These vacancies would not occur until 2017 and would be initiated by the need for larger facilities that are currently unavailable in the GOV portfolio.
Management is also not confident about maintaining low single-digit rent increases into the future with the expectation that the spreads will be down.
The current type of government properties being built does not meet the investment criteria for GOV, as it is either small buildings in tertiary areas for border protection or Veteran's Administration buildings that have low cap rates.
Management stated in the 10Q that they believe current government budgetary pressures will increase demand for leased space, but decreased government employment will also reduce demand either from vacancies as a result of relocations to obtain the necessary space utilization requirements. Management reiterated their lack of ability to forecast in the current environment.
Declining Fundamentals Raise Concerns
As evidenced in the tables below, GOV has incurred a significant amount of debt over the period in scope that has increased the amount of interest expense paid.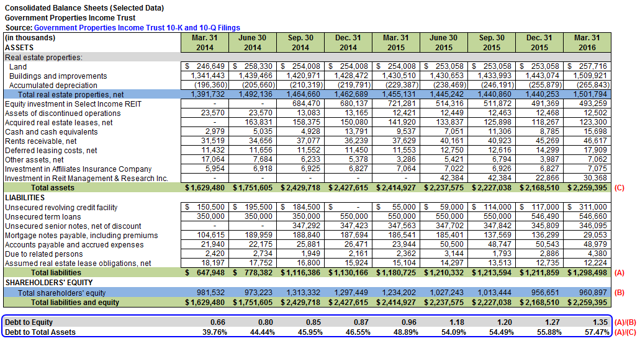 This has resulted in the debt to equity ratio increasing from a conservative 0.66 in 1Q14 to a concerning 1.35 as of 1Q16. While management has been successful in obtaining greater returns from the leverage incurred, factors noted by them above could change this trend.
The debt to assets ratio has also increased significantly over the period. While the ratio is still below the accepted threshold of one, 22% of assets consist of the equity investment in SIR.
In addition, GOV has $861 million of variable interest long-term debt. A 1% increase in interest rates would result in $9 million in additional interest expense per year.
The fundamentals for SIR were not examined in this exercise, but a review of their 1Q16 conference call evidenced similar concern for the amount of leverage their balance sheet has incurred.
The Sustainability of Distributions is Questionable
Based on the lack of forward guidance by management and declining fundamentals impacting the ability of GOV to generate sufficient revenues, the possibility of a distribution decrease should be considered.
In addition, the liquidity required to be generated for continuing distributions from GOV is becoming increasingly reliant upon distributions from the equity investment in SIR. The following table presents several calculations to support this.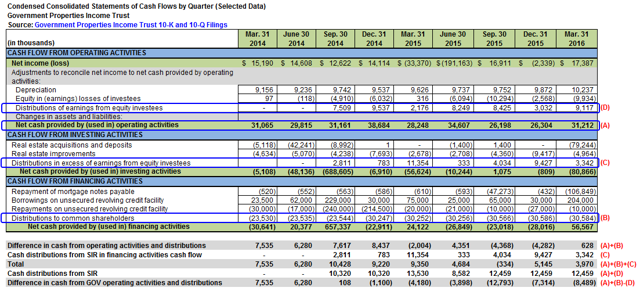 Currently cash provided by operating activities generated slightly more than was required for the distribution payment, but when adding the additional SIR distribution from the investing activities section the margin of safety widens.
However, if the SIR distributions are eliminated, GOV would likely be unable to continue the current distribution amount.
Conclusion
While GOV returned substantial net income and FFO improvement in 1Q16, forward guidance provided by management raised concern about the consistency of future results. In addition, increasing reliance on the performance of the SIR equity investment to provide consistent returns increases the possibility that GOV will lose sight of its objective of providing income stability from a government tenant base. If this were to occur, a loss of investor confidence and reputation would also be likely.
The high yielding dividend is enticing, but analysis raises concern as to its stability. Several headwinds have been identified that could result in a distribution decrease.
Based on the evidence, this is a REIT that is best avoided.
Disclosure: I/we have no positions in any stocks mentioned, and no plans to initiate any positions within the next 72 hours.
I wrote this article myself, and it expresses my own opinions. I am not receiving compensation for it (other than from Seeking Alpha). I have no business relationship with any company whose stock is mentioned in this article.