This is a special issue of my series on precious metal closed-end funds. My usual disclosure is: I am long GAMCO Global Gold Natural Resources & Income Trust (NYSEMKT:GGN) and Central Fund of Canada (NYSEMKT:CEF). Today it is: I have sold both and have transferred the money into physical metal funds. I don't think there is anything wrong in their management, and I am agnostic about the future of gold price. But I consider precious metal assets to be insurance, and I change them from time to time.
My main focus is GGN, but I will start with a few words on CEF. I bought it at an average discount of 8.5%. When it came close to 4.5% in April, I sold to buy the equivalent in Swiss physical metal ETFs by ZKB. I explained my preference 4 years ago in an article on the SPDR Gold Trust ETF (NYSEARCA:GLD), the iShares Silver Trust ETF (NYSEARCA:SLV) and their alternatives. As I write this, the CEF discount is 5.9%, and I still think it is a good choice for US-based investors.
Let us now return to GGN. This closed-end fund mainly holds gold miners.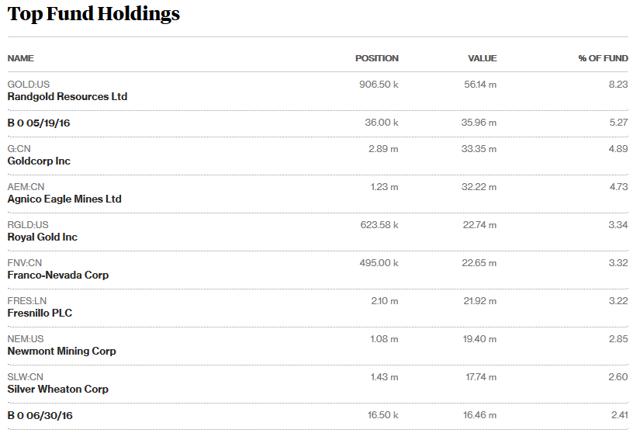 GGN top stock holdings (Source: Bloomberg.com)
Option strategies add some complexity compared to a classic gold miners ETF like GDX and provide a current dividend yield of 11.85%. My first concern is that the dividend may be cut in 2016 and is guaranteed only until June. My second and main concern is that the 15.11% discount to NAV in January became a 10.95% premium on 4/29/2016. The reading, per Bloomberg, was so high that I thought it was a bug, but it was confirmed by the NAV by share on Gabelli's website.
GGN is up an astounding 87% since the 18th of January. It seems that about 61% is justified by the underlying assets, and 26% is hot air blown by a rush of momentum investors. Recent academic research shows that the discount in closed-end funds is mean-reverting. I have exposed here a systematic strategy based on this anomaly. The average cycle is usually between 1 and 2 years. GGN's average discount in the last 12 months is 8.70%, with a peak at 20%. A reversion to the mean would be a relative move close to -20% from the current premium. According to finviz.com, GGN is shortable and not optionable. Professional traders may consider the risks, costs and rewards of an arbitrage trade shorting GGN against long positions in its main holdings or in GDX. I will not play this game and don't recommend it to individual investors.
Conclusion
GDX and physical funds currently offer a safer exposure to precious metals than does GGN, whose price has overshot its NAV. Still, GGN has done a decent job weathering the gold roller coaster: its total return reinvesting dividends since 1/1/2007 has been -21%, with a maximum drawdown of -72%, whereas the industry benchmark GDX has done -31.5%, with a maximum drawdown of -80%. I may buy GGN again in the future.
If you want to be notified of my updates on this topic and others, click "Follow" at the top of this article.
Disclosure: I/we have no positions in any stocks mentioned, and no plans to initiate any positions within the next 72 hours.
I wrote this article myself, and it expresses my own opinions. I am not receiving compensation for it (other than from Seeking Alpha). I have no business relationship with any company whose stock is mentioned in this article.