Growth in North America twenty-foot equivalent unit (TEU) traffic has increased greatly from 2013 through 2015. Growth during 2013 was below 2 percent, but both 2014 and 2015 have witnessed growth of 4.5 and 5 percent respectively. During the first two months of 2016, it appeared that this uptrend would continue, however, March has witnessed substantial declines.
Some of the most high-growth seaports during 2015 including Savannah, Charleston and Houston have witnessed a complete reversal with negative TEU growth during the first quarter of 2016, the Port of Savannah is shown below.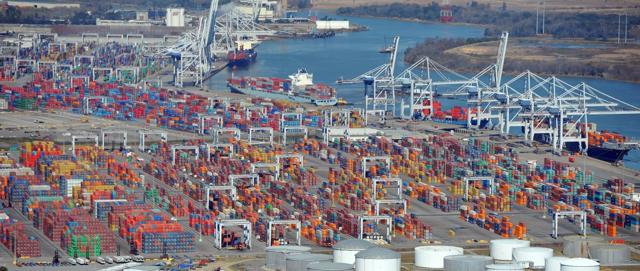 The list below provides 22 major seaports within North America. Collectively, these seaports reflected over 85 percent of total TEU traffic during 2015. The most notable performers included the ports of Los Angeles and Long Beach due to their leading scale. Both of these seaports witnessed record TEU traffic during the months of January and February, but saw extreme declines during March 2016.
The volatile performance for the first quarter of 2016 has stemmed largely from the West Coast port strikes which significantly reduced TEU traffic during January and February of 2015, with diversions occurring to both East and Gulf Coast seaports. The strike also created a substantial backlog of container traffic which worked its way through during March 2015.
Moving forward, the remainder of the year should provide a more balanced perspective, but the fact that both Los Angeles and Long Beach have led container traffic to date is positive for their potential to carry this lead throughout the year.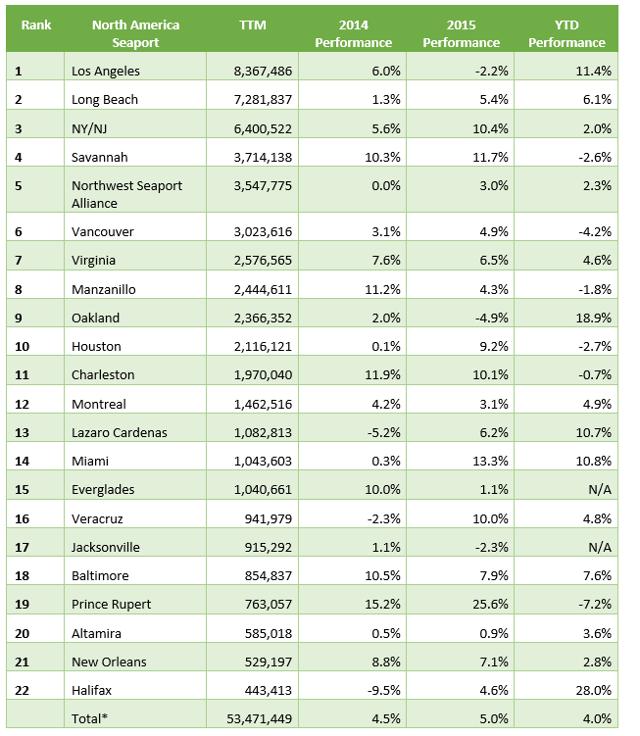 Source: Seaport websites
*Note: The seaports of Port Everglades and Jacksonville do not provide monthly TEU data, and all TTM data is based upon the most recent fiscal year; additionally, the total YTD performance excludes these two seaports which reflected 2 million TEUs as of 2015. Port Halifax provides quarterly TEU data so all information is as of the most recent quarter.
During 2016, six of the ten leading seaport performers above were from the West Coast. Other standouts continued to include the Northwest Seaport Alliance, Oakland and Lazaro Cardenas. The majority of West Coast seaports witnessed solid export performance between 3 to 10 percent with exceptions being Long Beach and Prince Rupert with flat to negative 31 percent performance. All West Coast seaports witnessed substantial declines in imports between 25-30 percent.
For the East Coast, Baltimore and Miami followed by Virginia continued to perform strongly through the first quarter. Most East Coast seaports witnessed strong declines for both imports and exports during March between 5 and 14 percent, with Charleston, Savannah and Montreal being exceptions. Charleston witnessed strong import growth near 7 percent while Savannah witnessed marginal export growth of 1 percent. Montreal witnessed marginal overall import/export growth near 1 percent.
All seaports on the Gulf Coast witnessed moderate improved container traffic during March with the exception being Houston. Houston witnessed strong declines for imports of 12 percent and moderate growth in exports of 3 percent.
The most important number from the table above was the comparison of container traffic during the first two months of 2016 versus the overall first quarter. Excluding the seaports of Everglades and Jacksonville, total TEU traffic was up 4 percent through March 2016. The two excluded seaports reflected around 2 million TEUs during 2015 fiscal years, or about 3.5 percent of the 2015 total.
This performance is a clear indication that the decline in West Coast TEU traffic driven by the 2014/2015 strikes was not the only impact for reduced traffic. All major seaports for each region witnessed substantial weakness.
Comparatively, Class I rail operator container traffic has been provided below to only include the first three months of 2016, through week 13. Based on this information, it is clear to see that BNSF (NYSE:BRK.B), Norfolk Southern (NYSE:NSC), CSX (NASDAQ:CSX) and Canadian National (NYSE:CNI) have continued to outperform their peers. However, it is also clear that each of these leaders have witnessed substantial declines in container traffic, which was prevalent across all Class I rail operators.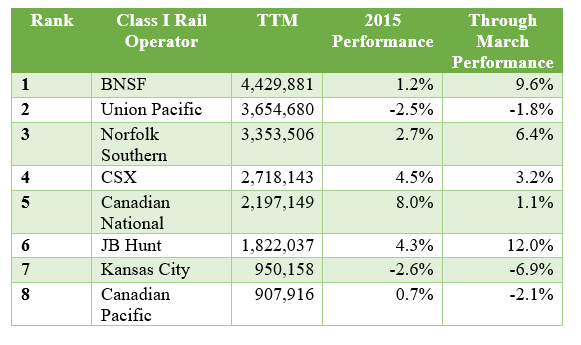 Source: Class I weekly intermodal traffic
Through February 2016, not one Class I rail operator witnessed negative container traffic. Through the first quarter, Union Pacific (NYSE:UNP), Kansas City Southern (NYSE:KSU) and Canadian Pacific (NYSE:CP) all witnessed negative performance. The remaining positive performers saw their percentage performance decline between 26 to 82 percent. These outliers were led by Norfolk Southern and Canadian National, while BNSF and CSX witnessed declines of nearly 50 and 60 percent respectively.
The relationship between the 73 percent decline for North America TEU traffic during March illustrates a strong correlation. Class I rail operators container traffic includes both domestic and international containers. Each Class I rail operator has a percentage of international containers moved with BNSF and Union Pacific being near 50 percent, Norfolk Southern being near 60 percent and CSX being near 40 percent. Both Canadian rail operators have a majority of their container moves being international.
However, a substantial amount of international containers are transloaded to domestic containers with close proximity to seaports. From this perspective, a majority of container traffic for Class I rail operators is driven by seaport TEU traffic. For Class I rail operators who are lagging their peers, it should be assumed that truck carriers including drayage and medium to long haul drivers are benefiting, especially in the lower fuel cost environment.
Additional companies directly benefiting from these trends include JB Hunt (NASDAQ:JBHT) and Hub Group (NASDAQ:HUBG). Many others in the freight sector also benefit including ocean freight forwarders like Expeditors International (NASDAQ:EXPD) among others. JB Hunt has been included in the comparison above as the company is a major player in the transload arena. It should be noted that JB Hunt's numbers only include domestic containers and that the information is from the most recent quarter as of March 2016.
Looking to the month of April for seaport TEU traffic, it would appear that further declines may be in order. All Class I rail operator container traffic has continued to decline through April 2016, week 16, as the table below displays. Only Kansas City Southern and Canadian Pacific have displayed marginal improvement.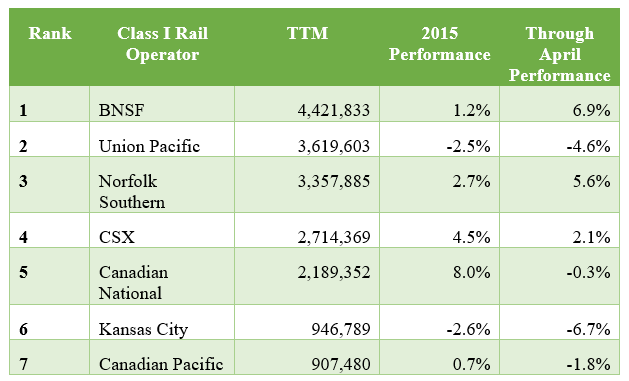 Source: Class I weekly intermodal traffic
Based upon these declines, we should expect to see further softening for the updated seaport TEU traffic numbers during April. BNSF, Norfolk Southern and CSX have been able to maintain moderate to solid positive levels, whereas Canadian National and Union Pacific have further weakened. Kansas City Southern and Canadian Pacific have remained mostly flat.
E-commerce has been strong, but other retail and industrial areas have been weak. The prospects of a weakening TEU traffic environment will not help the current challenges facing the rail industry. Investors should continue to pay attention to these intermodal traffic trends in relationship to seaport TEU traffic as this operating segment has recently exacerbated declines in total traffic.
Disclosure: I am/we are long JBHT, CNI.
I wrote this article myself, and it expresses my own opinions. I am not receiving compensation for it (other than from Seeking Alpha). I have no business relationship with any company whose stock is mentioned in this article.