Dividend growth investing is a popular model followed by the investing community to build assets. Companies which not only pay dividends, but raise them year after year have been shown to perform better overall for investor returns. A big part of this involves capturing the details.
As part of my due diligence, I closely monitor all companies that raise dividends (or cut them) and this article shares the dividend amount changes announced by companies.
Note that only companies with a market cap of $2B+ are included, as the list of small/micro cap companies is too long to include here.
The lists of all increase announcements can be found here.
Raises & cuts from previous months (starting Jan. 2016) can be found in this document.
New Resource: Get regular updates of dividend raises and cuts by following Dividend Growth Info.
Long-term dividend raisers announced further increases in April 2016. Some companies include: Procter & Gamble (NYSE:PG), Unilever (NYSE:UN)(NYSE:UL), Omega Healthcare Investors (NYSE:OHI), Costco Wholesale (NASDAQ:COST), Southern Company (NYSE:SO), American Water Works (NYSE:AWK), United Technologies (NYSE:UTX), International Business Machines (NYSE:IBM), Apple Inc (NASDAQ:AAPL), Wells Fargo & Co (NYSE:WFC), Johnson & Johnson (NYSE:JNJ), and many more.
The following lists the highest raises and cuts from the month of April 2016.
The Dividend Raises
First Industrial Realty Trust, Inc. is a real estate investment trust (REIT). The Trust is a self-administered real estate company, which owns, manages, acquires, sells, develops and redevelops industrial real estate. The Company owns approximately 590 in-service industrial properties containing approximately 63.6 million square feet of gross leasable area (GLA). The Company's in-services portfolio consists of over 230 light industrial properties; approximately 80 research and development (R&D)/flex properties; approximately 170 bulk warehouse properties, and over 100 regional warehouse properties located in over 20 states. Its in-service portfolio includes all properties other than developed, redeveloped and acquired properties that have not yet reached stabilized occupancy. The Company's operations are conducted primarily through the First Industrial, L.P. (the Operating Partnership), of which the Company is the sole general partner.
First Industrial cut its dividend during the financial crisis and restarted issuing dividends since 2013. This is the fourth consecutive year of dividend increase from the company.
Dividend Raise: 49.02%. The forward yield is 3.31%.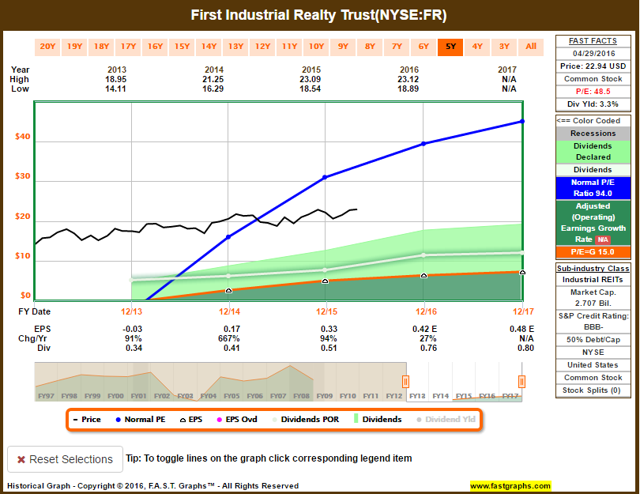 Canadian Pacific Railway Limited operates a transcontinental railway in Canada and the United States (U.S.) and provides logistics and supply chain expertise. CP provides rail and intermodal transportation services over a network of approximately 13,700 miles, serving the principal business centers of Canada from Montreal, Quebec, to Vancouver, British Columbia (B.C.), and the United States Northeast and Midwest regions. The Company transports bulk commodities, merchandise freight and intermodal traffic. Bulk commodities include Canadian grain, U.S. grain, coal, potash, and fertilizers and sulphur. Merchandise freight consists of finished vehicles and automotive parts, chemicals and plastics, crude oil, forest products, and metals, minerals, and consumer products. Intermodal traffic consists of retail goods in overseas containers that can be transported by train, ship and truck and in domestic containers and trailers that can be moved by train and truck.
After multiple failed M&A attempts by Canadian Pacific, the board decided to raise the dividends after a long stagnation. Canadian Pacific had not raised its dividends since the summer of 2012.
Dividend Raise: 42.86%. Forward yield is 1.10%.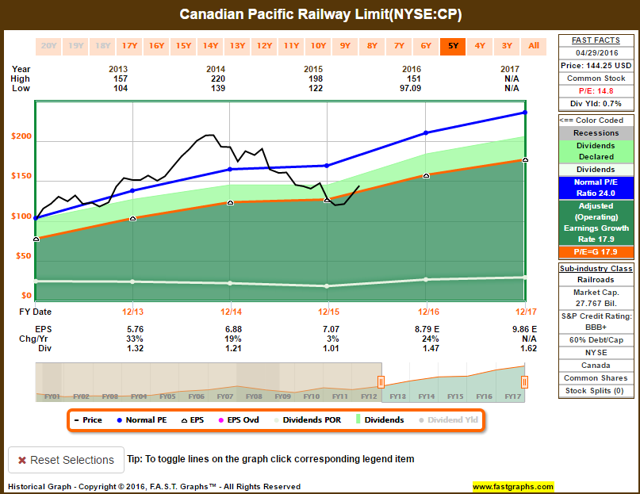 Constellation Brands, Inc. is an international beverage alcohol company. The Company's operating segments include Beer, Wine and Spirits and Corporate Operations and Other. The Company's wine portfolio is complemented by select spirits brands and other select beverage alcohol products. It is a multi-category supplier (beer, wine and spirits) of beverage alcohol in the United States. The Company's customers include wholesale distributors, retailers, on premise locations and government alcohol beverage control agencies. In the United States, the Company operates 19 wineries using varieties of grapes grown in the Napa, Sonoma, Monterey and San Joaquin regions of California. It also operates eight wineries in Canada, four wineries in New Zealand and five wineries in Italy. The Company's Canadian whisky requirements are produced and aged at its Canadian distillery in Lethbridge, Alberta.
Constellation Brands started issuing dividends last year and this increase is the first increase from the company.
Dividend Raise: 29.03%. Forward yield: 1.03%.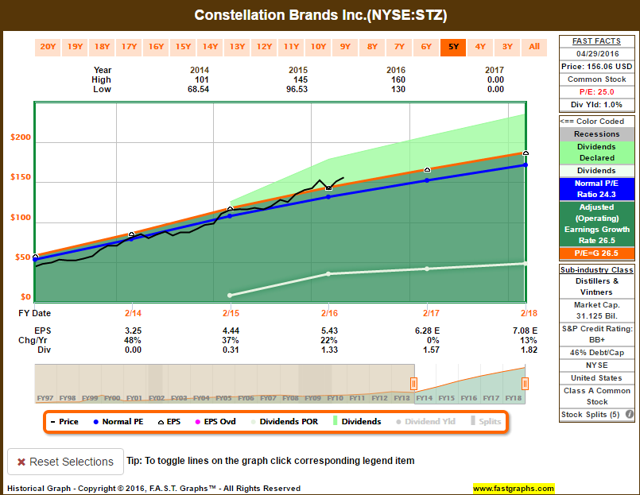 Lithia Motors, Inc. is an operator of automotive franchises and a retailer of new and used vehicles and services. The Company operates in three segments: Domestic, Import and Luxury. The Domestic segment consists of retail automotive franchises that sell new vehicles of Chrysler, General Motors and Ford. Its Import segment includes retail automotive franchises that sell new vehicles of Honda, Toyota, Subaru, Nissan and Volkswagen. The Luxury segment consists of retail automotive franchises that sell new vehicles of BMW, Mercedes-Benz and Lexus. Its segment franchises sell used vehicles, parts and automotive services, and automotive finance and insurance products. Its operations involve the use, handling, storage and contracting for recycling and disposal of materials such as motor oil and filters, transmission fluids, antifreeze, refrigerants, paints, thinners, batteries, cleaning products, lubricants, degreasing agents, tires and fuel.
Lithia Motors has been raising dividends each year since 2010. The 1-, 3-, and 5-year dividend growth CAGR are 24.6%, 27.1%, and 38.3% respectively.
Dividend Raise: 25.00%. Forward yield is 1.2%.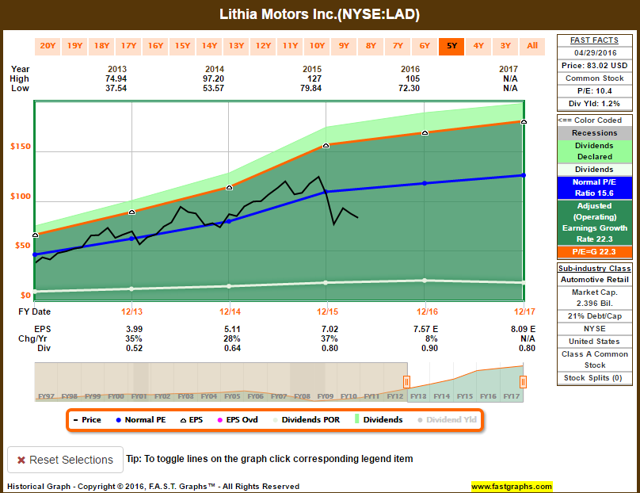 Janus Capital Group Inc. provides investment management, administration, distribution and related services to financial advisors, individuals and institutional clients through mutual funds, separate accounts, other pooled investment vehicles and subadvised relationships (collectively referred to as investment products) in both domestic and international markets. The Company operates through its investment management business segment. The Company provides investment management solutions across a range of disciplines, including fundamental the United States and global equities (growth and value), mathematical equities, fixed income and alternatives, through its subsidiaries, Janus Capital Management LLC (Janus), INTECH Investment Management LLC (INTECH), Perkins Investment Management LLC (Perkins), VS Holdings, Inc. (VelocityShares) and Kapstream Capital Pty Limited (Kapstream).
Janus Capital has been raising dividends each year since 2011. The 1-, 3-, and 5-year dividend growth CAGR are 12.9%, 15.0%, and 54.3% respectively.
Dividend Raise: 22.22%. Forward yield is 3.01%.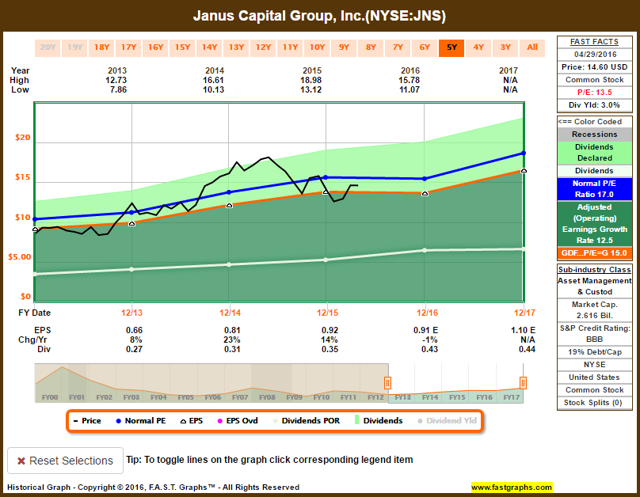 The Dividend Cuts
As much as we like to see higher profits from our investments, it is also important to keep an eye on the dividend cuts. Keeping an eye on the cuts gives us a window to view into the corporate world and spot overall trends.
As can be seen, most dividend cuts are in the commodity market - with mining or energy companies leading the way. For these companies, the name of the game has become capital preservation - as companies have already cut jobs, cut back on capex and the final step in preserving cash is suspension of dividends. Things look bleak as is evident from the charts shown below.
National Oilwell Varco, Inc. is engaged in providing design, manufacture and sale of equipment and components used in oil and gas drilling, completion and production operations. The Company also provides oilfield services to the upstream oil and gas industry. The Company operates through four segments: Rig Systems, Rig Aftermarket, Wellbore Technologies, and Completion & Production Solutions. Its Rig Systems segment makes and supports the capital equipment and integrated systems needed to drill oil and gas wells on land and offshore. Its Rig Aftermarket segment provides aftermarket products and services to support land and offshore rigs, and drilling rig components manufactured by the Company's Rig Systems segment. Its Wellbore Technologies segment sells and rents solids control equipment; and provides solids control, waste management and drilling fluids services. Its Completion & Production Solutions segment provides technologies for well completions and oil and gas production.
Clay Williams, Chairman, President and CEO, commented:
"We believe reducing the dividend is in the best interest of our company and our shareholders as we continue to work our way toward the bottom of this severe down cycle. Substantial decreases in 2016 E&P capital plans are driving activity levels to new record lows, resulting in significantly diminished demand for equipment and services."

"Based on preliminary information, first quarter revenues will be down approximately 20% from the $2.7 billion recognized in the fourth quarter of 2015. Importantly, although the near-term outlook remains challenging, NOV remains strong financially. NOV's total debt decreased by over $500 million during the first three months of 2016 and the decision to reduce the dividend is expected to improve future net cash flow by approximately $615 million per year."

"We believe the dramatic reductions in capital spending are accelerating global production declines, setting the stage for a recovery in demand for NOV equipment and technologies. Reducing our dividend will allow us to preserve capital to invest in future growth opportunities and enhance the core capabilities our customers will need when industry activity increases."
Dividend Cut: 89.13%. Forward yield: 0.55%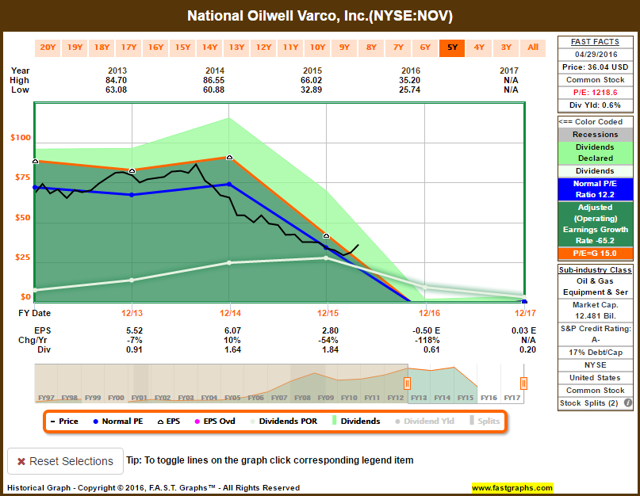 Noble Corp. Plc engages in offshore drilling services for oil and gas industry. It operates through the Contract Drilling Services and Others segments. The Contract Drilling Services segment owns and operates mobile offshore drilling units, and floating production storage and offloading unit. The Others segment includes labor contract drilling services in Canada and Alaska, as well as corporate related items. The company was founded by Lloyd Noble & Art Olson in 1921 and is headquartered in London, United Kingdom.
David W. Williams, Chairman, President and Chief Executive Officer of Noble Corporation plc, said:
"Noble continues to implement strategic adjustments that further reinforce our sound position as we guide the Company through this historic downturn. This action fortifies our robust liquidity, which stood at $2.7 billion at March 31, 2016. We are confident that the efficient use of cash reserves, which enhances liquidity and improves our financial flexibility, will help drive our long-term success and continue to strengthen our competitiveness in the offshore drilling industry."
Dividend Cut: 86.67%. Forward yield: 0.71%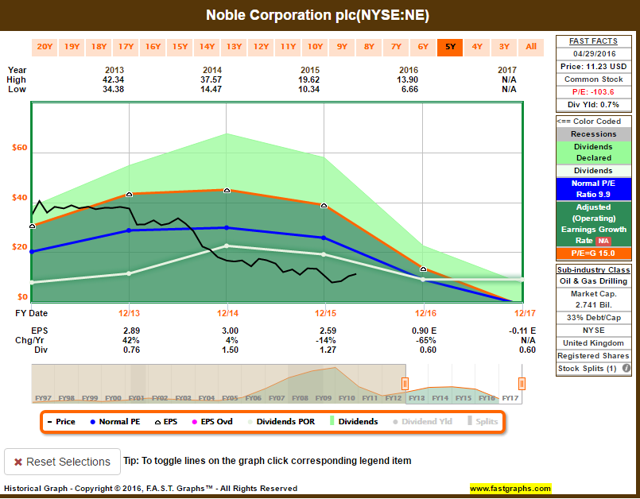 NRG Energy, Inc. engages in the production, sale, and distribution of energy and energy services in major competitive power markets. Its wholesale operations include plant operations, commercial operations, EPC, energy services and other critical related functions. It operates through the following business segments: NRG Business, NRG Home, NRG Renew, and NRG Yield and Corporate Activities. The NRG Business segment provides conventional power generation, the carbon capture business and energy services. The NRG Home segment provides NRG Home Retail, consisting of residential retail services and products and NRG Home Solar, which includes the installation and leasing of residential solar services. The NRG Renew segment provides solar and wind assets, excluding those in the NRG Yield segment. The NRG Yield and corporate activities segment provides Company's contracted generation assets. The company was founded in 1989 and is headquartered in Princeton, NJ.
Dividend Cut: 78.57%. Forward yield: 0.79%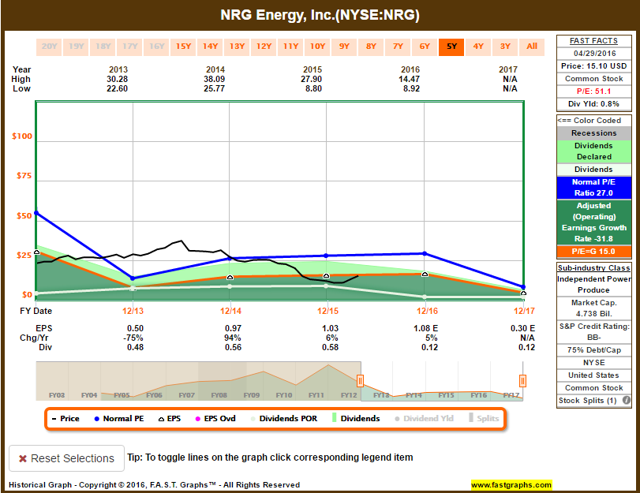 Summary
April is usually a great month of the year for dividend growth investors as more companies announce dividend raises. All round, some great dividend raises from various sectors of the economy. These dividend raises provide us a window to the corporate world and the economy as the companies share increased profit with shareholders. Investors should do their own due diligence before investing in any of the companies mentioned. Did you get any raises (or cuts) from the stocks mentioned?
Full Disclosure: Long AAPL, JNJ, OHI, WFC. My full list of holdings is available here.
Disclosure: I am/we are long AAPL, JNJ, OHI, WFC.
I wrote this article myself, and it expresses my own opinions. I am not receiving compensation for it (other than from Seeking Alpha). I have no business relationship with any company whose stock is mentioned in this article.