Cobalt is a rare and important metal used in most lithium batteries. Lithium prices and miners have recently surged, as you can read here and here. Cobalt is likely to be next.
The rise of the electric vehicle and energy storage, will most likely result in enormous new demand for cobalt. Many are forecasting a coming cobalt supply shortage and price surge, as you can read below.
Cobalt chips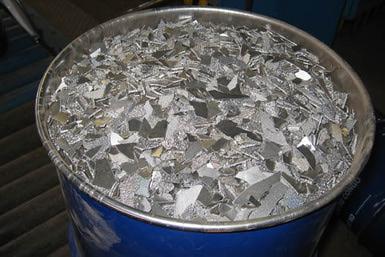 Cobalt and it's uses
Cobalt is a shiny, brittle metal that is used to produce strong, corrosion and heat resistant alloys, permanent magnets and hard metals. It is one of the three naturally occurring magnetic metals (iron and nickel being the other two) and retains its magnetism at a higher temperature (2012°F, 1100°C) than any other metal. Cobalt has the highest Curie Point of all metals.
Cobalt is an essential element utilized in the production of rechargeable batteries required for portable electronic devices and electric and hybrid electric vehicles. Cobalt's usage in batteries now accounts for 49% of world refined cobalt consumption. Cobalt's second largest use is for critical applications in the aerospace sector which includes the production of both air and land based jet turbine engines.
For example, in a typical electric vehicle NCA lithium battery, the components are typically as follows; Cathode - NCA (80% nickel, 15% cobalt, 5% aluminum) and lithium. Anode: Graphite (Graphene nanotube). In a typical lithium energy storage battery (powerwall) they use a NMC battery made of around 33% nickel, 33% manganese, 33% cobalt, and lithium. An NMC battery generally has a longer cycle life, more stability, and less energy density.
Cobalt prices 2005 to April 25, 2016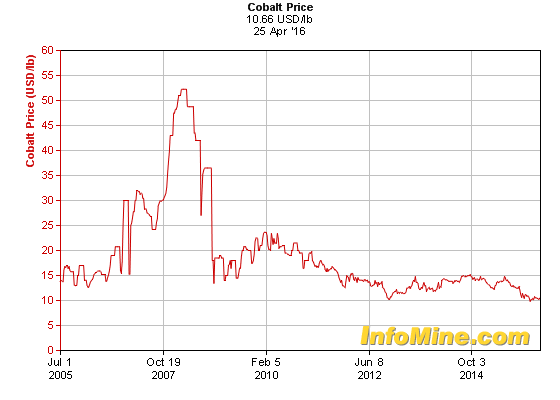 The cobalt spot price is currently around $23,000 per tonne, or around $10.50 per pound. Cobalt prices have been fairly flat over the past 5 years with demand and supply fairly equal. Unlike lithium, the cobalt price has not yet started to rise with the electric vehicle and energy storage rise creating a rise in battery demand.
Cobalt prices forecast to rise going forward
Industry expert Chris Berry said that demand for cobalt should "continue to grow well above global GDP" in 2016, while supply should continue to shrink. Catalysts for that will be "more copper and nickel production coming offline where cobalt is a by-product." All in all, these factors "should support higher cobalt prices." Berry also pointed out that "cobalt doesn't have a very deep 'bench,'" meaning that companies are not waiting in the wings to meet the "looming supply requirements" expected to emerge in the next few years. He also encouraged investors to remember that a lot of cobalt is mined in Africa, where geopolitical issues - another threat to supply - are common. Another expert, Andrew Miller said, that Benchmark "expect[s] supply to move into deficit in 2016, particularly as demand from the battery sector increases." He added, "we think this will see a rebound in prices throughout the year."
Others have forecast cobalt demand is projected to grow from 87,383 tonnes to 113,725 tonnes, between 2014 and 2018. Cobalt supply is projected to grow from 91,577 tonnes to 100,778 tonnes over this same time frame. Meaning before 2018 cobalt demand will overtake supply, and become a very "tight" market.
Cobalt Source
The major challenge with the sourcing of cobalt is over reliance on the Democratic Republic of Congo [DRC], one the world's poorest
and most politically unstable countries. There is a significant risk involved investing in companies that operate in the DRC. The DRC have been known to revoke mining licenses if they are not happy with the deal as happened with First Quantum Minerals. Given that the DRC accounts for around 65% of global supply, any supply disruption from there will help push spot prices higher, and benefit the other cobalt miners. The two biggest miners of cobalt in the DRC are Freeport-McMoRan (FCX) and Lundin Mining (TSX:LUN). Cobalt is also mined in China, Russia, Canada and Australia.
The cobalt miners - the major producers
Similar to lithium, the major producers are not pure plays in cobalt. Generally they are copper, nickel and gold miners that have cobalt as a by-product. Due to the past 5-year rout in copper and nickel prices it has left most of the major cobalt producers in trouble, often with huge debts. It is best to take a view on this, and the recovery of the abovementioned metal prices before buying the major cobalt producers.
Freeport-McMoRan Inc (NYSE:FCX) - Price = USD 14.00
Freeport McMoRan, the US-based natural resource company headquartered in Phoenix, Arizona, is the world's seventh largest miner.
The company produces copper, gold, molybdenum and cobalt, and has mining operations in North America, South America, Africa and Indonesia. Freeport produced 4.13 billion pounds of copper, 1.25moz of gold, and 94mlbs of molybdenum in 2013. FCX's Grasberg open pit mining operation in Indonesia boasts the world's biggest gold reserves and the tenth biggest copper reserves.
Through a joint venture, Freeport-McMoRan, Lundin Mining Corporation, and La Générale des Carrières et des Mines (Gécamines) have formed to mine the cobalt in the Democratic Republic of Condo [DRC]. They have a large ownership stake and operate the Tenke Fungurume Mine in the DRC. This provides the Freeport's Kokkola cobalt refinery in Finland with a steady supply of cobalt concentrate. Cobalt makes up less than 5% of company revenues.
Due to the rout in copper and nickel prices, the company has recently been running at a loss. They have a large debt burden of $20.8b.
The stock has fallen 40% in the past year, has no current positive earnings or PE, and a market cap of USD 17.5b. Earnings should turn positive into 2016 or 2017, provided base metal prices recover somewhat.
Not a pure cobalt play, but still a large global cobalt producer. Buy based on massive gold reserves, and recovering metal prices, if the $20b debt can be managed.
Investors could also consider Lundin Mining Corp.
Post publication update:
On Monday (May 10, 2016), Freeport-McMoRan Inc. agreed to sell its controlling stake in the Tenke Fungurume copper-cobalt mine to CMOC, as the Luoyang, China-based company is known, for $2.65 billion. CMOC is also negotiating to buy Freeport's interests in other cobalt assets.
Glencore (OTC:OTC:GLNCF) (LSX:GLEN) - Price = USD 2.37, GBP 162.9
Glencore's operation in Nikkelverk, Norway is the largest nickel refinery in the western world. Nickel concentrates containing cobalt, as well gold, platinum and palladium, are imported from mines in Canada (Sudbury and Raglan) and other custom feed sources for processing. The company's refined cobalt output accounted for about 10 percent of global production in 2014. Similar to Freeport, Glencore has had a bad few years, and is struggling under a load of debt ($25.9b), and low commodity prices. The company is addressing the debt, and restructuring. The stock has fallen 46% in the past year, has no current positive earnings or PE, and a market cap of USD 23.4b. Buyers would buy based on a view that base metals will soon recover in price.
Umicore SA (UMI) - Price GBP 43.52
Belgium specialty metals refiner Umicore mines, refines, and fabricates zinc, copper and other metals and manufactures metal-based advanced material solutions. It refines cobalt for its Cobalt and Specialty Materials division at its facilities in Belgium and China. They also do metal and battery recycling. Not a pure cobalt play, but one worthy of consideration.
UMI has a 1-year return of 1.08%, a PE of 31, 2016 PE of 19.63, and a market cap of $4.9b. Consensus analyst rate it as a hold with a target price of GBP 40.4.
Sumitomo Metal Mining (TYO:5713)
Japan's Sumitomo Group, engages in the sale, import and export of electronics, fuels, metals, construction materials and chemicals. The subsidiary of Sumitomo Group, Sumitomo Metal Mining, has a large smelter and refiner of copper, nickel, cobalt and gold. Sumitomo has a 27.5 percent stake in the Ambatovy nickel-cobalt project in Madagascar, along with Sherritt International and Korea Resources Corp. Currently Sumitomo supplies Panasonic who supplies Tesla. Current PE is 12.88, and a market cap of JPY 279b.
Sherritt International (OTCPK:SHERF)(TSX) - Price = USD 0.705, CAD 0.94
Sherritt is one of the world's largest nickel producers with production coming from Canada, Cuba, and Madagascar.
Sherritt International of Canada has a 50 percent stake in the Moa Joint Venture (CUBA) and a 40 percent stake in the Ambatovy project (Madagascar).
The Moa Joint Venture is a vertically-integrated nickel and cobalt operation involving three companies: The Cobalt Refinery Company [CRC], International Cobalt Company Inc. (ICCI) and Moa Nickel SA.
Material is mined by subsidiaries of Sherritt and General Nickel Company SA at an open pit lateritic nickel mine in Cuba. Concentrates of nickel and cobalt are then shipped to Sherritt's Fort Saskatchewan facility for refining.
Cobalt makes up less than 20% of Sherritt's revenue. However, metals (nickel, cobalt) make up around 78.9% of it's revenue in 2015. Oil and gas made up 15.9% of revenue, and power generation was 5.2%.
The stock has a bad run for the past 5 years as the mining boom wound down, and commodity prices fell.
As of December 2015, Sherritt owes more than $2.1 billion in total debt, which is offset somewhat by the $373 million of cash it has. Sherritt has been hurt by the price of nickel declining. Since the price of the commodity peaked at more than US$22 per pound back in 2008, it's down some 80%. The current price is right around US$4.25 per pound. At such a low price, Sherritt is not making any money. Earnings are negative due to massive write-downs on projects that don't look to be worth nearly what the balance sheet dictates. Free cash flow is better, but the company has still bled more than $600 million in cash over the last year. One saving grace that might save Sherritt in 2016 is it doesn't have any debt due until 2018.
However, during the last period of rapidly rising cobalt prices (2002-2007), Sherritt's share price rose ~400%.
Sherritt has a 1-year return of -64%, currently no PE, and a market cap of 276m. Analyst consensus is hold, with a CAD 0.97 1-year target. As per most of the non pure cobalt plays, debt concerns, nickel and copper spot prices going forward, will be significant.
The Ambatovy Mine in Madagascar
The US$ 7 billion dollar Ambatovy mine and refinery has put Madagascar on the world's metal map. Commercial production began in 2014, but Ambatovy is still ramping up to a targeted annual production of 60,000 tonnes of refined nickel and 5,600 tonnes of refined cobalt.
Ambatovy is a partnership of four companies - Sherritt International Corporation (40%) and SNC-Lavalin Incorporated (5%) from Canada, Sumitomo Corporation (27.5%) from Japan, and Korea Resources Corporation (27.5%) from Korea.
MMC Norilsk Nickel (OTCPK:NILSY) (LSX:MNOD) - Price = USD 14.75
MMC Norilsk Nickel is a large diversified Russian mining and smelting company. They are one of the world's largest producer of nickel and palladium and one of the largest producers of cobalt, platinum and copper. They also produce some silver and gold. Their largest operations are located in the Norilsk-Talnakh area near the Yenisei River, in northern Russia. The company's main cobalt sources are the Kola Mining and Metallurgical Company, the Polar Division and Norilsk Nickel Harjavalta (Finland).
Norilsk Nickel has a 1-year return of -14%, currently no PE, and a market cap of 23b.
Vale S.A. (NYSE:VALE) - Price = $5.67
Vale is the Brazilian giant iron ore miner. They have a cobalt mining project in North America through their Inco nickel subsidiary. Cobalt revenues are a minute percentage of total revenues.
The Chinese miners
China's largest cobalt producers include Jinchuan Nonferrous Metals Corp., Huayou Cobalt Co., Ltd., Jiangsu Cobalt Nickel Metal Co., Ltd. and Shenzhen Green Eco-manufacture Hi-tech Co.,Ltd., which each have annual refined cobalt production capacities of over 7,000 metric tonnes. I have not focused on these as they are not listed on US exchanges.
The cobalt miners - the juniors
Formation Metals Inc (OTCQB:FMETF) (TSX:FCO) - Price = CAD 0.31, USD 0.249
Formation Metals Inc. is a well established Canadian mineral exploration and mine development company focused on cobalt production in Idaho, USA. Through its wholly owned subsidiaries it has interests in cobalt, uranium, and other base and precious metals in Canada, the United States and Mexico.
The Company's primary asset, located in the mining friendly state of Idaho, is the 100% owned, Idaho Cobalt Project (Pending:ICP). The ICP is a unique, high grade, primary cobalt deposit which is comprised of the mine and mill site located near the town of Salmon, Idaho and the proposed refining facility, the Cobalt Production Facility [CPF], a stand-alone hydro-metallurgical facility that will process the ICP Mine concentrates into cobalt sulfate, copper sulfate, copper concentrate, magnesium sulfate and gold.
The project is estimated to produce 1,386 tons of cobalt annually over a minimum 12.5-year span. Formation Metals has the potential to meet almost 55% percent of USA's current cobalt sulfate demand through its 100 percent owned Idaho Cobalt Project in east central Idaho. The ICP would be the U.S.A.'s only near term, significant producer of cobalt targeting the rechargeable battery sector's electric vehicle, stationary (grid storage) and portable hand held communication devices' rapidly expanding markets. You can read more about Formation Metals here.
Formation Metals has rallied 77% in the past year, currently has no PE, and a market cap of CAD 28.2m.
NB: Brokerage on the TSX seems very expensive.
Fortune Minerals (OTCQX:FTMDF) (TSX:FT) - Price = USD 0.10, CAD 0.13
Fortune Minerals Limited is a diversified North American resource company. The company's main focus is the NICO gold-cobalt-bismuth project in the Northwest Territories. Once up and running, NICO will have the advantage of producing gold as a natural hedge against downside risks. The components of that project incorporate a mine and concentrator in the Northwest Territory and a hydrometallurgical plant to upgrade the concentrate to saleable metals to be built in Saskatchewan. The NICO deposit in the Northwest Territories contains 1.1 million ounces of gold, significant cobalt and 12% of global bismuth reserves with by-product copper. Positive feasibility studies, test mining, pilot plants and environmental assessments have already been completed. It has a projected 21-year mine life, at annual production of 41,300 ounces of gold, 1,615 tonnes of battery grade cobalt, and 265 tonnes of copper. It is currently pursuing off-take agreements and project financing for construction.
An important component of that story is the construction of a road to the mine site, part of which it appears that the Northwest Territory government will be commencing soon due to local infrastructure requirements.
Fortune Minerals has rallied 44% in the past year, currently has no PE, and a market cap of CAD 33.2m. Huge upside potential if they can get financing to build the mine and plant, and commence production.
NB: Brokerage on the TSX seems very expensive.
Broken Hill Prospecting (ASX:BPL) - Price = AUD 0.074
BPL is almost a pure play Australian cobalt explorer in the Broken Hill area of Australia (down the road from BHP's giant Broken Hill mine). In fact its one of the only pure cobalt plays in the world.
The 100% owned Thackaringa Cobalt-Pyrite Project has an inferred resource of 38 million tonnes at almost 1kg per tonne of cobalt (or around 66 million pounds of contained cobalt), a shallow deposit continuing at depth, suitable for an open cut mine.
At $10.50 per pound the inferred resource of 66 million pounds of cobalt is valued at USD 714m.
They are also prospecting for titanium and zirconium heavy mineral sands, as well as uranium. Their heavy mineral sands project is projected to be able to bring in $45.2 million in net operating cash flow over five years with the ability to extend that to eight to ten years, and requiring $21-26 million to develop the operation.
My research shows they have only AUD 22,000 in debt, and about 124m shares issued. You can read more here.
BPL has a 1-year return of 38.5%, currently no PE, and a market cap of only AUD 9.2m. Speculative with good upside, especially if cobalt prices rise from here.
Barra Resources Ltd (ASX:BAR) - Price = AUD 0.049
Western Australia's Barra Resources has a strong focus on high-grade gold and base metal deposits. Barra Resources owns 50% of the high grade Mt Thirsty Cobalt-Nickel Manganese project with Fission Energy owning the other 50%. An independent study by Perth-based metallurgical and engineering consultancy, Simulus, found that the cobalt-nickel-manganese deposit, 20 kilometers northwest of Norseman, could readily produce 3,700 tonnes of cobalt, 10,300 tonnes of nickel and 27,000 tonnes of manganese per annum in its first three years. Importantly the nickel is a totally oxidized nickel deposit, therefore easy to process. This would immediately rank it the fourth largest cobalt producer in the world. The company holds interest in the Burbanks Gold Project located to the southeast of Coolgardie, the Phillips Find Gold Project located in north-northwest of Coolgardie, and Riverina Project in the north of Coolgardie, Western Australia.
Barra Resources has rallied 390% in the past year, currently has a PE of 140, and a market cap of AUD 18.3m.
Cobalt Lifecycle Miners - "not updated"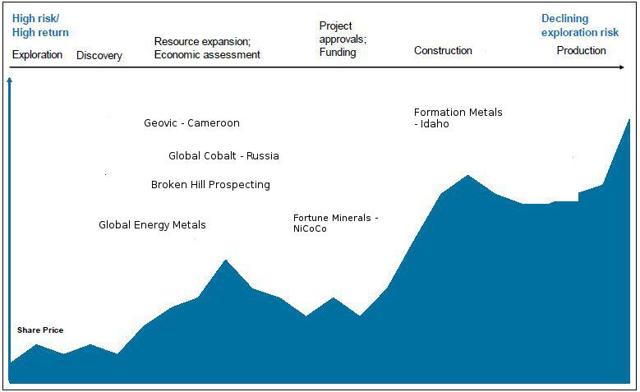 Conclusion
Many of the above cobalt miners (and refineries) are really nickel or copper miners that produce cobalt as a by-product. As with the lithium majors (SQM, FMC, and Albermarle) only a small percentage of their revenues come from cobalt.
Probably safest to buy the major non-DRC producers as they are likely to be the suppliers at least for Tesla (NASDAQ:TSLA), as Musk has stated he would try to source raw materials from local miners.
I would prefer to buy the more pure play cobalt miners. This would mean buying into Formation Metals, Fortune Minerals, or Broken Hill Prospecting.
The pure cobalt plays mentioned above are risky as they are not yet cobalt producers. Buy with smaller money and hope to grab a ten bagger.
I am not a mining analyst so investors should do their own due diligence. I have tried to provide investors with a reason to look at the cobalt miners, the potential upside to cobalt spot prices, and a summary of the cobalt miners that could boom if cobalt takes off as is anticipated.
Disclosure: I/we have no positions in any stocks mentioned, but may initiate a long position in FORMATION METALS (TSX), FORTUNE MINERALS (TSX), BROKEN HILL PROSPECTING (ASX), BARRA RESOURCES (ASX) over the next 72 hours.
I wrote this article myself, and it expresses my own opinions. I am not receiving compensation for it (other than from Seeking Alpha). I have no business relationship with any company whose stock is mentioned in this article.
Additional disclosure: The information in this article is general in nature and should not be relied upon as personal financial advice.
Editor's Note: This article covers one or more stocks trading at less than $1 per share and/or with less than a $100 million market cap. Please be aware of the risks associated with these stocks.