In recent days, there has been a great deal of discussion about the possibility that electric vehicle [EV] sales will produce a new oil crash. A series of reports by Bloomberg are at the center of this controversy. One can find them here and here. These views have been put into question by navigant research and summarized by green car reports.
Somewhat surprisingly, Bloomberg's contentions reinforce at least two of the views I put forward last year in another Seeking Alpha article.
First, that the worsening of climate change would have prompted the electrification of the automobile industry in the world as reflected in a decreased demand for diesel and gasoline which is likely to intensify in the years ahead as Tesla's (TSLA) Li-ion battery gigafactory and other carmakers' gigaplants are introduced into the market.
Second, that even though oil prices won't fall forever, their recovery will take some time and it's highly unlikely that we will return to business as usual, which would nonetheless keep the incentives for persisting a search for substitutes intact generating a new downward impulse for the demand for oil.
Now, the main thrust of Navigant Research's arguments resides in four points. One, conventional vehicle fuel efficiency is meant to increase 22% over the next decade resulting in significant oil displacement to belittle the oil displaced by EVs. Two, autonomous vehicles will also tend to increase fuel efficiency on the roads further contributing to displacing oil. Three, assuming oil prices stay in the $40-$80 range for the next 10 years, conventional hybrids are likely to win the energy cost equation over electric drive. And four, low oil prices may lead to reforms which will have a negative impact on EV sales.
There are many problems with these ideas. To begin with, oil displacement due to fuel efficiency to belittle the oil displaced by EVs is nothing more than an illusion. For one thing, as early as 2014, there was an indication that gains in fuel economy in ICE vehicles were slowing. As of today, they even appear to be decreasing. In fact, average mileage per gallon for new cars and trucks in 2016 has been found to be 23.13, down from 24.79 in 2015 and from 24.1 in 2013. For another, it's not clear why major carmakers would be interested in making fuel efficiency improvements on internal combustion engine [ICE] vehicles rather than introducing electric ones to comply with fuel economy standards in the near future. Even though small improvements in fuel economy in ICE vehicles are likely to reduce significantly oil consumption mainly because of their weight in the global fleet, it doesn't necessarily follow that this will ensure compliance with Corporate Average Fuel Economy [CAFE] requirements. Indeed, as it has just been suggested, to meet these regulations in the U.S. in the next decade or so, "market penetration of hybrid and electric vehicles will have to exceed 15 percent for many manufacturers."
In the same vein, efficiency gains from autonomous vehicles will not make a difference until (at least) 2025. One reason for this is simply that their full driving capabilities will not be ready until then. In addition, one must be aware that for autonomous vehicles to be feasible, incentives to design more fuel efficient autonomous rule-sets will have to be established. As a recent peer-reviewed article suggests, in absence of these mechanisms, carmakers may end up designing a system to maximize speed and/or acceleration by default or as option which could actually worsen fuel economy. Another reason is that at present many global automakers don't seem to be convinced of self-driving cars' real viability and are asking the U.S. government to slow down on allowing them. These arguments are by and large shared by two specialized consultants who have just stated: "The real timeline for fully autonomous vehicles is closer to 10 to 15 years, and will happen in stages in line with the evolution of technology and regulations."
Furthermore, as I have shown in my latest SA article, there's an indication that conventional hybrid sales have been falling since 2013, whereas plug-ins have shown an exponential growth. Of course, a possible oil price rebound sometime this year could eventually help hybrid sales recover somewhat, but I doubt this will trigger a new long-term trend. I'm also hesitant to believe that oil prices will surpass the $65 per barrel barrier in the next decade or so. With oil prices in the $45-$65 range, the incentives for further electrification will remain intact. Under these circumstances, it's rather difficult to agree with Navigant Research that conventional hybrids will win the cost equation over electric drive.
Lastly, Navigant Research's fourth argument is both flawed and confusing. It's flawed because it doesn't take into account that oil prices are much more influential upon hybrid than plug-in sales, the reason being that the former are essentially aimed at reducing fuel consumption whereas the latter have more far-reaching objectives such as combating climate change and air pollution. It's confusing because it contradicts their previous assumption that oil prices could in fact attain higher (not lower) levels over the next decade.
Let's now return to our topic of discussion today, namely the possibility that EVs will produce a new oil crash in the world. Here we ought to ask ourselves by how much would the demand for oil need to be reduced for this to occur? According to Bloomberg, two million barrels of oil per day would be that tipping point. Note that this compares with Kuwait or Venezuela's oil production in 2009 or the increase of U.S. oil production between 2012 and 2014 (See Chart 3 and Table 4 in my SA contribution).
In this article, I enquire about the plausibility of Bloomberg's hypothesis that "electric vehicles could displace oil demand of 2 million barrels a day as early as 2023," which "would create a glut of oil equivalent to what triggered the 2014 oil crisis."
To do so, I correct, update and extend Tables 5 and 6 in my original piece as follows. Insofar as Table 5, the accumulated world total sales were extended to 2015 (Column 1) which resulted in new indicators for Total Oil Consumption Reduction per Year (barrels) (Column 10), Global Oil Consumption Reduction due to Adoption of EVs (Column 14), and Global Oil Consumption in Road Transportation Reduction due to Adoption of EVs (%) (Column 17). In addition, for comparison purposes, a new measure of Column 10 reflecting Total Oil Consumption Reduction per Day (barrels) is included. All of these modifications are presented in Table 1 below.
Table 1
Oil Consumption Reduction Due to Adoption of EVs
1997-2015

Sources: Newsroom.Toyota; World.Honda; Hybridcars; EV-sales; Insideevs; Wikipedia; EPA; AFDC; Chevron; FuelEconomy (1); Edmunds; Autotrader; TheCarConnection; FuelEconomy (2); TopSpeed (1); TopSpeed (2); BusinessGreen; Telegraph; Eco-Drive; GreenCarCongress; NextGreenCar; Evobsession; Autoblog; Emobility; IEA; and Zmescience.
As it can be seen, world total sales increased by almost 3 million with respect to the number mentioned in my 2015 article. The change is attributable to a substantial improvement of HEV sales (following a comprehensive update of the data. See Table 2), the outstanding performance of plug-in (PHEV sales and BEV) sales last year (See Table 3), and the inclusion of Electric Bus Sales (only for China, due to data limitations) in the analysis. Furthermore, for the conversion of gallons into barrels both gasoline and diesel figures are used. It's important to note that even though 42 gallons are equivalent to one barrel, only 16.47 gallons of gasoline and 9.00 gallons of diesel can be obtained from a barrel of crude oil in a typical Chevron refinery. What this essentially means is that every time 16.47 gallons of gasoline and 9.00 gallons of diesel are consumed by cars, a barrel of crude oil is displaced. Here Chevron (instead of EIA) figures are used on the understanding that they better reflect a realistic picture of gasoline and diesel production and oil displacement in the world. Of course, other things are also contained in a barrel of crude oil, but they have nothing to do with road transportation. It thus makes no sense to include them in this calculation. The present approach represents a point of departure from that applied in my previous piece where it was assumed an average of 15.5 gallons of gasoline/diesel per barrel of oil which inflated the results. Moreover, to take care of the pending issue regarding the match between the diesel produced out of a barrel of crude oil and the diesel demanded and actually consumed (to the extent that, according to Navigant Research, only 15% of the global car fleet powered by fossil fuels is composed of diesel cars), it's presumed that gasoline and diesel are perfectly interchangeable so that the excess diesel produced out of a barrel of oil can be exchanged for gasoline. Based on all considerations, assumptions and estimations described in Table 1, it was found that during the period 1997-2015 a total of 323,016 barrels per day of oil less were consumed due to adoption of different types of EVs in the world.
Table 2
World: HEV Sales
1997-2015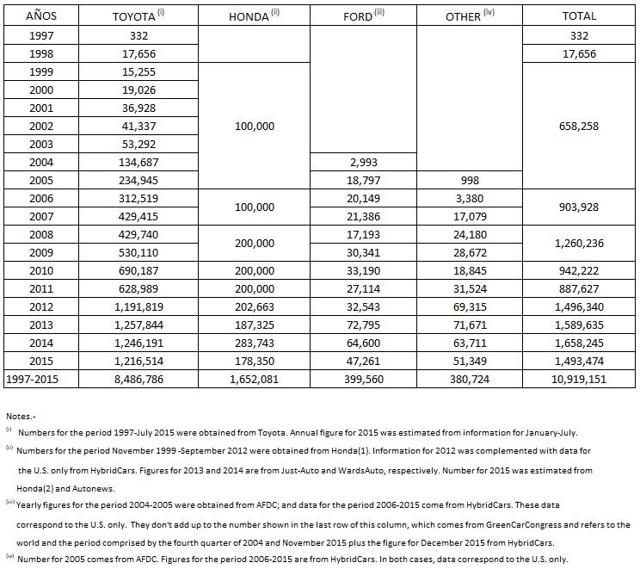 Sources: Toyota; Honda (1); Hybridcars; Just-Auto; WardsAutoHonda (2); Autonews; AFDC; GreenCarCongress.
Table 3
World: PHEV and BEV Sales
2008-2015
Source: InsideEVs; Wikipedia; EV-sales.
Projecting EV sales was the next thing to do. This was accomplished as follows. First, the accumulated world total sales were extended to 2024, with HEV figures projected using a logarithmic estimating equation (See Figure 1) and PHEV and BEV numbers forecast utilizing a cubic estimating equation (Figure2). Note that both functions show a reasonable good fit for the data with a relatively high R2. The upshots of these exercises are presented in Table 4.
Figure 1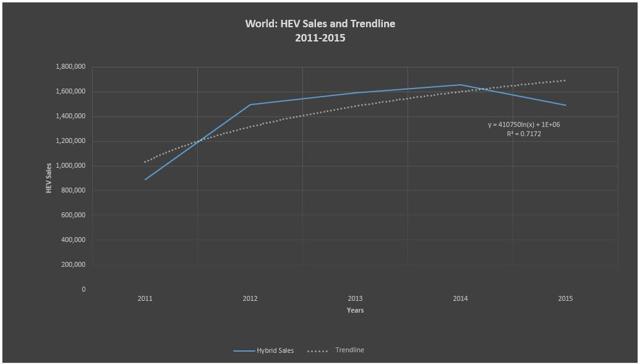 Source: Table 2.
Figure 2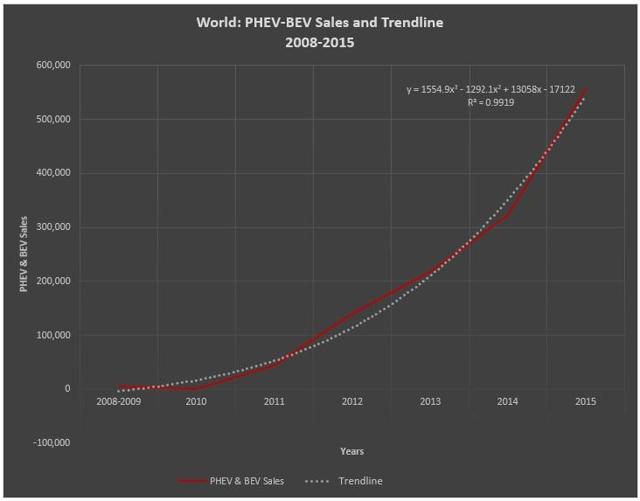 Source: Table 3.
Table 4
World: Projected HEV + PHEV + BEV Sales
2016-2024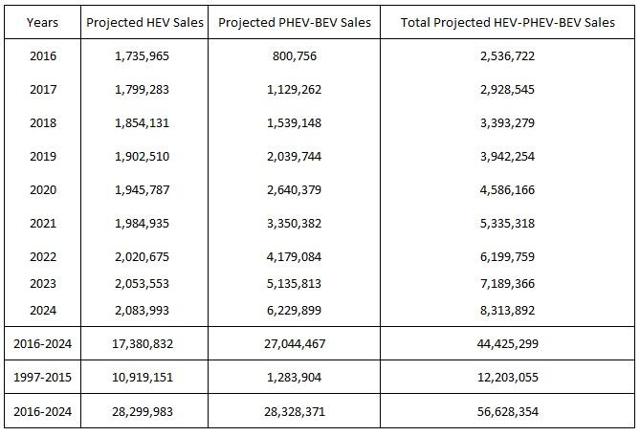 Source: Tables 2 and 3, and Figures 1 and 2.
The projections appear to have resulted in about 1.5 million EVs less than the number suggested by Samsung's Vice-president for the year 2020. It's also important to point out that they're considerably different from those presented in my previous piece. In fact, HEVs are now allowed to grow at an always decreasing rate (instead of showing a declining trend altogether) which seems to be a more appropriate perspective than that reflected in my 2015 article. This improvement can also be justified by a possible rebound effect in oil prices, not considered last year. Likewise, PHEV-BEV sales are projected statistically, which is an improvement over simple ad-hoc assumptions utilized in my previous piece. Note that towards 2019 projected PHEV+BEV sales are likely to surpass projected HEV sales for the first time and by 2024 total accumulated PHEV+BEV sales would also outdo total accumulated HEV sales in the period 1997-2024. This makes us think that the years of HEVs are numbered, whereas the prospects for PHEVS+BEVS couldn't be better. In a forthcoming article I intend to validate these forecasts while going two steps further with the PHEV-BEV sales data. One, project PHEV and BEV sales by major countries and regions and two, do a forecasting exercise using different rates of growth.
Second, electric bus sales were forecast based on information provided by Clean Technica and Zmescience. Following the first reference, as of 2014 there were 80,000 electric buses in use, and "2014 saw 27,000 electric buses sold in China," whereas according to the second one, "the number of electric buses on China's roads went over 100,000 in 2015 - over 20% of the country's share of buses" and "if this trend continues, all the country's buses will be electric in 10 years." In addition, a Compound Annual Growth Rate [CAGR] of 5.6773838% was utilized to project the figures for the period 2015-2025. This nicely allows us to estimate cumulative electric bus sales for the years 2014 (80,000); 2015 (a number in excess of 100,000); 2014 (450,437); and 2025 (500,000) (See Table 5).
Table 5
China: Projected Electric Bus Sales
2010-2025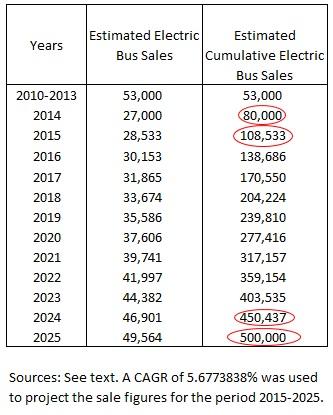 The projected sale figures were then used to recalculate the different indicators established in Table 6 of my previous piece (See my new Table 6). As shown in that table, it does seem that by 2024 world total sales of different EVs (HEVs, PHEVs, BEVs and electric buses) would give rise to displacement of 2,171,779 barrels per day of oil. Here two game-changers can be identified: BEVs and electric buses. They would both account for almost 2/3 of the oil consumption reduction. Since the volume of displaced oil compares with Kuwait or Venezuela's oil production in 2009 or the increase of U.S. oil production between 2012 and 2014 (See again Chart 3 and Table 4 in my 2015 SA contribution), this provides considerable support to Bloomberg's prediction that EVs could indeed produce a new oil crash in the world, albeit conclude that the crash is likely to occur not in 2023 but in 2024. At least two important implications follow from these finding. One, that not one but many Li-ion battery gigafactories will be needed, and two, that much more lithium (as well as other materials) than expected will also be required in the years to come. The question remains as to whether the current lithium shortage will continue and further aggravate the desperate situation of many Li-ion battery operators in China and elsewhere today. But this is subject of a new contribution altogether.
Table 6
Oil Consumption Reduction Due to Adoption of EVs
1997-2024

Sources: EPA; AFDC; Chevron; FuelEconomy (1); Edmunds; Autotrader; TheCarConnection; FuelEconomy (2); TopSpeed (1); TopSpeed (2); BusinessGreen; Telegraph; Eco-Drive; GreenCarCongress; NextGreenCar; Evobsession; Autoblog; Emobility; IEA; Clean Technica and Zmescience.