Welcome to the May 3rd edition of Seeking Alpha's Eye on Tech newsletter.
Eye on Tech Coverage
Tim Cook defends Apple on Jim Cramer's show, predicts big things for China, India, Watch
This seems a particularly appropriate time for Tim Cook to defend his company: Apple (NASDAQ:AAPL) trades within $2 of its 52-week low, after posting an FQ2 miss and issuing soft FQ3 guidance last week, and Carl Icahn (previously set a $240 target relying on some questionable estimates) disclosed four days ago he liquidated his Apple position.

Cook argues the smartphone market (saw roughly flat Y/Y shipment growth in Q1) has plenty of growth left, given global penetration rates are still in the 40s, and promises Apple has iPhones in the pipeline that will motivate users to upgrade.

He predicts Chinese sales will bounce with the help of a booming middle class and strong Android switching activity, and that a large population, low penetration rates, and current lack of 4G spell a major opportunity in India (overall, a more cost-sensitive market than China).

Similar optimism is expressed for the Apple Watch: "I think that in a few years we will look back and people will say, 'How could I have ever thought about not wearing this watch?' Because it's doing so much for you. And then it will all of a sudden be an overnight success."
Facebook partners with Best Buy to give consumers a chance to try out the Oculus Rift
48 U.S. Best Buy (NYSE:BBY) stores will start providing demos for the Facebook/Oculus (NASDAQ:FB) Rift VR headset (sells for $599, not counting the cost of a paired PC) on May 7. More stores are due to be added this summer. The Rift, whose supplies are still limited, will also be sold at Best Buy, and online via Amazon and Microsoft's sites.

It's unlikely Rift sales will significantly move the needle for Facebook in the near term. However, the Best Buy deal could prove valuable as a way to give consumers their first high-quality VR experience, which, in turn, could help drive future sales as prices decline and the user experience improves. Initial reviews for the Rift weren't bad overall, but often highlighted several current shortcomings.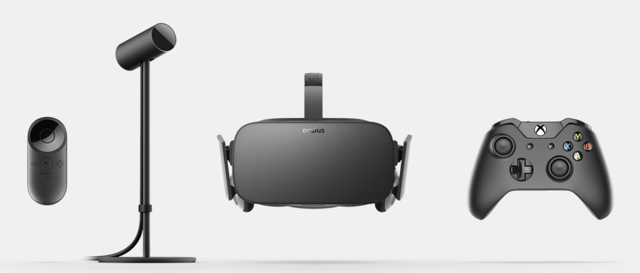 The Oculus Rift and its accessories
EMC launches new flash storage hardware and cloud services
EMC Corp. (EMC) used the first day of its EMC World conference to launch Unity, a flash array line for SMBs promised to deliver "cloud-like simplicity" and 3x the performance of the company's mid-range VNX arrays. Pricing starts at a relatively aggressive $18K for all-flash models.
Unity will face off against SMB-focused arrays from Pure Storage (NYSE:PSTG), Nimble Storage (NYSE:NMBL), and others. It's the fourth all-flash array line launched by EMC, currently the market's biggest player. The other three are more enterprise-focused.

EMC also announced several software releases, a hardware monitoring dashboard, and cloud storage services from its Virtustream unit that promise tight integration with on-premise EMC storage. It competes against offerings from cloud storage providers (Amazon, Microsoft, etc.) that have collectively pressured on-premise storage sales. One challenge EMC will have to contend with: enterprises often aren't adopting Amazon's (or Microsoft/Google's (GOOG, GOOGL) public cloud platforms just for access to one or two services, but for access to a much broader feature set and developer ecosystem. The biggest public cloud platforms also have a scale advantage.

Separately, EMC and Dell announced they'll be known as Dell Technologies post-merger. Enterprise IT gear will be sold under the "Dell EMC" brand.

EMC's new Unity all-flash array
Notable Tech News
Oracle buying cloud utilities management software firm Opower for $532M - Opower (NYSE:OPWR) provides cloud-based apps that help its 100+ utility clients share usage data, provide advice to, and communicate with customers. Oracle (NYSE:ORCL) notes Opower's platform "stores and analyzes over 600 billion meter reads from 60 million utility end customers," and says it plans to integrate Opower's offerings with its Oracle Utilities cloud apps, many of which target back-end (rather than customer-facing) functions.
The deal follows a $663M agreement to buy cloud construction project management software firm Textura (NYSE:TXTR), and is the latest evidence Oracle's M&A pace is accelerating, as the company continues looking for ways to offset on-premise software declines with cloud growth. It's also another example of Oracle targeting a vertical cloud market (in this case, utilities).
Baidu slumps following regulatory probe related to student's death - Regulators plan to probe Baidu (NASDAQ:BIDU) over the death of a college student who used Baidu's search engine to find a treatment for his cancer, and ultimately chose an experimental treatment that failed. The company gets a large percentage of its ad sales from medical ads, and has seen healthcare-related probes before. A year ago, a healthcare-related trade group urged its members to stop buying Baidu ads, and in 2010, China's state-run TV network accused the company of promoting counterfeit drugs.
The investigation managed to wipe over $4B off Baidu's market cap (possibly an overreaction caused by the market's fear of uncertainty). As with many other Chinese regulatory probes, the concern here seems to be less about the merits of the specific case than about what the probe could imply for government attitudes towards Baidu. The news follows a WSJ report stating the Chinese government is mulling a proposal to buy 1% stakes and obtain board seats at local Internet giants.
Nvidia settles GPU patent dispute with Samsung - Nvidia (NASDAQ:NVDA) and Samsung (OTC:SSNLF) are dropping all lawsuits and patent challenges filed against the other company, and licensing a small number of patents to each other (but not doing a broader cross-licensing deal). The agreement follows multiple setbacks for Nvidia in its legal battle against Samsung and Qualcomm (NASDAQ:QCOM), both of which have developed mobile app processors that sport integrated GPUs and (directly or indirectly) compete against Nvidia's Tegra line.
It looks as if Nvidia, which started the battle in 2014, decided it was better to call a truce than continue enriching patent lawyers, and that Samsung was happy to oblige. The deal was announced hours before the ITC was due to make a final decision for a Samsung suit that could've resulted in import bans for Nvidia products. Though still selling Tegra processors into the smartphone/tablet market, Nvidia's focus for the product line has increasingly shifted towards vehicle infotainment systems and hardware that can leverage the company's AI/machine learning strengths, such as drones and self-driving cars.
Brocade tumbles on FQ2 warning, takes acquisition target Ruckus lower with it - Brocade (NASDAQ:BRCD) mostly blamed its warning on soft SAN (storage networking hardware) demand. The company's SAN product revenue was down 2% Y/Y in FQ1 (the January quarter), and major OEM partners have been posting worse numbers. EMC's Information Storage product revenue fell 10% in Q1, and (thanks partly to share loss) NetApp's (NASDAQ:NTAP) product revenue fell 19% in the January quarter.
Cloud storage adoption, and its related impact on traditional IT spend, is clearly a factor here. Companies like Google, Facebook, and Amazon typically aren't deploying Fibre Channel SANs featuring Brocade switches, but rather scale-out infrastructures in which thousands of integrated server/storage systems (i.e., converged infrastructure) communicate via high-speed Ethernet links. Beyond that, both enterprises and cloud providers have increasingly been turning to storage relying on Ethernet or InfiniBand links, whether via converged infrastructure, scale-out NAS systems, or distributed storage systems relying on open-source software such as Ceph and GlusterFS.
Wi-Fi equipment maker Ruckus (NYSE:RKUS), due to be acquired by Brocade in a cash/stock deal, is a casualty of Brocade's warning; Ruckus posted Q1 results after the bell on Monday, while declining to provide guidance due to the Brocade deal. Brocade's warning might raise some eyebrows among firms weighing a bid for server/storage connectivity hardware maker QLogic (NASDAQ:QLGC), which has strong Fibre Channel exposure and is reportedly on the block. QLogic archrival Emulex was acquired by Avago (now Broadcom (NASDAQ:AVGO)) a year ago.
Google buys Google Apps training service provider Synergyse - Google: "Synergyse built a virtual coach inside of the Google Apps interface, built on Google Cloud Platform. With voice and text interactive modules that are searchable by topic within our apps, Synergyse will help your users get up to speed quickly." Synergyse's products will be made "an integral part" of Google Apps later this year.
The move comes a week after Google extended an Apps incentive program initially created for enterprises to mid-sized businesses. The company is also reportedly thinking of acquiring larger cloud software firms it believes would strengthen Apps.
Microsoft sells stake in Caradigm healthcare tech JV to GE - General Electric (NYSE:GE) is now the sole owner of Caradigm, which was launched in 2012 and provides analytics, care coordination/management, and identity access/management software to healthcare providers. The company claims 200+ customers and 1,500+ hospital deployments. It looks as if Microsoft (NASDAQ:MSFT) decided Caradigm was a non-core asset. IBM (NYSE:IBM), meanwhile, is spending heavily to grow its healthcare software/services exposure.
Fabrinet soars on FQ3 beat, strong FQ4 guidance - Fabrinet (NYSE:FN), an optical component contract manufacturer servicing several major industry names, surged to new 52-week highs thanks to its numbers, which follow strong earnings/guidance in February. Together with component vendor NeoPhotonics' (NYSE:NPTN) recent Q1 beat and full-year sales guidance hike - NeoPhotonics sold off post-earnings, but that was due to its EPS/margin outlook - Fabrinet's numbers suggest optical component demand remains strong, even as various equipment and chip firms exposed to telecom capex share disappointing numbers.
Chinese 100G network deployments appear to be propping up the component market, as are investments by major cloud service providers. Fabrinet/NeoPhotonics' numbers could bode well for component vendors Oclaro (NASDAQ:OCLR), Lumentum (NASDAQ:LITE), and Finisar (NASDAQ:FNSR).
Report: Xiaomi plans to use its own mobile processor on low-end phones - Xiaomi (XI), which currently relies on Qualcomm and Media Tek (OTCPK:MDTKF) processors, reportedly plans to debut an internally developed chip (codenamed Rifle) for use in low-end phones, tablets, and smart TVs. By doing so, Xiaomi would join Apple, Samsung, and Huawei in developing app processors for use in its own mobile hardware. IDC estimates the Chinese OEM sold 70.8M phones last year, good for fifth place globally.
Qualcomm launches Zeroth AI/machine learning SDK for Snapdragon processors - Zeroth, once envisioned to be a processor core, is being provided for now as a set of software APIs for developers looking to write AI-infused apps running on Qualcomm's high-end Snapdragon 820 processor (other processors should be supported in time). Compared with offering cloud services relying on AI (as, say, Google does), Qualcomm argues creating apps relying on the Zeroth SDK results in features with less latency and better privacy. If widely adopted, the SDK could give Qualcomm another way to stand out in an Android mobile processor market as it deals with competitive pressure from Media Tek, Samsung, Chinese chipmakers, and apparently now Xiaomi.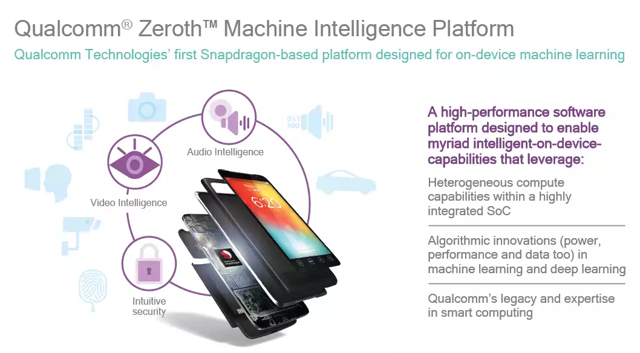 User experiences enabled by the SDK are said to include "scene detection, text recognition, object tracking and avoidance, gesturing, face recognition and natural language processing." Its launch comes amid a broader surge in tech R&D spend (from Google, Facebook, IBM, and many others) for machine learning, a branch of AI involving algorithms that steadily get better at understanding patterns (for example, detecting faces in photos/videos or objects near a drone or self-driving car) as more data is taken in. Nvidia is integrating machine learning abilities into its GPUs, including the ones built into its Tegra processors (they compete with Qualcomm's Snapdragon line).
Notable Tech Commentary and Reports
Buffett defends IBM position, criticizes Yahoo, praises Jeff Bezos - Though IBM trades nearly $25 below Berkshire Hathaway's (BRK.A, BRK.B) ~$170 average cost, Warren Buffett says he would be "much more likely to buy more in the next 12 or 24 months than we would be to sell shares." He dismisses competitive concerns. "[IBM] will always have competitors, we see [IBM] doing some interesting things, the competitors are doing interesting things too."
Curiously, Buffett followed up by saying that going head-to-head with Jeff Bezos (the CEO of a company that's viewed as something of a competitor to IBM) in a business would be like trying to play chess against Bobby Fischer. "There are certain people you do not want to beat at their own game. Certainly, Jeff Bezos is one." It's worth remembering Buffett has historically shied away from investing in tech, arguing it can be too difficult for him to know how a tech company will fare over the long run.
Yelp jumps as Einhorn discusses position, suggests the stock could reach $55 - David Einhorn, whose firm disclosed a Yelp (NYSE:YELP) position in February, declares the company to be a "dominant search and review website for local businesses with roughly 200M unique monthly visitors and the 21st most popular mobile app in the U.S." He also thinks Yelp "has strategic value and that it has been approached by multiple potential acquirers," and believes it can double revenue and deliver $300M of EBITDA at a 35% margin in 2019.
If that happens, Einhorn notes the shares would trade at $55 if given a peer group multiple. He also believes "a bidding war could emerge" if the board decides to put the company up for sale. Yelp's beaten-up shares got a boost from Einhorn's vote of confidence.
IT resellers sell off as Citi downgrades, cites "traditional IT hardware" weakness - Hardware/software distributors Arrow Electronics (NYSE:ARW), Avnet (NASDAQ:AVT), Tech Data (NASDAQ:TECD), and Synnex (NYSE:SNX) were all downgraded. Just one more part of the enterprise IT ecosystem that's being hurt by the ongoing shift in IT spend towards cloud services. (Amazon and Google don't need to buy from the likes of Arrow and Avnet too much.) Arrow's Q1 report arrives on Wednesday morning.
WSJ: GoPro's Big Tech Problem: Smartphones - Few action sports enthusiasts will trade in their GoPro (NASDAQ:GPRO) cameras for smartphone mounts - GoPros provide a wider field-of-view, deliver better image quality, and support many useful accessories, plus you don't have to worry about damaging a $600 phone when you wipe out on a snowboard run. However, as the WSJ observes, the popularity of smartphone cameras is hurting GoPro's attempts to win over consumers who don't feel the need to buy a HERO camera for action sports footage. "There are only so many base jumpers in the world," admits President Tony Bates. GoPro is hoping its efforts to deliver better uploading/sharing tools (with the help of recent acquisitions Replay and Splice) will help the company grow its addressable market.
NPD: U.S. headphone unit sales rise 7% in 12 months ending in February - A positive for Skullcandy (NASDAQ:SKUL) and Apple's Beats unit. Headphones provide an interesting look at how a "dull" consumer electronics market became rejuvenated as consumer tastes evolved and often moved upscale. The fact most people now carry a portable music player (their smartphone) with them at all times also doesn't hurt.
NPD: "Shoppers place a larger emphasis on sound quality, mobility and of course design. Headphones have become more specialized, aligned with different listening occasions like travel, gym and office use. In fact, many consumers own multiple pairs - 2.1 on average." The firm also highlights efforts to create headphones that can alter the sound of a user's surroundings and tune out certain noises. There could be some lessons here for the PC industry as it looks for ways to halt ongoing sales declines.
Forrester: Amazon accounted for 60% of 2015 U.S. e-commerce growth - The figure gives a sense of how much Prime, along with Amazon's (NASDAQ:AMZN) scale, logistics infrastructure, and customer loyalty, are driving share gains. Amazon's North American division sales rose 25% Y/Y in 2015 to $63.7B. In Q1, they rose 27% to $17B.
Forrester sees total U.S. e-commerce sales rising 56.9% from 2015-2020 to $530.6B (time will tell). It observes traditional retailers have been trying to counter Amazon by leveraging their bricks-and-mortar retailers to offer in-store kiosk (endless aisle), in-store pickup, and ship-from-store e-commerce services.
Disclosure: I/we have no positions in any stocks mentioned, and no plans to initiate any positions within the next 72 hours.
I wrote this article myself, and it expresses my own opinions. I am not receiving compensation for it. I have no business relationship with any company whose stock is mentioned in this article.
Editor's Note: This article covers one or more microcap stocks. Please be aware of the risks associated with these stocks.