We constructed a heat map that contains most of Latin America's ADRs-or at least the most traded ones. We also included country ETFs. We will provide you with a weekly update and some basic analysis on what is happening in our all-LatAm sample. Comments are based on closing prices for the previous week (i.e., Friday). Click (here) for 2-year and 3-year columns, too.
We begin with country ETFs. During the past week, most indices closed on the green. Brazil's ETF (NYSEARCA:EWZ) and Peru's ETF (NYSEARCA:EPU) gained 5.2% and 4.9%, respectively. We attribute this performance to the increasing chances that Dilma Rousseff will be impeached in the case of Brazil, and the relief in Peru that a market-friendly candidate might win the runoff on June 5: Pedro Pablo Kuczynski is narrowing Keiko Fujimori's lead and could end up becoming Peru's next president. Wall Street prefers him over her. Argentina's ETF (NYSEARCA:ARGT) underperformed its regional peers, falling 0.8% during the week that followed positive news regarding the holdouts.

Delving down to country specifics and starting with Argentina, Transportadora Gas del Sur (NYSE:TGS) and Banco Macro (NYSE:BMA) had the worst weekly performances, with their ADRs falling 7.7% and 7.3%, respectively. Banks were harshly hit during the week: BBVA Banco Frances (NYSE:BFR) fell 4.8% and Grupo Financiero Galicia (NASDAQ:GGAL) declined 4.1%. On the other hand, Nortel (NYSE:NTL) rallied 13% during the week. The ADR accumulates a 37.6% one-month rally and a 75.0% upturn in the last three months. This performance contrasts with that of Telecom Argentina (NYSE:TEO), which has rallied "only" 19.6% over the same 3-month period.

Moving on to Brazil, the ADRs with best weekly performance were Oi (NYSE:OIBR) and Santander Brazil (NYSE:BSBR), which rallied 26.9% and 13.0% in the last days, respectively. Oi is still being linked to M&A activity in the sector. As for Santander, its performance is explained by 1Q earnings, which showed that its credit portfolio contracted 4.9% QoQ. Although credit contraction was anticipated, it came above consensus. A 10.0% contraction in the Large Corporates portfolio affected by FX appreciation and sluggish demand was the driving force behind the overall decline.
The rest of the remaining portfolio was flat. Santander's overall credit fell 3.8% year-on-year and 5.4% excluding FX. NPLs increased by 10 basis points to 3.3%, mostly driven by the sharp contraction in the Large Corporates portfolio and remain well below the industry's average. The bank's P/BV ratio stands at 1.2x (vs. Bradesco's 1.7x). All Brazilian banks accumulate an outstanding 3-month rally. The question is, can it last with the economy expected to fall 4% this year after declining 3.5% in 2015? We doubt it (here).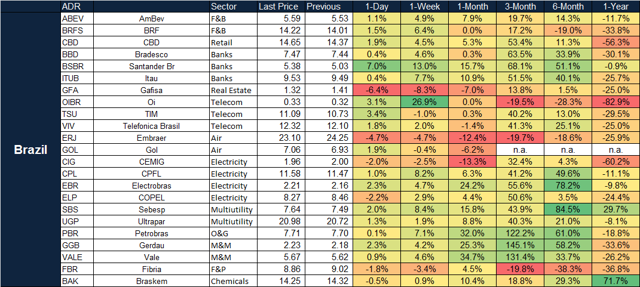 In Chile, SQM (NYSE:SQM) declined 4.1% in the last week. On Friday, CENCOSUD (NYSE:CNCO) had a negative session (-3.2%) in light of negative news flow regarding its shopping center IPO. The company's chairman commented that there is no rush to perform the transaction for the time being. The deal was supposed to be priced at $2.6 billion, implying a 12.5x EV/EBITDA '16 multiple. We will keep you updated on that. Moving on, Chilean stocks have behaved pretty stable during the year when compared to their Latin American counterparts.

In Colombia, there was little activity within our sample. As we have observed throughout the region, 3-month returns have been outstanding. Colombian companies with ADR benefit from stable positions in their respective industries, and the three factors to monitor ahead at the macro level are: inflation, the COP's performance against the USD, and oil prices, which are strongly linked to Ecopetrol's (NYSE:EC) stock price and to the country's public revenues and risk perception.

In Mexico, America Movil's ADR (NYSE:AMX) plunged 9.1% last week after posting disappointing 1Q16 figures. The greatest surprise stems from substantial margin dilution in Mexico (600 bps YoY, reaching 35.7% YoY), a three-pronged dynamic: (1) tight competition following AT&T's entry, causing ARPU to fall 15.4% YOY; (2) a weaker MXN vs. the USD, which increases the cost of handsets; and (3) the lease payments to SITES for wireless towers. Post report, AMX traded at 6.3x EV/EBITDA TTM, in line with its 3 and 5 year historical averages. On the other hand, Televisa (NYSE:TV) surprised positively. The company's ADR hiked 9.0% on Friday after its Sky division had a stellar performance, adding 398k new subscribers (versus 646k throughout the entire 2015), largely explained by the nationwide transition to digital TV.
Also in Mexico, Simec (NYSEMKT:SIM) rallied during the week after posting positive 1Q16 results. The company has benefited from an expanding US economy and its needs for Mexican auto parts. However, with a 59.9% 3-month rally, we think valuations are now stretched for SIM, without upside potential. Simec is trading at 7.5x TTM EV/EBITDA (a premium to LatAm industrials, which are trading at 7.0x TTM EV/EBITDA).

Finally, in Peru, Buenaventura (NYSE:BVN) rallied strongly during the week, gaining 20.8% after posting sound earnings. The company's ADR had skyrocketed 153.8% in the last three months on the back of the rebound of commodity prices, particularly within precious metals. Grana y Montero (NYSE:GRAM-OLD) has also been out of control, with its stock price rising 70.1% in the last month. Can the party continue? Keep an eye on polls, as the presidential race enters its last month and anything can happen, which should increase nervousness and volatility. We'll see.

Disclosure: I/we have no positions in any stocks mentioned, and no plans to initiate any positions within the next 72 hours.
I wrote this article myself, and it expresses my own opinions. I am not receiving compensation for it (other than from Seeking Alpha). I have no business relationship with any company whose stock is mentioned in this article.
Editor's Note: This article covers one or more stocks trading at less than $1 per share and/or with less than a $100 million market cap. Please be aware of the risks associated with these stocks.