Background
This month's article marks the fourteenth installment in my on-going series which outlines my efforts to achieve dividend growth success. The portfolio is nicknamed the MnM portfolio, which is a moniker for "Minne 'n Monthly."
The title of this month's article summarizes my reinvestment of the portfolio following the wholesale sale in March. In completing the task I ended up making several changes, such as swapping some stocks, trimming the average position size to $2,500 and adding Wells Fargo (NYSE:WFC) and CVS Health (NYSE:CVS) to the portfolio. If you want a detailed summary of what was done, and some takeaways from the exercise, you can read about it in my supplemental article here. If nothing else, I am much more happy about the quality of the portfolio going forward.
Note: The portfolio holds 28 positions. I am still targeting a portfolio size of ~35 - 40 positions over time. I feel that at that level it is enough that I can effectively follow them all, and equally weighted would provide strong diversification as each would represent approximately 2% - 3% of the portfolio total. I also receive 100 free trades each year from my brokerage, so I can trade in small quantities without worry about brokerage trading costs.
That being said, here's what happened in April.
April 2016
I have captured the activity for April and for the year-to-date in the standard rollforward summary below. Following reinvestment, the portfolio saw a slight decline, in line with the broader market sell-off, that occurred at the end of April.
Despite the sell-off, the net performance of the portfolio of 6.13% year-to-date continues to outperform the S&P 500. The portfolio collected $8.18 in dividends and interest during the month all but $.50 of which was recurring on positions held.
The portfolio was comprised of the following securities as of April 30, 2016: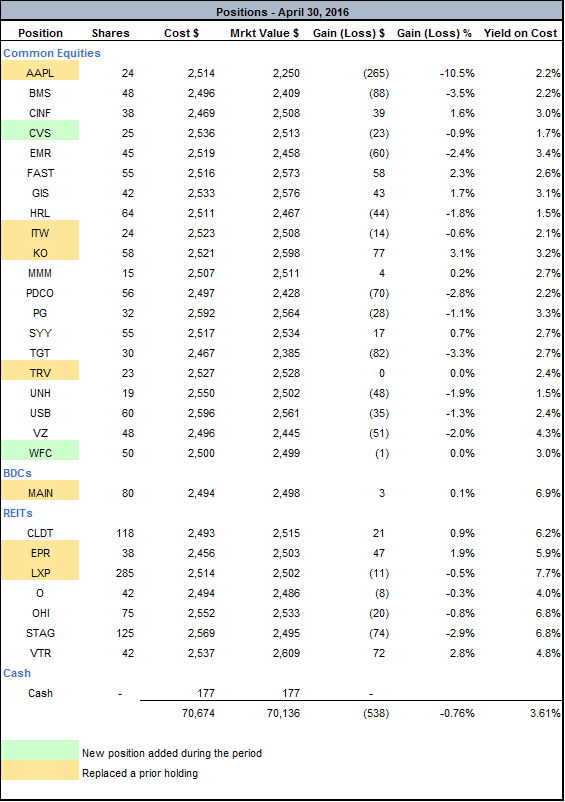 Note: As mentioned above, you can read in greater detail about the portfolio transformation here.
The following sections go into greater detail of the events that have occurred since the end of March.
Sales
None
Additions
All of the positions in the portfolio were initiated this month as I reinvested the cash I was holding at the end of March. Normal reinvestment of dividends will resume next month as I begin collecting them once again. Additionally, I anticipate that I will complete the rollover contribution at that time as well. My plan is to use the proceeds to initiate four to five new positions, which I will discuss in the summary below.
With regard to the decision to add CVS and Wells Fargo to the portfolio, both are solid dividend-growth companies that I have been eyeing for some time. CVS was not the cheapest purchase, but at $101 per share I am okay with the cost as a long-term hold. It has come down a bit from the higher valuations of mid-2015 that had kept me away from it until now. I consider it to be purchased at fair value.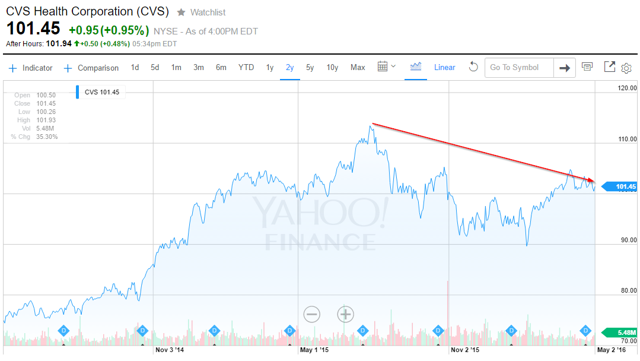 Source: Yahoo Finance, 2 May 2016
Wells Fargo has long been on my radar as one of my favorite banks. A while back I even wrote about it in an article you can find here. Thus far in 2016 it has had a bit of a bumpy start to the year, experiencing a modest decline in price. I would chalk a large portion of this to the Federal Reserve's decision to slow the pace of interest rate hikes.
At the time of writing, through the first four months of 2016 Wells Fargo has trailed the performance of the S&P 500 by a considerable margin.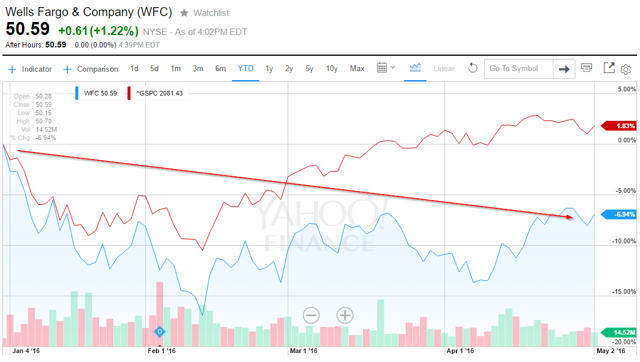 Source: Yahoo Finance, 2 May 2016
Looking over the fundamentals, Wells is not as cheap as it's ever been, but I elected to take advantage of the dip in price, an found now to be a good opportunity to initiate the position.
Dividends Collected
As mentioned already, I collected $8.18 in dividends and interest during the month, all but $.50 of interest was recurring. I have included the forward-looking dividend summary which has been updated for the recast portfolio.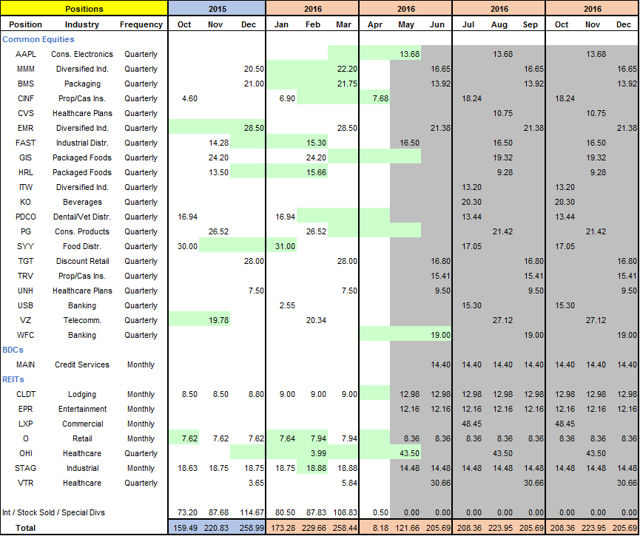 The income for the month obviously declined considerably as I sold and reinvested, so income growth comparisons should really begin based upon upcoming quarters, when the portfolio is again fully invested and the rollover transaction is completed.

Dividend Increases
As I mentioned in the summary points of the article, the portfolio had three positions announce increased dividends during the month. Newcomers Wells Fargo and Apple (NASDAQ:AAPL) both increased dividends, and steady increaser Omega Healthcare (NYSE:OHI) also increased its payout. I anticipate that the increase by Wells Fargo was a stop-gap measure while we wait for a larger increase to come later in the year.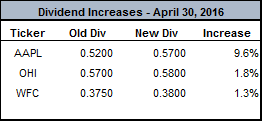 The portfolio continues to see increases across the board. I anticipate that there will be a number of positions issuing increases throughout the remainder of the year.
Summary
I didn't wait long to get the portfolio back together. I am happy with how it turned out. The stocks that were rebought were at lower prices which were sufficient enough to offset the loss of dividends in April and May. Overall I consider the exercise to be a success as I did not suffer any setbacks financially and was able to complete my goals of replacing several positions, streamlining position sizes and adding newcomers Wells Fargo and CVS Health to the portfolio.
My next task will be to determine which positions will be added to the portfolio when the rollover contribution occurs. Based upon the portfolio position size of $2,500 per position, and with over $13,000 being rolled over, I anticipate that I will add 5 new positions and leave a little in cash. My inclination is that I will add Cardinal Health (NYSE:CAH) back to the portfolio as it has dipped below where I sold it at and I had intended it to be a long-term hold. Additionally, I am also strongly considering adding Broadridge (NYSE:BR), Hershey (NYSE:HSY), WestRock (NYSE:WRK) and Old Republic (NYSE:ORI) to round the portfolio out at 33 positions.
At some point I would like to consider re-adding Johnson & Johnson (NYSE:JNJ), but it may take some time for a pullback to happen. I have also looked at McCormick (NYSE:MKC) and maybe a utility as well; however I keep struggling with their valuations. I remain open to suggestions so if you feel like leaving a recommended security in the comments, please do so.
Disclosure: I am/we are long THE STOCKS LISTED IN THE PORTFOLIO.
I wrote this article myself, and it expresses my own opinions. I am not receiving compensation for it (other than from Seeking Alpha). I have no business relationship with any company whose stock is mentioned in this article.