Certainly, Argentina is the one of the best stories to tell in Wall Street these days. More than 14 years on from a catastrophic $82 billion sovereign default, the country has returned to the international credit markets this past week.
This excitement makes sense. Argentina just got out of an exotic situation, in which its public and private sectors could not get international financing nor pay foreign creditors. With a growing fiscal and trade deficits, this situation was putting a cap on growth, as the government was forced to print more and more pesos, which fueled inflation and capital flight.
As expected, the majority of Argentine bonds have responded quite well to the news, even showing more room for price increases. In the ADR territory, the best example is Banco Galicia (NASDAQ:GGAL), which is at record prices, outperforming peers like Banco Macro (NYSE:BMA) and BBVA Banco Frances (NYSE:BFR).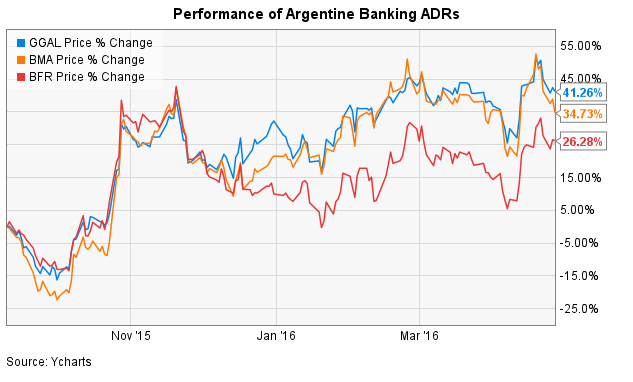 This overall good performance is a great indication, as these type of assets could become very volatile when major political/economic events occur. In the case of Argentina, many decisions on the monetary front had to be made in order to arrive to where the country is now. This 'normalization' was not easy, and there are still a lot of issues to tackle.
But certainly, the election of Mr. Mauricio Macri as president marked the end of a way handling the country's economy.
Will this optimism continue?
Playing Argentina
Despite the "unbridled bullishness", it is important to understand the multiple adjustment stages being orchestrated by the capable Macri economic team. Putting Argentina back in the international markets comes at a cost, at least in the short term.
Right after taking power, Macri put his economic team to work toward one first goal: removing the restrictions to access hard currency. This meant dismantling a scheme that had generated a black market for the peso with a 50%+ spread versus the official rate.
This action brought two obvious consequences: a steep USD/ARS depreciation and a strong pressure on prices, which unfortunately still continues.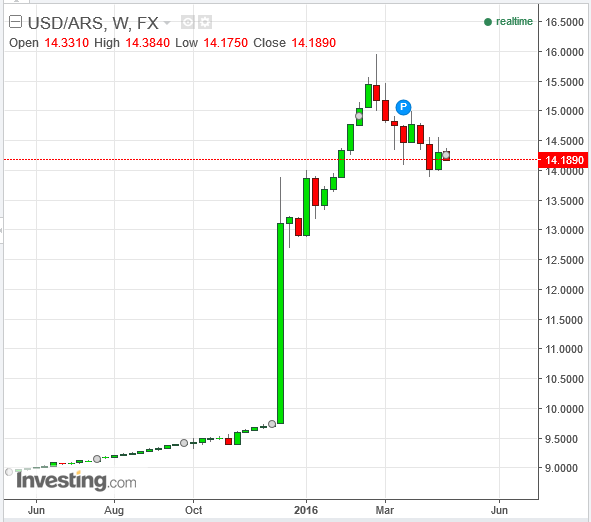 As you can see, it was a full shock monetary treatment, especially considering what came afterwards.
Great rates
For the past six weeks, the Argentine Central Bank (OTC:BCRA) has been applying an aggressive interest rate policy with two objectives: controlling inflation and quashing local peso speculation.
Believe it or not, the institution has been issuing peso-denominated 35-day notes that yield an outstanding 38% annualized rate. These instruments, locally known as LEBACs, are virtually risk-free, since the BCRA can always print more pesos to cancel them.
Being able to get cheap funding overseas, this measure has permitted many international funds to take advantage of a fantastic carry trade. Though, these high short-term rates may not last very long.
The monetary authority expressed that this rate policy will be maintained until a cooling in inflation expectations becomes evident. Truth is that despite the lack of accurate data (official numbers are not being published while Argentina overhauls its statistics agency), inflation has probably peaked already. Preliminary private measurements are showing a core inflation deceleration for this month. Such a tight monetary policy should have its effects.
Moreover, the inflow of fresh hard currency into the country should reduce the pressure on the peso and calm inflation expectations. Currently, Argentina's main source of foreign currency, the soybean harvest, is slightly delayed but on course, and if we add the USD inflows entering through new bond purchases, mid-term FX damage should be contained.
Sooner than later, adding longer duration in these LEBAC notes should start paying off.
The opportunity
As the country moves ahead towards fiscal and monetary normalization, makes sense to believe that there is still space for more appreciation in its sovereigns.
Argentina should eventually match other Latin American sovereigns' yield, and this spreads compression should push current bond prices higher. As an example, a 150 to 200 basis points yield compression in a 15-year duration bond should mean a 22% to 30% price gain in USD. And this yield compression scenario is totally plausible. Just consider that Argentina could eventually match a Brazil 2045 bond, which yields 6.5% today. Other Latin American sovereigns yield even less.
Now, if you are considering starting positions in the equity arena, it might be wise to remain a bit cautious.
The situation now
Living in the country, it was quite noticeable the rapid deceleration in the economic activity immediately following the December peso devaluation. It seems that the Argentine economy has slipped into recession in the first quarter of the year and this situation still continues.
And make no mistake: this rate hike has been recessionary. Just think that in a country where funding has always been expensive, with a high 2-digit inflation, and the Central Bank absorbing most of the liquidity around, there is not a whole lot of room for economic expansion.
But the government is confident that a decreasing inflation scenario, where the country goes for a 5% annual inflation in the next four years, should revamp expectations and investments.
In order to regain confidence, the Central Bank has already laid out its plan towards inflation targeting, which is set to start officially in September.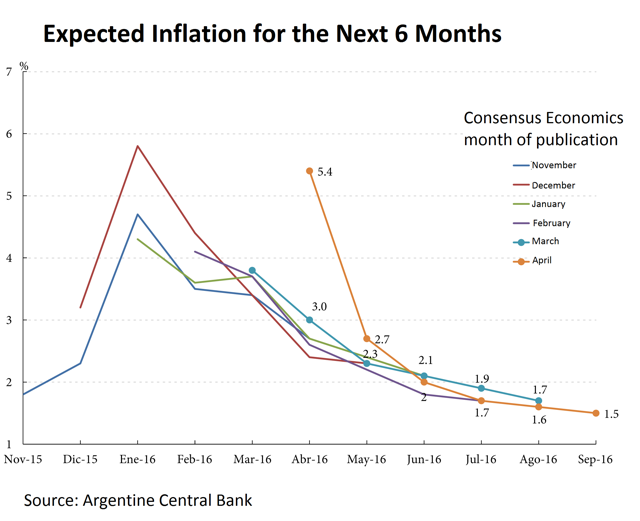 This inflation deceleration makes sense, especially considering that most of the actions that would push prices higher have already been made. The new administration already adjusted utility bills and public transportation costs by a 300% or more, and these items are huge drivers for inflation numbers.
If you add the high rates, liquidity absorption, a calm USD/ARS, and low activity levels, prices will not have much room for growth. Price normalization is way on course, but its positive outcome might take longer to arrive.
Future growth
Trusting that inflation will decelerate significantly, we need to focus on how much Argentina could grow in the future. This is quite tricky, as the country has quite a history of volatile GDP growth, fruit of its dysfunctional politics and the dominance of Peronist governments, powerful unions and fiscal profligacy.
Moreover, to assume that Argentina will grow 3% in 2017 and above 3% in the three consecutive years afterwards looks like a risky proposition, especially after reviewing the country's long-term growth track record. Let's look at the stats.
Since 1980, Argentina's GDP has only grown above 4% for three years in a row three times: 1991-1994; 1996-1998, and 2003-2008. Statistically, the probability of a recession in any given year is around 52%.
And we know this year will be tough. According to Bein, a local consultancy, 2016 inflation will reach 32%, with GDP contracting a 2.3% and private consumption falling a 3.6%.
Plus, Argentina's future growth trajectory will require help from the global economy, but especially from the country's biggest trading partner, Brazil, which is under its worst recession in the last 100 years. For many integrated industrial sectors like automotive, this is a major issue.
It will also be important to keep monitoring commodity prices and how Chinese demand for food and raw materials evolve. Any disruption in this arena will certainly have an impact on Argentina's real economy.
Supporting Documents
Disclosure: I/we have no positions in any stocks mentioned, and no plans to initiate any positions within the next 72 hours.
I wrote this article myself, and it expresses my own opinions. I am not receiving compensation for it (other than from Seeking Alpha). I have no business relationship with any company whose stock is mentioned in this article.