By Mary Ellen Biery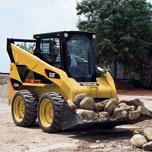 The share of business owners planning to boost spending on machinery, equipment and other physical capital is the highest in four years and has improved since October, a survey out Wednesday from Wells Fargo and Gallup found.
That's good news considering the role business investment has played so far in rebuilding the economy.
Draw back the curtains on the manufacturing sector, which has recovered faster than the rest of the U.S. economy, and you'll find that companies' investments in machinery and equipment have played a major role in pulling levers to create jobs. Just this week, Caterpillar Inc. (NYSE: CAT) said it would invest $200 million and eventually employ 1,400 as it shifts some production of small tractors and excavators from Japan to Georgia to be closer to key markets.
We recently conducted an analysis of financial statements from privately held wholesalers of machinery and equipment and found the industry is experiencing its second year of double-digit growth in sales. On average, private wholesalers of construction, mining, farm and industrial equipment (NAICS 4238) saw sales increase nearly 15 percent in 2011, compared with about 13 percent in 2010. That's faster than overall private-company sales growth of about 7 percent.
Machinery wholesalers' adjusted net profit margins have also increased, improving to about 5.5 percent last year from closer to 4 percent in 2010.
"This growth is positive on several levels, as it likely means that not only are these wholesalers increasing their sales and hiring, but those industries that are purchasing from them are also experiencing growth or expect to be soon," said our analyst Brad Schaefer. "More exciting is the possibility that the increased sales for machinery and equipment wholesalers may suggest further improvements to the economy and job creation."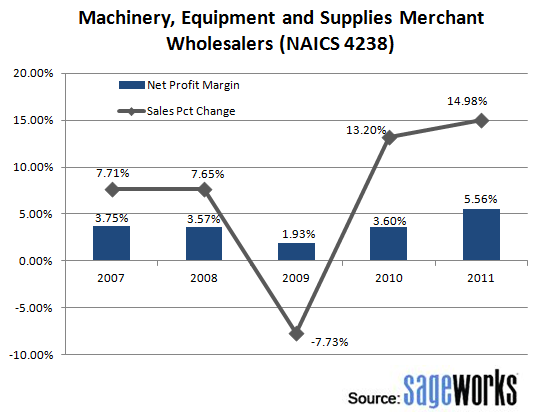 Even earlier in the supply chain, manufacturers of machinery have also grown, according to our data. That's not surprising, considering the Commerce Department said last month that new orders for machinery increased 13.4 percent in 2011, including a roughly 5 percent increase in December.
Schaefer said:
According to experts on the economy, as businesses purchase additional machinery and equipment in the form of trucks, assembly machinery, computers, or about any other equipment used for business purposes, these businesses will be hiring additional employees to operate the new machinery and equipment. That could be a driving factor in creating new jobs and improving the economy.
Disclosure: I have no positions in any stocks mentioned, and no plans to initiate any positions within the next 72 hours.