Manufacturing expanded in April as the PMI registered 50.8 percent, a decrease of one percentage point from the March reading of 51.8 percent. That indicates growth in manufacturing for the second consecutive month. Before that, we had five consecutive months of contraction. During these months, many investors feared a serious contraction in manufacturing and believed it wouldn't return to the positive as it did at the end of 2012 - when we had a reading below 50 for the first time after 2009.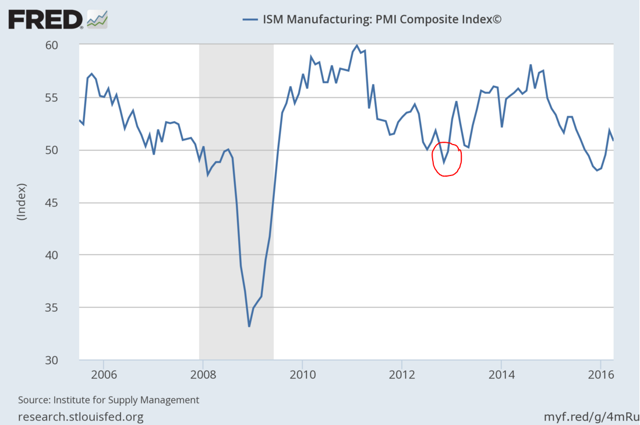 After the market seemed to interpret the rebound in the March ISM Manufacturing PMI above the crucial 50-mark as a turning point in the manufacturing sector, the PMI for April disappointed again. There are no signs of a sustainable recovery. The April PMI by Markit adds to that: it reached its lowest level since September 2009 at 50.8 - the same as for the ISM PMI. While the ISM PMI had signs of recovery in March and April, the Markit PMI continued to be in a clear downtrend. Commenting on the PMI data, Chris Williamson, chief economist at Markit said: "Rather than reviving after a disappointingly weak first quarter, the data flow appears to be worsening in the second quarter, raising question marks over whether GDP growth will improve on the near-stalling seen in the first three months of the year."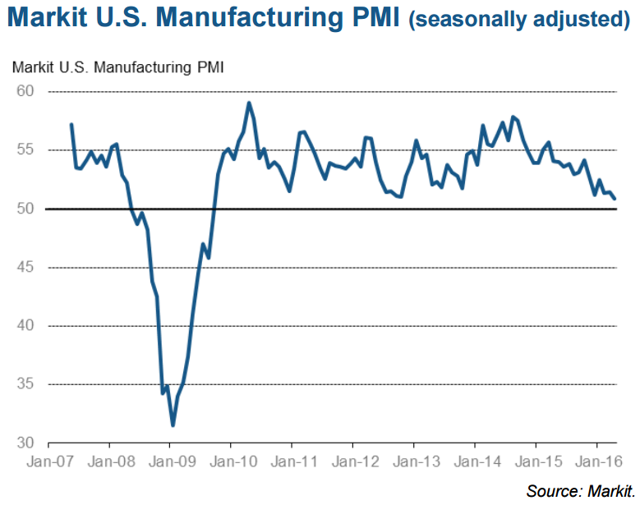 Although the Dollar Index already lost 5.7% ytd, that didn't help improve exports. Reduced export demand had a negative influence on manufacturing order books in April, with new work from abroad decreasing at the fastest pace for nearly one-and-a-half years. There must be very weak underlying fundamentals.
What does that mean for investors? I assume there will be many disappointed investors who tried to bet on a rebound in the manufacturing industry. The manufacturing numbers continue to indicate a recession ahead. The fed, on the other hand, has to wait with a rate hike in these circumstances.
Disclosure: I/we have no positions in any stocks mentioned, and no plans to initiate any positions within the next 72 hours.
I wrote this article myself, and it expresses my own opinions. I am not receiving compensation for it (other than from Seeking Alpha). I have no business relationship with any company whose stock is mentioned in this article.