It is the perception of continued slow global growth keeping USD under selling pressure as markets bet that the broadened Fed reaction function may delay the next Fed rate hike. Oil peaked on Friday and declined by 3% yesterday, pushed lower by Iran confirming an increase of its oil output and OPEC showing record oil production. Despite oil moving lower USD has stayed offered. Remember, commodities bottomed in December while USD only turned from strength into weakness in February.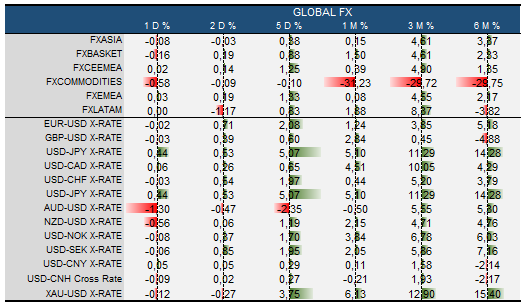 Negative spillover of USD weakness coming through, so far as it has a negative impact on equity markets in some parts of the world, such as Europe and Japan. Indeed, EUR and JPY strength is posing a challenge to the growth outlook for those economies and the negative equity market performance is start to impact on sentiment towards EM. Indeed, even with significant USD weakness setting in, EM is unable to make much headway against the greenback. We see a risk of this dynamic continuing in the short term, at least until we start to see more concern from policy-makers about the impact EUR and JPY strength is having.
In Europe, ECB ineligibility is hurting price performance of bank credit. Senior bank bonds have underperformed their non-financial counterparts by 1.3% YTD in excess returns terms and 25bp in spread terms. The tiering is even more pronounced when adjusted for ratings and maturity differences. Expectations from the ECB's CSPP continue to distort non-financial and insurance valuations, even as negative rates weigh on banks' performance. But negative rates and asset quality concerns are key headwinds: Our colleagues in banks research caution that the negatives of negative deposit rates are likely to outweigh the benefits of TLTRO 2.0. Margin pressures and potential NPL drags on profitability are more relevant for equity performance, but the rise in credit-equity correlations YTD makes these headwinds relevant for credit investors too.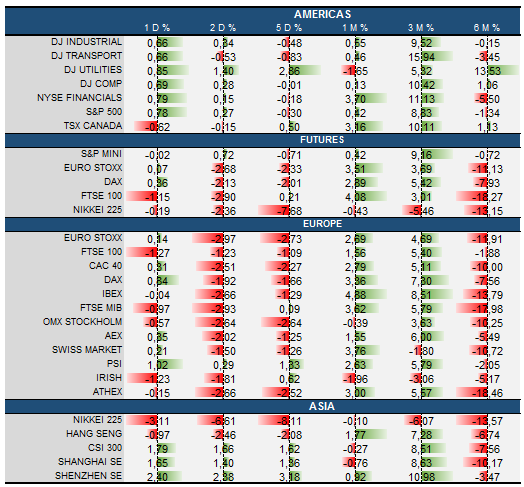 The commodity markets may be a good guide for the medium-term USD trends, but in the short term real rate differential seem to be what matters most. It has been lack lustre or falling inflation expectations in Japan and continental Europe boosting real yields locally pushing JPY, CHF and EUR higher. Hence, it is not a positive economic outlook; it is the perception of continued deflation pressure pushing this currency trio higher, which is unlikely to work in favour of risk appetite. When USD started to weaken against higher yielding currencies in January/February it provided a boost to risk appetite. The falling USD was accompanied by falling US rate expectations, providing support for highly indebted/foreign funding needs-requiring currency areas. However, the recent fall of USD focused on the low-yielding, deflation-threatened previous funding currencies such as JPY,EUR and CHF. Rising real yields are the reason for the appreciation of these currencies. Emerging market currencies are at the other end of this spectrum where rising risk aversion has started to erode the technical of the recent rally. Low global interest rates and weak dollar mask the loss of momentum in emerging market assets for now but it may not last.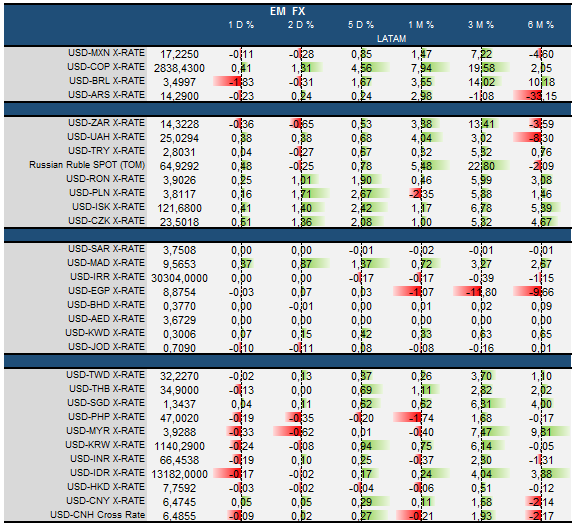 US treasuries started out better bid Myesterday morning after Japanese markets returned from a Friday holiday and extended Thursday's initial negative reaction to the Bank of Japan's lack of action in a further 3.0% drop in the Topix and 7 bp decline in the 30-year JGB yield back to the 0.26% historical extreme first hit April 21 as dollar/yen remained at the 106.5 low hit Friday. But a sizable bear steepening reversal in Treasuries took hold after 8:00, unwinding last week's month-end bid, that peaked out shortly after 10:00, following release of a larger pullback in the ISM to 50.8 from 51.8 and a sluggish 0.3% rise in construction spending but with offsetting upward revisions to prior months that along with retail sales revisions released Friday pointed to Q1 GDP growth being revised up to 0.7% from 0.5%.
In contrast to nominals, TIPS had a large index extension in April, and they were hit particularly hard in Monday's sell off, added to by a 3% drop in gasoline futures and 2% in oil. In addition to the employment report on Friday, the Treasury quarterly refunding announcement is on Wednesday, where the market still expects more coupon cuts to be announced but potentially less than the $1 billion cut across all nominal sizes we had in our base case after higher than expected borrowing estimates released by Treasury Monday afternoon that in part reflected a 12% drop in April non-withheld tax payments sent in with tax returns last month.

The backup in nominal yields was more than accounted for by bigger losses in real yields, giving back ground after a strong TIPS performance last week. The 5-year TIPS yield rose 7 bp to -0.27%, 10-year 8 bp to 0.18%, and 30-year 7 bp to 0.88%, sending respective inflation breakevens down 3, 3, and 1 bp after 7 bp gains posted last week. The 10-year breakeven dropped to 1.68%, back where it closed last Wednesday after the FOMC meeting. Futures markets priced an unchanged low risk of any near-term change in Fed policy, but the additional medium-term pessimism that was also priced in Thursday and Friday reversed along with the steepening in the Treasury curve.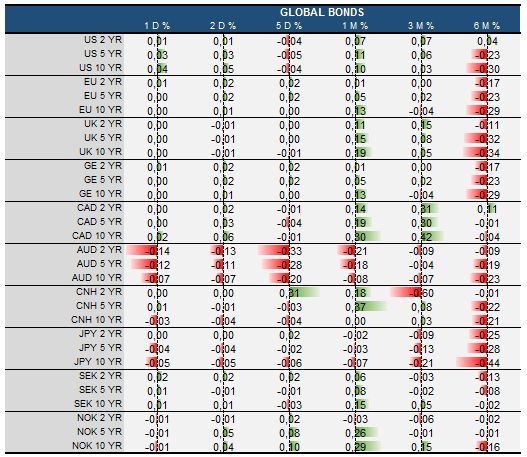 Disclosure: I/we have no positions in any stocks mentioned, and no plans to initiate any positions within the next 72 hours.
I wrote this article myself, and it expresses my own opinions. I am not receiving compensation for it (other than from Seeking Alpha). I have no business relationship with any company whose stock is mentioned in this article.