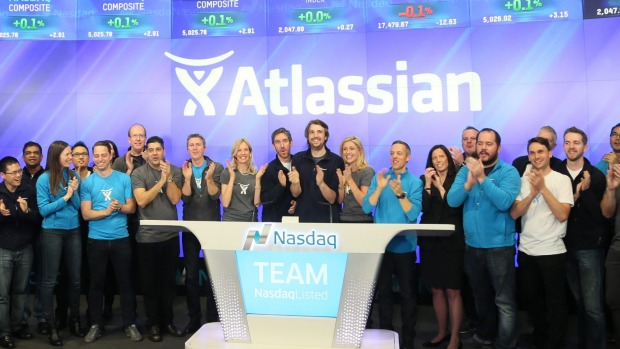 Atlassian (NASDAQ:TEAM) is a curious software as a service company, doing things a little differently to the status quo. Many have been critical of its decision to operate without a dedicated salesforce, but the recent addition of the fledgling Uber (Private:UBER) to its client list at the expense of rival Slack (Private:SLACK) may prove the doubters wrong.
Five years in profit.
One thing that is worth knowing about Atlassian is that this isn't unicorn start-up that hopes to turn a profit in the next few years. This is a bona fide high quality company which has been in profit for five years now, and they did it the Atlassian way. No salesforce and an incredibly low marketing spend.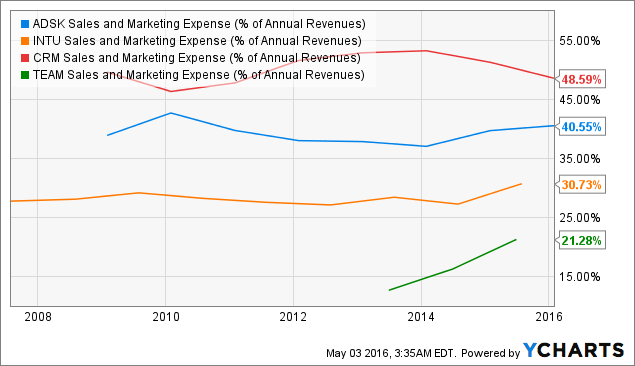 As you will see on the chart shown above, the company's sales and marketing spend as a percentage of sales is so much lower than other companies in the industry such as Intuit (NASDAQ:INTU), Salesforce (NYSE:CRM), and Autodesk (NASDAQ:ADSK). Despite such a low spend, in its first reportable quarter the company beat analyst estimates and guided for earnings per share of 30 to 31 cents on full year revenue of $443-$447 million. This was well ahead of consensus estimates of 20 cents per share on revenue of $425.3 million.
How does the company succeed without a sales force?
So how do they achieve this? Well, firstly the quality and depth of its software is a key selling point. It has JIRA for product management, HipChat is its workplace chat app, Bitbucket for code management, and Confluence for collaborations. But its not hard to find a competing software for each product they offer, so the company has to do something to differentiate itself and bring customers on-board. Rather unconventionally Atlassian relies on word-of-mouth and reasonably simple viral marketing techniques. The company explains it well in its reports:
"Unlike traditional enterprise software vendors, who rely on direct sales methodologies and face long sales cycles, complex customer requirements and substantial upfront sales costs, we utilise a viral marketing model to target new customers. Through this word-of-mouth marketing, we have been able to build our brand with relatively low sales and marketing costs."
This is a great way to do business, but it isn't without risk of course. So far it is working a treat, but in the future there is always the danger that the company may have to change its marketing model. In fact, the company even lists the marketing model as a risk factor in its reports.
"We do not have a direct sales and our sales model does not include traditional, quota-carrying sales personnel. Although we believe our business model can continue to scale without a large enterprise sales force, our viral marketing model may not continue to be as successful as we anticipate and the absence of a direct sales function may impede our future growth."
At present we believe the model works. We also feel that as the company gets bigger consumers and businesses will become more aware of its products, which should hopefully mitigate the aforementioned risk to some degree. The addition of Uber, at the expense of Slack, was a big win for the company both for the revenue it brings, but also for the publicity that follows. It is also a testament to the current marketing model, in our opinion.
We have been invested in the company since it was sold off in a sector-wide sell off after its quarterly results and are happily holding on through the current earnings season. We think analysts are probably on the ball now, so we don't expect any significant earnings beats as we saw in the last quarter. But we do expect the company to at least meet expectations and produce another solid performance.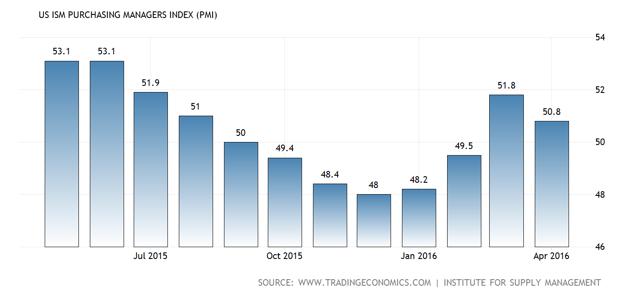 The U.S. ISM Purchasing Managers Index has been quite positive this year, especially compared to the final quarter of 2015. The index is often used to better understand economic conditions in the United States. This paints a positive picture of businesses in the United States which will only be of benefit for Atlassian. A strong economy with business growth and increasing employment could create demand for Atlassian's products and help the company grow its subscriptions.

Sourced from Finviz
The consensus price target for the company is $29.11, equating a return of 20% from its current trade price. We feel all is falling into place for the company and expect to see it shoot up to that level in the next few months. The company next reports its earnings on Thursday, which we will eagerly observe. It would not at all come as a surprise to see full year revenue guidance increased once again.
Disclosure: I am/we are long TEAM.
I wrote this article myself, and it expresses my own opinions. I am not receiving compensation for it (other than from Seeking Alpha). I have no business relationship with any company whose stock is mentioned in this article.