Buffett's Investment In See's Candies
See's Candies, a manufacturer and distributor of candy, in particular, boxed chocolates, was cited by Warren Buffett in his response to the first question asked at this year's Berkshire Hathaway (NYSE:BRK.A) annual meeting. Buffett said that "The ideal business is one that takes no capital, and yet grows. And there are a few businesses like that, and we own some." See's is one of them."
Buffett purchased See's Candies in January 1972 for $25 million, equivalent to 10 times and 6.2 times its after-tax earnings of $2.5 million and pre-tax earnings of $4.2 million respectively.
See's Candies' Wide Moat
At Berkshire Hathaway's 1997 annual meeting, Charlie Munger made reference to the purchase of See's Candies as "the first time we paid for quality," according to Robert G. Hagstrom's book "The Warren Buffett Way." In Berkshire Hathaway's 2007 letter, Buffett called See's Candies the "prototype of a dream business."
See's Candies' wide moat is derived from several factors, including an enduring brand, strong pricing power, low capital intensity and local dominance.
A 71-year old lady named Mary See started See's Candies as a small candy shop in Los Angeles in 1921. In the domain of enduring consumer brands, where histories are measured in decades, instead of years, See's Candies benefits from significant customer loyalty driven by habitual purchases and affiliation with the brand. The best illustration of See's Candies' brand power comes from none other than Buffett himself:
When you were a 16-year-old, you took a box of candy on your first date with a girl and gave it either to her parents or to her. In California the girls slap you when you bring Russell Stover, and kiss you when you bring See's.
See's Candies' pricing power is validated by the fact that its pre-tax earnings per pound of chocolate sold grew by a 8.3% CAGR from 25 cents in 1972 to $2 in 1998, which were largely attributed to annual price increases which can be as much as 5%. It had the power to raise prices due to its brand equity and customer price sensitivity. While See's Candies derived tremendous profit from the sale of boxed chocolate, the money spent on a small-ticket item like chocolates was only a small proportion of household expenditure (and were occasion-driven purchases), and buying more modestly-priced chocolate generated limited cost savings.
According to Berkshire Hathaway's 2007 shareholder letter, See's Candies was a capital-efficient business which generated a 60% pre-tax return on invested capital at the time of Buffett's purchase, helped by the fact that sales were transacted in cash (receivable days close to zero) and the production and distribution cycle was short (low inventory days).
Regarding local dominance, it was noted in Buffett's letters that See's "obtains the bulk of its revenues from only a few states," "our candy is preferred by an enormous margin to that of any competitor, and "most lovers of chocolate prefer it to candy costing two or three times as much" in the company's primary marketing area on the West Coast. On the demand side, it is impossible to be everything to everyone given local tastes and heritage; See's Candies clearly cemented its reputation in California and on the West Coast. See's also benefited from local economies of scale by dominating the few states and benefiting from fixed cost leverage for logistics and advertising. In a nutshell, See's Candies enjoyed the widest moat possibly by combining high customer captivity with scale economies.
Asia's See's Candies
Thailand-listed Taokaenoi Food & Marketing, a manufacturer of seaweed snacks, is potentially Asia's See's Candies and a wide moat investment candidate at the right price.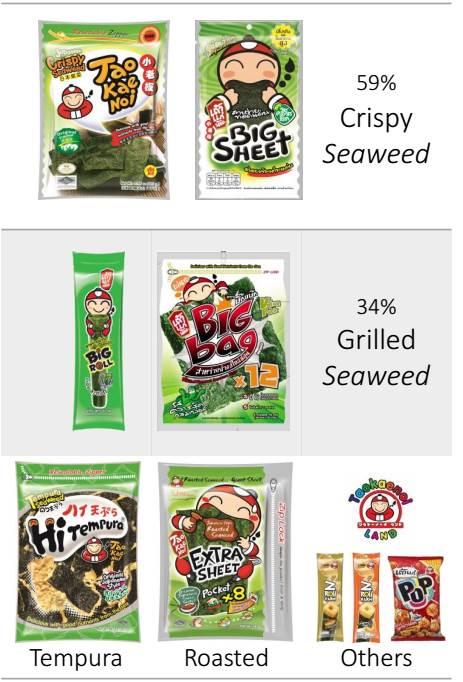 Taokaenoi was founded by Mr. Itthipat "Tob" Peeradechapan in 2004 (he was 23 years old then), who is currently in his early-thirties. Mr. Itthipat had an entrepreneurial bent since his high school days, when he made money selling virtual weapons for cash on the online role-playing game EverQuest, according to a December 2015 Wall Street Journal article titled "Thai Fried Seaweed King Is on a Roll." Tao Kae Noi was started as a roasted-chestnut stall business, before he discovered the huge demand and potential for seaweed snacks. Seaweed snacks can be perceived as the Asian equivalent of potato chip and snacks in the West. The brand Tao Kae Noi is synonymous with seaweed snacks in Thailand and many parts of Asia.
Taokaenoi passes the local dominance test, boasting a 61.5% market share of Thailand's 2.5 billion baht packaged seaweed snack market in 2015, according to AC Nielsen research. In other words, Taokaenoi has more than three times the market share of its closest competing brand Masita (17.5% market share) owned by Singha Corporation.
The Company's gross margin, a proxy for pricing power, increased by 610 basis points from 29.3% in 2011 to 35.4% in 2015. I estimate Taokaenoi's 2015 return on invested capital to be approximately 80% in 2015, comparable with See's Candies' 60% pre-tax return on invested capital at the time of Buffett's investment. Taokaenoi's inventory days are decent at slightly over a month.
Taokaenoi has set an ambitious target of becoming the top Asian seaweed snack brand with annual revenues of 5 billion baht by 2018 and transforming into a global (Taokaenoi derived 52% of its 2015 sales outside of its home market Thailand via export to 34 countries) seaweed snack powerhouse with yearly sales of 10 billion baht by 2024. This implies three-year and nine-year revenue CAGRs of 12.6% and 12.4% respectively compared with Taokaenoi's 2015 sales of 3.5 billion baht.
Taokaenoi was first highlighted to my premium research service subscribers on December 5, 2015 in a subscribers-only article listing five Asian hidden champions. Since Taokaenoi's listing and trading debut in December 2015, its share price has surged by over 70%. Please refer to my article "Hidden Champions As A Source Of Wide Moat Investment Opportunities" for more information on hidden champions.
As a bonus for my subscribers of my premium research service, they will get access to a list of five "new" Asian hidden champions, including a profile of another Asia-listed hidden champion/See's Candies in the food business.
Asia/U.S. Deep-Value Wide-Moat Stocks Premium Research
Subscribers to my Asia/U.S. Deep-Value Wide-Moat Stocks exclusive research service get full access to the list of deep-value & wide moat investment candidates and value traps, including "Magic Formula" stocks, wide moat compounders, hidden champions, high quality businesses, net-nets, net cash stocks, low P/B stocks and sum-of-the-parts discounts.
The potential investment candidates I profiled for my subscribers in May 2016 include: (1) a U.S.-listed market leader in a niche consumer lifestyle space which is trading at 0.80 times P/NCAV and 0.70 times P/B, but remains debt-free and profitable; (2) a U.S.-listed Net Operating Losses-rich deep value play valued by the market at 2.6 times EV/EBITDA net of the present value of its NOLs; (3) an Asian-listed manufacturer of wireless communication products which is the market leader in its home market and the first to export such products to the U.S.; it is a net-net trading at 0.75 times P/NCAV with net cash equivalent to its market capitalization; (4) a U.S.-listed Magic Formula stock trading at 3 times trailing EV/EBIT and Acquirer's Multiple, sporting a 10% dividend yield net of withholding tax; (5) a U.S.-listed Munger Cannibal trading at 7 times trailing EV/EBIT and Acquirer's Multiple; (6) an Asian-listed company which is a global leader in a certain medical device niche trading at 3.5 times trailing EV/EBIT and 3.5 times Acquirer's Multiple, versus a trailing ROIC of 27%.
Disclosure: I/we have no positions in any stocks mentioned, and no plans to initiate any positions within the next 72 hours.
I wrote this article myself, and it expresses my own opinions. I am not receiving compensation for it. I have no business relationship with any company whose stock is mentioned in this article.