The oil price collapse has had winners and losers around the globe and this is also true for Latin America and the Caribbean. Net importers in Central America, the Caribbean and South America are benefiting from lower cost for oil products, but this is not the case for LatAm's major oil producers: Argentina, Brazil, Colombia, Ecuador, Mexico and Venezuela. These countries are facing different challenges that go from lower oil revenues to fiscal imbalances; deep economic crisis; and an increasing risk of default.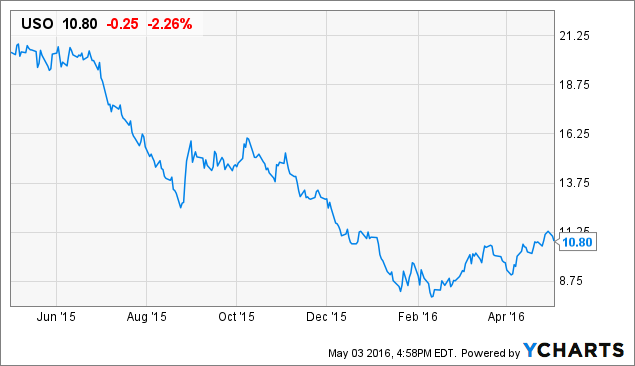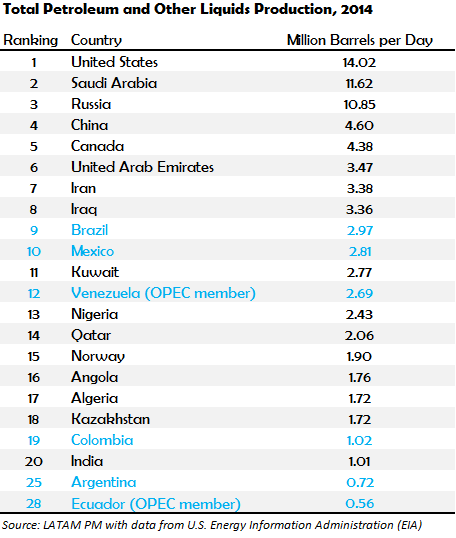 Oil prices have had a dual shock in the fiscal revenues of most of the major oil producers. Lower oil prices have meant lower revenues from exports, but also a decreasing capital expenditure to maintain output levels. Perhaps with the exception of Argentina and Ecuador, Latin America's major producers have witnessed significant declines in their crude production platforms.
Despite the different trends in crude output, between 2013 and 2015 all major oil producers have seen their public sector borrowing requirements increase. Lower oil revenues have increased fiscal deficits, also raising their need to borrow. This in turn has put pressure on these countries' debt and future ability to pay.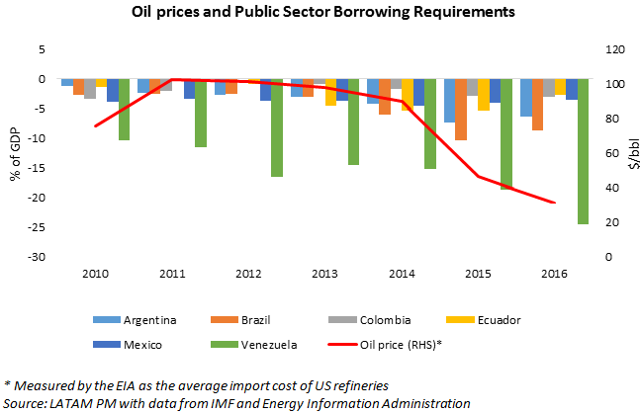 Argentina has its own story, where domestic price controls have guaranteed a $67/b oil price to domestic producers. This and the political context is a reason to be long YPF (NYSE:YPF), which has paid handsomely in the year and since Macri's odds of winning the election, which eventually materialized, began to increase. This is also the reason why the country has not faced such a dramatic fall in crude production and why the impact in fiscal accounts has also been limited, at least directly.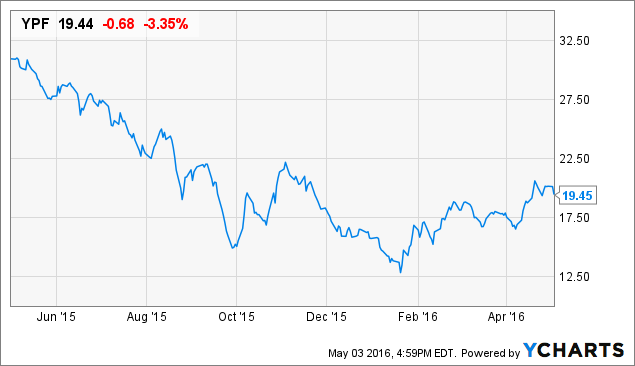 Consumers in Argentina are currently bearing the cost of a higher domestic oil price for producers; however, in turn, the government has provided in recent years subsidies for all kind of utilities and has maintained generous public expenditure. In 2015, public sector borrowing requirements in Argentina surpassed 7% of GDP. The IMF was expecting a deteriorating trend for 2016 in its October 2015 forecast, but that has changed with Macri's victory. The new president has started to dismantle the deteriorating equilibrium for fiscal accounts of subsidies and price controls.
All major oil producers in LatAm are taking measures to revert or at least control their growing fiscal deficits, but one: Brazil. Lower oil revenues have been mixed with a generous and unsustainable public expenditure. And the political crisis in which the South American country is immersed has provided zero incentives to make an adjustment. To reduce public expenditure, raise taxes or reform the pension system would give the final blow to President Dilma Rousseff, who has her political survival as her only objective now. Finance Minister, Nelson Barbosa, has used development bank credits as a measure to spur growth in recent months providing evidence of the government's unwillingness to make an adjustment.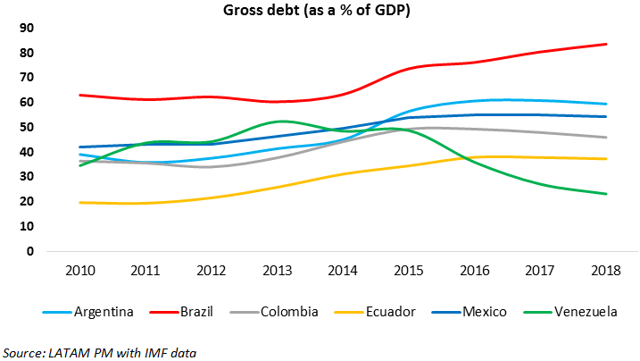 Moreover, despite markets recent rallies, Michael Temer, current Brazil's Vice President, who can substitute Rousseff if the Senate accepts the impeachment proceeding, has accepted that the fiscal consolidation will be hard to achieve in the short term. He lacks of the political capital to make any of the needed drastic changes. The IMF expects Brazilian public sector borrowing requirements to be no less than 8% of GDP, trend that will take Brazil's debt to 80% of GDP by 2017. Moreover, PETROBRAS (NYSE:PBR) could be in need of cash to pay its hefty debt in case its divestment program fails.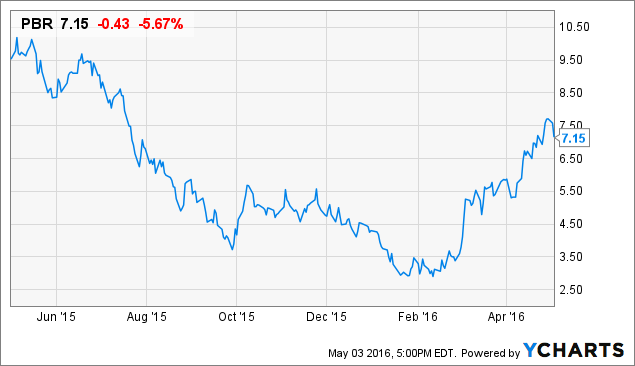 Colombia has had a more responsible fiscal policy, but the oil shock has been of such magnitude that it has taken borrowing requirements from almost zero in 2012 and 2013 to more than 3% in 2015 and 2016. Colombian oil exports represent 50% of the total goods sent abroad by the South American nation and according to Moody's, oil revenue could reach as low as 1% of Colombia's fiscal revenues on 2016. This is why the rating agency sees as challenging the 3.6% of GDP deficit that Colombia has on target. Colombian policymakers have announced cuts for 2016 budget and promised a fiscal reform to correct such a trend. Ecopetrol (NYSE:EC) has also adjusted its CapEx program accordingly.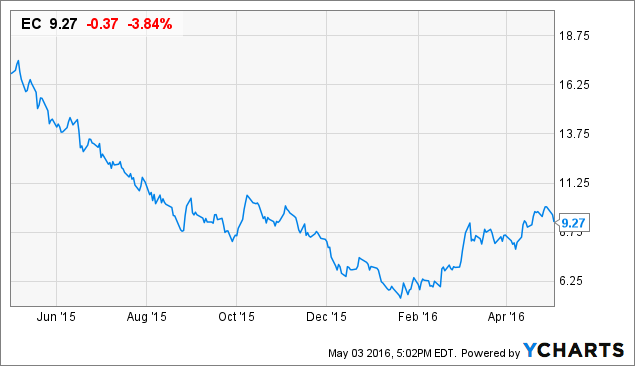 Cuts and fiscal reforms have also been the path for Ecuador and Mexico to overcome the oil shock. Ecuador has cut its budget for this year in more than 10% YoY and assumed a conservative $35/b in its 2016 fiscal budget. With that price, the Ecuadorian government is also assuming zero contribution from oil revenues. The problem for the Andean nation is that its mix has traded around $27/b on average YTD. This has led the government to announce a larger deficit and new fiscal reforms for 2016. However, the recent earthquake has added pressure to Ecuador's financing, given that authorities have estimated losses equivalent to nearly 3% of GDP.
Mexico's oil revenues fell around 35% YoY in 2015 and have gone from around 30% of total fiscal revenues to 19% last year. But the country has proven to be resilient thanks to the fiscal reform approved in 2014, which started precisely last year and has increased tax revenues by 27%. Total fiscal revenues expanded 4% in 2015. Furthermore, Mexican officials have announced cuts for the 2015, 2016 and 2017 budgets to achieve its planned fiscal consolidation, which intends to reduce the public sector borrowing requirements to 3.5% this year and 3% next year. Banxico's $14 billion (P$239 billion) surplus has given Mexico an extra cushion to meet its requirements. Read (here) on note on the country's economic outlook.
There are not precise numbers for Venezuela´s debt levels other than the IMF projections, which the Fund has been making since 2010. Gross debt measured as a percentage of GDP could be misleading in coming years given the fixed exchange rate and the 720% and 2,200% forecasted inflation for 2016 and 2017, respectively. Venezuela has been requiring financing worth between 15 and 20% of its GDP in the last four years, according to the IMF. That figure could reach 25% this year.
Venezuela has been forced to take actions in other to account for the loss in fiscal revenue due to falling oil prices. Because the government has the priority to pay creditors, consumers are bearing of decreasing imports and scarcity. Venezuelan imports decreased 40% last year and the contraction is likely to continue as the oil prices remain low and Venezuela has to pay obligations worth more than $16 billion in the short-term.
LATAM PM's Take: The oil shock has affected Latin America in very different ways. We have winners- net importers of oil products-and losers-the region's major oil producers. But the losers have also been affected differently. Argentina is currently transiting to a market-friendly economy, but in the meantime, the government and oil producers have oil products prices guaranteed by controls that transfer the cost of lower oil prices to consumers.
Although Mexico and Colombia have seen their oil revenues decreased significantly, more prudent expenditures, budget cuts and fiscal reforms have helped them to navigate the difficult environment. Ecuador has tried to follow these steps, but it is getting difficult for the country to leave the public spending trend that it had during the oil bonanza. Now, with the financing challenge posed by earthquake, Ecuador joins Brazil and Venezuela as countries with an increasing risk of debt crisis. While Brazil cannot stop the deteriorating trend of its debt because it is victim of a political paralysis, Maduro's economic mismanagement has Venezuela in the brink of default, likely to happen this year or the next.
Disclosure: I/we have no positions in any stocks mentioned, and no plans to initiate any positions within the next 72 hours.
I wrote this article myself, and it expresses my own opinions. I am not receiving compensation for it (other than from Seeking Alpha). I have no business relationship with any company whose stock is mentioned in this article.