The holding company of OPPO, the fourth largest smartphone vendor in the world in the first quarter this year, and its spinoff OnePlus, has started preparing for an initial public offering (NYSEARCA:IPO), profiting from OPPO's sudden fame. According to my estimation, the holding company has a market value of at least $70 billion.
OPPO stunned the smartphone world last week when IDC reported OPPO worldwide shipment in the first quarter this year rocketed 153.2% year-on-year to 18.5 million units and entered into the league of top five vendors for the first time.
Top Five Smartphone Vendors Performance Q1 2016 (Units in Millions)

Vendor

1Q16 Shipment

1Q16 Market Share

1Q15 Shipment

1Q15 Market Share

YOY Change

81.9

24.5%

82.4

24.6%

-0.6%

Apple (NASDAQ:AAPL)

51.2

15.3%

61.2

8.3%

-16.3%

Huawei

27.5

8.2%

17.4

5.2%

58.4%

OPPO

18.5

5.5%

7.3

2.2%

153.2%

Vivo

14.3

4.3%

6.4

1.9%

123.8%

Others

141.5

42.3%

159.8

47.8%

-11.4%

Total

334.9

100%

334.4

100%

0.2%

Source: IDC.
Its performance in home turf China was equally brilliant, with shipments jumping 67% to 13.2 million units, and occupied the second place in the Chinese vendor league, just under Huawei.
China Smartphone Vendor Shipments and Market share in Q1 2016

Brand

Q1'16 shipments (in millions)

YOY change

Q1'16 market share

Huawei

16.6

48.2%

15.8%

OPPO

13.2

67%

12.6%

Xiaomi

12.8

-8.5%

12.2%

Vivo

12.5

56.2%

11.9%

Apple

11.5

-14.8%

11%

Others

38.3

-30.6%

36.5%

Source: Strategy Analytics.
OPPO's China performance last year was already astonishing, with shipments soaring 48.9% to 33.2 million units in a saturated Chinese market, occupying the fifth place for the first time.
To profit from its sudden fame, OPPO took two enterprise actions last December which initially puzzled industrial watchers but were appropriate steps preparing for an IPO.
OnePlus ends offline sales; OPPO and parent company OnePlus renamed as holding company.
Firstly, several Chinese media reported Oneplus shut down all its offline shops in China and laid off related staff. Secondly, Guangdong OPPO Electronic Industries Company Ltd., the parent company of both OPPO and OnePlus, was renamed as Guangdong Oujia Holding Company Ltd. (Oujia, 广东欧加控股有限公司). The actions arouse public suspicion that OnePlus might be closed down or absorbed back into OPPO. Such worries were later proved unfounded as OnePlus continued online business as usual.
According to my observation, these two actions clarified the company structure and aimed to make business strategy more understandable for foreign investors. OnePlus shut down offline outlets means it now concentrates online sales, especially in the overseas markets, further differentiate itself from OPPO which excels in offline distribution channels, in China as in some developing countries.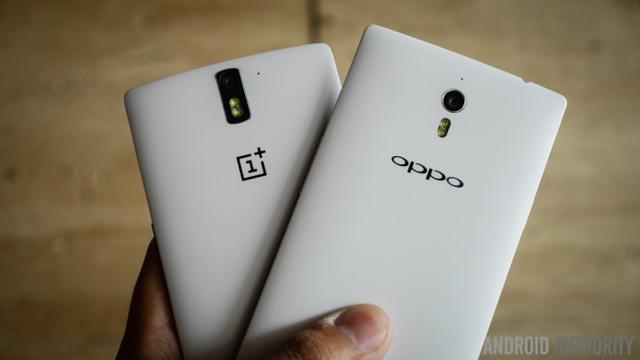 The holding company of OPPO and OnePlus prepares for IPO. (Source: Android Authority).
The renaming of the parent company clarifies two things: a) it names the parent company of both OPPO and OnePlus as "Oujia" (in Chinese, Oujia means "O" and "Plus"; and b) it is a holding company, which means it enjoys better tax regime than an industrial company. In a nutshell, the name change shows an intention to become a publicly listed company. Oujia holds majority stakes of OPPO and OnePlus.
OPPO Vice President Wu Jiang confirmed to Caixin in late January that the management was preparing for a public listing, but had not fixed any listing date.
"We don't want too much capital"
Mr. Wu also strongly hinted that they would select new investors with great care, describing some investments as "cold-blooded"and might affect the company's operations. "OPPO hopes to operate according to its own ideas. We don't want too much capital to affect enterprise development," said he.
OPPO seems to be not eager for capital. It was incorporated in 2004 and has never taken any round of financing. Besides its holding company Oujia, its shareholders also include staff, distributors and suppliers.
OPPO shipped 50 million units last year, one third for exports
OPPO decides to go public apparently aims to fuel and promote its overseas expansion in view of the saturation of Chinese market. Mr. Wu revealed that OPPO shipment last year amounted to 50 million units. According to Strategy Analytics, 33.2 million units of which were shipped in China, meaning OPPO shipped 16.8 million units overseas, or one third of total shipments.
According to OPPO official website, it already got a 10% market share in Indonesia in 2014, 11% in Vietnam, and 12% in Malaysia. It also set up its first overseas assembly plant in Indonesia.
Since OPPO has never taken any round of financing, the only viable way to evaluate its market value is to estimate its shipments, its revenue and then calculate against Apple's industry-standard Price/Revenue ratio.
OPPO and OnePlus shipments projected to jump 50% this Year
In view of OPPO's 48.9% jump in China shipment last year; as well as a 67% rise in China and 153.2% jump worldwide in the first quarter this year, I predict its overall shipment this year to rise by 50% to 75 million units. As the OPPO smartphones sell between 2,000 to 2,800 yuan each in China, I put the average price at 2,400 yuan or $373. That means the projected revenue for OPPO in 2016 would be about $27.975 billion.
The shipment figures of OnePlus, OPPO's spinoff, are less readily available. OnePlus CEO Pete Lau told CNBC last May that the sales target for 2015 was between 3 to 5 million units, or about $1 billion in revenue. For comparison, the company generated more than $300 million in revenue from about 900,000 units shipped (derived from revenue) in 2014, its first year of operation.
I thus take the mean figure of 4 million units shipped last year and also project a 50% increase in 2016. With an average selling price of $300 each unit, OnePlus' projected revenue in 2016 is $1.8 billion. The total revenue of Oujia in 2016 is projected to $29.775 billion.
With Apple's P/R Of 2.37; OPPO+OnePlus worth $70 Billion
I take Apple's P/R ratio as standard. According to MarketWatch, Apple's market capitalization last Friday was $513.45 billion. Its consensus revenue for the fiscal 2016 (ends September) was projected to $216.28 billion, according to Yahoo Finance. Hence, Apple's P/R ratio is 2.37.
Hence, Oujia's market value is estimated at $70.567 billion.
Conclusion: OPPO+OnePlus shares might be in short-supply
My $70 billion valuation of Oujia is conservative because:
Its most valuable assets are offline distribution channels which took long time to develop. It has also built up close relation with its exclusive distributors. Its distribution channels and hence its sale performance can stand the test of time.
As OPPO, just like its cousin Vivo, has an unshakeable market dominance in China's 3 rd to 5 th tier cities where substantial growth still registered despite market saturation in larger cities, the 67% shipment growth rate registered in Q1,2016 may be sustainable.
Besides Oujia, OPPO and OnePlus' other shareholders are dedicated long-term investors, namely staff, suppliers and distributors. They are less likely to sell shares for quick profits after IPO.
OPPO has maintained a comfortable profit margin in China market. Hence, it has no urgent need for capital.
As OPPO has already said it would select investors with great care, only a limited number of long-term investors would be preferred.
Apple's 2.37 P/R ratio for fiscal 2016 was low in historical aspect.
As Oujia's main objective of IPO is to improve market exposure and brand recognition, both in China and abroad, it may seek dual listing-one in Shanghai and the other in a foreign exchange.
Disclosure: I/we have no positions in any stocks mentioned, and no plans to initiate any positions within the next 72 hours. I wrote this article myself, and it expresses my own opinions. I am not receiving compensation for it (other than from Seeking Alpha). I have no business relationship with any company whose stock is mentioned in this article.
Editor's Note: This article discusses one or more securities that do not trade on a major U.S. exchange. Please be aware of the risks associated with these stocks.