Note: Due to SA limitations beyond my control, some of the companies mentioned below went ex-dividend on 2/27. The day after ex-dividend is still important for dividend capture strategies because you want to evaluate whether the company declined by more than the after-tax amount of the dividend (details below). The chart below highlights that BIP and AYR declined significantly more than what a purely dividend capture strategy would predict and warrant further investigation.

Is it time to flee to safety? With the economic and political climates only becoming more tumultuous I have been concentrating on high yield equities. We all know about the blue-chip dividend companies but there are attractive companies with high yields that are going ex-dividend every week. This strategy can work in one of two ways: either you buy before the ex-date to receive the dividend or buy after if the stock declines far below the after-tax amount of the dividend.
Buying the stock to receive the dividend is intuitive but many have contacted me requesting further details on the second strategy. Investopedia has a great example of how this works. To explain this, I will use AT&T (NYSE:T) as an example. AT&T declared a $.44 dividend to shareholders of record on January 10, 2012. On the ex-dividend date the stock price should decline by the after-tax dividend amount, with an assumed tax rate of approximately 15% because many dividends qualify for a preferential tax rate. As a result, an investor would expect the stock price to decline by $.37 = [$.44 * (1-.15)]. If AT&T declined by more than $.37 in the absence of negative news you might have an attractive opportunity. Executing this strategy can generate outsized returns over short periods of times but should only be performed on companies that you would be comfortable owning.
To focus on these opportunities I ran a screen with a focus on relative safety for the investments. Since this is a high yield quest I began with a specification of a dividend yield greater than 4 percent and an ex-dividend date within the next week. To provide some layer of safety I narrowed down the environment by looking at companies with market capitalizations greater than $1B, PEs between zero and 20, and institutional holding percentage of at least 25 percent. While not a precise requirement, I prefer companies that have underperformed the S&P 500 in the last 52 weeks as it indicates limited downside relative to peers. This is summarized below:
Dividend Yield ≥ 4.0%
Ex-Dividend Date = Next Week
Market Capitalization ≥ $1B
PE Ratio: 0-20
Institutional Ownership ≥ 10%
After applying this screen I arrived at the companies discussed below. Although I envision these as short-term trading ideas, you still need to be careful. The information presented below should simply be a starting point for further research and should not be taken as a recommendation. My goal is to present new companies to you and provide a brief overview of their recent developments and this should not be considered a substitute for your own due diligence.
Consider: Private Equity
Prospect Capital Corporation (NASDAQ:PSEC): 11.08% Yield - Ex-Dividend 2/27
Prospect Capital is a specialty finance company that operates primarily in the private equity and specialized investment categories. As with many of the companies that appear in my dividend screens it appears that PSEC is depressed solely because it is a financial services company. Private equity companies are attractive dividend producers because they often either turnaround or improve existing companies and are able to return excess cash quickly. These can be volatile companies because their ventures often do fail but once they have successful investments, they can pay higher than average dividends. The firm prefers to make small investments ($5-$50M) in small-to-mid size North American companies. In June 2010 Prospect began distributing dividends monthly rather than quarterly which accounts for the perceived dividend decrease from $.40 to $.10. The dividend has held steady around $.10 per share since then but with such a high current yield dividend growth is not a requirement. I am confident in the company's immediate term prospects primarily because the company announced a $100M repurchase plan in August. Please note that Prospect makes monthly distributions, so you are still looking at approximately one percent in income, similar to the other companies below. The dividend yield slipped sixty basis points due primarily to the stock price increase since I discussed it last month. While the stock has increased over twenty percent in the last three months, it dropped precipitously on Wednesday when it announced a stock issuance aimed at raising over $100M in equity. With a yield hovering over 11% and PE below seven, I am bullish on Prospect Capital's future.
Avoid: Aircraft Leasing
Aircastle Limited (NYSE:AYR): 4.30% Yield - Ex-Dividend 2/27
Aircastle is in the business of acquiring and leasing commercial jet aircraft to passenger and cargo airlines worldwide. Aircastle has 136 aircrafts that it leases to airliners throughout the world, the majority of which are used for passenger purposes (70%). This is a potentially lucrative business; however, airline companies have a very challenging business environment with high input costs and an inability to pass costs onto customers in the form of higher airfare rates. Revenue and profits have been declining for the past three years and this does not appear to be a vibrant area of the economy. Furthermore, Aircastle is heavily exposed to Europe with over forty percent of its aircraft located in the country.
Consider: Electrical Utilities
Brookfield Infrastructure Partners LP (NYSE:BIP): 5.00% Yield - Ex-Dividend 2/27
TransAlta Corporation (NYSE:TAC): 5.52%Yield - Ex-Dividend 2/28
Integrys Energy Group, Inc. (TEG): 5.00% Yield - Ex-Dividend 2/27
Dominion Resources, Inc. (NYSE:D): 4.11% Yield - Ex-Dividend 2/29
Brookfield Infrastructure Partners, Integrys Energy Group, and Dominion Resources are all electrical utility providers. While BIP operates in Australia, TAC, TEG and Dominion generally provide electrical services in the United States and Canada. I have been a fan of electric utilities for years because of their high yields and low risk. Since these companies are generally defensive you are essentially looking for a good deal in terms of yield and PE. Brookfield and TransAlta both have relatively low PEs for their yields and are attractive for that reason. I prefer TransAlta because it has a higher yield and has underperformed in the last year compared to Brookfield.
Consider: Defense Manufacturers
Lockheed Martin Corporation (LMT): 4.47% Yield - Ex-Dividend 2/28
Lockheed Martin is an advanced technology manufacturing company that specializes in defense and other related fields. Lockheed is the company behind the F22 fighter plane as well as anti-missile defense systems. The stock has essentially remained in a tight range between the high 60s and low 80s since the first quarter of 2009 with few signs of improvement. With the super committee s failure to make a decision, defense spending is facing $600B in cuts, which could spur further downward pressure. The company reported earnings in late January that were a mixed bag. Revenues were down at three out of four sales units but earnings per share still surpassed estimatesThe primary reason to invest in Lockheed is the high dividend of 5.3% which was just increased by 33%. Even during the depths of 2008, Lockheed was increasing the dividend. Additionally, the company's commitment to share repurchases confirms management's commitment to shareholders. The dividend has fallen nearly one percent since I recommended it last quarter
Consider: Tobacco Companies
Lorillard Inc. (LO): 4.77% Yield - Ex-Dividend 2/28
Lorillard is one of the "big tobacco" companies with brands including Newport, Kent, and True. I have invested in both Altria (NYSE:MO) and Philip Morris (NYSE:PM) with tremendous capital gains and dividends over the years. Lorillard does not have brands that are as strong but it is a similar investment hypothesis. Furthermore, the legal ruling against strong warning labels on cigarettes should benefit all companies in the industry. Tobacco companies are both mature and safe; precisely what investors are seeking in this economy. For this reason I hold PM in my "Great Recession II" portfolio. While PM and MO are both up respectably in the past year, Lorillard has more than doubled their performance by surging nearly 70%.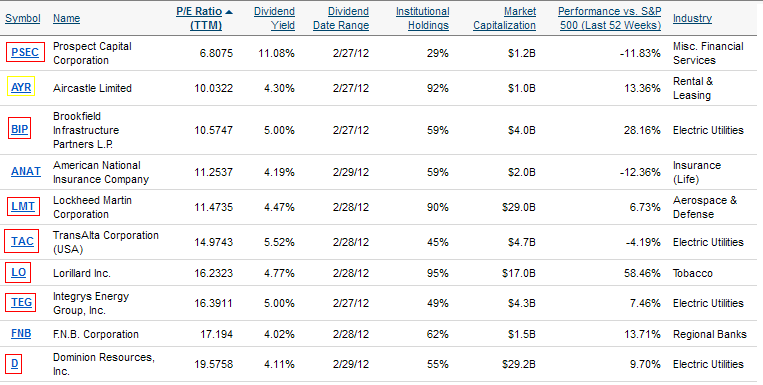 Disclosure: Author is long PSEC and T.