Every month I use the Dugan Scoring System to determine the "top" CCC companies from David Fish's "All CCC" list, and then filter for criteria I think SA readers would value. For the "sector best" list of companies those filtering criteria are:
Minimum $3B market cap.
Minimum yield of 2.3%.
This sparse list of filters will allow for some companies to be included on the list which won't meet some investor's metric criteria (i.e. minimum yield) for consideration for further due diligence. I usually confine my filtering to companies which are in the top-scoring half of the non-REIT and non-MLP companies on the "All CCC" list. This time, I used the whole list of 686 non-MLP and non-REIT companies. As it turns out, that didn't matter much as most companies in the sector-best list would have made it anyway.
The Dugan Scoring System is a tool to identify the overall quality of CCC companies. Those companies' stocks earning high Dugan Scores are high quality stocks which should produce better investing results, going forward, than otherwise would be attained by simply filtering for desired characteristics. In this context, highest quality means companies which have:
STRONG CURRENT CONDITIONS, as exemplified by: great value as measured by relative Graham number, low payout ratio, low debt/equity ratio and high Most Recent dividend increase %.
EXCELLENT FUTURE PROSPECTS, as exemplified by: high EPS growth forecasts for This Year, Next Year and 5 years out, and excellent dividend growth histories.
While the Dugan Scoring System isn't a popularity contest, it is a disciplined, systematic and dispassionate approach that evaluates each CCC stock on the basis of a wide variety of investment criteria from four broad categories: Risk, Value, Past Performance and Future Performance Expectations. So, the purpose of the Scoring System is to determine the all-around quality of a stock for buying, holding or selling purposes. No stocks, like no people, are perfect. Even high quality and high scoring stocks have weaknesses. So, a Dugan Score is a balanced, holistic picture of a stock, which includes its strengths and weaknesses.
You can see from the above explanations, the Dugan Scoring System is about the current state, and expected future performance, of a company's stock; not necessarily the company itself. And, it doesn't matter how well a company's stock has performed for its owners in the past. It only matters what is the current condition and expected future performance of the stock.
The table below is a summary of the metrics used in the Dugan Scoring System, along with each metric's relative weighting in the overall formula. The weightings are my assessment of each metric's relative importance in calculating the company's overall quality.
I have recently made a few changes in the scoring system. The primary change is to limit the maximum achievable score to 100 points, versus the previous 150. I did this to give the Dugan Scores a familiar and understandable frame of reference for SA readers. There are a few other changes which I'll explain in a subsequent article. Suffice to say, the changes did not have a meaningful impact on which companies scored high or low.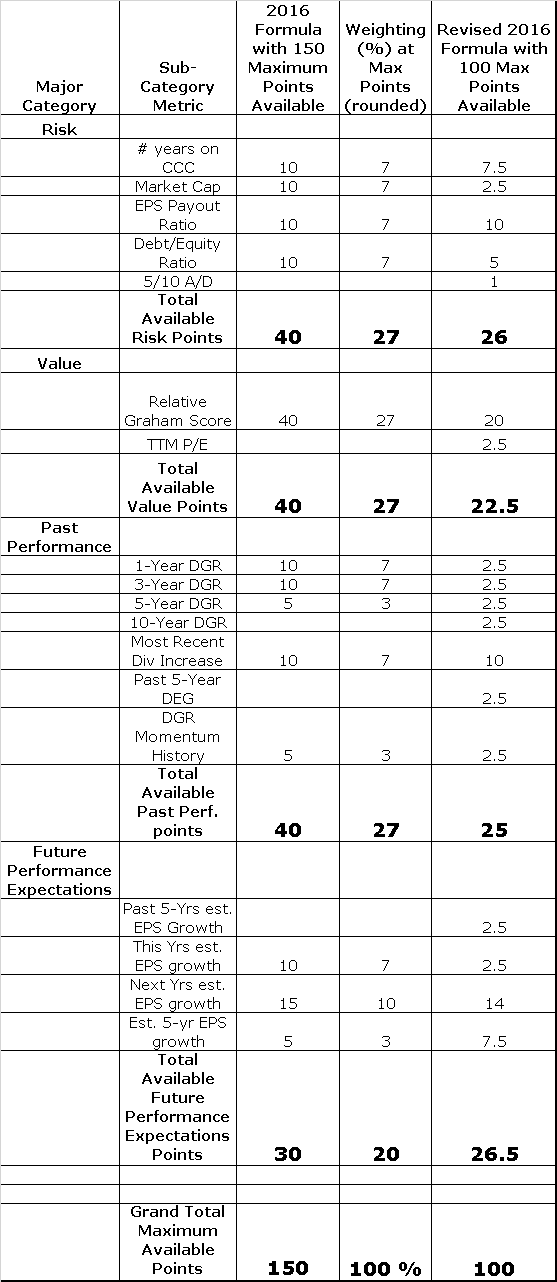 Using the Dugan Scoring System, and the identified 2 filters, produces the following list as the highest scoring May 2016 CCC companies, by sector:

For comparison purposes, the new average Dugan Score of the 686 non-MLP and non-REIT companies is 52 points out of the new maximum of 100 points; and lowest achieved score is 4 out of 100.
The average score of the top scoring half (343 of the 686 companies) is 65 points. In my opinion, the top-scoring 343 companies are very high quality and all around good stocks for consideration to do further due diligence.
I hope you found the information valuable and enjoyed this journey. Comments are encouraged. Happy investing.
Disclaimer: The opinions in this document are for informational and educational purposes only and should not be construed as a recommendation to buy or sell the stocks mentioned or to solicit transactions or clients. Past performance of the companies discussed may not continue and the companies may not achieve the earnings growth as predicted. The information in this document is believed to be accurate, but under no circumstances should a person act upon the information contained within. We do not recommend that anyone act upon any investment information without first consulting an investment advisor as to the suitability of such investments for his specific situation. (Borrowed from Chuck Carnevale.)
Disclosure: I am/we are long ADM, RAI, LNC, JNJ, PFE, QCOM, DOW.
I wrote this article myself, and it expresses my own opinions. I am not receiving compensation for it (other than from Seeking Alpha). I have no business relationship with any company whose stock is mentioned in this article.