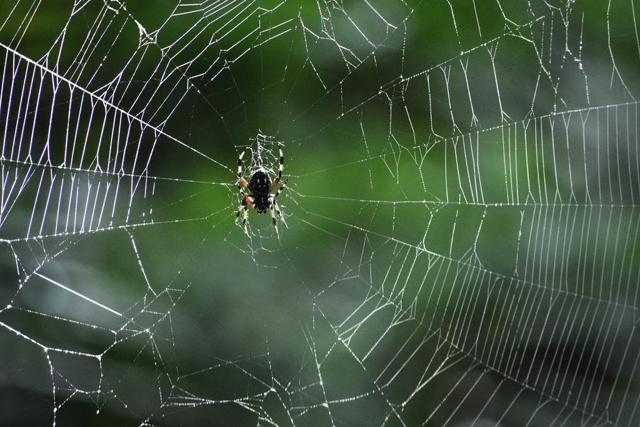 The tangled web
Maybe I'm being unfair here, with this title. Yes, no doubt I am. "First" is clearly uncalled for.
Anyway, why am I starting this article off like this? The reason is simple - Tesla (NASDAQ:TSLA) has engaged its ludicrous mode, when telling tall tales. It did this Wednesday, both in its shareholder letter and in the following earnings call.
It did so to such an extent that no other title would fit the situation. In this article, I go over several of the unbelievable promises and claims Tesla just made.
500,000 cars in 2018. No, wait, 2017!
The first of many unbelievable statements came from the shareholder letter, where Tesla says it's bringing forward its production plans, from achieving 500,000 cars during 2020 to achieving those already in 2018:
Advancing 500,000 unit build plan by two years to 2018
This was already unbelievable, but Elon Musk saw it fit to upstage even that. This is a quote from the following earnings call:
So as a rough guess, I would say we would aim to produce 100,000 to 200,000 Model 3s in the second half of next year. That's my expectation right now. Yeah, so that's the thing.
Now here's the thing. Let's take even the low end of that range. Let's give it three months (Q4 2017) to produce 100,000 Model 3s, starting from 0 the quarter before (Q3 2017). All of this is already ludicrous, but what do we get? Amazingly, we get a >500,000 production run rate using today's Model S + X production capability (2,000/week) and that promised Model 3 production capability. This, before 2017 is over and with no growth accounted for the Model S and X.
Now, I've already said that to even have the Model 3 ready during late 2017 already requires Tesla halving the time it took for all its previous vehicles. But this thing about having the ability to manufacture at a 500,000 rate before the end of 2017 takes the cake.
Let us not forget that the magical Gigafactory, which was necessary for the 500,000 rate to begin with (according to Tesla), and which is ahead of construction schedule as per TSLA, won't be at the promised size (outline below) by late 2017.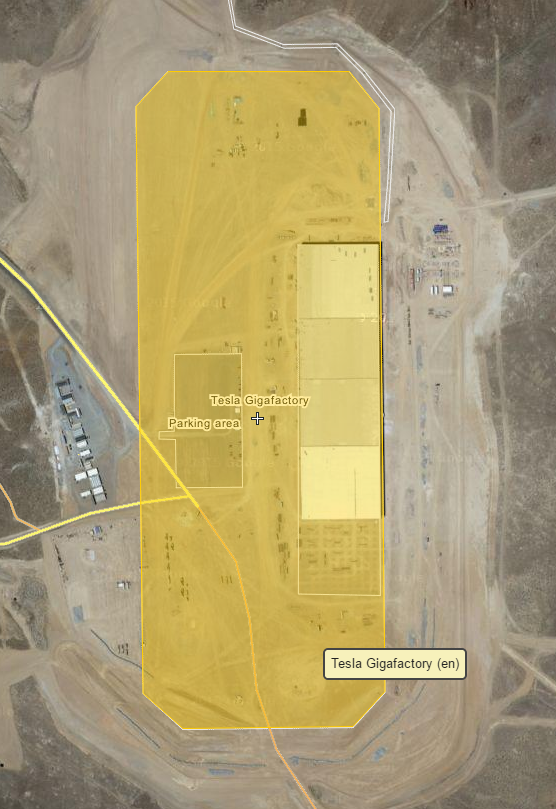 Source: Wikimapia
That's already a tall tale, but Tesla keeps saying that it's ahead of the original plan, and the original plan required the factory to fill that outline by October 2017:
Apart from the Model 3 launch, Model S demand grew globally and Model X production continued to ramp. Tesla Energy also expanded production and deliveries, with momentum continuing to build, and Gigafactory construction remains ahead of our original plan.
So which is it? Is the full Gigafactory not needed now? Where will those batteries come from? Wasn't the full Gigafactory needed because otherwise the batteries wouldn't be available? Never mind the cost savings, which Elon Musk preferred to just shove aside now:
Colin Michael Langan - UBS Securities LLC

And any color when you think about the $190 per kilowatt hour, how much like a CAGR of decline until the Gigafactory is open, another 30% once that's on line?

Elon Reeve Musk - Chairman & Chief Executive Officer

Yeah, next question.
See why I chose the "tangled web" title here? It's pretty obvious at this point that the tall tales are just piling up:
Gigafactory not on track regarding original construction plan.
So the Gigafactory being needed for enough battery volume was already a tall tale.
30% cost savings tale nowhere to be found.
No 500,000 Model 3 production rate by 2017 year-end (basically impossible, it would require a factory built from scratch - except for the building - for a car model that doesn't yet exist and is not yet specified to be supported by another Gigafactory that won't be built to the size said to be required in time).
No 500,000 Model 3 deliveries during 2018.
The Scale Tall Tale
I have commented on this already, but Elon Musk brought it up again:
Elon Reeve Musk - Chairman & Chief Executive Officer

Yeah. We're trying to comment on individual component costs, and that's fairly proprietary. It's kind of like giving away our playbook. But I think it's pretty obvious that we will exceed anyone else in the world in scale economies with the Gigafactory, and we're very confident in Panasonic's ability to execute on that front. So I just don't know anyone who in terms of intrinsic cost is going to be close to what the Gigafactory can produce on a cost per kilowatt hour basis.
So it bears repeating. The present Gigafactory has a footprint of 0.8 million sqft. One of the Panasonic (OTCPK:PCRFY) factories building Li-Ion battery cells had a footprint of 1.01 million sqft back in early 2011. Enough said about the scale economies and them exceeding anyone in the world.
The Gigafactory won't be at the promised size come October 2017. It will be built in modules, blah, blah, won't be at that size. We know it. Nobody would build the present building to then tear down a large part of it and its surroundings to build more within just a few months. Indeed, Tesla recently made a presentation which made this obvious - a presentation it shared only with some, as I said.
JB Straubel Is Not A Good Story Teller
What I've said about the Gigafactory is obvious. It was billed as the way to have enough battery supply for 500,000 cars and to make those batteries cheaper. The Gigafactory necessary to perform those functions for 500,000 cars was the full Gigafactory. If the 500,000 car run rate is set for end-2017, then naturally at that point the full Gigafactory would have to be ready and running - or again we'd be talking about past and present tall tales.
Naturally, a question was asked on this subject during the earnings call. It fell to JB Straubel to answer it, and he stumbled through it as follows:
Brian A. Johnson - Barclays Capital, Inc.

Okay. And, I guess, does this imply similar accelerated schedule for the Gigafactory, which always seemed tied to the 2020 0.5 million unit goal?

Elon Reeve Musk - Chairman & Chief Executive Officer

It does. J.B., do you have anything to that?

Jeffrey B. Straubel - Chief Technology Officer

We've - I mean, as we've discussed previously, this is a small part of why the Gigafactory was - we accelerated some of our plans there. And we're still on track to have first cell production starting at the end of this year so that we'll be able to ramp up to match the Model 3 schedule as well.
So JB Straubel says the Gigafactory was a small part of that. How? The 500,000 cars? The cost? Was there even ANOTHER part to it? This isn't the work of a good story teller.
But worst still, JB Straubel says battery cell production is about to start, so it is on track. Well, that's about the same as saying that the Tesla Roadster is about to start production, so it's on track to deliver the Model S1 year later, isn't it? It's totally unrelated - the scale was supposedly needed but now isn't? It just doesn't make any sense.
Also, JB Straubel recently gave a presentation on the Gigafactory schedule (as I have already said). He knows the schedule. No wonder he's mumbling here, as he knows that what he is saying here is inconsistent with what he presented just a bit over one month ago, and that those plans, internally, haven't changed.
Obviously within the next eight months or so, we will see that the Gigafactory will not be evolving towards its previously promised side.
Adam "Utopia" "Tesluber" Jonas
As a reminder, Adam Jonas was the analyst who once increased the price target on TSLA because of an upcoming "Utopia", and another time increased it again because of the (not yet existing, fully made-up) Tesla competitor to Uber. Both times followed shortly by equity/debt raising efforts.
This time the fairy tale put together by the now famous Adam Jonas had to do with Tesla's "advantage" in having its cars driving millions and millions of miles and collecting gobs of data (comparing this to Google (GOOG) (GOOGL) cars, no less). Of course Elon Musk went with it:
Adam Michael Jonas - Morgan Stanley & Co. LLC

Hey, Elon. So on our math, your combined fleet of Model S and X are driving more than 3 million miles a day. So in just one day, your cars do about 2x the distance that Google's done in the entire history of their self-driving car project. Now while your cars aren't exactly sensor-encrusted Christmas trees with tens of thousands of dollars of equipment like a retrofitted Google car, it's still a lot of miles. And I'm just wondering if you can explain to the investment community what kind of advantage this gives Tesla in the race for sustainable transport an accident-free driving in some commercial financial terms, if you could. Thanks. Or even engineering terms.

Elon Reeve Musk - Chairman & Chief Executive Officer

Well, I mean, I think you've pretty much asked the question and then answered it. Data is everything really when you're trying to solve the autonomous transport problem. And having millions of miles per day of data accumulating and then as the fleet grows that grows proportionate to the fleet is incredibly helpful.

I mean, I think really, and particularly as we go to, say, kind of in the long term kind of fully autonomous driving, which I think is going to, I mean, that's going to require quite a lot of regulatory oversight, and I think in order for regulators to be comfortable approving that they are going to want to see a very large amount of data, I mean, maybe billions of miles showing that the car is unequivocally safer in autonomous mode compared to manual mode in a wide range of circumstances in countries all around the world with different rules of the road and ways of behavior. And it'll have to be something statistically significant like billions of miles.
Now here's why this is a tall tale. All that data would have to be collected, stored and uploaded to Tesla for it to be of any use. There is no evidence of such data being stored and transmitted. You can't analyze and gain knowledge from data you haven't got.
Why do people keep believing in things where evidence would have to be present and isn't?
Truth be said, Elon Musk did narrow the data to something Tesla does have. Data on extraordinary events, not ongoing detailed data, of the type a Google car collects. The data Tesla realistically collects could be used for the purpose Elon Musk describes, but not the purpose Adam Jonas thought about.
All Hocked Up
This quarter, Tesla highlighted that its cash balance increased versus Q4 2015. Of course, such sounds weird when Tesla actually had $249.6 million deficit in operating cash flow and then spent $216.9 million in capex on top of that.
So how did the cash balance increase? In a very simple fashion - Tesla took in $242 million from selling vehicles to its leasing partners and drew down a further $430 million from its asset-based credit line.
This credit line started out at $500 million with the possibility of a further $250 million. To use such availability, Tesla would basically have to hock up its entire asset base. This line was expanded to $750 million to $1 billion during Q1 2016 (in February).
It isn't surprising that the line was expanded. By Q1 2016, Tesla has drawn down $565 million of it, a level at which it would originally already be nearly all hocked up.
With the receipt of Model 3 customer deposits and cash from cars in transit, Tesla claims to again have paid off a large chunk of this line. However, keep in mind:
Tesla is burning around $0.5 billion per quarter between operating cash flow and capex. And this is likely to accelerate, given that Tesla upped its capex budget to $2.25 billion for the year, and $2 billion of this is to come during the last three quarters of the year.
Tesla's accounts payable is incredibly high, having grown even versus Q4 2015 and on lower volume to boot!
The Accounts Payable Deserves Further Mention
Fairy tales might do it for investors, but they don't cut it with some corporations. Tesla delaying paying to its suppliers is already leading to some tension.
For instance, recently a Tesla driver was faced with a supercharger being closed on account of a utility bill not having been paid!
Q2 2016 Deliveries Guidance
Another tall tale is the 80,000-90,000 deliveries guidance for 2016. Much like in 2014 and 2015, this guidance will be missed. But it being missed will only be recognized at the latest possible moment.
To see that Tesla speaks with a forked tongue, one needn't dig much. Take for instance Tesla's deliveries guidance for Q2 2016. I had already calculated that for Tesla's words to be truthful, it couldn't guide for much lower than 21,750 deliveries for Q2 2016. It guided for just 17,000.
How can that be? Remember:
Tesla is saying that the Model X has continued to show production improvement.
The Model X already ended Q1 2016 at a 750/week production rate.
Tesla is saying demand for the Model S has continued growing.
The Model S already saw ~12,410 deliveries during Q1 2016.
How can these statements not be somehow incompatible with a 17,000 deliveries guidance? If they were compatible, then Tesla would deliver at least >12,400 Model S and >9,750 Model X during Q2 2016. This would be >22,000 deliveries. Tesla guided for 17,000. So:
Either Tesla is delivering fewer than 12,400 Model S (which means demand for it isn't growing, because it can built more) or;
Tesla is delivering fewer than 9,750 Model X (which means production isn't continuing to improve or perhaps pent-up demand is already near-sated) or;
Both.
Either way, Tesla is saying one thing while something else is actually happening. This remains so even if you account for 3,000 additional cars in transit, which only brings the total to 20,000 cars (and not >22,000 cars). Plus one wonders what those cars in transit are. It would seem they'd be Model Xs bound for foreign markets, which would be strange because one wouldn't expect all US orders to be fulfilled yet.
A Side Note On Mode 3 Deposits
Tesla received ~118,000 reservations for the Model 3 within Q1 2016. Tesla rightfully said these didn't impact cash on hand yet, on account of many of them being made with credit cards. This does leave open the question of whether many weren't cancelled and used only to manufacture spending - something credit card pros do to manufacture spending and get free stuff out of their cards (but this isn't central to what I am about to say).
However, the reservations did hit the balance sheet. They increased receivables on the asset side of the balance sheet and customer deposits on the liability side. What is interesting, though, is that customer deposits increased by just $108 million, which is below the expected $118 million from Model 3 deposits alone.
This means that incoming net orders for other cars (Model S; Model X) were likely very close to deliveries during Q1 2016. That is, incoming orders were very close to ~15,000 vehicles. Here I say "net orders" because those deposits would also have been reduced by significant Model X cancellations.
EPS Was A Large Effective Miss
Supposedly, Tesla beat EPS expectations for Q1 2016 by $0.01. Here, I have two things to say:
One, is that Tesla must be warming the heart of some broker/dealers, given its approaching equity raise and associated juicy commissions. As such, they gave Tesla something which is usually reserved only for the closest of friends. That is, they moved the goalposts just enough for Tesla to beat earnings - EPS expectations magically moved to -$0.58 within the last week.
Two, there was a large, unexpected and unannounced component which helped Tesla's EPS tremendously. I am talking about ZEV credit revenue. ZEV credit revenue is all profit, and since Tesla doesn't pay taxes, it moves its EPS directly. At $57 million in ZEV credit revenue during Q1 2016, this improved Tesla's non-GAAP reported EPS by a massive $0.43. So had this not happened, and Tesla would have reported a non-GAAP loss of $1.00 per share, wildly below expectations.
Cash Burn
Tesla continues to run a cash bonfire. During Q1, it burned through another ~$470 million. However, the worst is that Tesla increased its capex plans for 2016 while having lower capex during Q1 2016.
If Tesla actually delivers on this capex plan, then it has around $2 billion more to spend during 2016. Even if we were to believe Tesla would magically manage to take operating cash flow losses down to $0, this would still imply the company stands to burn another $2 billion during the last three quarters of the year. My previous expectation was for it to burn more than $1 billion for the whole year, and not the ~$2.5 billion it stands to burn right now.
This is significant deterioration in Tesla's prospects. At this level of cash burn, Tesla is fully dependent upon the kindness of speculative strangers. Were the stock market to remove Tesla's carpet and TSLA would be bankrupt within less than one year. Which brings me to the next point …
One Thing Is True
Tesla is about to issue more equity. Indeed, given the cash burn rate, I'd expect the new equity to be issued within the next three months. The need is recognized by Elon Musk (though attributed to other reasons - like some of the cash was previously raised to build the Gigafactory, and now Tesla has neither a complete Gigafactory nor the cash):
Elon Reeve Musk - Chairman & Chief Executive Officer

Well, I don't think we want to rely too much on customer reservation money as a source of capital. Maybe there is a buffer or something, but it's not as a primary source of capital. So yeah, I mean, I think it's going to make sense for us to raise some amount of money, some combination of equity and debt and make sure the company has a good buffer of cash on hand. I think it's important for de-risking the company.

Increasing production five fold over the next two years will be challenging and will likely require some additional capital, but this is our goal and we will be working hard to achieve it.
Given the urgency as presented by the drawing down of the ABL and the increase in accounts receivable, as well as the ongoing operating cash burn and capex, the new equity raise is going to take place quickly. Again, my estimate is it will happen within the next three months.
The Tall Tales Are Wearing Thin
While Tesla is telling ever taller tales, it's noteworthy to notice the stock didn't jump wildly on this latest crop. Indeed, as I write this the stock is down 5% for the day. I am of the opinion that this tells us people are starting to slowly see through the web of deception.
Reality is a never-ending pile of burning cash. Reality is that simply having no access to new capital would sink Tesla within less than one year.
My Personal Opinion
This is entirely subjective, but I feel this must be said. The Tesla tales got so tall that they basically became unbelievable even to the believers.
Someone producing those tales, under normal circumstances, would usually see them as such and tone them down. That the tales were not toned down at the very least speaks of desperation. It speaks of Tesla being at a desperate juncture. The numbers, with cash burn stubbornly high and Tesla entirely reliant on issuing new equity - having exhausted its borrowing capability - tell the same story.
Tesla is a company which will go bankrupt within less than one year if it doesn't issue new equity. This equity has to be issued even if the Model X isn't a success and the Model 3 isn't ready - conditions under which equity would probably not be available. This might be the background known internally and leading to so many executives' departures. This might be the background that's setting the tone for the tall tales.
Again, one of two things is bound to happen here:
Tesla will issue equity, and $2 billion seems the bare minimum as TSLA is likely to burn as much within one year.
Tesla will face significant failure risk within one year if it doesn't issue that equity.
Conclusion
My main conclusion of this whole drama is that Tesla is a company on the verge of bankruptcy, whose only salvation is to issue a large slug of equity within the next 3-6 months. I predict Tesla is likely to issue equity within three months.
Moreover, this large slug will only be enough to keep Tesla afloat for 1-2 years more (depending on whether the equity raise is $2-4 billion). And this equity raise will do nothing to assure that the Model 3 will in any way be profitable. So in 1-2 years' time, Tesla is likely to be in the exact same spot as today even if it issues equity. I predict Tesla will issue at least $2 billion in equity, which is the bare minimum.
If Tesla does NOT issue a lot of equity, it will fail quickly (within one year).
The tall tales being bandied about, many of which are obviously unbelievable, are simply a sign of increased desperation - not a sign of increased success. It's also possible that the Model X is adding significantly to Tesla's woes, leading to this desperation.