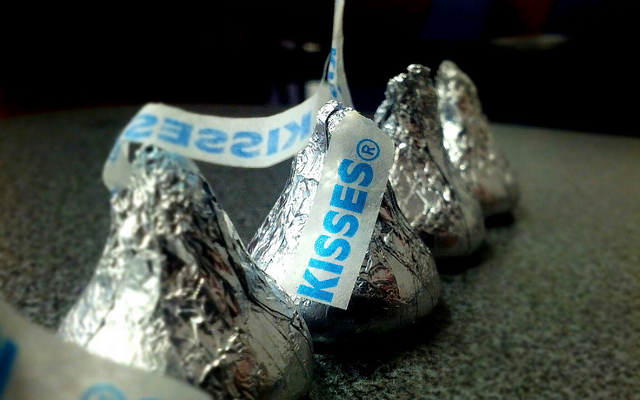 Hershey's (NYSE:HSY) has had a pretty rough couple of years. Continued pressure on its brands from changing consumer preferences as well as idiosyncratic challenges from its international expansion plans have all kept pressure o n its share price:
Yet, as I have noted elsewhere. It is still an attractive business in many regards. Its Chinese expansion, although slightly stuttering after Shanghai Golden Monkey write-downs, remain compelling long term. Similarly, despite tough results from a tough market it continues to be highly cash generative.
Yet the real question is, can we consider Hershey's a good value buy today at its price around $92?
Well, here I plan to try and get a handle on this question. In what may prove to be a new recurring feature not unlike my "FCF 5" series which last saw an outing with Ford Motor Company (NYSE:F), I thought I'd throw a good handful of my favoured valuation methods at Hershey's to see whether it is attractively valued right now.
Let's see how this confectionery giant gets on.
1: Dividend Yield
First off, let's take a look at its value relative to its dividend yield. Is its yield running ahead of or behind its historic average? Well, Hershey's historic yield from 2015 shows it currently producing a dividend yield around the 2.43% mark: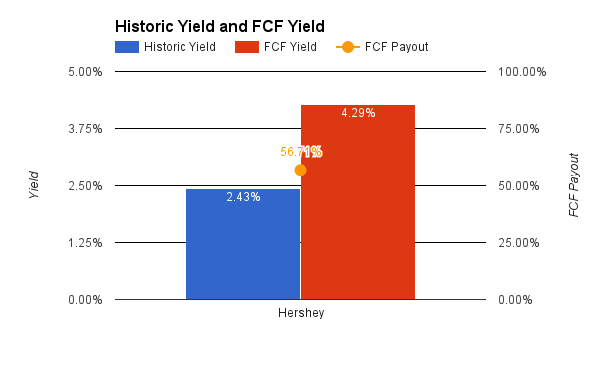 Immediately it becomes apparent that is noticeably higher than its historic average over the last five years:
This suggests a five-year average around the 2.1% mark. So what would Hershey's share price be if it was yielding along that average? Based on last years' $2.24 dividend this would suggest a fair value price of $106.67.
Yet Hershey's has been growing its dividend rapidly and is set, according to analysts, to continue to do so. Taking a forward look at its dividend yield valuation based on the predicted $2.40 dividend in the next year, this would suggest a price of $114.29.
So far, therefore, Hershey's is looking good value.
2: PE Valuation
Next let's look at Hershey's PE Valuation. I start off by finding out the average PE ratio for Hershey's over the last five years: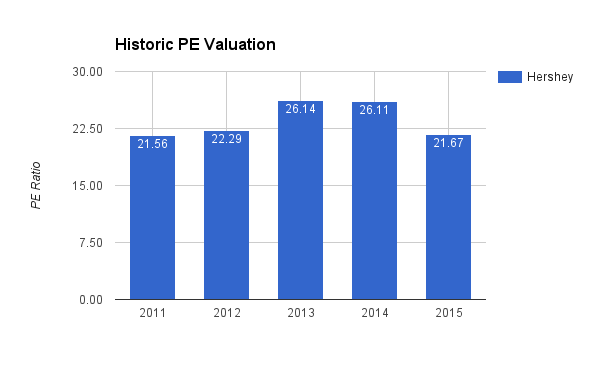 From this we can ascertain that its average PE sits at 23.55.
Next we take the consensus EPS predictions for the next two years and average that figure. Analysts predict an EPS of $4.25 and $4.55 for this year and next. The average here would therefore be $4.44. Multiply this by the average PE of 23.55 and we have a basic PE fair value figure of $103.62.
Finally, we adjusted for the amount of cash held on their books at the end of 2015 ($347 million). Doing so provides us with a new adjusted-PE fair value of $105.23.
Again, Hershey's is trading below its historic fair value.
3: EV/FCF Valuation
Next we turn to the Enterprise Value to Free Cash Flow valuation. Again, as with the PE ratio, we calculate the five year average EV/FCF ratio: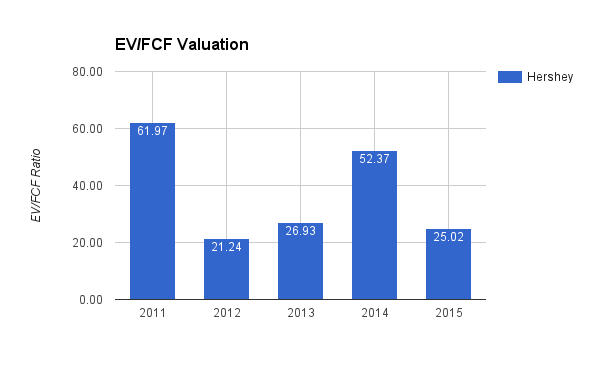 Now clearly here we have some major outliers in the form of 2011 and 2014. These distort the five-year average significantly to make 37.51. Clearly, however, that is excessive. Averaging the remaining three more "moderate" years provides us with a EV/FCF average of 24.39. This is much more in-line with the EV/FCF of other food companies such as Mondelez (NASDAQ:MDLZ), Tootsie Roll (NYSE:TR), Kelloggs (NYSE:K) and General Mills (NYSE:GIS) at 25.17.
Using the 24.39 figure as my fair value EV/FCF valuation. This I then multiply using my predicted FCF per share figure. I calculate my predicted FCF figure by using a weighted historic FCF/Revenue figures (see my previous article for more detail on how).
Using this gives me predicted FCF figures of $809 and $832 million (lower than 2015's $857 million). Averaging these and multiplying by the EV/FCF fair value figure provides us with a fair value of $94.12.
Yet this is assuming a FCF/Revenue figure in 2016 and 2017 which is 10.85% as opposed to the 11.6% in 2015. We are assuming a deterioration, therefore, in their cash generating efficiency. Yet at Q1 2016 time this would appear not to be the case, with Hershey's actually improving upon that ratio yet further: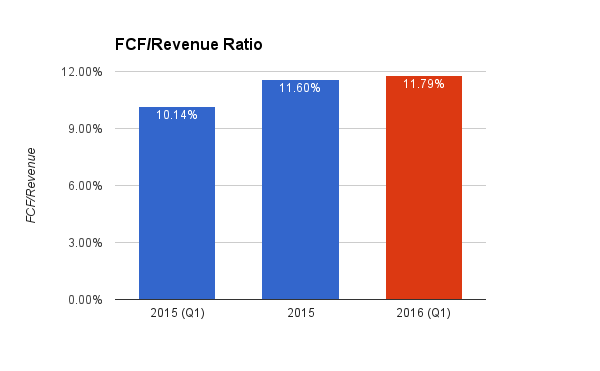 If Hershey's was to produce a similar 11.6% FCF/Revenue conversion ratio which is entirely plausible (indeed, improvement on this is a distinct possibility in light of Q1 results) then the FCF prediction would come in at $865 and $890 million. This would provide an adjusted FCF fair value of $100.62.
Both based on the lower FCF/Revenue figure and higher one, Hershey's is (yet again) trading below its historic fair value.
Conclusion
Based on these calculations it would suggest that, from every valuation perspective tested, Hershey's is trading below its fair value. If we try and make sense of the variety of valuations provided above, it would suggest that Hershey's can be considered to be trading somewhere between 10% and 15% below fair value: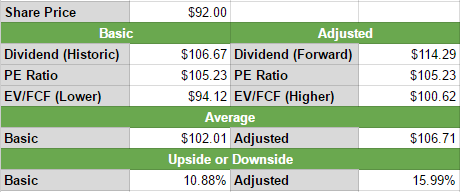 For me, this seems like a pretty solid-looking margin of safety. There is still potential for revenue, EPS and FCF predictions for the next two years to dip further. Yet I'd argue that based on the above valuation analysis, there is a fairly generous buffer in the current price to absorb that.
Roll in the fact that Hershey's has strong cash flows, a strong yield and low volatility and its looks a pretty compelling long-term buy right now. I am certainly tempted at current prices.
Note: Unless otherwise stated, all graphs and the calculations contained within were produced by the author. Creative Commons image reproduced from Flickr user lorspi.
Disclosure: I/we have no positions in any stocks mentioned, and no plans to initiate any positions within the next 72 hours.
I wrote this article myself, and it expresses my own opinions. I am not receiving compensation for it (other than from Seeking Alpha). I have no business relationship with any company whose stock is mentioned in this article.