The June FOMC meeting has been pegged by a considerable number of investors and analysts as the next likely date for the Fed to raise interest rates. Over the past couple of months some momentum did point in this direction, but a June rate hike struck me as too soon. Still, with the labor market posting solid gains through the first three months of the year, it has been hard to shrug off the possibility of a rate hike, which would likely deflate markets.
Now, data shows that the job market slowed considerably in April. Initial claims jumped up 17,000 to 274,000, above forecasts of 260,000.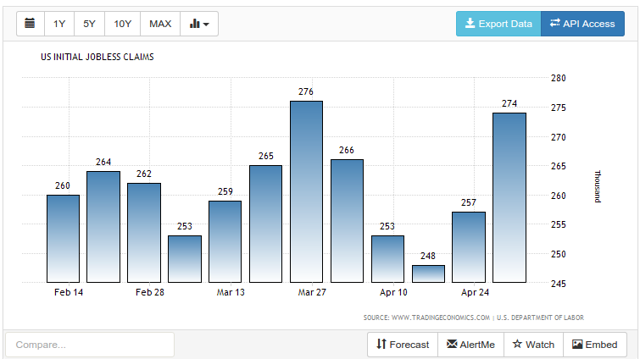 Meanwhile, jobless claims rose substantially last week, as more Americans were handed the pink slip. In the week that ended on April 30th, jobless claims ticked up to 274,000. Worst yet, the number of planned layoffs rose by 35 percent last month.
In early April, a June rate hike looked likely. Fears have been cooling since, and the recent data suggests, in my opinion, that the risk of a rate hike is extremely low.
Data Was Suggesting Rate Hike Likely
Markets have generally trended up since February, after suffering a very tough month in January. While most U.S. economic indicators have been tepid-to-good, Europe has continued to struggle with slow growth, and Chinese markets have been rocked by turbulence over the past year.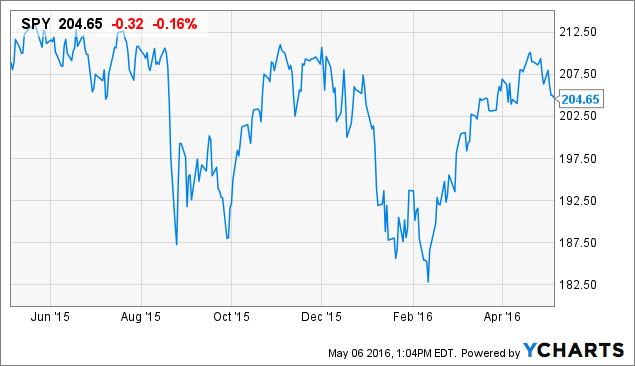 SPY data by YCharts
This has created an awkward situation for the Fed. Reserve. U.S. data appeared to point to labor markets and the economy being healthy enough to raise interest rates, and in December 2015, Fed Chair Janet Yellen did announce a small rate increase. Many investors have been fearing that this move was to test and acclimate markets to rising interest rates, and that 2016 would see several small rate hikes.
Interest rates will reduce the flow of money in the economy, and make stock investments less attractive. Simply put, rising interest rates are generally bad for investors, and cool off the economy, but also reduce inflation and other risks. If the Fed continues to raise interest rates, the risk of stock markets deflating rising substantially.
The Sleeping Bear (Market)
Now, with the U.S. labor market cooling and the global economy remaining weak, the Fed will be far less likely to consider another rate hike come June. Investors often forget that the Fed is made of people, and the outlook of these people has a big impact on policy. While there are plenty of interest-rate hawks within the Fed pushing for rate hikes, Fed Chair Janet Yellen has made it clear on several occasions that maintaining a robust employment market is her number one priority.
Some analysts are shrugging off the slow labor market in April, rightly noted that demand for certain skilled positions remains high. Further, several months of strong gains are going to result in a cooling labor market at some point. With the rest of the global economy remaining weak, however, the Fed is unlikely to make any moves that would upset markets.
Outside of labor data, corporate earnings data has been trending downwards, with big U.S companies set to see their income drop by 6.4%. When corporate earnings drop, companies tend to look to clean up their balance sheets by reducing costs, which often means layoffs.
It should be noted that the energy market has been weighing down both corporate earnings, and pumping up layoffs. Layoffs in the energy market totaled 19,759 (out of the 65,141). Meanwhile oil giants like Exxon Mobile and Chevron have been reported very tough quarterly data. Regardless, even outside of the energy sector, the economy remains weak.
Globally, China has been firming up and does not appear as likely to implode as some months ago. Still, heavy government interventionist measures make markets harder to predict, and if conditions develop to the point where the government can no longer control the economy, a meltdown could happen very quickly. Meanwhile, Europe remains tepid, but analysts are worried over an (unlikely) "Brexit".
Developing markets, however, have taken a hammering, with the MSCI Emerging market index deflating substantially so far in May, after enjoying a strong recovering through much of March and April.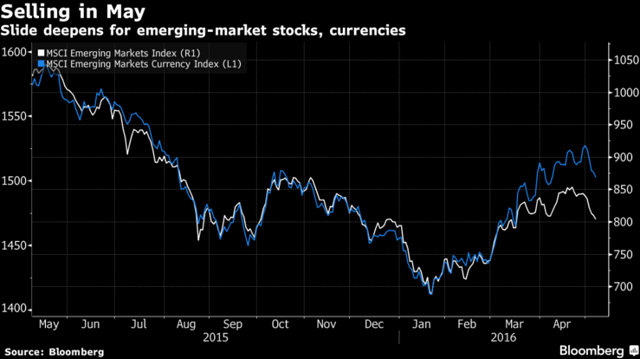 With global markets so weak, any sudden moves by the Fed could rattle global investors and exacerbate already weak conditions.
Rate Hike In June Unlikely
With the labor market showing genuine signs of improvement, but weakness in April, it's unlikely that the Fed, especially under chair Janet Yellen, will rush to raise interest rates in June. Moving too quickly could undo months of substantial improvement, while delaying a rate hike for another few months is unlikely cause any serious problems. If May labor data remains weak, a rate hike would be almost unfathomable. Even if May data recovers, unless it's a huge increase, a rate hike in June will still be highly unlikely.
Disclosure: I/we have no positions in any stocks mentioned, and no plans to initiate any positions within the next 72 hours.
I wrote this article myself, and it expresses my own opinions. I am not receiving compensation for it (other than from Seeking Alpha). I have no business relationship with any company whose stock is mentioned in this article.