The start of May has been tumultuous for the global stock market with volatility levels flaring up once again. The sluggish manufacturing numbers from China and U.S., a bout of softer-than-expected economic readings out of Europe and a weaker-than-expected April ADP jobs report in the U.S. have data cast a pall over the market all over again (read: Manufacturing Churns Out Slow Growth in US--ETFs in Focus).
This is especially true as the major U.S. benchmarks nosedived in last two days (as of May 4, 2016). The S&P 500 has reached the lowest level since April 11. In fact, the ongoing earnings recession, tepid economic readings along with global growth worries have rattled the faith of investors. They have taken somber economic growth on the chin for long and sent the S&P 500 rallying as much as 15% from a February low. However, investors should note that signs of stability in the oil patch have done a lot to cool jittery investors' nerves in this timeframe (read: MLP ETFs--Time to Invest on Oil Rebound or Too Risky?).
Now with growth worries back on the table, volatility levels have heightened and exchange-traded products designed to track the market volatility have received a shot in the arm. Volatility level is best represented by the CBOE Volatility Index (VIX). This fear gauge measures investors' perception of the market's risk and tends to rise during a downtrend or when investor panic starts to set in.
As U.S. equities faltered, the volatility index climbed 9.3% in the past two trading days (as of May 4, 2016), suggesting that risks are rising and investors could definitely benefit from this trend. There are several ETF/ETN options available in the market that can provide some exposure to volatility. These products have proven themselves as short-time winners in chaotic times.
Below we have highlighted short-term volatility products that will likely spring higher as long as growth issues continue to unsettle the global markets. As a caveat, investors should note that these products are meant for short-term trading:
Regular Volatility ETFs
A popular ETN option providing exposure to volatility, the iPath S&P 500 VIX Short-Term Futures ETN (NYSEARCA:VXX). The ETN focuses on the S&P 500 VIX Short-Term Futures Index Total Return. The index gives exposure to a daily rolling long position in the first and second month VIX futures contracts and replicates 'market participants' views of the future direction of the VIX index at the time of expiration of the VIX futures contracts comprising the Index'.
There are other products like the ProShares VIX Short-Term Futures ETF (NYSEARCA:VIXY) and the VelocityShares Daily Long VIX Short-Term ETN (NASDAQ:VIIX).
Leveraged Volatility ETFs
Investors seeking to earn exorbitant gains in a very short time frame could tap leveraged volatility ETFs. Currently, there are two options available in this category - the ProShares Ultra VIX Short-Term Futures ETF (NYSEARCA:UVXY) and the VelocityShares Daily 2x VIX Short Term ETN (NASDAQ:TVIX). Both products track the S&P 500 VIX Short-Term Futures Index.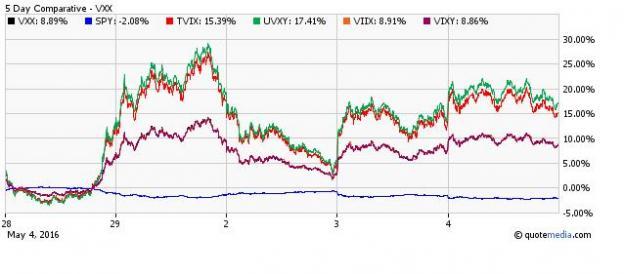 Link to the original post on Zacks.com