The story of Ted and Mary has appealed to countless readers and given those who are retired or considering retirement soon an idea of what factors they may want to consider and how they might want to design their portfolio. This week I want to catch up with Ted and Mary as they navigate new environments.
Ted and Mary
The goal here is to make this hypothetical couple face situations that my readers may face.
A New Dynamic
In most of the scenarios Ted and Mary will wait until 70 to file for social security benefits so they can get the largest benefit possible. This time there will be a different choice. This will simply be the story of Mary. Some of my readers are single, or wish they were, and wanted to see some alternatives for how the strategy would change if the retiree was single.
Mary is a powerful woman nearing the end of a highly successful career. Her income throughout her career was regularly quite high and she earned a fairly large PIA (primary insurance amount) because of her high income.
The Cost of Stress
During her career Mary rarely had time for herself and her health often came second to the company goals. At 62 Mary had her third heart attack and underwent surgery. After consulting with 4 specialists she had 4 estimates for her life expectancy. They ranged from 10 years to 15 years. Mary is confident that these estimates are fairly reasonable.
While her job was highly rewarding, she assessed what she wanted in the rest of her life and decided she wanted to have a longer retirement.
Mary's Financial Position
Despite making a very high salary, Mary's retirement accounts are not huge. She was heavily involved with a local charity during her career and provided a significant amount of funding for the charity from her own savings. She was living frugally in her personal life but wasn't putting away as much as she could because she had other priorities.
She ended up with a portfolio worth $400,000. Half of that is in retirement accounts and half is in a normal asset management account. Her normal asset management account was 50% invested in the S&P 500 using the Vanguard S&P 500 ETF (NYSEARCA:VOO) with the other 50% held in cash. The stock has performed very well, but most of her gains are capital gains and she will face a capital gains tax when she sells. She understands now that the portfolio was too heavily concentrated but must decide how to tackle the situation.
Mary already owns her house and has no interest in moving. Despite being single, Mary has a large number of friends in the area that she met through her job and her involvement in the local charity.
With no living relatives to worry about, Mary would still like to save as much of her wealth through retirement as possible because she plans to have the charity receive any wealth that remains after her passing. She knows she might not have much left, but she won't consider it wasted if she lives frugally and dies with wealth to her name.
Designing a Financial Plan
Mary is 62 and believes the doctors are probably right. She expects to live for 10 to 15 years but wants to ensure she has enough to survive for 20 years. To determine how to handle social security she looks at the discounted payback periods for social security. She finds the following table:

For investors that want to assess when to file for social security benefits, check out that article.
Mary was born in 1954 and believes a 3% discount rate is appropriate. She sees that for someone born in 1954 with a 3% discount rate the payback period on delaying until any other age would put her break even age somewhere between 80.81 and 84.63. Since her 10 to 15 year outlook suggests living to somewhere between 72 and 77, she sees no value in delaying social security.
What if Social Security is Subject to a "Means Test"?
There has been some political talk about how to make social security more sustainable. Changes wouldn't be needed in the short term, but the current system is not sustainable in the longer term. Eventually someone gets stuck holding the bag because the current system doesn't align cash flows and earnings in a long term viable strategy.
Such a plan shouldn't impact Mary directly since her assets and income are not exceptionally high. However, if they were higher it would encourage her to plan very carefully and might cause her to shift when her income occurred. For instance, if the test looked at annual income including capital gains and dividends then Mary might decide to wait one year to file for social security and sell her shares of VOO and reinvest the money. If capital gains are used as a justification for lowering the social security payment it would be equivalent to create a much higher tax rate on those capital gains.
The downside of this strategy is she would have to pay taxes on the gains before reinvesting and that would reduce the amount of capital she could have invested to generate dividends. In such a scenario, it would be worth getting a review from a professional.
Since this kind of test does not exist (yet…), there is only so much we can do to prepare for it.
Mary currently has $100k in cash from her asset management account so she wouldn't need to sell right away, but she might want to transition some of her investments if her income will be low enough to receive a 0% tax rate on capital gains and dividends. Any capital gain recognized at 0% is effectively removing the potential for future taxation on that gain. The amount those gains would be taxed in the future is unknown, but if she is able to get a 0% tax rate it would be great to get the "unrealized gain" off the books. She could be selling VOO and buying a broad market ETF. The risk profile would hardly change but it would let her eliminate the potential for having to declare the gains in future years.
I put together a long piece specifically touching on why means testing might occur and some of the implications of a means test for social security benefits.
Inflation
For simplicity sake, I'm going to use the assumption that the CPI increases actually reflect the rate of inflation in a retiree's living expenses. This is fairly optimistic, but modeling different scenarios for the costs and social security income becomes fairly speculative.
Allocation of Wealth in Dollars
Since Mary is going to be drawing on social security immediately she has no need to set aside several years of living expenses. She has $100,000 in cash and might as well invest part of it. She opts to keep $50,000 of it in cash and consider it a reserve fund. She asks for the $50,000 to be excluded from the plan. After excluding the cash the portfolio is designed on the premise of $350,000 invested with the primary goal of generating income.
The Champions
For an investor that wants to be able to hold equity but would prefer more stable companies, the best place to start is looking at the dividend champions. These companies have a solid history of paying dividends and raising them every year. They are still equity and there is still a substantial risk in investing, but this gives Mary a better starting point for assessing what securities she might want to hold.
She negotiates with a brokerage to move her account and receive 50 free trades so long as they are used within the next quarter. She plans to get her portfolio entirely set up during that time and then to cease trading with only the occasional addition to the portfolio if she has enough capital.
The following chart suggests several established dividend champions along with their yield (based on recent measurements but not constantly updated) and the number of consecutive years with dividend increases.
| | | | |
| --- | --- | --- | --- |
| Company | Ticker | Yield | Years |
| Northwest Natural Gas | (NYSE:NWN) | 3.65% | 60 |
| Procter & Gamble Co. | (NYSE:PG) | 3.27% | 59 |
| Emerson Electric | (NYSE:EMR) | 3.45% | 58 |
| 3M Company | (NYSE:MMM) | 2.64% | 57 |
| Vectren Corp. | (NYSE:VVC) | 3.22% | 55 |
| Cincinnati Financial | (NASDAQ:CINF) | 2.92% | 55 |
| Coca-Cola Company | (NYSE:KO) | 3.06% | 53 |
| Johnson & Johnson | (NYSE:JNJ) | 2.73% | 53 |
| California Water Service | (NYSE:CWT) | 2.50% | 48 |
| Target Corp. | (NYSE:TGT) | 2.74% | 48 |
| Stanley Black & Decker | (NYSE:SWK) | 2.02% | 48 |
| Altria Group Inc. | (NYSE:MO) | 3.67% | 46 |
| Sysco Corp. | (NYSE:SYY) | 2.66% | 45 |
| Black Hills Corp. | (NYSE:BKH) | 2.90% | 45 |
| Universal Corp. | (NYSE:UVV) | 3.97% | 44 |
| Becton Dickinson & Co. | (NYSE:BDX) | 1.67% | 43 |
| Wal-Mart Stores Inc. | (NYSE:WMT) | 2.91% | 42 |
| PepsiCo Inc. | (NYSE:PEP) | 2.72% | 43 |
| Exxon Mobil Corp. | (NYSE:XOM) | 3.42% | 33 |
| McDonald's Corp. | (NYSE:MCD) | 2.79% | 39 |
| National Retail Properties | (NYSE:NNN) | 3.80% | 26 |
| Realty Income Corporation | (NYSE:O) | 3.81% | 22 |
| Apple | (NASDAQ:AAPL) | 2.21% | 4 |
| Average | | 2.99% | 44.61 |
Given the size of her portfolio, it wouldn't make sense to be acquiring ever company on the list. However, the free trading will make it much easier to incorporate some of them.
To maintain her diversification she will want to look for some ETFs. I put together a list of some she might want to consider as possibilities:
| | | | |
| --- | --- | --- | --- |
| Ticker | Name | Div. Yield | Expense Ratio |
| (NYSEARCA:VIG) | Vanguard Dividend Appreciation ETF | 2.29% | 0.10% |
| (NYSEARCA:VYM) | Vanguard High Dividend Yield ETF | 3.11% | 0.10% |
| (NYSEARCA:DVY) | iShares Select Dividend ETF | 3.28% | 0.39% |
| (NYSEARCA:HDV) | iShares Core High Dividend ETF | 3.76% | 0.12% |
| (NYSEARCA:PFF) | iShares U.S. Preferred Stock ETF | 5.84% | 0.47% |
| (NYSEARCA:SDOG) | ALPS Sector Dividend Dogs ETF | 3.57% | 0.40% |
| (NASDAQ:VCLT) | Vanguard Long-Term Corporate Bond Index ETF | 4.69% | 0.10% |
| (NYSEARCA:TLT) | iShares 20+ Year Treasury Bond ETF | 2.37% | 0.15% |
| (NYSEARCA:HYG) | iShares iBoxx $ High Yield Corporate Bond ETF | 6.16% | 0.50% |
| (NYSEARCA:SPHD) | PowerShares S&P 500 High Dividend Portfolio ETF | 3.45% | 0.30% |
This sample provides some respectable yields, though a few have higher expense ratios than I would want to see. The inclusion of PFF gives her an option for getting a much higher yield through preferred shares. As an investor I like selecting individual issues of preferred shares within the sectors I cover because I have greater faith in my due diligence than in diversification across the sector. For investors that don't want to spend a very long time searching for preferred shares, ETFs filled with them are a viable option.
Growth in Dividends Over Time
For planning the portfolio Mary assumes that the market is priced fairly high and that corporate buybacks can only do so much to grow earnings and free cash flows when the market trades at high multiples relative to earnings and cash flows. She is remarkably aware of the macroeconomic challenges created by a very expensive stock market.
She decides that she can only expect her dividends to grow at a rate of 1.5% per year going forward. However, she is confident that they will continue to grow each year and is designing her portfolio to avoid needing to dip into the portfolio. The growth rate would be faster if she was able to invest more heavily in the dividend champions, but she needs some preferred shares and corporate bonds to increase the yield on the portfolio. Her target for a total yield is 3.85%, so her expectations for dividend growth will need to be lower.
The following table demonstrates the costs she is budgeting for and the income from her portfolio for each of the next 15 years.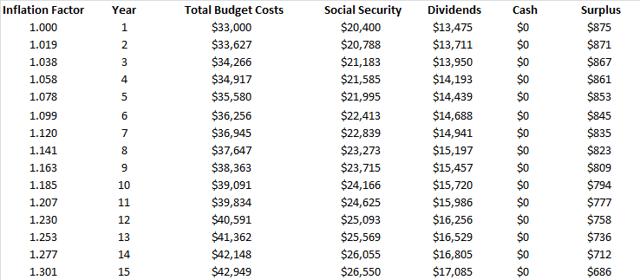 The surplus is present each year, but it is growing slightly smaller with time. If she has an unexpected event she will need to either sell part of the portfolio or use part of the $50,000 she keeps in cash. She decides she will use the cash first and will save dividends (rather than reinvest) to rebuild the cash position if it is reduced.
Containing Costs
The $33,000 per year would be equivalent to $66,000 per year for a couple. Since she already owns the house, the additional costs of living alone aren't much worse. She will suffer some from costs such as utilities since the bill has to be paid regardless of how many people are enjoying the heating or air conditioning.
The biggest challenge here could be getting decent health insurance given her history. Since she already had surgery to fix the problem, she is using the extra $50,000 as a buffer from taking a plan with a higher deductible.
Since Mary wanted to be prepared for cutting the costs to enable her early retirement, she looked at a short guide on how to retire without being a millionaire.
Growth in the Portfolio
If the portfolio value grew at the same rate as the dividends are projected to grow, 1.5%, and all surplus dividends were reinvested, then at 15 years the value would have grown from $350,000 to $443,758. Since Mary was simply trying to make it to 77 without running out of assets, she finds the results to be exceptional. It wouldn't have been possible without working hard to keep her costs down. She isn't able to financially support the charity during her retirement, but she is able to be more involved on a day to day basis and brings the leadership skills she developed in her career into the charity.
Because of this growth, if Mary survives longer than expected she will still be doing quite well. However, there would be no viable way to pay for extremely expensive care such as long stays in a nursing home.
Other Great Reading
I've found many retirees want to know more about the best dividend ETFs for 2016.
Please Share
If you appreciated this work, it would be a great kindness if you decided to share it. Posting it to Facebook, Google, LinkedIn, or linking to it from your blog will help other retirees find it.
I would love to hear your experiences in the comments as well so feel free to include your story or any questions you might have.
Disclosure: I am/we are long MO, NNN.
I wrote this article myself, and it expresses my own opinions. I am not receiving compensation for it (other than from Seeking Alpha). I have no business relationship with any company whose stock is mentioned in this article.
Additional disclosure: Information in this article represents the opinion of the analyst. All statements are represented as opinions, rather than facts, and should not be construed as advice to buy or sell a security. This article is prepared solely for publication on Seeking Alpha and any reproduction of it on other sites is unauthorized. Ratings of "outperform" and "underperform" reflect the analyst's estimation of a divergence between the market value for a security and the price that would be appropriate given the potential for risks and returns relative to other securities. The analyst does not know your particular objectives for returns or constraints upon investing. All investors are encouraged to do their own research before making any investment decision. Information is regularly obtained from Yahoo Finance, Google Finance, and SEC Database. If Yahoo, Google, or the SEC database contained faulty or old information it could be incorporated into my analysis.