A series of recent research findings, when taken as a whole, suggest a deep transformation in enterprise computing is underway. Unfortunately, many IT leaders and vendors will have their futures disrupted by a sea change in the delivery of IT services. In addition to a list of key industries, companies like Oracle (NYSE:ORCL), IBM (NYSE:IBM) and CA are listed by a recent JP Morgan report as facing cloud-related headwinds. Amazon (NASDAQ:AMZN) and Microsoft (NASDAQ:MSFT) are seen to benefit.
Storm clouds: As digitalization disrupts traditional IT operations the cloud will disrupt traditional enterprise tech vendors. There will be a new generation of winners and losers. (Image Source)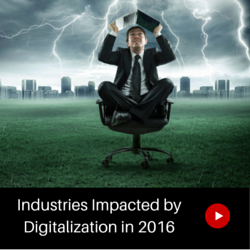 Every enterprise IT leader and vendor will eventually be impacted; it's just a matter of time. Some already have and they're in the process of consolidating for survival. Those who understand the future are planning for heightened agility and resilience that will lead to unprecedented growth and profits. Still others are about to also face the most profound pressures, starting with growth and margin difficulties then consolidation and layoffs. (See also: Two Recent M&A Moves worth Watching)
One doesn't have to look far to see changes already forcing new operating models on once omnipotent industries. This report on the 2016 impact of digitalization on various commercial sectors has media, telecom, consumer financial, retail and technology leading the pack. It's a long list that includes health care, industrial and even nonprofit sectors.
"The speed and size of these digital upheavals is impressive: In less than a decade, Airbnb now has more capacity than the top three largest hotel chains combined and it continues to grow expansively, using very different sourcing models. Thousands of other startups are vying for the same results within every other niche." - Dion Hinchcliffe- Enterprise Web 2.0
Here's the good news for tech vendors and investors. Digitalization is establishing new levels of security, resilience and agility demands, beyond the pale of what most enterprise IT teams would have ever managed. Growth and margins will come from software as cloud infrastructure crushes enterprise hardware vendor margins. The cloud and digitalization are destroying inertia, the same inertia that yesterday's IT once disrupted in brick and mortar operating models decades ago.
The pain is even being felt in the once booming, "bullet proof" third party data center business. See "alarming" comments from Equinix CEO on traditional tech vendors and Tony Greenberg's recent The Data Center Industry is In Crisis:
The cloud mindset is different - instead of satisfying many workloads with a decent solution, buyers now look for the right place to put each workload, with as little commitment as possible in case that right place changes. And that mindset creates a drive for optimization that kills the "easy money" legacy deployments, whether it's 5 and 10-year contracts, 1 megawatt customers paying same rates as they did at 50kw, non-coterminous contract ends, etc.- Tony Greenberg, RampRate
Traditional IT in many cases has not evolved fast enough to keep up with new commercial demands. Widespread, continuous and secure availability combined with agility is already separating the winners from those still paying inertia tariffs to vendors locked into anachronistic models and arcane scripts and specializations.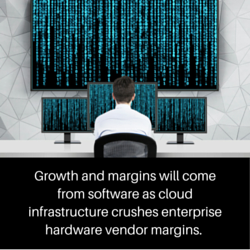 From Airbnb (AIRB) to Uber (UBER), software and availability is becoming more valuable than physical assets.
Traditional, hardware-bound IT was never equipped to tackle the rate of change and level of demands from these kinds of always on, dynamic environments.
This recent Cloud Consequences article from CIO refers to a JP Morgan Report which lists out cloud winners and losers:
Bluntly stated, the next five years will lead to an industry that looks very different from today. If one accepts the survey results as given, it's not inconceivable that one or more of the giants of the industry could end up either bankrupt or merged and shrunk in a forced marriage. - Bernard Golden
This piece in the
Wall Street Journal online
took it a step further and named a few players said to be impacted based on a CIO survey:
And as more businesses shift key operations to the cloud - in part as a cost-savings move - AWS is knocking once-dominant providers of legacy enterprise systems and services down a ranking of big IT vendors that CIOs at large corporations consider "most critical and indispensable" to their organization's technology environment, the report said… These include Oracle Corp, SAP, and International Business Machines Corp.- Wall Street Journal
In addition, new requirements … will continue to rip apart traditional IT architectures. In essence, traditional architectures have no hope of keeping up with the increasing flow of data and complexity of solutions. IT desperately needs to change to keep up and get ahead of this onslaught. - Tim Crawford - AVOA
Impacts of Digitalization will be Profound
Gartner has offered a series of reports on the impacts of digitalization, including heightened investments in resilience for existing apps and infrastructure. In short, second and third tier apps are increasingly business critical in this new world of "uberfication" and attracting more interest and spend related to maintaining 24X7 availability.
IT resources are being directed towards extending protection to apps across the board. These apps, once considered low risk for disruption, are becoming more strategic in a digitalized operating environment:
"Due to the significant surge in interest and early implementation of digital business services, operational demand for a reduction in unplanned IT downtime across the board has become increasingly important."

- Select the Right IT Service Continuity Targets for Recovery, Availability and Budget Allocation - Gartner, June 8, 2015
As these traditional environments grow ever more complex (and by the demands of 24/7 uberfication) the business case for cloud automation and orchestration will become even more powerful. That's right, the larger the enterprise the more strategic the cloud to growth or even survival as disruptions ripple through outdated business and IT practices.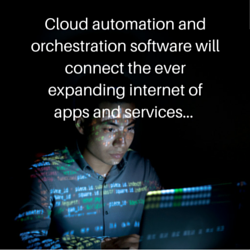 Mark Thiele at cloud platform player Apcera predicted that the world will need 400 million new servers by 2020, based on a range of credible predictions and a calculation based on 1 new server needed for every 70 new devices. Many of those devices will carry multiple apps designed to operate 24/7. The cloud, therefore, is the only practical way to address the new scale, security and access requirements.
Cloud automation and orchestration software will connect the ever expanding internet of apps and services, replacing specialized hardware infrastructure and traditional processes. A whole new generation of vendors and companies are poised to lead the revolution by becoming the sinew of the digital age. Stay tuned.
Disclosure: I am/we are long AMZN, MSFT.
I wrote this article myself, and it expresses my own opinions. I am not receiving compensation for it (other than from Seeking Alpha). I have no business relationship with any company whose stock is mentioned in this article.
Additional disclosure: My employer, CloudVelox is a technology partner of several companies mentioned in this article.