Did Longs Gets Stuck Holding The Bag?
Let's be honest, Neonode (NASDAQ:NEON) has had a poor start to the year. After falling short of analyst estimates for 2015, the shares of the company's stock have fallen dramatically after management posted a full-year net loss of over $7 million. The company's market cap has teetered dangerously low, currently under $100 million, stiffened by low trade volume and a share price lucky to be stuck indecisively at $2.00. The shares have become all but corrosive at this point!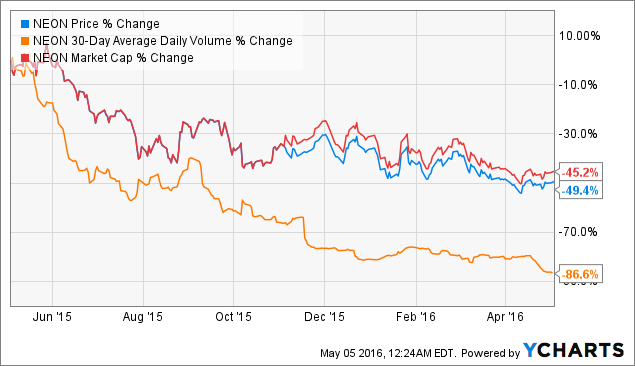 NEON data by YCharts
It seems that this promising technology is encumbered by the skepticism of the company's management. Burdened by the ghost of its past, the "failed to monetize" Neonode AB and its slide-to-unlock technology have haunted the leadership team. Perhaps their lack of credibility is why such little notice was paid by investors when Thomas Eriksson, CEO of Neonode, promised shareholders a cash flow positive balance sheet for Q1 2016. A claim the company had better live up to if it wants to keep the stock out of the over-the-counter markets!
How Did Shareholder Confidence Get So Poor?
When it comes down to it, Neonode has burned through cash faster than it can generate. Though it may prove to have been wisely invested into future revenue streams, the technology finding itself in millions of electronic devices is driven by an insolvent business model.

Source (Neonode 10-K 3/16)
In my opinion, it comes down to dilution of the shares. Most recently in October 2015, management raised $5.42 million with a stock offering. I believe this was needed by management in Q4 2015 after the stock failed to trigger warrants issued in October of 2014.
What has happened is, in order to pay the bills, Neonode has had no other option but to subsidize its poor balance sheet with shareholder equity. The trend goes back to 2013 in relation to the following volatility that has been felt by longtime shareholders. When the company diluted the shares in 2013, the stage was set to support today's ~$2.00 price tag.
The warrant situation illustrates the downward spiral Neonode's shareholders have been led into. If NEON had run above $5.00, the owner of the warrants could have chosen to use their option. This would have converted 2 million shares at ~$5.00 per share, giving Neonode ~$10 million on the books going into Q4 2015. Unfortunately, that didn't happen, and under the stock offering, shareholders gave up 3.2 million shares to the public at $1.90 per share.
NEON Bleeds Red With Shareholder Equity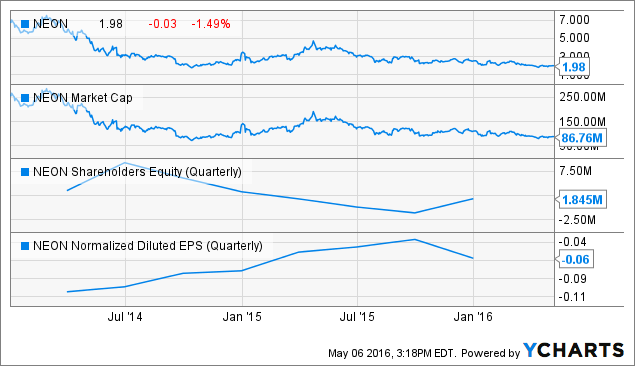 NEON data by YCharts
This opened the door for short interest and speculators to take control of the float. During the "revenue-ramp" process of 2014 and 2015, the shares topped out around $4.00 before collapsing. One way to view this is, as QoQ shareholder equity fell below $2 million, the dying volume and falling share price created today's resistance levels.
It may seem obvious today that at $7.50 per share, NEON was overpriced in 2013. Just as recently as last year, $3.00 looked like a reasonable support. If you are wondering why the stock is "stuck" at $2.00, it's perfectly in relation to shareholder equity management has lost.
It is my opinion that if the company does not deliver on its promise to provide a path to a financial breakeven, NEON will plummet well below its current threshold.
What has to happen for the stock to rise?
First, automotive revenue growth needs to be exponential.
In 2015, this new segment started to recognize revenue. Through its licensing agreement with Volvo (OTCPK:VOLVY) and Harman (HAR), Neonode has found its technology inside 340,000 vehicles. This brought in over $1 million in new revenue to the company. With production expected to continue to ramp, full-year 2016 revenue forecasts are looking optimistic.
That being said, management has given guidance, claiming that the 19 production cars using its technology in 2015 have risen to 26 in 2016. They also state that they expect to see ~1.5 million cars on the road in 2016. This would generate somewhere in the range of ~$5 million in automotive infotainment revenue for FY2016.
Investors will need to see more high volume models from the likes of General Motors (GM), Suzuki, and Volvo if Neonode wants to convince investors of its ability to deliver a financial breakeven for 2016.
Second, the printer ramp needs to continue as planned.
Look at the printer segment of Neonode's revenue mix and see a high growth rate in OEMs licensing zForce technology. For example, in Q3 2014, the company stated it had 12 printer OEMs signed on to use its technology. This figure has continued to grow, currently reaching 51 models. Management claims that 2016's total revenue will show growth according to these licensing wins.
Until the revenue recognition cycles prove the printer segment to be a worthwhile venture, would-be investors and shareholders will find little comfort in supplying technology to these high volume products.
Third, AirBar's shipping process must not be delayed.
Investors are no longer buying whatever public relations hype Neonode releases. Avoiding delays in product launches and shortening the revenue recognition cycle will go a long way in restoring confidence in Neonode's management. For example, long investors have waited for PC OEMs to adopt Neonode's technology but without 'proof-of-life' from these contract wins in the form of meaningful revenue, the stock has been punished.
This need for faster implementation times may be the reason behind Neonode's AirBar solution. The company has stated that it intends to ship in Q2 2016. If the company can launch AirBar to a receptive audience without delays in revenue recognition, management may have helped to rebuild their credibility along with shareholder equity. Optimistically, the distribution contract with Ingram Micro should help streamline the AirBar launch and offer the device as a 3rd-party add-on for several large PC OEMs.
Will We See Cash Flow Positive?
Using the guidance from the automotive segment, we can expect those revenues to grow annually at about 400%. If Neonode's positive QoQ revenue trend continues, and we apply the increase in automotive revenues to this quarter's financials, we end up with a conservative estimate of Q1 2016 revenue in the range of ~$3.5 million without the help of AirBar.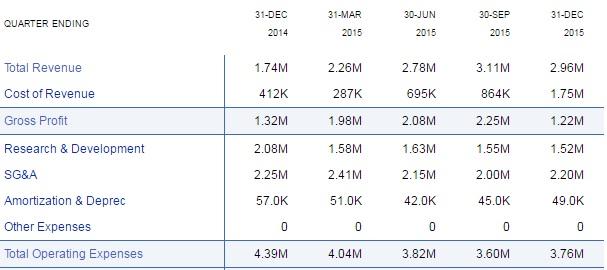 Reducing OpEx will greatly increase Neonode's chances of becoming profitable in 2016. Currently, OpEx for the microcap averages around $4 million per quarter versus the underwhelming $2.5 million per quarter that 2015's revenue mix from e-reader, printer and automotive segments. If Neonode continues to lower its expenses and can bring OpEx to less than $3 million per quarter, the company should have successfully demonstrated a cash flow positive business model.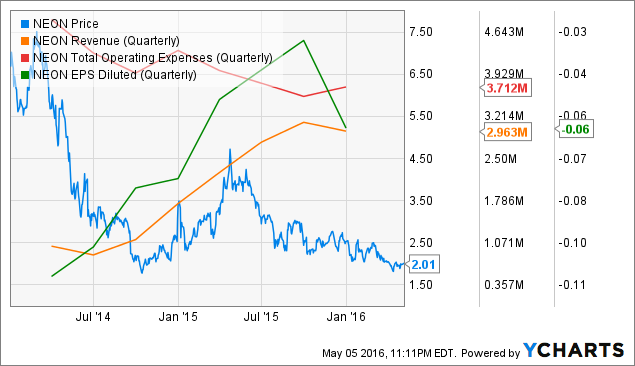 Conclusion: A Reason to Stay Bullish?
Without the need for further diluting shareholder equity, investors will be more likely to trust in management's ability to bring their technology to the market. It is fair to assume that Neonode has the ability to deliver a cash flow positive balance sheet on May 10th. This depends heavily on increased revenue from the automotive and printer businesses alongside a decrease in CapEx.
If the company can give investors a solid business model going forward into 2016, the shares of the NEON could bounce back to $3.50 before Q2 2016 is reported. This would be the first sign of investor confidence coming back to the company. While the company focuses on delivering profits and returning the missing shareholder equity, revenue will still continue to ramp. Though I feel that a progressive P/E multiple won't apply to NEON this year, if the company can increase full-year revenues from $11 million to $20 million by 2017, the case can be made that the shares will see a return to their previous $7.00 level.
This is a hefty goal that must first be achieved by management's ability to reach benchmarks that they have set themselves, something the company has fell short on in the past.
Editor's Note: This article covers one or more microcap stocks. Please be aware of the risks associated with these stocks.