On May 4, TerraVia (SZYM) and Bunge (BG) jointly announced the launching of their first product line for animal nutrition. Utilizing the proprietary algae-based technology platform that has been developed by TerraVia over the past dozen years, the joint venture partners declared themselves as exclusive distributors for AlgaPrime DHA. In doing so, both TerraVia and Bunge seek to address the growing $3 billion Omega-3 ingredient market with an initial emphasis on aquaculture. Utilizing a natural strain of whole algae (Schizochytrium), the specialty feed ingredient will address the growing market for docosahexaenoic acid [DHA].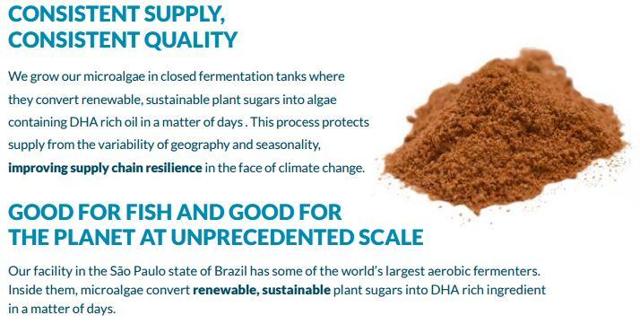 (Source: Algaprime)
For investors of TerraVia, the targeting of the aquaculture industry results in a natural expansion in the pursuit of new and innovative ingredients within the space of food and nutrition. TerraVia, formerly known as Solazyme, is currently undergoing a rebranding effort and a transition towards a more narrow market focus. Throughout this process, the company has identified key market areas in which it believes it will find acceptable target margins in markets with large enough product volumes in order to achieve the most stable progression towards future profitability. With the inclusion of the AlgaPrime DHA product line, TerraVia is now addressing an estimated cumulative market opportunity in excess of $32 billion annually.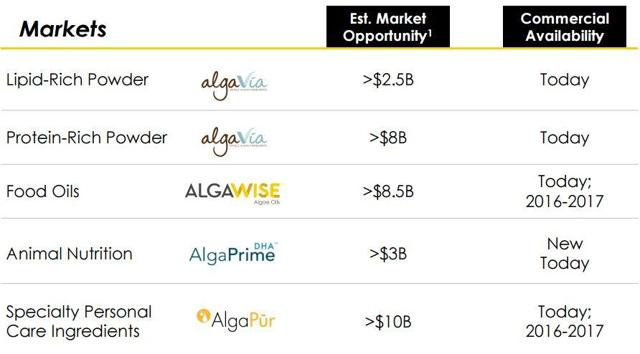 (Source: TerraVia)
Addressing The Need For Omega-3s
When we look at AlgaPrime DHA, it is important to remember first and foremost that this is not merely a replacement for commodity fish meal. Rather, AlgaPrime DHA is more akin to a feed product that places heavier emphasis on essential omega-3 oils that are typically derived from fish oil. As such, the product should be more closely aligned with the fish oil market which is also commonly relied upon throughout aquaculture.
The composition of a typical fish meal product might consist of approximately 66% protein and 5% fat according to one example noted by the Food and Agriculture Organization of the United Nations (FAO). However, according to the AlgaPrime DHA product sheet, the product's nutrition profile suggests that this feed will consist of approximately 12.6% protein and 53% fat. Of that fat content, 60.8% of the fatty acids qualifies as an Omega-3, with 48.2% coming in the form of DHA and 12.6% coming in the form of DPA.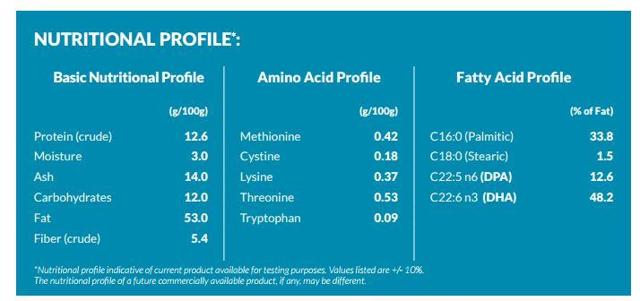 (Source: Algaprime)
A comparable fish oil to consider is pure menhaden fish oil, which consists of 27.8% omega-3 fatty acids according to this nutrition profile. Likewise, sardine fish oil consists of 24.5% Omega-3 fatty acids according to this profile. A similar look at the fatty acid content in anchovy fish oil illustrates similar results to the other small fish. In that oil, EPA and DHA make up approximately 25% of the fatty acid content with the total amount of polyunsaturated fatty acids not exceeding more than 31%. These particular oils were listed because the fish oil market is largely dominated by such species of small fish and poor tasting fish unfit for human consumption.
All of these comparable fatty acid profiles contain significantly smaller amounts of Omega-3 fatty acids when we compare them to AlgaPrime DHA's combined 60.8% Omega-3 fatty acid content. Even in its final product form as a feed, 32.2% of AlgaPrime DHA's entire product profile is defined by its Omega-3 fatty acid content. This is a significant comparative advantage to consider when we look at the overall quality of the product.
The Problem With Farmed Fish Market Today
There is a vicious cycle currently underway in aquaculture, which is most commonly known as the "fish in, fish out" problem. Simply put, in order to raise farmed fish today wild fish are often used as feed inputs. Yet this dynamic plays into a far more complex issue of sustainability that results in a constrained market for fish oil.
According to the International Fishmeal and Fish Oil Organisation (IFFO), global fish oil production has remained constrained between 1 and 1.25 million metric tons per year. This is largely due to the fact that sustainable development of wild fish has been effectively policed by the government agencies of the largest contributors. Seasonality and changes to climate have also been linked with determining the annual amount of production. The weather pattern of El Nino can affect output, for example. But overall, it is largely believed that the supply ceiling for wild fish oil has been achieved. As noted by a recent report from the FAO: "In the long term, the general upward trend of fishmeal and fish oil prices is irreversible."
This challenge is yet another reason why sustainable alternatives to fish oil are becoming increasingly high in demand. TerraVia and Bunge remain in a prime position considering that their feed product contains a significant amount of DHA. Their ability to produce a consistent supply and quality of DHA is another understated advantage. As it now stands, fish oil content varies from schools of fish of different geographies at different points of time under different climate environments. As for AlgaPrime DHA, it can be produced on demand while facing few constraints in terms of quantity.
While supply for fish oil has been constrained the demand for it has only accelerated. Part of this has also evolved as fish oil has become an increasingly sought after commodity used for direct human consumption as well as an input for aquaculture. For a number of decades, fish oil used to trend alongside many of its vegetable oil counterparts. However, as noted in the chart below, this price correlation was discontinued around 2012 when fish oil prices began to ascend significantly higher. By mid-2015, fish oil prices had surpassed $2,500/MT.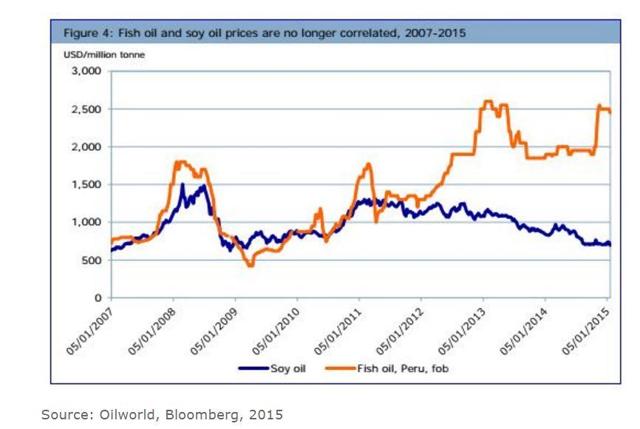 (Source: undercurrentnews.com)

Farmed Fish Are Losing Their Omega-3 Appeal
One of the key reasons why aquaculture is on the rise is due to the belief that human consumption of fish provides for a good source of Omega-3 fatty acids. Yet as this article explains well, fish are slowly becoming a poorer source of such fatty acids. A significant reason for why this is the case is due to the fact that fish farmers are increasingly becoming hard-pressed to use alternatives to fish-based feeds in order to reduce their costs and expenses. The rising cost of fish-based inputs results from increasing global demand for fish and a stagnant supply of fish oil and fish feed. As a consequence, the use of vegetable oils and other feed fillers are resulting in less Omega-3 fatty acids in the final fish product.
According to a recent scientific report, the ongoing decrease of Omega-3 fatty acids in farmed fish diets presents a "significant challenge for the aquaculture industry." The study compared the fatty acid composition of 3,000 farmed salmon between 2006 and 2015. The results were stunning. In a little less than a decade, the amount of Omega-3 fatty acids found in fish had deteriorated by almost half. The average consumer would have to practically double their fish intake just to get the same amount of EPA and DHA that they could've gotten from a single portion a decade prior. Finding a sustainable source of cost-efficient Omega-3 fatty acids therefore remains a critical objective of the industry.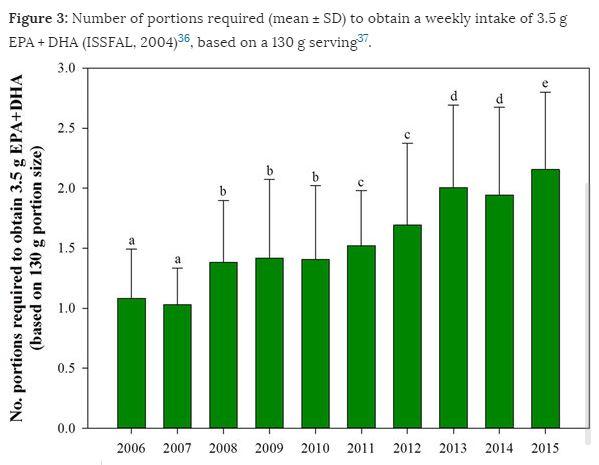 (Source: Nature.com)
Finding A True Peer Company
TerraVia and Bunge will not be the first companies to develop a sustainable alternative for oils rich in Omega-3 fatty acids. However, they are equipped with some of the largest aerobic fermenters in the world which allows for significant scale. This size advantage provides for an opportunistic advantage in cost, which has formerly been problematic for algae-based oil production.
One key company to now be thinking about as TerraVia evolves into its role in food and nutrition is Martek Biosciences Corporation. In December 2010, Martek was acquired by the Dutch health and nutrition multinational, Koninklijke DSM N.V. (RDSMY), more commonly known as DSM. DSM now supports a market capitalization of $10.42 billion today. In particular, we must realize that TerraVia and Bunge have now entered into direct competition with DSM, which offers a competing algae-based DHA product known as DHAgold used for aquaculture and other forms of animal nutrition.
There are two key reasons for why investors should now be thinking of Martek, the party responsible for DSM's algae-based platform. First, Martek's DHAgold currently advertises that its whole-cell algae contain a minimum of 17%-18% DHA according to its website. That's a very specific number, suggesting that the product's DHA content is not likely to be much higher. Yet in contrast to this, a calculation of AlgaPrime DHA's content suggests that TerraVia can deliver a little over 25% DHA. It would appear that TerraVia and Bunge may now have an upper hand in this niche market space of algae-based specialty fish feed. Of course, that assertion would only be relevant if there were no room for additional competition. Yet, as we consider the ongoing trend in the fish oil market, there is little reason to believe that is the case.
The second reason why investors should now be thinking of Martek rests in the fact that DSM acquired the company for more than $1 billion in 2010. Martek was largely acquired due to its dominant position in Omega-3 production, and the company utilizes a similar heterotrophic algae fermentation platform just like TerraVia. While any comparison of Martek should take into account its dominant position in the market for polyunsaturated fatty acids, the company does remain representative of the type of value one could imagine for TerraVia. This is especially the case when we consider that TerraVia has also developed an entire suite of additional novel food ingredients that is only now beginning to penetrate the market.
A quick look at the fish oil and protein market also suggests that those that participate in the market have also been doing quite well for themselves. Omega Protein Corporation (OME) is one such company that develops fish-based feeds and oils. The company focuses on fishing for menhaden. The public company recently completed a strategic review of itself and determined that the best way to increase shareholder value was to simply repurchase more of its own stock and allocate towards additional capital projects.
It is worthwhile to note that Omega Protein is currently experiencing gross margins of 41% for animal nutrition. In a previous presentation found here, TerraVia asserted that it expects to achieve target gross margins in excess of 50% for its Animal Nutrition division. This suggests that TerraVia could perform at the same level or even beyond that which can be accomplished through the traditional sourcing of fish oil.
A Look At TerraVia Now
TerraVia now trades with a mere market capitalization of $177 million based on the latest share price of $2.12 as of May 6. The company produced $7.3 million in quarterly product revenue largely through its cosmetic brand of Algenist. Although not consolidated into its financial results (and therefore not seen in TerraVia's revenue), the joint venture between TerraVia and Bunge is expected to see significant improvement over the coming year. For 2016, the company expects joint venture revenue to be five times higher than 2015, with much of the acceleration beginning in the second half of 2016.
It is widely anticipated that 2017 will see significant growth above 2016 as the company begins to pick up commercial traction. For Q1 2016, the company's total operating cash burn was down 35% year over year, and it is expected that this would be the highest operating cash burn for the year marking a continued decrease as the year progresses.
As of the end of Q1 2016, the company held total cash and cash equivalents of $104 million, an increase of nearly $7 million from the prior quarter as a result of the raised capital from new investors. Only a portion of the raised $28 million from the last financing round is anticipated to have contributed to this increase in cash. The capital raise was distributed between multiple arrangements that closed both before and after the end of the first quarter.
What is important for investors to now note is that TerraVia has finally obtained all of the necessary pieces to becoming an influential player in its market space. After a little over a dozen years, the company's technology platform is finally beginning to penetrate into new markets for food, nutrition, and specialty ingredients.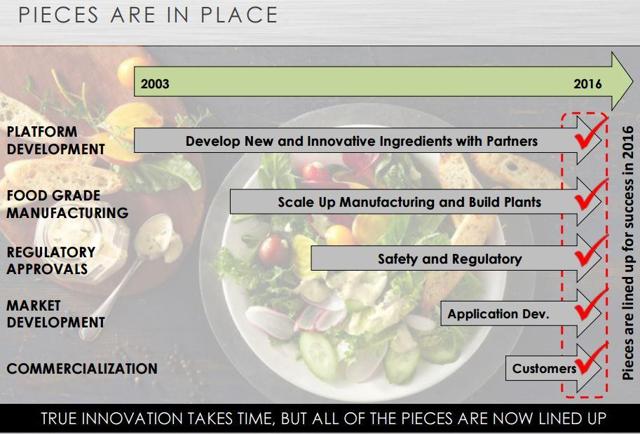 (Source: TerraVia)
Final Thoughts
The current and foreseeable restraints of the fish oil market makes the introduction of AlgaPrime DHA a very logical step for TerraVia and Bunge. The two companies now support a product line that helps to alleviate the unsustainable nature of a rapidly growing aquaculture market. It also helps provide viable solutions to the shortcomings of farmed fishing that is failing to maintain the level of omega-3 fatty acids in its fish products.
For investors of TerraVia, the company inherently controls a very promising algae-based platform whose value can only be realized over time. Although much of the market may not see the value now building in TerraVia, the resulting benefits of the company's products are beginning to differentiate themselves and testify to this future value. As the company now enters into a space shared by a true peer company found in Martek, investors can finally begin to get a glimpse of an adequate comparable company. Such a peer company was formerly hidden when Solazyme was formerly thought of as only being an advanced biofuel company rather than an oil specialist utilizing heterotrophic algae.
Disclosure: I am/we are long SZYM.
I wrote this article myself, and it expresses my own opinions. I am not receiving compensation for it (other than from Seeking Alpha). I have no business relationship with any company whose stock is mentioned in this article.
Editor's Note: This article discusses one or more securities that do not trade on a major U.S. exchange. Please be aware of the risks associated with these stocks.