Although I write exclusively about boring, very safe investments like I Bonds and Treasury Inflation-Protected Securities, I don't advocate putting all your assets into this type of investment. Instead, I recommend making them part of your asset mix.
The 'big picture' of my personal investing style is 60% bonds, 40% stocks. That's fairly low risk, but on the bond side, I try to reduce risk even more by including extremely safe fixed-income investments. The result is something like this:
10% highest risk: International stock funds, smaller-cap stock funds, growth funds
30% higher risk: Total stock market funds, S&P 500 funds, total international funds, etc.
35% lower risk: Broadly diversified bond funds, TIPS funds, municipal bonds, municipal bond funds
25% no risk: TIPS held to maturity, I Bonds, EE Bonds, insured bank CDs, insured savings, Treasurys held to maturity
The problem with this investing style is that the 'no-risk' market has become a low-yield wasteland. And in fact, midway through 2016, it's very difficult to find suitable investments. Here is a look at the major categories, and their pluses and minuses.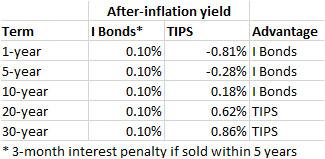 I Bonds versus TIPS: If you purchased an I Bond today - you probably wouldn't, but stick with me - you'd earn a permanent fixed rate of 0.1% and a six-month inflation variable rate of 0.16%, for a composite rate of 0.26%, annualized. That's horrible!
But you know what? An I Bond purchased today is a much better investment than a TIPS purchased today. Take a look at the chart. The most-comparable investment term is 5 years because an I Bond can be sold after 5 years with no penalty. A 5-year TIPS purchased today will lag inflation by 0.28%. An I Bond purchased today will beat inflation by 0.10%. That's a 38 basis-point advantage for the I Bond. Plus, you get tax-deferred interest, better protection against deflation and a flexible maturity date. That's why at today's rates an I Bond is more attractive than even a 10-year TIPS, which has a paltry 8-basis-point advantage.
The smart move on I Bonds, probably, is to wait for the November 1 rate reset, when the variable rate could rise because of an uptick in inflation. The only risk is that the Treasury could drop the fixed rate to 0.0% (but it could also raise it).
I Bond purchases are limited to $10,000 per person per year, purchased directly from TreasuryDirect. Because of this limit, investors wanting to build a large cache of I Bonds need to buy them every year. There are no fees or commissions.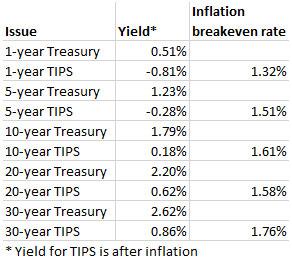 TIPS versus Treasurys: Here is where the fixed-rate wasteland comes into ugly focus. Despite the Federal Reserve's small move in December 2015 to raise short-term rates - and possible moves coming later in 2016 - Treasury yields have dipped mightily. The 10-year Treasury started the year at 2.24% and now stands at 1.79%, 45 basis points lower.
TIPS didn't just follow along. As investors began sensing that a rise in inflation could be imminent, the 10-year TIPS yield fell from 0.69% on Jan. 4 to 0.18% today. That's a drop of 51 basis points - meaning TIPS have outperformed nominal Treasurys. It also means TIPS are getting more expensive versus nominals. This isn't a pretty picture.
Nominal Treasurys perform better in times of deflation, but if I had to buy one or the other, I'd still buy a TIPS for the inflation protection.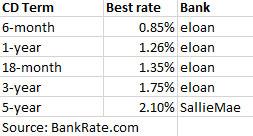 Bank CDs: I got an email recently from TD Ameritrade (AMTD) offering me a chance to invest in an 18-month, FDIC-insured CD paying 1.00%. I passed, but I am always on the lookout for good CD deals, which seem to rise up as promotional offers, especially in 1-year terms. This is one area where shopping definitely pays off. For example, my local credit union is currently paying 0.35% for a 1-year CD. My local bank - the same one with the offering through TD Ameritrade - is offering its customers 0.05% for a 1-year CD.
These banks are sending you a very strong message: We don't want your business. As consumers, it makes more sense to shop nationally to find the highest-rate, shortest-term CD. Right now I'd go with 1.26% for 1 year.
If you prefer a 5-year CD, see if your financial institution offers a 'step-up' feature allowing you to raise your rate one time to match current rates. A lot of these, though, are for odd terms, like 44 months, meaning your step-up will be tied to a 36-month CD. Clever trick.
FDIC-insured savings or money market funds are also a good option. There are several 'Internet' banks paying 1.0% on savings accounts, even with small minimums. The danger is that these are introductory rates and aren't guaranteed into the future.
EE Bonds: Although I haven't bought EE Bonds since 1992, I am a defender of the concept for certain investors. EE Bonds pay a fixed rate of 0.1%, but after 20 years, the Treasury guarantees they will be worth twice the original purchase value. That means, if held 20 years, EE Bonds will pay 3.5% - much better than a 20-year Treasury at 2.2%, with equal safety and tax deferral.
This investment makes sense only if you know you can hold the EE Bond for 20 years. At that point you will sell it. You lose the inflation protection of I Bonds, but you get a guaranteed higher-than-market return. Because of that higher return, EE bonds will outperform I Bonds up to an average 20-year inflation of 3.4%.
Most people are turned off by the 20-year commitment. But another Seeking Alpha author, Jim Sloan, recently posted an excellent analysis on why the longer term can work in your favor: 'Here's Why You Might Buy Both I Bonds And EE Bonds.'
Conclusion: As I walk through this fixed-income wasteland, two investments stand out as winners: I Bonds and insured bank CDs/savings accounts. The advantage of I Bonds is that you will outperform inflation by 0.1%, no matter where inflation goes. The advantage of bank CDs is short maturities and promotion yields. These might still lag inflation, but only in the short term.
I excluded municipal bonds from this analysis because of the higher risk, but they would also be an attractive alternative, especially since taxes are removed from the equation.
Disclosure: I own individual TIPS, but no mutual funds.