(Editor's Note: Investors should be mindful of the risks of transacting in securities with limited liquidity, such as LMDCF. Lingo Media's listing in Canada, LM.V, offers stronger liquidity.)
Company's Competitive Advantage (Economic Moat)
Lingo's technology is customizable, allowing their local education partners to thrive. Here's how it benefits their education partners:
Their pricing is flexible, which allows Lingo to adjust their model to ensure its educational partners are profitable and content. Operating in many countries with several different customer types requires a flexible pricing model. Their pricing depends on the country's currency, the buying power of the particular institution, and (I assume) other factors.
Their content can be sliced and diced as required, which makes Lingo almost a Private Label English training content provider. Lingo doesn't have to reinvent the content for each customer, they can cut their content into customizable modules and offer different possibilities for access. This is essential for reselling the courses to a targeted group of students, which is what their clients will do.
Lingo's clients know the students they serve best, so the program and pricing model should be flexible enough to accommodate their needs.
Lingo has impressive sales and distribution model, which has allowed them to accumulate market share in this industry. Over the past 5 years Lingo has achieved a 19% CAGR. Lingo's key competitive advantage is in their ability to sell and distribute their technology. The top two executives, Michael Kraft and Gali Bar-Ziv both have expertise in creating sales channels and getting product out the door.
In addition, once an education institution has adopted and accepted a new program, the switching costs would be high. Education isn't the most nimble industry and I couldn't see them switching program developers every few years.
Disrupting Competitors
Rosetta Stone and Duo Lingo are innovating and disrupting the language training industry. Their products are mainly marketed to individuals and not institutions and therefore it's a different (self taught) section of the market that they're disrupting. Many students require the classroom environment in order to learn and therefore there isn't a big threat of disruption in Lingo's business.
Management
The management team has the right skills and competencies, but one thing that is common between them is that they seem to have one foot out the door, as they all have positions outside of Lingo. This is a red flag, but I feel that they are simply driven individuals who (hopefully) now realize that Lingo Media requires more of their attention.
If the question is whether the CEO and COO will stick around for the foreseeable future, the answer is yes. They both seem to be engaged with the business (CEO has been building it for 25 years and COO has been giving interviews on the direction of the company).
President & CEO - Michael Kraft
25 years with Lingo Media Corp, which is a very favourable attribute.
His main competencies are in sales and marketing, which is great to have in this industry. This is why I feel that they have an advantage in the distribution of their product.
Michael runs a small merchant bank on the side, where he invests in private companies and assists with everything from planning to launching the business plan. One of his side ventures seems to have ended in 2015, so he may be more committed to Lingo now.
COO of Lingo and CEO of ELL Technologies - Gali Bar-Ziv
7 years with Lingo Media, and much less with other organizations.
Entrepreneurial success in Imaginative Minds with impressive sales growth during his tenure and he turned around a company's service division (possibly Merkel Insurance, although he only spent a little more than 3 years with the organization). In my books anyone who can turn around an organization has exceptional ability to rally the troops, get rid of underperforming assets and people and they are often great leaders.
Has a management and advisory services business on the side. Not sure the amount of time he spends on this.
CFO - Khurram Qureshi
Khurram is currently a founding Partner at CQK Chartered Accountants LLP (likely his most time consuming role), CFO at Slyce Inc., and CFO at Augustine Ventures Inc. in addition to his CFO duties at Lingo. He is very part-time with Lingo Media and this is certainly a red flag.
Products
ELL Technologies - online education technology. Software as a service solutions for English language training and assessment.
Acquired ELL Technologies in 2010 and now offers 2,000 hours of interactive learning through 5 products including:
Winnie's World
English Academy
Scholar
Campus
Master
Business
Custom solutions
Products cover all age groups. Since the acquisition in 2010, the product line required substantial revision in the technology platform and user interface. Most of this capital expenditures occurred in 2015.
Lingo Learning - print-based publisher of English language learning textbook programs in China.
Lingo Media formed successful relationships with key government and industry organizations in China's education market. Now expanding into Latin America.
Earns Royalty revenue from its key customer, People's Education Press and People's Education & Audio Visual Press ("PEP") - China's state Ministry of Education's publishing arm. Lingo does not print or distribute products in China currently.
PEP provides Lingo with sales reconciliations on a semi-annual basis (as their reporting systems are not able to provide quarterly sales info). Audio visual royalties are recognized on a quarterly basis and supplemental products are recognized right away.
Corporate strategy
Lingo's strategy is to invest in language learning that can be scaled and use Lingo Media's industry expertise to distribute this technology. Business transition began to gather momentum in 2015 as they transitioned more and more of their business to online subscriptions.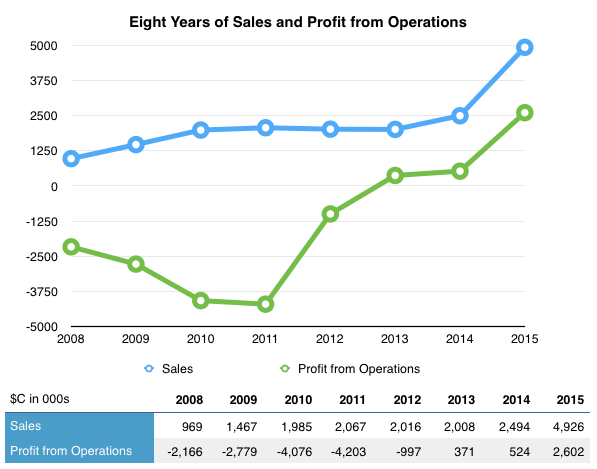 To realize this strategy, online English Language Learning did the following:
Completed development of two leading-edge technology tools (lesson Builder and Course Builder) to enable educators to create, convert, edit, and arrange online lessons and courses.
Partnered with Proloux a subsidiary of University of Guadalajara, to provide accredited certification of ELL Technologies' online courses
Signed an advertising agreement with ISA Corporativo for advertising services throughout Mexico's metro stations in exchange for software licenses.
Was selected by Peruvian Navy to provide software licenses of ELL Technologies' training products
Secured software licensing contract for ELL Technologies' programs with municipal government in Caldas Department, Colombia
Completed development of ELL Technologies' Winnie's World, in HTML5 for pre-kindergarten and kindergarten market
Was awarded a large government contract in partnership with eDistribution of S.A.S for SENA, an organization under the Ministry of Labour of Columbia
Completed a significant portion of the development of extensive digital library of English language learning resources for SENA
Print-Based English Language Learning did the following:
expanded the market for PEP Primary English textbook program by launching into new provinces
conducted extensive teacher training initiatives and workshops
co-published 550 millionth unit of PEP Primary English and Staring Line programs with People's Education Press
Business transition began to gather momentum in 2015 as they transitioned more and more of their business to online subscriptions.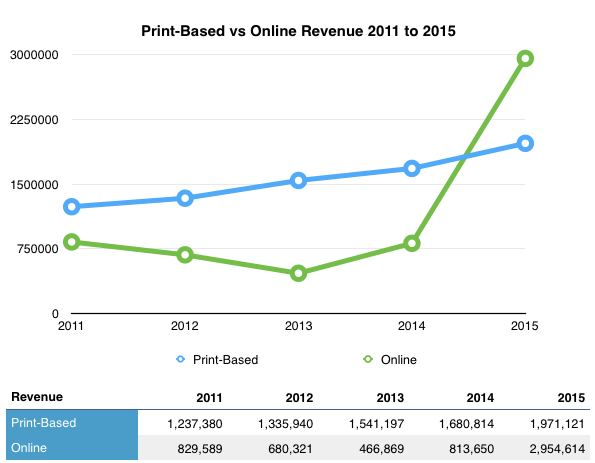 Key Events:
Q1/Q2 2016 March 30, 2016 Lingo Media hires Luis Ortiz to expand Latin America Sales
Q1/Q2 2016 March 30, 2016 Lingo Media's ELL Technologies to launch ELL Studio for speech recognition and practice pronunciation
Q4 2015 November 9, 2015 ELL awarded multi-million dollar contract in Colombia, South America
Q3/Q4 2015 September 30, 2015 ELL releases pre-school Winnie's World
Q3 2015 August 27, 2015 ELL secures English language training contract with Colombian Municipal government
Q3 2015 August 13, 2015 ELL provides english language training for peruvian Navy
Q3 2015 August 6, 2015 ELL enters into advertisement agreement to reach millions of commuters across Mexico
Q3 2015 July 29, 2015 ELL partners with the University of Guadalajara to provide accredited certification for online english courses
The key events above indicate how the Company earned increased revenue in 2015. Management has repeatedly mentioned that their variable costs are very low, so as revenues increase, their profits increase further.
Cash Flow Outlook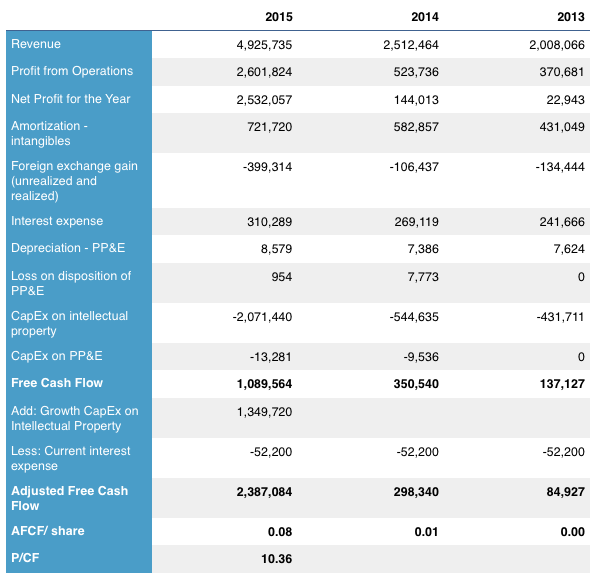 How sustainable is the 2015 cash flow?
Analyzing the key events of 2015, they have created a large number of additional distribution channels and therefore we can expect their 2015 cash flow to continue to grow into 2016.
Valuation
The current Price is below the intrinsic value, even when you consider a 20% safety margin. Once they show a few more quarters of growth in revenue and margin, that value will be added to the stock price.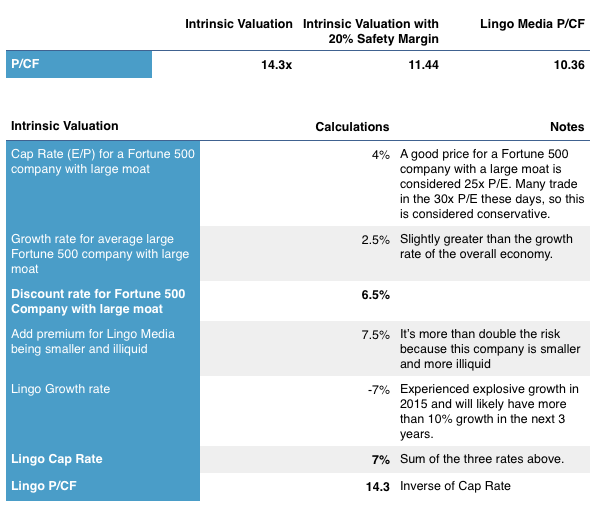 When to sell?
As a long-term investor, the ideal scenario is to continue to hold the stock.
There are 2 scenarios that would prompt me to consider selling this company: 1) if twelve months of revenues decline significantly (25%+) from previous year, or 2) if year on year consecutive revenue declines with no explanation from the company. This would indicate that their education distributors tried the product and weren't satisfied with it.
Disclosure: I am/we are long LMDCF.
I wrote this article myself, and it expresses my own opinions. I am not receiving compensation for it (other than from Seeking Alpha). I have no business relationship with any company whose stock is mentioned in this article.
Editor's Note: This article covers one or more stocks trading at less than $1 per share and/or with less than a $100 million market cap. Please be aware of the risks associated with these stocks.