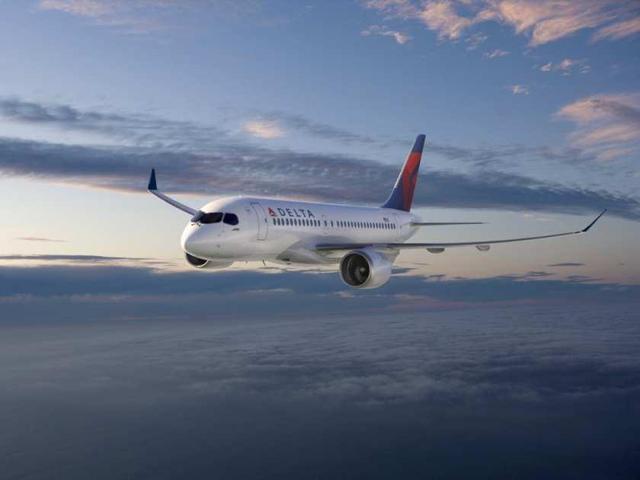 Img 1: A Bombardier CSeries in Delta Colors
As I noted previously in my article, "CSeries Order A Win-Win For Bombardier and Delta", the ability to secure an order from Delta Air Lines (NYSE:DAL) would be a major stamp of approval for the Bombardier (OTCQX:BDRBF) CSeries and would likely cause many other airlines to take a look at the aircraft. Since the Delta order, it appears that is exactly what has happened. Bombardier has now propelled past the initial goal of 300 orders by entry into service, a goal that many considered unachievable prior to the Delta order. The Delta order along with the Air Canada order may also be creating a sense of urgency for interested parties, since delivery slots are now becoming more scarce.
JetBlue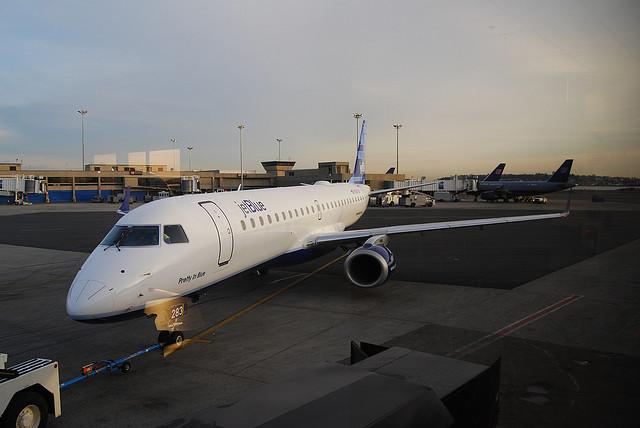 Img 2: A JetBlue Embraer E190 Aircraft
The Montreal Gazette has reported that JetBlue (NASDAQ:JBLU) is now talking to Bombardier executives about purchasing the CSeries. A CSeries order for the New York based-airline would most likely replace its Embraer E190 fleet as they are similar in size to the CSeries. Here is a look at the current makeup and size of JetBlue's fleet.
| | |
| --- | --- |
| Aircraft | Number in Fleet |
| Airbus A320 | 130 |
| Airbus A321 | 29 |
| Embraer 190 | 60 |
Table 1: JetBlue Fleet
JetBlue as a low cost airline is focused on operating efficiencies so if an order was made for the CSeries, JetBlue would most likely be looking to replace the entire E190 fleet with the CSeries rather than operate the two aircraft alongside each other.
An order for the CSeries would be a blow to Embraer considering JetBlue was the worldwide launch customer for the Embraer E190. JetBlue has not been happy with the E190 and has expressed its issues with the aircraft along with regret that it was the launch customer. Shunning this aircraft in favor of the CSeries would be another major endorsement of the CSeries and may cause other E190/E195 operators worldwide, who collectively operate over 650 E190/195 aircraft to take a look at the CS100.
The additional markets that could be served with the CSeries due to its range along with the CS300 being a perfect fit between the E190 and A320 mean that an order from JetBlue would likely be for at least 60 aircraft over the long term.
USA
Company executives have said they are talking to "several" U.S and European airlines, suggesting that there are additional talks going on outside of the JetBlue deal in the United States.
There are not too many more major U.S airlines where the CSeries seems like it would be required at the moment. Outside of JetBlue and Delta, talks with American Airlines are likely as the airline could acquire an aircraft in that size range. American Airlines currently has its hands full, however, taking delivery of one new aircraft every four days, so any CSeries order is not likely in the near term until American has finished replacing many other aircraft.
China/Asia Pacific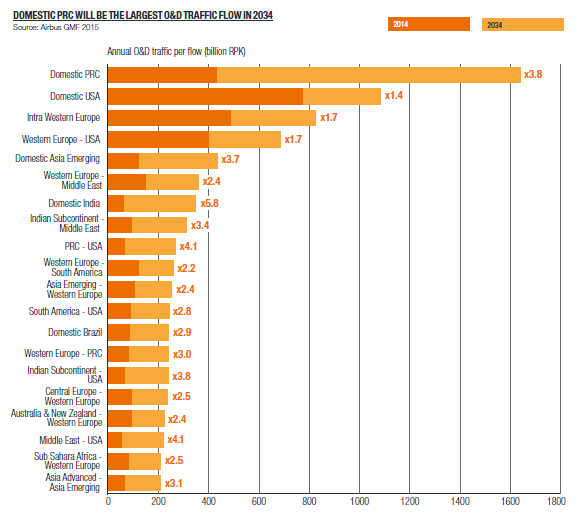 Img 4: Growth in Air Travel Capacity Worldwide 2015-2034
Bombardier Cheif Executive Alain Bellemare has acknowledged that the focus on China needs to increase now that the company has secured a major North American anchor customer. He also stated that discussions with Chinese airlines have "advanced" as a result of the Delta order.
Bombardier has pointed out that Chinese Airlines operate several hundred of the smallest Airbus and Boeing aircraft, aircraft that they will not likely order direct replacements of due to the economics of the latest models not being as compelling due to a multitude of factors. This will leave an opening for Bombardier in the country to replace many of these airlines A319 and Boeing 737-700 aircraft in the coming years.
Throughout the rest of the Asia-Pacific region, there is strong potential for the Bombardier CSeries. In the 2015-2034 timeframe, there are expected to be 8,329 single-aisle aircraft delivered to the region compared to 5,052 delivered in Europe and 4,733 in North America.
Europe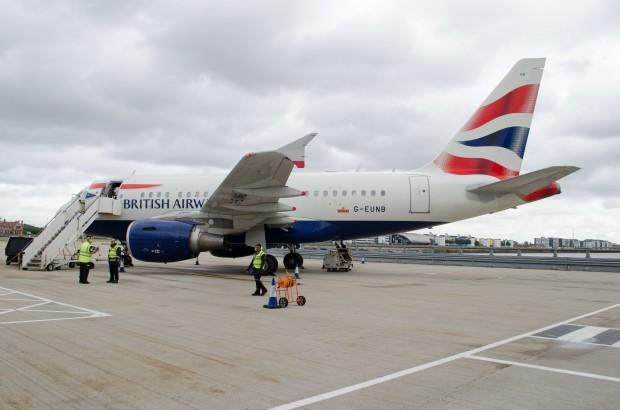 Img 4: The All Business Class British Airways A318
Bombardier executives have stated they are talking to several European and U.S airlines. There are an abundance of large and small European airlines that Bombardier could easily be talking to and the European market offers good potential for the company.
IAG CEO Willie Walsh recently stated that despite the CSeries not being in the company's current plans, there was plenty of scope in future plans to look at the CSeries as a potential aircraft for IAG. IAG is the parent company of Aer Lingus, British Airways, Finnair, and Iberia, the flag carriers of Ireland, the UK, Finland, and Spain respectively. Due to the large size of IAG's holdings, any order from them for the CSeries could span multiple airlines and would be very lucrative. One area that the CSeries could excel in is the London City - New York flights operated by British Airways. British Airways has stated their desire on numerous occasions to expand the business class-only flights that currently use the Airbus A318.
Odyssey airlines who has ordered 10 of the CSeries plans to fly them with all business class seating between London City Airport and New York nonstop. Meanwhile, British Airways requires a fuel stop in Ireland on its competing A318 flights. For business travelers, time is money and a nonstop option is far superior. This alone may prompt IAG and in turn, British Airways to order the aircraft when Odyssey launches operations.
Iran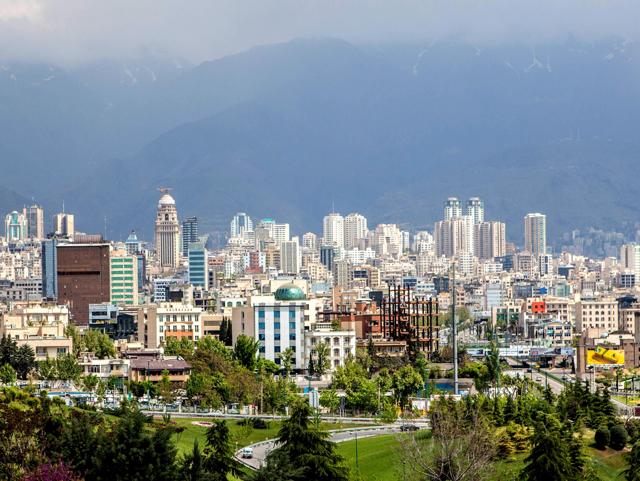 Img 5: Tehran, Iran
As the sanctions on Iran are finally lifted, the country is finally allowed to go shopping for much-needed aircraft and other high ticket items. The country will likely not want to rely on either Airbus or Boeing too heavily due to the risks associated if sanctions were to go back into place under a different government, so the Bombardier CSeries is reportedly under consideration.
It has been reported that Bombardier executives have made at least two trips to the country and Bloomberg recently reported that Bombardier met with officials from the Qeshm Free Trade zone about supplying CSeries aircraft to a startup airline to be based in the region. According to the source, the officials would like to wrap up the talks soon and have an order within the next two months.
Conclusion
Overall, the new talks in progress are very positive news for Bombardier and the CSeries program. Prior to the Delta deal, there was much less interest being reported and much of the focus on the CSeries was doom and gloom, especially after United shunned the aircraft in favor of the Boeing 737. The renewed talks should hopefully lead to further sales over the next few months.
The next milestone investors should look to is the entry into service of the CSeries that will take place in around 2 months time. Many airlines on the sidelines have stated that they would like to see hard data from the aircraft in real world operations before committing to it. Positive data from its initial operations with Swiss should bring additional serious interest in the aircraft and could lead to the signing of many additional orders.
Disclosure: I am/we are long BDRBF.
I wrote this article myself, and it expresses my own opinions. I am not receiving compensation for it (other than from Seeking Alpha). I have no business relationship with any company whose stock is mentioned in this article.
Editor's Note: This article discusses one or more securities that do not trade on a major U.S. exchange. Please be aware of the risks associated with these stocks.