BUX results are impressive. They're juxtaposed with emerging markets as showed in the table below.
Returns BUX vs. iShares MSCI EM ETF (as of 05.05.2016, in perc.)
| | | | | | |
| --- | --- | --- | --- | --- | --- |
| | 1m | 3m | YTD | 1Y | 3Y |
| BUX | 0,0 | 10,9 | 9,6 | 16,0 | 42,6 |
| MSCI EM | -2,8 | 8 | 1,9 | -22,7 | -19,5 |
Source: Stooq
When it comes to the period of the last 3 years, only the Slovak SAX (an increase of 81 percent) was better than the BUX among European indicators.
Is there something happening in the Hungarian economy that justifies such a shot to the north of the most important index of the Budapest Stock Exchange? The answer is: no. In 2Q15 and 3Q15 the rate of GDP growth declined from 3.5 percent YOY to less than 3.0 percent. It increased in 4Q15, so there is a hope for a new trend.
Hungary: GDP (annual growth rate)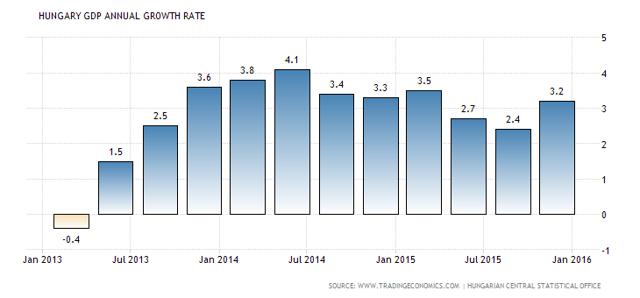 Source: TradingEconomics
If we are talking about manufacturing production, there are fluctuations and the pace is slowing down (from 12 percent in October 2015 to 3.1 percent in February 2016). Economic fluctuations are accompanied by a low inflation. In March 2016, there was even a deflation (-0.2 percent).
Retail sales data looks very good. It's growth rate YOY, from a mid-2014, is constantly above 2.0 percent. In February 2016, this indicator reached an impressive 6.2 percent growth YOY.
Hungary: manufacturing production (YOY) vs. retail sales (YOY)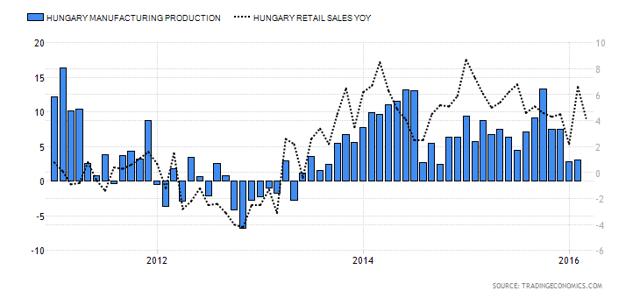 Source: TradingEconomics
After the analysis of the Hungarian economy data, the dynamic drop the unemployment rate (from 7.4 percent in January 2015 to 6.2 percent a year later) is not surprising. On the contrary, sharp cutting of interest by the Central Bank of Hungary (the last time was in April this year, to 1.05 percent) is surprising. The possibility of further rate cuts can't be excluded, but the central bank warned that too low rates may be counterproductive, forcing the banks to tighten lending conditions.
Hungary: interest rate

Source: TradingEconomics
In conclusion, the condition of the Hungarian economy is decent enough. But it is not very good. Nothing delights. Besides, investors still have a "distraction" from the beginning of the government of Viktor Orban. So why they're investing in the Hungarian capital market?
Before we answer the question, it is important to note, that the Budapest Stock Exchange have been very strong in late December 2015 and in January 2016, when the wave of global fear appeared. When the markets were shaking about the condition of China, and cheap oil worried investors, BUX remained strong. We can see BUX behavior in the context of the emerging markets in the chart below.
BUX (BUX) vs. iShares MSCI Emerging Markets ETF (NYSEARCA:EEM) - 5 months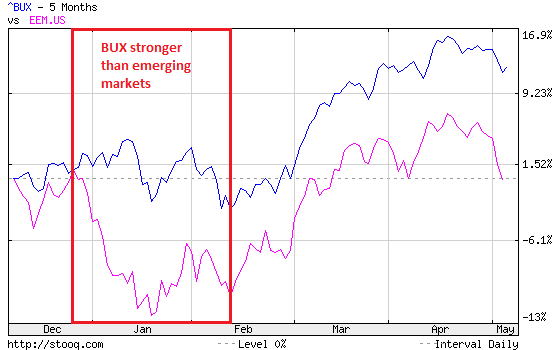 Source: Stooq
The mysterious source of the bull market in Hungary is... a construction of the BUX index. Three companies make 86 percent of its capitalization. We are talking about OTP Bank, MOL (oil company) and Richter Gedeon (pharmaceutical company). If we add Magyar Telekom (mobile network operator), in total this gives 96 percent of the composition of the index.
Now we can take a glimpse on this companies (we exclude Magyar Telekom). From May 5, 2016, within 12 months, MOL prices rose by 11.5 percent, OTP Bank by 18 percent and Richter by as much as 21 percent.
MOL (MOL) vs. Richter Gedeon (RICHTER.HU) vs. OTP Bank (OTP.HU) vs. BUX (BUX) vs. iShares MSCI EM ETF (EEM.US)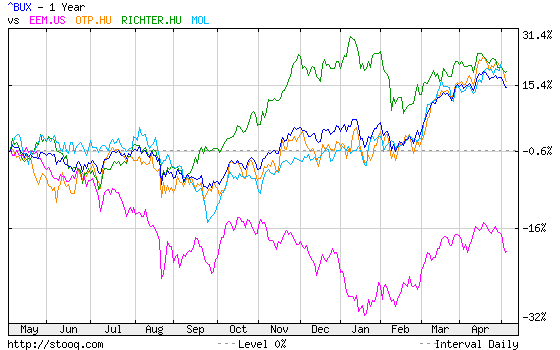 Source: Stooq
So you can see that these three companies - gigantic in Hungarian scale - are responsible for the bullish trend on BUX. It's worth noting that in recent months there was no strong correction of this upward trend. The exception is Richter Gedeon (look at February 2016).
SUMMARY
The situation when equities' price rises to infinity is impossible. When only two of these companies will show weaker quarterly results, BUX could experience hard times. At this point we can make a very important note: the Hungarian stock exchange management board should consider a change in the composition of the BUX index because it minimally reflects what is happening in the national economy…
On the other hand, we should remember that the stock market often does not reflect what is happening in the economy, because it's trying to build in the future. The Budapest floor is not the exception in the world scale.
Forecast
My forecast for BUX assumes further increases in the short term. However, given that the index has not suffered any adjustment for almost 2 years, investing in Hungarian equities should be very cautious.
How to invest in Hungary?
Investors, who necessarily want to locate the capital in Hungary, can do so through the futures on BUX index.
When it comes to mutual funds, there is only one ETF which has significant exposure to the Hungarian market. This is the Oppenheimer Global Growth Revenue ETF (NYSEARCA:RGRO). Hungary in its portfolio weights 10.05 percent. MOL takes close to 5 percent of the portfolio. The degree of portfolio diversification is satisfying, both in terms of sector and geographic' diversification. The expense ratio is high when we compare it to other funds from the same category.
Oppenheimer Global Growth Revenue ETF - sector breakdown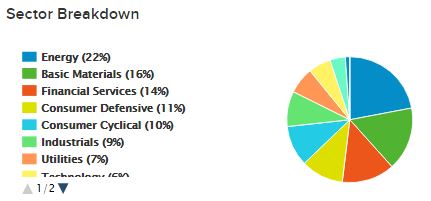 Source: ETFdb
Oppenheimer Global Growth Revenue ETF - country breakdown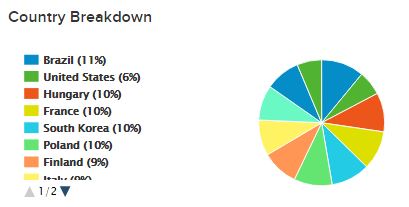 Source: ETFdb
The problem with RGRO is that it shows weakness when BUX shows strength (these periods have been marked with a red box in the chart below).
RGRO vs. BUX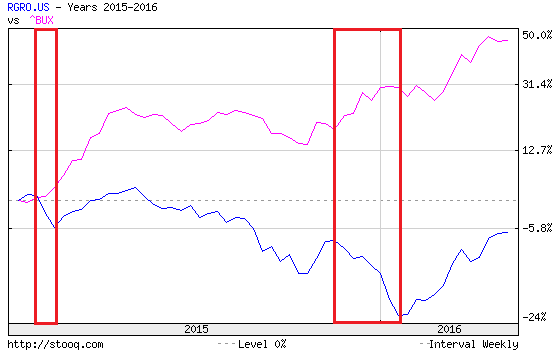 Source: Stooq
Disclosure: I/we have no positions in any stocks mentioned, and no plans to initiate any positions within the next 72 hours.
I wrote this article myself, and it expresses my own opinions. I am not receiving compensation for it (other than from Seeking Alpha). I have no business relationship with any company whose stock is mentioned in this article.