Sell in May and Go Away!
I believe you will hear this saying quite a bit as it pertains to precious metals and the miners. However, what few may not realize is this is not a normal market; the circumstance and drivers propelling precious metals is like nothing experienced before, especially the combination of factors.
Strong physical demand has persisted for several years.
The paper gold market, Comex and London OTC are seeing the highest leverage in history (contract claims on deliverable physical ounces).

A new Shanghai Gold exchange, focused entirely on physical, has just begun setting price.

Countries and other entities are repatriating gold and withdrawing physical out of leveraged paper markets.

Major bullion banks have admitted to market manipulation, artificially pushing prices down.

ZIRP (zero interest rate policy) and now NIRP (negative rates).
With the move in April and month end, it is a good time to look at a longer term chart, and it is required to see my next target at $1,400. Previous to this, my target was $1,300 and we hit $1,299 last Friday. A break above $1,300 could see a bigger move towards $1,550 and then around $1,350 would become new support.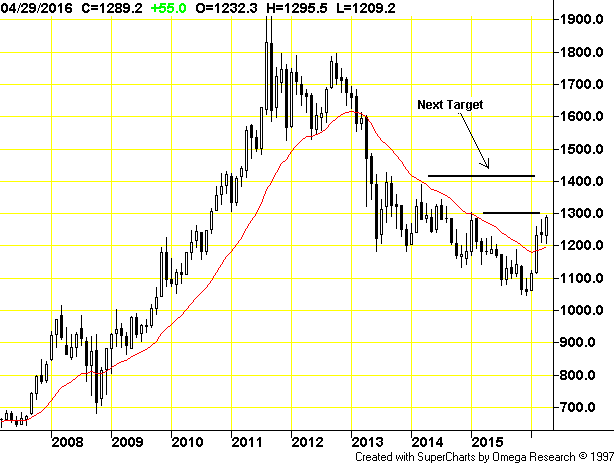 Next, I want to touch on each of the bullets above.
Paper gold leverage - another Bankster bubble
In my December 2015 article, Unprecedented Aberration In The Gold Market, I commented that the CPM Group and Bank of India estimated about 100 to 1 leverage in the paper gold market. This was based on dated information, and at the time, many were talking over 200 to 1 leverage.
With the surge in gold price, so has risen open interest on the Comex and is now up to levels not seen since 2011. CME Group reported Comex Gold open interest at 553,560 contracts for April 2016, up 16.7% since March and 34.2% from a year ago.
Meanwhile, Comex registered inventories continue to dwindle, and back in March, Zero Hedge reported the leverage on Comex climbed to 542 paper ounces to 1 registered physical ounce. If this is not a chart of a bubble, then nothing is.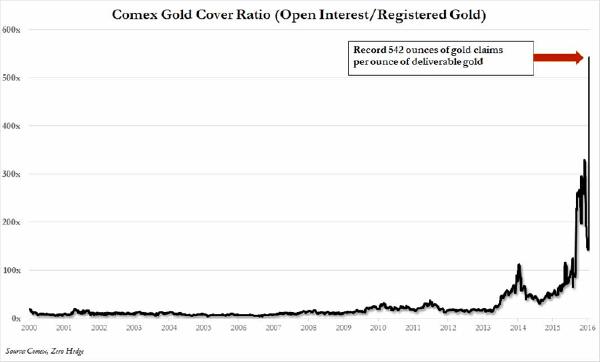 Of course, the Comex does not care, we already heard their answer from Fund Manager Kyle Bass when he visited the Comex. "Price will fix it if it ever comes to that"
When this bubble pops, gold could spike $100s in days.
Strong physical demand
The best picture of heightened physical demand is central bank buying and gold withdrawals from the Shanghai exchange, as this best represents the wholesale physical demand in China.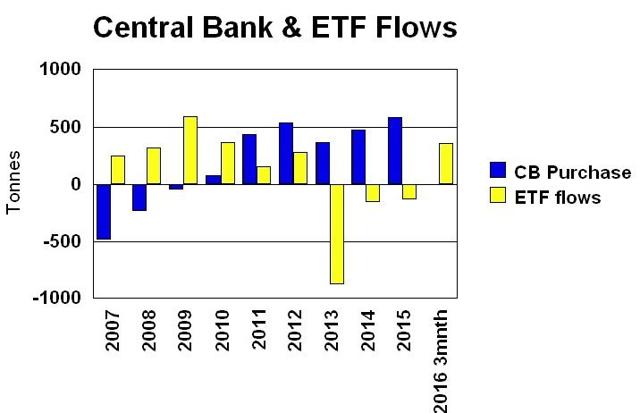 There are no good numbers out for central bank purchases for Q1 2016, but data from the first two months of the year suggests the buying trend continues. The glaring observation is the huge inflow in the gold ETFs for the 1st quarter of 2016.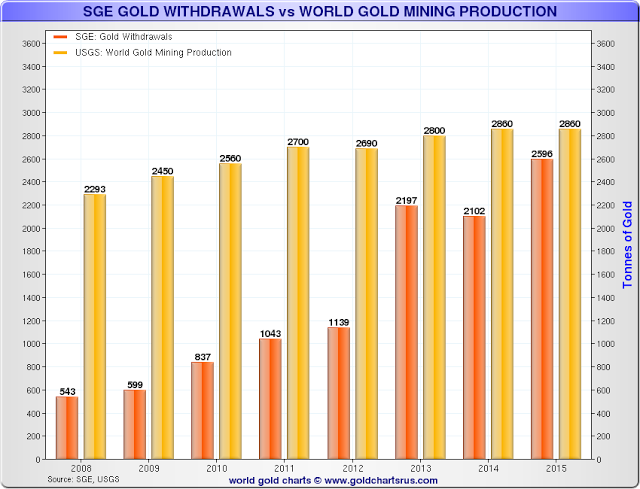 We've been seeing strong Chinese demand since the gold price drop in 2013. The chart also shows gold production - Shanghai is almost absorbing all world production on its own and highlights the significance of the exchange for physical gold.
Shanghai new gold price fix
On April 19th, the Chinese announced that they would provide their own price fix on Shanghai in Yuan. Since the Yuan is pegged to the US dollar, it really is a quasi US dollar price fix.
"As the world's top producer, importer and consumer of gold, China has balked at having to depend on a dollar price in international transactions, and believes its market weight should entitle it to set the price of gold."
Twice in the last two weeks of April, London and Comex have knocked the gold price down and it was right back up the next day in Shanghai. We could be seeing the start of major arbitrage between exchanges and the Shanghai is a physical market not a paper one. For example, if Shanghai traders know they can sell physical gold at $1,280 per ounce, and London or Comex knocks the price down to $1,260, these arbitrage traders could buy paper contracts on Comex cheaper and take delivery to have the gold sent to Shanghai. Shanghai wants physical and they are trying to source it everywhere.
Through March 2016, SGE withdrawals are 516.63 tonnes, or 17.4% lower than 625.136 tonnes withdrawn through March 2015, but still on a pace of over 2,000 tonnes.
Bullion Banks admit manipulation
Deutsche Bank (NYSE:DB) admitted to manipulation in gold and silver and that other big banks were involved. This is no surprise for veteran market watchers and the gold bugs who were all considered conspiracy theorists. However, it is a surprise to the majority of precious metal traders and they are likely to act more bullish, knowing prices have been artificially pushed down.
Gold most likely should have never dropped below $1,200 and who knows where the price might have been. We are probably many months away from learning the extent of the manipulation by the bullion banks, but it is a bullish factor.
Gold Repatriation
Central banks are not only buying gold, but in many cases, they are trying to repatriate their gold reserves held abroad, mostly from the U.S. and England.
There have been lots of headlines since early 2013 when Germany announced they were bringing their gold home and soon the Netherlands followed suit. Venezuela had already done so in 2011.
In May 2015, Austria's central bank announced plans to repatriate £3.5 billion of its gold reserves currently stored in Britain - amounting to 80% of its entire stock.
Even Texas does not trust the Fed and has brought over $1 billion of their gold from New York back to Texas.
These moves continue to put strain on the highly leveraged paper gold market.
Zero Interest Rate Policy
While the Fed has made some noise about raising rates, they are just a little above zero and more likely to come back down than go higher as the U.S. economy continues to stumble.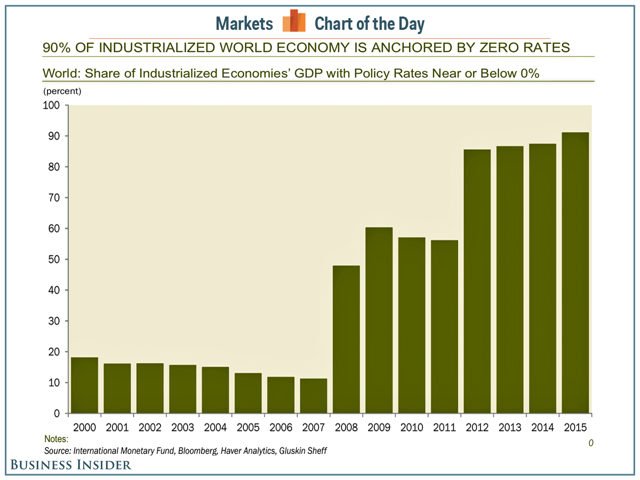 One negative factor you often hear about holding gold is it offers no yield or interest rate. This is not true as there is a lease rate for gold that moves with interest rates. Currently, nothing earns a yield until you park your cash somewhere, so some of this is being parked into gold.
Equity markets look risky with a weakening economy and falling earnings. According to Earnings Insight, with 62% of companies reported so far for Q1 2016, the blended earnings decline is -7.6%. If the index reports a decline in earnings for Q1, it will mark the first time the index has seen four consecutive quarters of year-over-year declines in earnings since Q4 2008 through Q3 2009.
With interest rates at zero, the bond markets have no where to go but down.
Cash cannot earn any interest and alternative investments to gold are looking more risky!
And recently, Japan and about 5 European countries have gone to negative rates (NIRP) so parked cash will be penalized.
These 5 conditions are unprecedented and is what I mean when I say this market is like no other.
In fact, there is another unique condition that has only been possible in the last several years. Probably the most bullish factor is the retail investor has not come into the gold market yet and, in fact, the exact opposite. They are still trying to make the last trade, shorting the gold miners as short volume has surged since February. Here is the most popular short ETF - the Direxion Daily Gold Miners Index Bear 3x Shares ETF (NYSEARCA:DUST)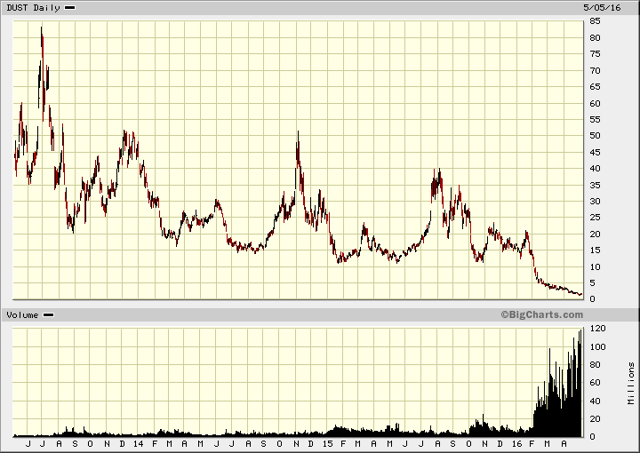 A lot of the volume increase is a function of price, but going back a year or two when volume averaged around 5 million shares and the price around $20 is $100 million compared to recently where 100 million shares at $2 is $200 million going into the short trade. Sure looks like much more money coming into the short side.
This can be observed with short positions on the gold stocks that have been increasing. Most only moderately but some are like Kinross (NYSE:KGC) 9 million short April 1st up to 16 million short on April 15th, and Yamana (NYSE:AUY) 13.5 million short April 1st up to 18.5 million April 15th. The April 30th reports will be of interest.
Short covering could push the gold miners higher and another factor is they are still cheap relative to the price of gold. The miners give leverage to the gold price and they proved this on the way down, falling very hard from 2011. If we look at the XAU to gold ratio, you will notice that the ratio has recovered to a more respectable level around 0.07, but one could still see a double in the gold miners without much movement in gold, if the ratio continues to recover to the 0.14 level seen in 2011.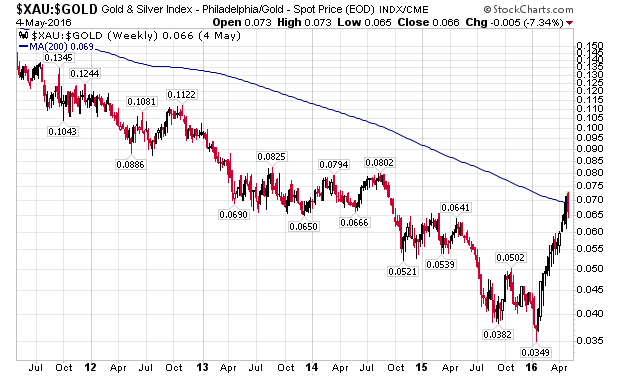 Some of these factors have been around for quite some time - so why the move in gold from January to now? I believe there are 3 main factors.
The market's incorrect reading of the Fed in 2015 - which is obviously dovish now;
ZIRP to NIRP; and
Bullion bank fraud.
The best method to invest in gold is the gold stocks or physical metal, either bars or the 1 ounce coins. I have suggested a few gold stocks in previous articles and will provide a brief update. For physical, I would not trust a lot of the gold ETFs that are run by the same banks that have been charged with previous frauds and market manipulation and are probably involved in the current precious metals manipulation investigation. It is uncertain how some of these ETFS might perform if the paper gold bubble pops and too many entities lay claim to the same ounce of gold.
The most popular gold ETF is the SPDR Gold Trust ETF (NYSEARCA:GLD). It is currently trading at a 4.3% discount to gold and historically has traded between a 4% and 5% discount. It is a very consistent function of this ETF.
I have followed the Central Fund of Canada (NYSEMKT:CEF) and the discount on this fund will vary, and I have actually seen it trade at a premium to the gold and silver it holds at times, especially in a bullish market.
Recent Price US$13.12; Shares outstanding 254,432,713
CEF was trading at over an 11% discount to its holding of gold and silver in late 2015. Currently, it is trading at a 5% discount to its net asset value. Therefore, CEF has outperformed gold and silver by 6% since December 2015 as the discount has narrowed.
CEF could outperform another 5% or more if the discount continues to contract and/or goes to a premium.
I also like CEF because it holds about half its value in gold and half in silver. I believe it is a good idea to hold both metals. Based on current gold and silver prices, CEF has about 61.4% in gold, 37.3% in silver and 1.3% in cash.
CEF has been in operation since 1961 and actually holds the physical gold and silver on an unencumbered, allocated and segregated basis. Unlike Fort Knox, there are regular audits on the bullion holdings, and I know people that have actually seen the metal in a vault in Toronto. I am not certain if all the holdings are still in Toronto, their website only indicates it is held in vaults at Canadian charted banks.
Metal could be at other vaults as they have expanded holdings in recent years. Unlike a lot of ETFs, the holdings remain constant to such time more shares are issued in a prospectus and more metal is purchased.
The most recent share offering and purchases were in 2008, 2009, 2010 and the last one in 2011 for US$360,145,000 in April of that year. As you can imagine, since then demand has been weak in North America and there have been no share issues.
In fact, just the opposite and another positive to narrow the discount to NAV - Central Fund announced a normal course issuer bid in late February 2016, where they could purchase up to 5% of the shares outstanding at that time.
If you do not want to buy the physical gold and silver in bar or coin form, I would suggest the Central Fund of Canada. And one more consideration - in the 2008 financial crisis, the Canadian banking system proved to the most resilient in the world and carries less risk. Should another crisis arrive as a result of the latest experiments with ZIRP and NIRP, this may be an advantage.
In December 2015, I suggested New Gold (NYSEMKT:NGD) at $2.21.
Despite our best efforts at technical analysis, none of us can predict consistently when a stock may correct in price or how high it may go before doing so. I prefer to invest for the long term when I am comfortable I am on the right side of a trend but use a trailing stop loss with ample room for short-term fluctuations. I believe gold stocks are in a new bull market.
New Gold is progressing well; they announced 1st quarter results on April 27th with all-in sustaining costs down to $758 per ounce and net earnings of $27 million or 5 cents per share. Their new Rainy River project is 35% complete.
I am using a stop/loss of C$4.75 and on the US side $3.60.
Also, later in December 2015, I suggested Kinross Gold (KGC) at $1.87.
Kinross is my top pick here for 2016 and is so far fulfilling my promise. They will release 1st quarter results May 10th, but in the last 2 months or so, many analysts have been upgrading their ratings on Kinross, citing some of the things I commented on last December, mostly the Nevada acquisitions.
The Globe and Mail reports in its Tuesday, April 12, edition that RBC analyst Stephen Walker says the production profile of Kinross Gold has improved following the acquisition of assets from Barrick Gold (NYSE:ABX) and the planned expansion of its Tasiast mine in Mauritania. The Globe's David Leeder writes in the Eye On Equities column that Mr. Walker upgraded his rating on Kinross to "outperform" from "sector perform."
My current trailing stop/loss is at C$5.50 and on the US side at $4.40.
In early February, I picked B2Gold (NYSEMKT:BTG) at $0.88 as a laggard.
It will be some time for 1st quarter results but B2Gold did announce 1st quarter consolidated gold production of 127,844 ounces, 10 percent greater than in the same period in 2015 and 8,966 ounces better than budget.
Construction of the Fekola mine is well underway, on schedule and on budget, to commence production in late 2017. B2Gold says they are on track to meet 2016 consolidated gold production guidance of between 510,000 to 550,000 ounces at cash operating costs of between $560 to $595 per ounce and all-in sustaining costs of between $895 to $925 per ounce.
I am currently using a trailing stop/loss at C$2.10 and on the US side at $1.60.
In early December 2015, I suggested Pembina Pipeline (NYSE:PBA) at $21.17 as a conservative way with a good dividend to play an oil market bottom.
As I expected Pembina has not been affected by the lower oil prices, and in fact, they are prospering. On May 5th, they reported:
Realized record revenue volumes for the second consecutive quarter; conventional pipelines also reached record volumes with an average of 670,000 barrels per day.
Safely placed over $740 million of assets into service, including $226 million in the first quarter of 2016 and an estimated $515 million subsequent to quarter-end relating to RFS II, Musreau III and the Resthaven expansion.
Increased the monthly dividend by 4.9 percent from 15.25 cents per common share per month (or $1.83 annually) to 16 cents per common share per month (or $1.92 annually), effective for the dividend payable on May 13, 2016.
I see this as a long-term play for income, but if I was to use a trailing stop/loss it would be around $25.
Happy Investing and Mind your Stops.
Disclosure: I am/we are long KGC, NGD, PBA, BTG.
I wrote this article myself, and it expresses my own opinions. I am not receiving compensation for it (other than from Seeking Alpha). I have no business relationship with any company whose stock is mentioned in this article.