Steel stocks had a sharp drop on Monday, May 9th, with a number of companies down 10% or more on the day. These included some of the biggest names in the industry: ArcelorMittal (NYSE:MT), AK Steel (NYSE:AKS), Cliffs Natural Resources (NYSE:CLF), Companhia Siderurgica Nacional (NYSE:SID), Shnitzer Steel Industries (NASDAQ:SCHN), Ternium (NYSE:TX), TimkenSteel (NYSE:TMST), and U.S. Steel (NYSE:X). The steel ETF (NYSEARCA:SLX) itself was down 7.5%. The industry group has had one of the biggest rallies in the entire market in 2016, and the stocks became extremely overextended in April. An overnight drop of 6% in iron ore and in steel futures (the maximum allowable under exchange rules) in China set off the global downturn.
The extent of the rally in steel in the first four months of 2016 was truly remarkable. There were at least five major stocks that were up 100% or more after January 1st during this period: AK Steel, Cliffs Natural Resources, Gerdau (NYSE:GGB), Siderurgica Nacional, and U.S. Steel. Cliffs Natural Resources was up over 200% at one point, and Siderurgica was up over 300%. These are exceptional stock returns for several years of a bull market, let alone several months. SLX, representing the entire industry, was up as much as 60%, so it wasn't just a few isolated stocks that were doing well. In the chart below, SLX is represented by the black line, and the legend for the colors of the other stocks is in the upper left-hand corner.
Most Bullish Steel Stocks Compared to Overall Industry Year-to-Date 2016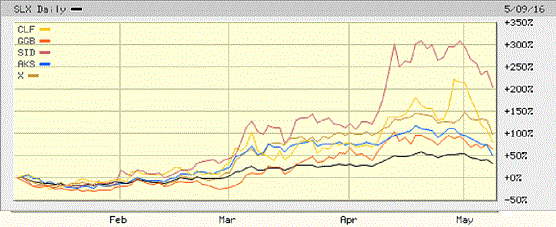 There were two major forces behind the tremendous rally in steel stocks. One came from China, the world's major importer of steel, and the other from the actions of the United States government. A speculative frenzy was set off at the Dalian exchange, where steel and iron ore are traded in China. The impetus behind this was the Chinese government making concerted efforts to revive the country's construction industry. In order to do this, the central bank pumped significant amounts of liquidity into the financial system. Trading volumes surged in Dalian, and iron ore (the chief component of steel) rose 40% and rebar steel 48% by April. This created a bullish backdrop for steel-producing countries that export to China (much of the world).
In early March, the U.S. government imposed tariffs on imported steel from seven countries accused of unfair trade practices. The tariffs on Chinese steel are so high, as much as 266%, that they effectively lock China out of the U.S. market. Japan now has tariffs of 71% and Brazil 39%. This was an enormous boost to domestic U.S. steel companies, since it raises domestic steel prices and, therefore, U.S. steel company earnings.
The huge rally (in percentage terms) in steel stocks was also only possible because the steel industry never really fully recovered from the Great Recession of 2007-2009. While steel stocks rallied off their lows in 2009 until peaking in early 2011, their prices never even approached their prior highs. Since 2011, a long-term sell-off has taken steel stocks to lower prices than they saw at their bottom in 2009. Under such circumstances, a little good news can cause a big price rally.
10-Year History of Steel Stock Prices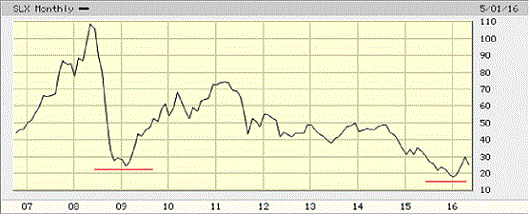 Even though the market for steel does seem to be improving, it is questionable if it is improving fast enough to justify the huge rallies that took place in the last few months. The correction to the rally is unlikely to be over. The big risk to steel investors still lies in China, but this time, it is with how the Chinese authorities handle iron ore and steel futures trading in Dalian. They have already increased margin requirements and transaction fees. Further tightening will be bearish for steel stocks globally. Let the dust settle before moving back into long positions.
More on the early stages of the iron ore and steel rallies can be found here and here.
Disclosure: I/we have no positions in any stocks mentioned, and no plans to initiate any positions within the next 72 hours.
I wrote this article myself, and it expresses my own opinions. I am not receiving compensation for it (other than from Seeking Alpha). I have no business relationship with any company whose stock is mentioned in this article.