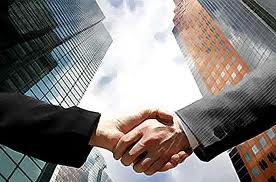 Is it just me or does it appear as if the rash of recent earnings announcements has given corporations a boost of confidence? It seems as if Microsoft (NASDAQ:MSFT) has an extra pep in its step - something akin to restarting a PC or doubling its RAM. I have noticed the same thing in networking giant Cisco (NASDAQ:CSCO). It's trading these days with less congestion, little to no collisions and plenty of bandwidth (if you will). Companies are energized and investors are filled with optimism - it is a great time indeed to be in the stock market.
What I'm realizing early on after having a chance to digest the volume of earnings that have been reported so far this year is that companies are feeling increasingly more comfortable with the prospects of not only the U.S. economic recovery, but also are feeling pretty good (of late) about the status of their own balance sheets and their growing cash - but more specifically, how to use it.
Wall Street applies extreme pressure on these companies for effective use of its excess cash. The crave recently is forcing Apple (NASDAQ:AAPL) which is now sitting on $100 billion to give some of it back to shareholders in a form of a dividend. But when Wall Street is not begging for money, it is often demanding deals via M&A. So far this year is has gotten a few, but I suspect with as much cash as some of these companies have on the books more interesting deals are on the horizon - particularly as some of the targets begin to trade at increasingly depressed levels. We are going to first look at the technology sector for a list of possible candidates.
| | | | |
| --- | --- | --- | --- |
| Company | Ticker | Market Cap. In Billions | Current Price |
| Research in Motion | (RIMM) | 7.44 | $14.42 |
| Netflix | (NASDAQ:NFLX) | 6.06 | $109.30 |
| Yahoo | (YHOO) | 18.44 | $14.86 |
| Adobe | (NASDAQ:ADBE) | 16.43 | $33.27 |
| Sirius XM | (NASDAQ:SIRI) | 8.37 | $2.23 |
Sirius XM
As Sirius' shares have started to rise, investors are stunned to witness selling by the company's insiders. This has caused many to suspect that a play for Sirius just might be imminent by Liberty Media (LMCA). There certainly have been a lot of opinions on the matter, but from my standpoint, I continue to feel that Liberty will stand still - basically, I don't see how it can do something that everyone is expecting it do to. I suspect that they will increase their stake of Sirius at some point, however I continue to have my doubts that it will be when everyone expects. Furthermore, I have more doubt that it will be an event (when it occurs) that will meet the premium expectations of current shareholders.
Fellow Seeking Alpha contributor Spencer Osborne recently uncovered some very important details regarding this situation that I am embarrassed to say that I had overlooked. In describing a recent report by James Ratcliffe of Barclays, Spencer made the following points:
Think about this for a moment. Liberty can increase its stake with a pre-arranged buy and would not have to notify the SEC about that arrangement until it happens. Think about it. Liberty works out a deal with a substantial shareholder to buy the shares required to take them over 50% at a pre-arranged price and on a pre-arranged date. This can all happen without investors or even Sirius XM being advised.
This means that Liberty can make a move to take their stake over 50% with the equity trading as it normally would. Some investors have been waiting for the day that an announcement comes in hopes that the announcement that Liberty was increasing its stake would send the stock surging. What we have here is a nugget of information that essentially would negate any movement in price based on Liberty increasing their stake. That being said, once a hypothetical pre-arranged deal was consummated, the news would be out, but Liberty will have in effect already made the stake bigger.
He's absolutely right and what followed in the comments section of the article was even better. This should really put investors on the alert to curb all enthusiasm before anything occurs. It also supports the ever-popular credo - "be careful what you wish for."
Research in Motion
What would be an M&A discussion without mentioning Research in Motion? In 2011 as the stock started its precipitous decline from prominence the company was rumored to have been the target of virtually anyone with a market cap high enough to finance the purchase. So it should come as no surprise that I am leading with RIM as my top target for 2012. In fact, I have gone on record and said something will likely occur within six months (give or take).
The company has been the constant topic of M&A since it dropped below $30 last year and seeing as the stock is now at $15 one would think that it is even more attractive - at least from my vantage point. In January, when rumors started swirling regarding a possible acquisition, RIM saw its stock surge as much as 10%. After reaching another 52-week low of $12.45, the stock surged past $14 when analyst Mark McKechnie of ThinkEquity raised his rating on the stock to buy from hold and hinted that (again) Amazon (NASDAQ:AMZN) may be targeting RIM.
Mark suggested that RIM's current price undervalues the company's $5 billion worth of patents, $3 in cash per share, and its BlackBerry messaging service. It is hard to imagine that RIM will be acquired soon, but by the same token, I don't see any other way for it to survive. It has become time for this once-proud company to be put out of its misery. The real tragedy in all of this is with its diehard investors who refuse to accept the company's current reality.
Yahoo
On the heels of Yahoo having hired a new CEO, I begin to wonder if this will put an end to its search for a potential suitor. As I have said recently, no matter how much value the company tries to project, it is working in a space also occupied by Google - that fact alone makes it unattractive to potential acquiring companies who would then immediately become Google's (NASDAQ:GOOG) competitor. Chinese Internet conglomerate Alibaba continues to be at the top of the list of potential suitors who would not mind acquiring Yahoo and thus taking on Google.
As noted by Seeking Alpha contributor Jiang Zhang, the acquisition of Yahoo will instantly give Alibaba a foothold in the U.S. online advertising and e-commerce market. To capitalize on the opportunity, Alibaba is likely to retain Yahoo's current headcounts because U.S. engineers are more innovative, creative and experienced than their Chinese counterparts. The Chinese engineers that Alibaba have are educated on a system that emphasizes memorization and theory while the U.S. engineers can contribute to the innovation and creativity to Yahoo based on their professional and academic experience.
Adobe
I think an Adobe acquisition by Microsoft (MSFT) could be a match made in heaven. If nothing else, it should work because they both have common enemies in Apple and Google. Of course a synergistic merger requires more than having similar adversaries, but marriages typically work better when both parties have at least one thing in common. But for Adobe and Microsoft, the great thing is that their similarities reach far beyond just their shared hatred for Apple and Google.
First and foremost, they are both technology giants with a concentration in software applications that offer a wide array of desktop publishing and web-based applications. Secondly, they are both facing up to the fact that Google offers (for free) what both Microsoft and Adobe rely upon at the core of their sales - namely Google Docs.
It offers users features that are similar to the experience of MS Office and it then allows the document to seamlessly convert into a PDF file. As Google increases its portfolio of free applications, there will be a point when users have to wonder why they are spending money on Microsoft and Adobe products. It will no longer make sense - that's assuming it ever did. I have to imagine that a merger between the two companies is one that will eventually happen.
Netflix
For all intents and purposes, it is game over for Netflix when the streaming movie giant learned that Comcast (NASDAQ:CMCSA), the top cable operator in the U.S., plans to take it head-on with its own Internet movie streaming service. Investors immediately began to ask how much time does it realistically have left? Netflix lost 9% of its value on news. Comcast's service is called Xfinity Streampix, and will offer a library of TV shows and movies. The service will be made available only to Comcast's cable TV subscribers.
The service could also operate as a standalone service outside of the cable subscription package under programming agreements it has with some of the partners that supply it with shows and movies. Streampix will come free with Comcast's top video packages and for an extra $4.99 a month in lower tiers while offering TV shows and movies from partners including Disney (NYSE:DIS), Time Warner (NYSE:TWX), Sony Pictures as well as from its own studio, NBC Universal. There is little doubt that Netflix was the king of online content. But content is not always enough as competition, innovation and costs are typically the drivers of any market.
With the stock now trading at $109 and possibly below $100 over the next couple of weeks, vultures may start circling in the skies. One of the names will continue to be Verizon (NYSE:VZ). That is not that far out of the question considering that a couple of months ago it was said to be targeting the company. The rumors have since faded and lost some of that luster when the idea was dissected a bit further and discovered to not have made much sense. But I have to wonder that this will not be the end of this sort of speculation when it comes to Netflix. Amazon (AMZN) has also been involved in that discussion and as Netflix's stock continue to falter, one has to believe that all of the smoke will eventually lead investors to the fire. For this reason, Netflix remains one of the top targets of 2012.
Summary
This is not a complete list of takeout targets by any means. There are a handful of other potential candidates in the technology sector that can become extremely attractive to potential suitors looking for growth opportunities or areas of leverage. Firms that provide recurring revenue and are strong cash generators would be seem to some of the most attractive candidates. However, as I have warned previously, investors should avoid buying stocks solely on these assumptions and instead try to find those win-win situations where a company is appealing on its own fundamental metrics while at the same time presenting the qualities to potential suitors that can immediately provide a decent premium via an M&A.