The tendency for bonds to serve as a safe haven in increased market volatility has left some investors with the impression that these asset classes will continue to insulate portfolios as they did in the last 20 years. It is dangerous to believe that because something hasn't happened, it will never happen. What if the strength in the US treasury market is built on thin ice and faces increasing risks by inflationary trends?
The iShares Core US Treasury Bond ETF GOVT is up 3.51% YTD. Amidst the turbulence in the beginning of 2016, more money flooded into US treasuries. Being long US treasuries becomes more and more a crowded trade.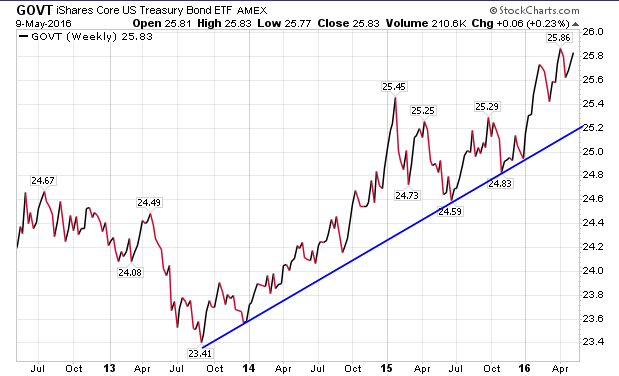 In the current situation with yields that low, investors won't get attractive additional returns during a crisis as they did in 2008. What if there are underlying fundamental trends which will push yields higher? That would be an obstacle to the current trend in treasuries. I believe the inflation picture presents risks ahead for US treasuries and the markets haven't priced that in. Along with a rise in oil up to around $50 and reasonable growth in the US, the inflation dynamics will change dramatically.
I want to refer to the time in 1985-1987, where we had a similar situation considering the inflation picture. After a 65% fall in the oil price, the inflationary reemergence one year later was too much for the bond market to bear. We all know about that subsequent collapse in the bond market which in the end led to a decline in equities.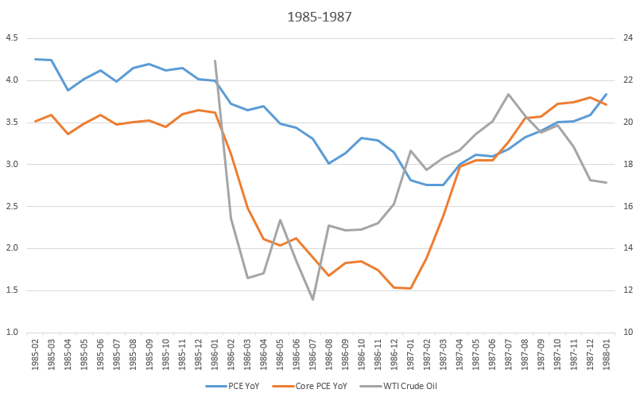 However, I don't expect the oil price to increase that much over the year as it did these days. But, we have several years of cheap money behind us and a fed which was fighting against a deflation partly caused by lower energy prices. As these base effects for low inflation cease - and you assume an increase in the price for commodities and oil - the inflation dynamics will change dramatically.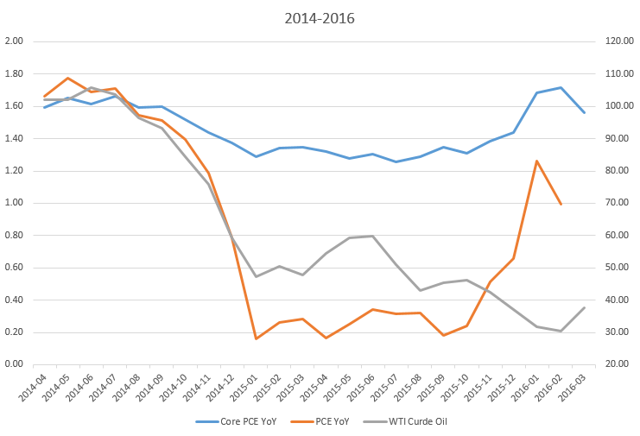 Higher inflation pressures towards the second half of the year are very likely. Gold and commodities already indicate higher inflation expectations, but the bond market still has to follow.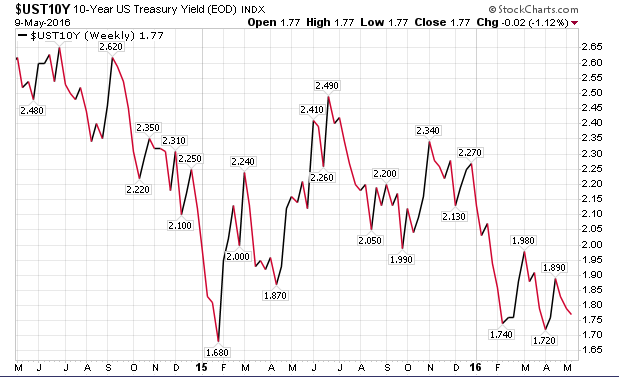 Disclosure: I/we have no positions in any stocks mentioned, and no plans to initiate any positions within the next 72 hours.
I wrote this article myself, and it expresses my own opinions. I am not receiving compensation for it (other than from Seeking Alpha). I have no business relationship with any company whose stock is mentioned in this article.